Everything starts from a strategy!
And if your first step is correct, you can hope for the Best in the future.
Putting it simply, if I ask you, what is the first thing your users look at about you?
It's your website!
If you have an up-to-date, high-performance website, you can surely deliver a good impression on your customers. And to deliver it, web hosting is one of the initial steps.
Acquisition of Flaunt7 by Phanes Cloud
Over the years, Fluant7 has built solid trust among its customers by providing best-in-class services at very affordable prices, but recently it has been acquired by Phanes cloud with an absolute transparency.
Today with this, we will be exploring Flaunt7, a website hosting provider solution company, to check if it's ideal for your business niche or not.
Here we will be including the complete Flaunt7 review about the features, pros and cons, plans, speed test analysis, and more.
So, what are we waiting for? Let's get started!
About Flaunt7
Established in the year 2016, Flaunt7 is Known as one of the top-notch hosting providers in today's market world. Since 2016, Flaunt7 has worked with 8000+ happy clients and is looking forward to assisting more with its services.
Based in Netherland, Flaunt7 has set up various uses of reliable, stable, and green Data Centers delivering high uptime and quality.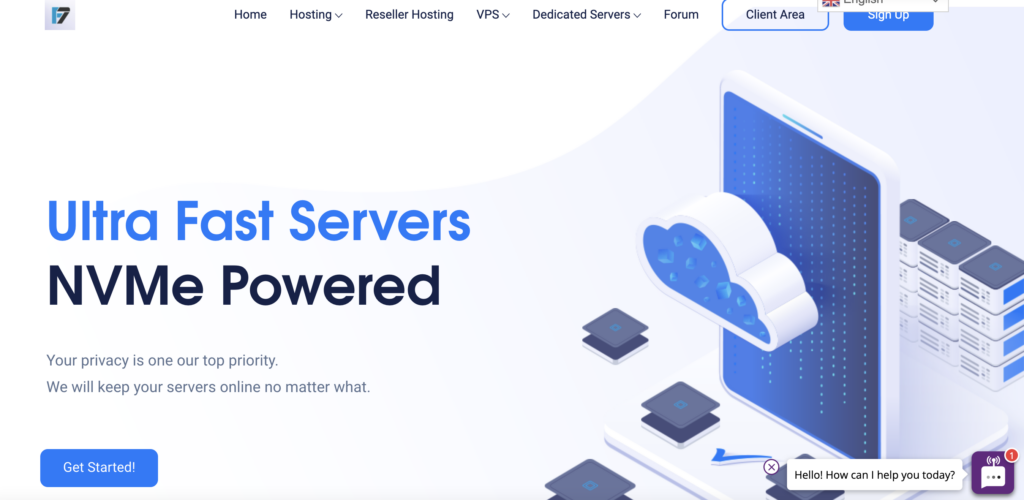 Knowing more about the team, Flaunt7 is a group of young professionals with high expertise and experience in various fields.
The organization is well optimized and intuitive with its working style. Moreover, the company offers 24/7/365 monitoring and support to avoid any hassle.
A team of technicians and professionals is built to solve your queries into a beneficial solution.
Speed Test and Analysis for Flaunt7
To learn more about Flaunt7 reviews and their features, it is essential to explore whether their approach is valid or not. So, let's jump up to some of the analyses and tests that will showcase their speed and performance without delay.
Flaunt7 User Interface
Flaunt7 offers an excellent user interface with its high-speed performance and website servers.
The servers are entitled to high-quality subjects which helps in improving the website performance from good to the best.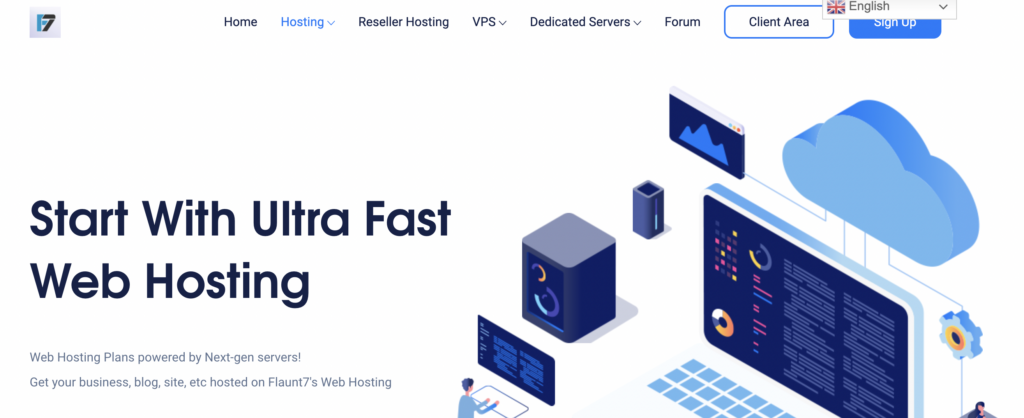 Customers and experts have commended Flaunt7 for its overall performance. The company boasts of experienced engineers who are skilled cloud technicians on the hook to help you get the most out of your cloud with cloud optimization, superior technology, and cloud tuning.
Moreover, the platform is straightforward and easy to use, and we have had amazing experiences operating it.
So, we can say that it really flaunts an excellent user interface.
Server Response Time
Besides having an exemplary user interface, the Flaunt7 provides excellent response times to its users.
Their team of professionals and experts manage to keep your servers up to date, which helps you worry less and work efficiently, enjoying high-speed servers that will never let your visitors and customers wait for a response.
Speed Test
Flaunt7 does not compromise your website speed. They use NVMe SSD drives to avoid hassle in the future. These servers are equipped with the latest NVMe drives that work efficiently.
The AMD Processors offer high frequency to your website.
We checked the same with the GTMetrics speed test tool as well, and the speed score came out to be great with phenomenally low page loading time.
Uptime Test
You won't believe it, but Flaunt7 offers up to 99.9% of uptime guarantee to all its users. They invest a long time to monitor and maintain the quality of their uptime percentage.
We tested if they made good on their guarantee or not by monitoring the uptime for several months and were impressed to see that there were no instances of downtime ever.
So, you can expect an excellent uptime speed and performance from your website when you host it on Flaunt 7.
Customer Support
As discussed, Flaunt7 provides a vast team of experts and technicians to help people get over their problems.
If you are a newbie or new to hosting curriculum, then no worries. Flaunt7 has designed beginner-level tutorials and videos to help you understand the concept widely.
Additionally, their experts are available for your help round the clock. You can reach out to them at any time, and they'll pay full attention to solving your queries and issues at the earliest.
Security Analysis
Your security is at first. Therefore, Flaunt7 provides an end-to-end secure database for your website.
Along with your plan for web hosting, Flaunt7 tends to serve Virtual Private Servers (VPS) and Dedicated Servers to expand your security base.
Losing your essential information is threatening.
Therefore, Flaunt7 offers you a secure space to store your data and information. Moreover, talking about the payment methods, Flaunt 7 uses highly safe payment methods like Bitcoin to provide safe transactions.
Additionally, you can look up Flaunt 7 for malware attacks and DDoS protection.
Flaunt7 Data Centers Location
Today, Flaunt7 has its Data Centers in five different locations which includes-
Key Features of Flaunt7
Here are certain key features one should look upon before getting ahead in the process. Check out what a Flaunt 7 user will be offered on buying their reliable services.
Unlimited Domains
Whatever plan you choose, Flaunt7 gives you a free domain with its web hosting plan. If you are a website builder, you don't have to spend extra. You can grow the new domain given by Flaunt7. Otherwise, you can turn your existing domain into a free domain.
Free SSL Certificate
Get free SSL certificates for every domain and subdomain with Flaunt7.
These SSL certificates will help you maintain the security of your domain and simply build the trust of your users on your owned website.
99.99% Uptime Guarantee
Flaunt7 is exceptionally giving a 99.99% of uptime guarantee. It puts ample time into monitoring and renewing technological parts to maintain this percentage.
Moreover, you get power Failures Backups and DDoS Protection along with your plans.
Best ISP HUB
Amsterdam is known as one of the biggest internet hubs across the world. Keeping this in mind, Flaunt7 optimizes your servers from the Amsterdam Data Center in which you get 40Gbps Uplinks.
cPanel
cPanels offered by Flaunt7 are user-friendly with the best features and tools for the users.
24/7/365 Support Team
You won't get into a hassle when you have a robust team of technicians from Flaunt7. You get Automated Monitoring Tools and an Advance Advisory Team also.
Flaunt7 Refund Policy
If you want a refund, you must notify Flaunt7 at least seven days before the next automated renewal date.
Knowingly, Flaunt7 does not provide any money-back guarantee for new account registrations or after account renewals. Nevertheless, they still offer some policies.
Flaunt7 Affiliate Program
Flaunt7 offers a separate column for their customers or clients to connect with them.
Under the Flaunt7 affiliate program, the client has first had to log in or sign up with their personalized email id and password if a newbie.
This program is easy for any affiliate to make money by simply referring Flaunt7 to anyone as a web hosting provider.
Flaunt7 Pros & Cons
Let's explore some of the limitations and benefits of this hosting provider solution company.
Pros
Free SSL certificates for every domain.
One of the top-notch hosting provider companies.
Security and Safety from malware, DDOS, and phishing attacks.
Ensure a 99.99% uptime guarantee for your website.
24/7 customer live chat to solve queries.
Cons
Website builder sold separately.
No reseller hosting services are provided.
What is DMCA Ignored Web Hosting?
DMCA, otherwise known as Digital Millennium Copyright Act, was formally adopted in 1998. These acts prohibit websites from uploading content that is not legally allowed or present on their website. Content can include Videos, Music, Photographs, and more.
If you choose DMCA Ignored Hosting, then it is an excellent choice.
By doing so, you can easily protect your content and website from getting released illegally.
How did Flaunt7 DMCA Ignore Hosting Work?
Flaunt7 is one of the best hosting providing solutions companies having multiple data centers and headquarters across the globe.
It helps you host on various known platforms like WordPress and more. Moreover, you can also host image Galleries and even e-commerce websites.
Talking about their DMCA services, the company is known for its top-notch amenities and professional network for DMCA ignored web hosting and is highly specialized in providing freedom of speech/press.
Such a hosting is great to manage private and confidential content and other copyright matters. With a DMCA hosting, it's easier to claim for copyrights and ensure that your data doesn't get infringed.
The hosting works by offering a simple medium to directly claim for a copyright violation to the Flaunt7 admin. Upon the receipt of the claim, the admin processes the case and takes the necessary legal action.
Reason to Choose Flaunt7 DMCA Web Hosting
There are various Reasons to Choose DMCA web hosting services. Some of them are aligned below.
Besides, you also get other Benefits with Flaunt7 DMCA web hosting, which are listed as follows.
How to Order DMCA Ignored Hosting from Flaunt7?
The process includes only three steps which are as Follows.
Do we recommend Flaunt7 for your DMCA Ignored Content?
Flaunt7 is one of the fastest-growing hosting provider solution companies offering end-to-end hosting solutions in one place. From 2016 till date, the company has worked with 8000+ clients, helping them with their top-notch services.
Other than this, the company is well recognized for its customer service support and excellent professional backup team to help clients put their all stops.
So, yes, we highly recommend Flaunt7 to be chosen as your business hosting provider.
FAQ's – Flaunt7 Review
What is Flaunt7?
Flaunt7 is one of the website hosting providing solution companies based in the Netherlands. The company was founded in 2016 and now has a total of five data centers across the globe.
It offers various hosting services, including web hosting, WordPress hosting, reseller hosting, windows web hosting.
Does Flaunt7 offer free trials?
Flaunt7 doesn't offer free trials, but yes, you can opt for a paid plan. After which, if you didn't like the services, you can request a refund within 30days.
However, it's subject to their policies, and there's no money-back guarantee whatsoever.
Are Flaunt7's paid plans expensive?
Flaunt7 plans are available at various prices, according to the customer's needs.
You can get an easy and budget-friendly plan for your website. There are times when Flaunt7 has discounts or offers.
Which control panel does Flaunt7 Offer?
Flaunt7 uses Plesk for their cPanel.
Is Flaunt7 the best Offshore Hosting provider?
If you want a provider that only offers offshore web hosting, Flaunt7 is the right solution for you.
Is there any Coupon code for Flaunt7 Offshore hosting?
No, there is no coupon code officially available by Flaunt7. However, you may find coupons and offers from other coupon-providing websites.
Conclusion – Flaunt7 Review
So far, we have explored the complete review of Flaunt7 in this article. With this Flaunt7 hosting review, we hope it made it easy for you to make the best choice for your business website.
Flaunt7 is a well-recognized hosting provider solutions company with five Data Centers (across the globe) and a headquarters in the Netherlands.
Moreover, if you find something affordable yet quality, this can be your best option.