Technology is considered as the second hand of every business. Simply put, it helps us to accelerate the top-notch business strategies today. Well, following this notion, we have several hosting platforms out there, which are another very intuitive weapon for business owners to scale themselves by having a feature-rich and functional business website.
One needs web hosting services to make your websites or web pages live on the internet. Now, there are many different types of hostings that you can take for your website. However, if privacy is a concern, taking up NVMe VPS Hosting will be the best for your requirements.
Nevertheless, many hosting services provide virtual private servers to host your websites. So, how would you find the best NVMe VPS hosting that meets all your needs and requirements?
Well, no worries. We will explore some of the top-notch hosting solutions trending with their NVMe VPS Hosting these days.
Best 7 NVMe VPS hosting in 2022
In this digital era, where everything has to be unique and updated, some of the top seven NVMe VPS hosting platforms can quickly help you nurture your website planning with the utmost features and tools. So, let's dive deep into the best 7 hosting platforms where you can happily put your money to get NVMe hosting.
#1. InterServer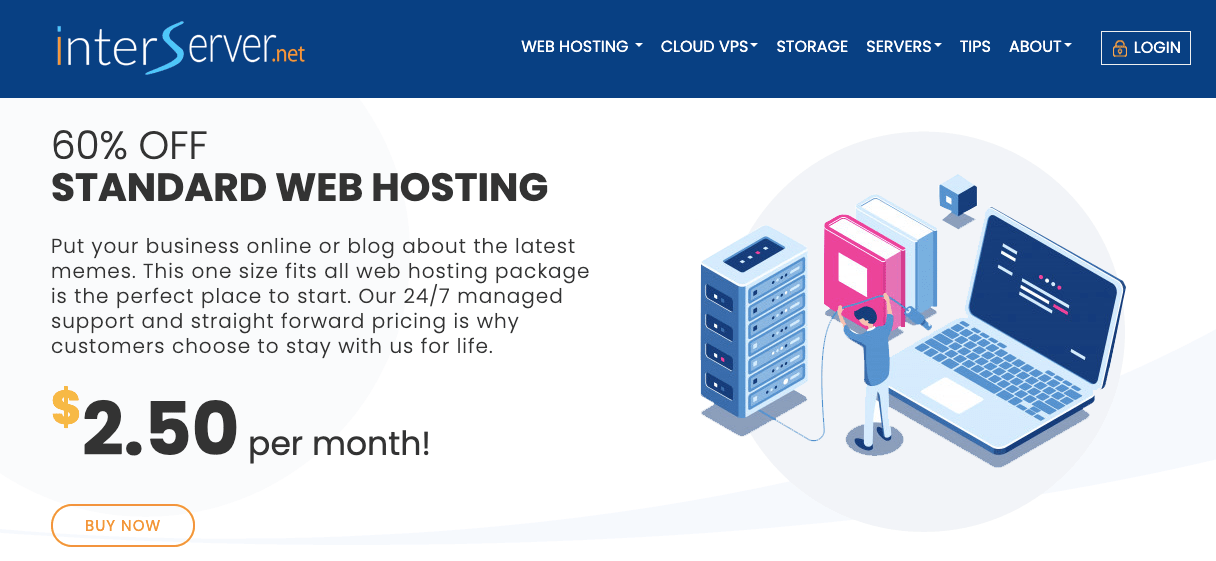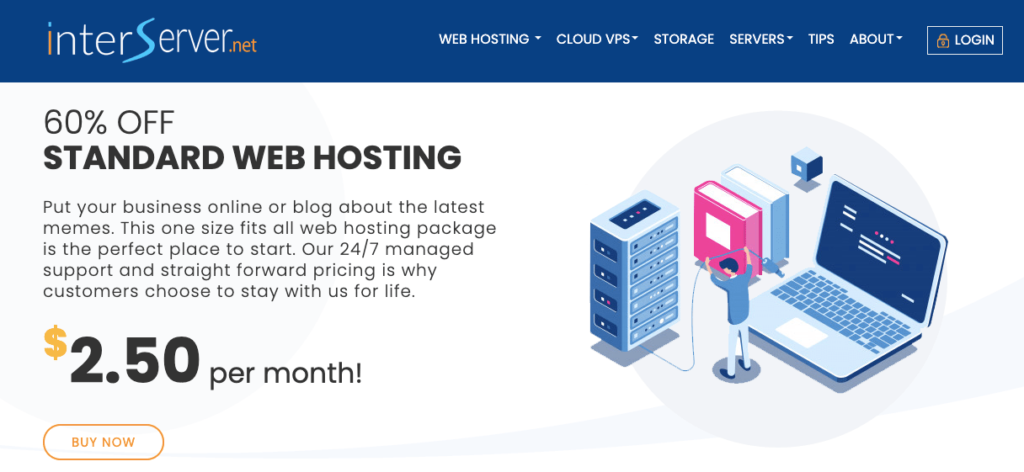 Established in 1999, the InterServer is counted as one of the elites in the web hosting industry. The company has been devoted to delivering several hosting services, including Shared Hosting, Dedicated Servers, Quick Servers, and Cloud Hosting, which are best in class and quality.
The company's ultimate vision is to provide one-stop solutions to their valuable clients and meet their expectations on deadlines. Knowingly, InterServer has expanded its footprints covering domestic as well as international queries.
Key Features of InterServer
Unlimited Storage
Interserver offers unlimited storage space for uninterrupted web hosting if you need more storage for your plan.
99.9% Uptime Guarantee
InterServer knows that even a little downtime can cost you a lot of potential clients. Therefore, it gives a 99.9% uptime guarantee to avoid such a situation.
End to End root access
Install, customize, and launch any software you want to see in your hosting plan. InterServer accomplishes the hosting plans according to your convenience.
Speed Optimization
Interserver serves the best speed for websites with meager page loading time. Get your VPS solution up in seconds. Cause gone are those days when you had to wait for it for hours.
Pros & Cons of Using InterServer
Besides features, one must also consider the pros and cons to make the best choice for business growth and success. So, let's have a quick look at them.
Pros
Unlimited data storage.
If you are a new customer, then you get free website migrations.
Top-notch cPanel Interface.
Get up to 99.5% uptime guarantee.
Cons
You get limited services.
It provides lower speed as compared to other hosting platforms.
---
#2. Kamatera
Known as a global cloud services platform, Kamatera was formally launched in 1995, offering bespoke cloud computing technology to many clients. The company does not just aim to provide a single cloud computing service and end-to-end coverage to boost your business wisely.
Currently, Kamatera is the operator of Multiple global data centers, acquiring 'n' a number of servers across the globe. From startups to developers, or international organizations, the company is known for serving its best services to individuals.
Kamatera has discovered a range of flexible products and services, including Cloud Firewall, Fully Managed Cloud, Cloud Block Storage, Private Cloud Network, Cloud Load Balancer, Cloud Servers, and more.
Key Features of Kamatera
Daily Backups
If you want to restore your valuable data when things go wrong, you can freely rely on Kamatera. They will automatically back up your server daily to protect you from unwanted data loss.
Several Data Centres
Kamatera holds over Multiple data centers worldwide, wherein they allow high-speed hosting to their potential audience.
Free Trial
If you are a new customer, you get a free 30 days trial from Kamatera, wherein you will be given access to a single cloud VPS instance with $100 of service credit.
No hardware maintenance
As Kamatera is cloud-oriented, you don't have to worry about hardware maintenance.
Pros & Cons of Kamatera
To understand Kamatera better, here we present its pros and cons.
Pros
Kamatera offers great speed hosting.
Good customer support.
Easy to scale VPS hosting.
Get over 99.95% uptime guarantee.
Comparatively, Kamatera offers a comprehensive free trial service for 30 days.
Cons
High Prices can affect your business hosting.
Kamatera doesn't offer a shared hosting service.
---
#3. A2Hosting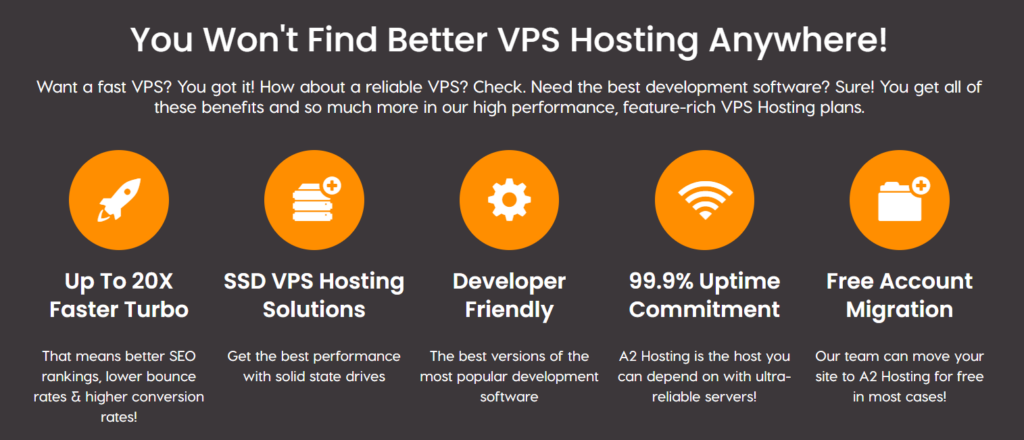 A2Hosting led its journey from 2001, and today it is known for delivering the fastest server speed across the globe. So far, the company has delivered to over 233 countries and won the title of One of the Best Hosting Solutions Companies in the industry.
At A2Hosting, you get 24/7/365 service support. Moreover, its data centers are in Arizona, Michigan, Amsterdam, and Singapore, ensuring faster speed and higher connectivity.
Key Features of A2Hosting
Free Cpanel
With A2Hosting, you get a free cPanel account for your business website.
User-friendly servers
No matter if you are a developer or not. A2Hosting has designed its VPS servers accordingly. The servers are simple, easy to understand, and user-friendly.
Pros & Cons of A2Hosting
Pros
A2Hosting is superfast with an average speed of 288 ms.
With A2Hosting, you get 99.98% uptime.
Security is another priority for A2Hosting. Therefore, you also get 24/7 Server Monitoring and Malware Scanning.
Migrate your website to different plans without costing any cost.
Get high-value Content Management Systems (CMS) features and tools with A2Hosting.
Efficient customer care support with live chat, email, ticketing, and phone.
Cons
You cannot get free domains through A2Hosting.
---
#4. YouStable
Since 2015, YouStable has worked as one of India's Best Web Hosting Providers. Not just in India, but today, the company has printed its footprints in several other countries too.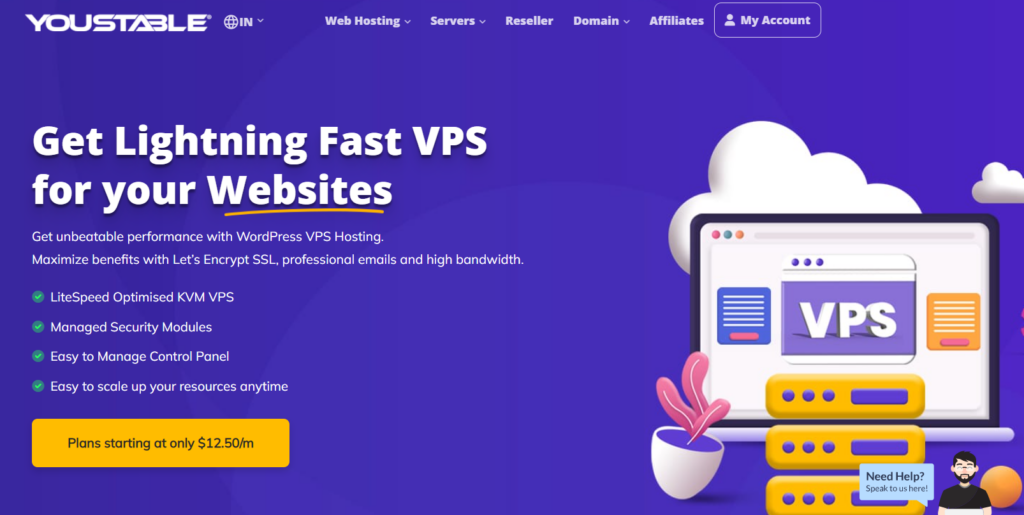 It all started in the City of Nawabs, also known as Lucknow, and today they have multiple data center locations.
YouStable seamlessly fits under your budget with their premium web hosting starting from just $12.50. Popular Hosting services include NVMe hosting, WooCommerce hosting, Blog hosting, Magento hosting, Dolphin hosting, Joomla hosting, Linux hosting, WordPress hosting, Forum hosting, and more.
Key Features of YouStable
NVMe SSD Power Servers
Get NVMe SSD Drives with every web hosting plan with 100% surety.
Everyday Backups
YouStable is responsible. They automatically create a backup of your site on a daily basis to secure your data in a safe place.
Effortless usage of Panels
Panels under YouStable are user-friendly and easy to use.
Free Site Migration
YouStable offers you to migrate all your files under a free plan.
Pros & Cons of YouStable
Besides features, the pros and cons will help you understand the best choice for your business.
Pros
Get a speedy SSD Web Storage.
YouStable's hosting plan always includes ROM.
YouStable offers a 99.9% uptime guarantee.
No cost website migration.
Get free backups of your website daily.
Secure your website with free malware and scanning programs.
Top-notch customer care support.
---
#5. Contabo
Are you looking for an advanced VPMe hosting solution? Contabo is for you. Starting in 2003 with only 9 data centres, the company puts all the stops to bring itself into their customer's eyes.
Now, they own 'n' a number of data centers worldwide. Also known as Giga-International, the company focuses on the advanced Virtual Private Server (VPS), Virtual Dedicated Server (VDS), and more.
Key Features of Contabo
Full Root Access
Contabo provides you with full root access to your virtual private server on which you can use the OS of your choice. So, the manageability of the servers is exceptionally flexible.
Custom Storage
With Contabo, you'll never have to worry about storage. It provides ample storage space. Moreover, you can leverage the storage expansion addons for more space.
Security Features
Contabo ensures high security for your servers and data with features like DNS management, SSL certification, etc.
Pros and Cons of Contabo
Besides features, the pros and cons will help you understand the best choice for your business.
Pros
Powerful and affordable VPS servers.
Speedy NVMe storage.
It provides its services in three different continents.
---
#6. Vultr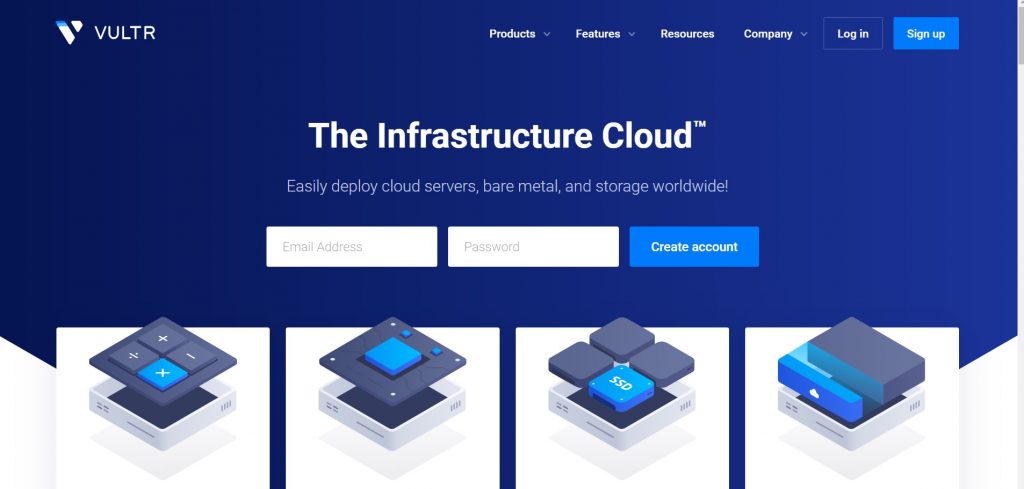 Founded in 2014, Vultr sets a mission to simplify infrastructure deployment via an advanced cloud computing service. Headquartered in 23 data centres around the globe, the company offers varied web hosting and other services globally.
Key Features of Vultr
Worldwide Network
Vultr has a vast network base, including Multiple locations which ensure that you'll get high speed and connectivity.
Custom Control Panel
The control panel is designed to keep customers and their issues in mind. Therefore, many of its features can be installed by clicking at once only.
Pros & Cons of Vultr
Pros
Vultr is a  top-notch choice of data center across the globe.
Hourly billing.
User-friendly.
Quick account activation in seconds.
Cons
There is no live chat and phone support provided by Vultr.
Payments are not stable.
---
#7. Cloudways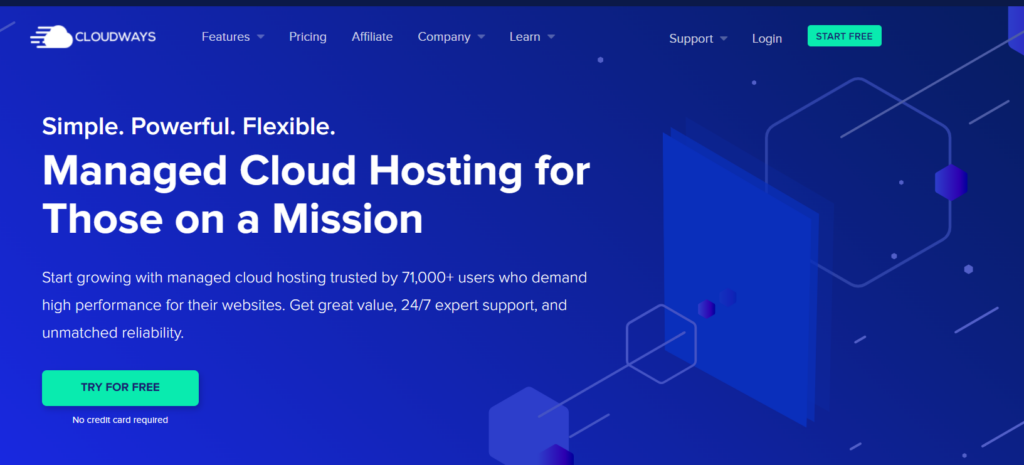 It is backed up by an innovative approach and simple solutions. The platform is designed to soothe the cloud computing experience with the leading advanced technology. Cloudways is one of the best hosting providers that manage your server issues with their fruitful solutions.
Key Features of Cloudways
Speed and Performance
Cloudways offers impressive speed and performance. With multiple data centers on different continents, you get the top-notch speed with effective quality.
Effortless to Use
No worries if you are a master or not, Cloudways is always easy to use for everyone.
One to One Support
Cloudways considers every client valuable. Therefore, for an uninterrupted procedure, they offer personalized support 24/7/365.
Pros & Cons of Cloudways
The pros and cons will well elaborate to you about Cloudways services and workflow.
Pros
Effortless to set up.
The app is friendly to many applications.
Pay when you like it.
Free trial offers to new customers.
Cons
You can't register a domain.
---
What is NVMe VPS Hosting?
Otherwise known as Non-Volatile Memory Express, the NVMe VPS Hosting is a Virtual Private Server that runs on a physical server. They will help you accelerate the speed of your web pages or website by providing a high responding time for your users.
Benefits of NVMe VPS Hosting
Following are the advantages of using NVMe VPS Hosting.
Provides High Performance to your Website
NVMe offers high-value performance to your website using a different SATA drive architecture.
Speedy Energy-Efficient
Besides delivering high performance, it is also energy efficient for your website. Talking about NVMe SSDs, it is expected that SSDs consume less energy than any other thing.
Get an Advanced User Experience
With better hosting speed and performance, your users will get a chance to have a better user experience overall. Along with this, you boost your service buyers and purchases within less duration.
Difference Between NVMe vs. SSD
Knowingly, an SSD is a secondary storage device full of integrated circuits, whereas NVMe is an interface used to access the stored data. Moreover, NVMe is much faster than an SSD.
FAQ's – NVMe VPS Hosting
Is NVMe Disk Space faster than Normal SSD?
NVMe works at a higher speed than an SSD. Knowingly, it offers 2000MB per second, whereas the SATA SSD limits up to 600MB data speed only.
What are the Advantages of NVMe Hosting?
An NVMe hosting offers many advantages to its users, which include providing high performance to your website, delivering advanced user experience, and energy efficiency.
What CPU does Contabo VPS use?
Contabo majorly uses AMD EYPC 32 Cores CPU.
Conclusion
So, that was all about the seven best NVMe VPS hosting services available at your disposal. All of them are great and what you choose highly depends on your specific needs and requirements.
However, we would highly recommend YouStable as the go-to solution if you ask us. It's feature-rich, offers high speed and uptime, and to top it all, it's very affordable.
We hope that the article was helpful and you've found the perfect VPMe solution suiting your requirements.