Shinjiru Review: Not everyone likes to be a part of the crowd where your data and information are available to anyone. When you host your website using the servers of your current location, you are well within the eyes of the government and anyone who can access that data.
However, if you are more concerned about privacy and security, Shinjiru is the one you need that provides Offshore hosting to all its users.
Shinjiru has been in business for over two decades now and it is known to be among the best offshore hosting service provider.
Not only can you get Global exposure through this but also you can opt for anonymous payment solutions. Shinjiru allows you to opt for payments in terms of Bitcoin and Eth that remain anonymous.
Well, there is loads to learn about this particular hosting provider. So, we tested out everything there is and created this Shinjiru Review for you.
Overview Shinjiru Hosting
| | |
| --- | --- |
| 🚀 Speed | From New York Server 0.091 to 0.092 sec |
| ⏰ Uptime | 99.99% uptime in the past 365 days, which is excellent |
| 👩🏻‍💻 Support | Phone, Live Chat, Tickets, and Email |
| 💳 Payment Method | Wired Transfer, PayPal, Credit Card, Bitcoin, Perfect Money, Western Union, Ethereum |
| ♻️ Refund Policy | 30-days full refund |
| 💰Pricing | Starting from $3.95/m |
| 🌎 Data Center | Bulgaria, Holland, Hong Kong, Lithuania, Luxembourg, Malaysia, Russia, Singapore |
Shinjiru was founded in 2000, which makes it pretty old and experienced in the hosting industry. It has used its hosting experience for a good cause and helps you through the hosting process's ins and outs. It is a Malaysia-based company and has eight data centres worldwide.
It prioritizes the growth of its employees and their customers and keeps innovating in the hosting field. Providing a large variety of hostings, it also focuses on domain-related tasks, applications, servers, offshore web hosting, etc.
There is much more to know about this hosting platform so let us not wait anytime and get into this Shinjiru Review.
Speed Test and Analysis for Shinjiru
By now, you have had an overview of the services that Shinjiru provides. But now we must look at the quality of its services. We conducted plenty of tests recorded for long terms to offer you the same, and here are their results in the following categories.
Shinjiru Speed Test
The speed of your website is one important trust metric users look for. Why so? Because when a customer visits your online website, they want to save time, which is why they are looking for products online. So now it is your responsibility to save their time and give fast results, but you might lose your customers if you do not do so.
Shinjiru is one of the oldest offshore hosting service providers and has used all these years to improve its speed performance. They use Cloudflare CDN, Litespeed, and more to deliver better speed to your website.
We tested the speed performance of this platform over several server locations. The speed was pretty impressive, and the fastest was the Asian server which took about 15 ms to load. That is extremely fast.
Shinjiru Uptime Test
To keep customers coming to buy your product, your website must be kept available to them at all times since you never know when someone wants to visit your website. And not being available could cause you to lose customers.
Shinjiru claims to provide 99.99% uptime which is about perfect. But we had to test it to find out. Over testing for an extended period of time, the graph of uptime showed that the average uptime provided by this platform is 99.99% which is pretty impressive.
Security Analysis
Just because your content is not in hard copy does not mean that no one can steal or damage it. Putting your data on the internet also makes it prone to third-party attacks, which could cause you a great deal of loss.
To keep your data secure, Shinjiru offers you several features such as DDoS protection, Imunify360, free SSL certificate, Anti-spam protection, Anti-hacking protection(WAF), Fast Vault backups, and more. So you get your data protected in all directions.
Customer Support Analysis
No matter how good and easy a product must be, you will always have specific questions or doubts. When you get stuck on a particular issue, you must not keep scratching your head but find a solution. But where?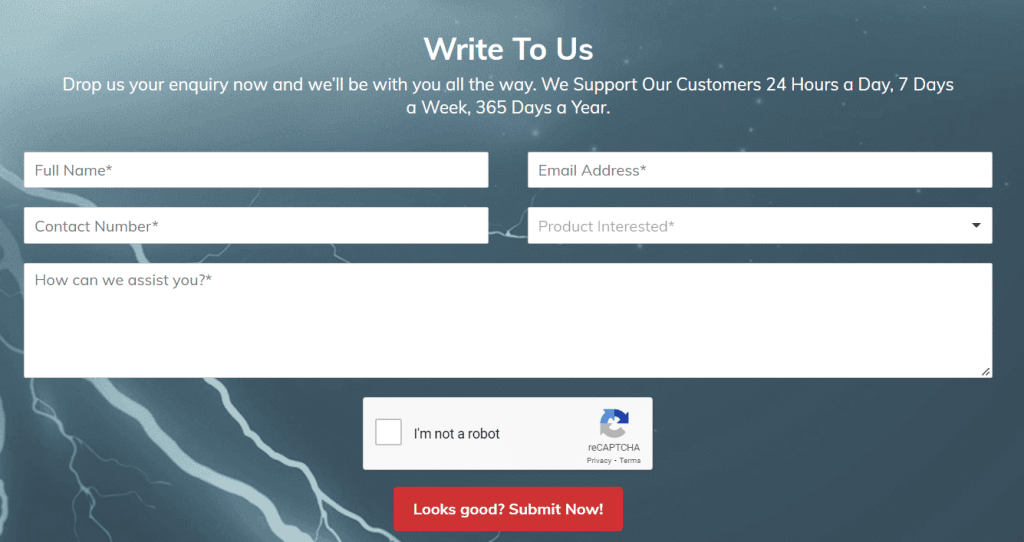 In the case of Shinjiru hosting, you will not have to waste any time getting frustrated or stuck with your query. Instead, you can quickly reach for their customer support. This platform offers 24/7 customer support, and you can call, chat or raise a ticket.
Shinjiru Data Center Locations
Shinjiru has 8 data centers located around the world:
📌 UltaHost, AbeloHost, and ViceTemple are providing the best Offshore data centre locations with better security and Daily data backup features.
Key Features of Shinjiru
Let us move further in this Shinjiru review with its key features.
One-Click Installer
It gets easier and faster with the access of applications to carry out your daily job. But the problem lies in getting these applications installed, and you sometimes end up paying to get that done.
With Shinjiru, you get the opportunity to install as many as 419 applications with just a few clicks. With the availability of Softaculous, your application installation process becomes more accessible than ever.
LiteSpeed
If you aim to provide your customers with the best speed on your website, do not miss out on LiteSpeed. This is an excellent way to boost the speed of your website, and you have not seen speed if you haven't used it yet.
Shinjiru offers you LiteSpeed technology on your plans to provide your website with the best speed possible and to make your website most favourable for your customers.
cPanel
To have an easy and smooth hosting experience, you must have access to user-friendly hosting. Shinjiru understands this and offers you cPanel, the most used and favoured control panel worldwide, to give you an easy-to-understand experience.
Free SSL Certificates
You must be sure that your website is forming safe connections, is not leaking any information, and is also not a threat to other websites. All of this can be ensured by getting an SSL certificate for your website.

Shinjiru offers free SSL certificates to give your websites a secure connection. 99.9 browsers and devices trust their SSL certificates. But paid SSL certificates often come with additional features and benefits, such as extended verification and warranty protection.
Shinjiru Refund Policy
Having a refund policy applied to the product you buy feels so good, doesn't it? Because with a refund policy, you know that your money is safe and you will not lose it even if you are dissatisfied with the product.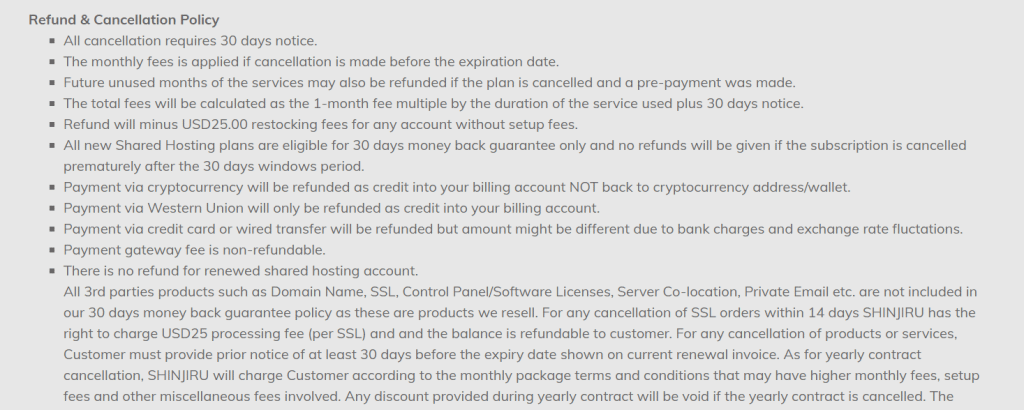 Shinjiru offers a 30-day money-back guarantee. Yes, you read it right, about three months is provided for you to check if it suits your requirements which is more than enough. So your money will not be wasted even if that platform's plans do not suit your needs.
Pros & Cons – Shinjiru Review
Let us now look at the pros and cons of buying a Shinjiru hosting plan.
Pros
Cons
What Makes Shinjiru Best Offshore Hosting?
Shinjiru is a Malaysian hosting service provider with over two decades of hosting experience. It helps you with offshore hosting through its 8 data centres and numerous server locations worldwide.
It offers you CDN and SSD disc storage that ensures faster content delivery and LiteSpeed, which you know can boost your website's speed to a large extent even overseas. So it could be categorized as one of the best offshore hostings.
Do We Recommend Shinjiru For Your Website?
Yes, Shinjiru could be an excellent hosting service provider for your website due to its numerous server locations and the multiple layers of protection and speed it provides to your website.
This will ensure better performance of our website, better SEO ranking, and a higher conversion rate. So this could be a great way to start growing your website.
FAQs- Shinjiru Review
Is Shinjiru reliable?
Yes, Shinjiru is completely reliable for your website. It offers several layers of protection to your website, such as DDoS protection, backups, scans, etc. Other than this, this platform is trusted by many well-known organizations and has also been awarded for its reliable services.
Is Shinjiru anonymous?
Yes. Shinjiru provides Anonymous Hosting under a special package named Bitcoin Hosting. Since Bitcoin works under a decentralized system where no one can track your address or transaction, it works as a perfect medium to keep you anonymous.
Simply choose among the various Bitcoin integrated plan, pay anonymously through a crypto wallet, and enjoy the hosting services privately.
What is an offshore hosting provider?
Offshore Hosting typically means when your website is hosted on a server that is outside the country of your origin. A lot of users choose to host their website on a server of a foreign country because of Internet censorship in their own country or even to avail of tax benefits.
Similarly, companies that provide such services to their customer are known to be offshore hosting providers.
Is Shinjiru an offshore hosting provider?
Yes, Shinjiru is an offshore hosting provider. It helps you host your websites overseas in other countries with the fastest speed.
Conclusion – Shinjiru Review
Shinjiru is a Malaysian hosting service provider thriving in the hosting industry since 2000. It has 8 data centres in Bulgaria, Singapore, Malaysia, etc. Several server locations also work 24/7 to give your website the best speed and security.
The plans are pretty cheap and offer most services even the most basic plans. It is an offshore hosting provider, domain registrar, website builder, etc. So once you are done reading this Shinjiru review, do check their website.