ScalaHosting Review: The world is gradually converting into a massive digital domain, and we are witnessing more businesses taking to digital platforms for better exposure. This whole prospect of creating an online presence strong enough to build a brand for yourself will require you to make your presence count, and that happens through a good website.
A website will require a proper web host service provider to propel the business to newer heights. A good web host will ensure optimum utilization of all the resources and make the business efficient and the experience of a jolly ride.
When it comes to selecting a web hosting provider, there are a plethora of options available in the market. One such hosting company that has been gaining traction in recent years is ScalaHosting. With over a decade of experience in the industry, ScalaHosting has built a reputation for providing high-quality hosting solutions to customers around the world.
From shared hosting to VPS and cloud hosting, ScalaHosting offers a range of hosting plans with features that are tailored to meet the needs of different types of websites. In this ScalaHosting Review, we'll dive deep into ScalaHosting's offerings, features, and support to help you decide if they're the right choice for your website.
Let's look into the different types of services provided by ScalaHosting.
About ScalaHosting
ScalaHosting is a web host service provider in the online market scene for over a decade.
ScalaHosting was founded in 2007 with the primary aim of making VPS hosting accessible and affordable to a broader audience.
They sell it as their outstanding service and are the best in the business.
They focus on providing scalable, easy-to-manage, and secured services to enterprises, businesses, and students.
ScalaHosting operates on the idea that VPS hosting should be high-performance and secure.
They should also be available at a more accessible price.
They ensure proper backup for all your data, top-grade security, and quality customer care services. It should also be available at a more accessible price.
Speed Test and Analysis for ScalaHosting
ScalaHosting is a popular hosting platform that offers plenty of hosting plans. You can find any hosting you want on this platform, whether managed hosting services, reseller hosting, web hosting or WordPress hosting; ScalaHosting has it.
In this article, we will review many aspects of ScalaHosting that you must consider before deciding. To help you understand better, here is a sample plan we selected for conducting various tests.
This plan has plenty of features for security, speed, and more. The data centre we selected for this plan was Sofia, Bulgaria (Europe). So let us put it under test and find out how effective it is.
Let us start with testing the speed and other aspects of ScalaHosting.
User Interface
Once you buy the plan, you will land on this page. This is the user interface offered by ScalaHosting. It is a simple interface and is suitable even for a beginner. All your data and information can be found on the left side of the page, such as 'My Details', 'My Domains', etc.
You can see all that you own on this platform right on the dashboard; your services will be displayed along with their status and Control Panel they are using. You can use ScalaHosting without issues, even if you are not an English speaker, as it offers services in multiple languages.
Speed Test using GTmetrix
The next test we conducted on ScalaHosting was to test the speed it offers. We used the GTmetrix test, a trusted platform to check the speed of any website. Here are the results.
The ideal time taken should be within 100ms and with a grade of A. ScalaHosting recorded a grade A which is Excellent for a website. It is pretty suitable for a website.
Uptime Test
Uptime is one of the most essential aspects to be considered when choosing a hosting services provider. If the uptime provided by the hosting is up to the mark, you might retain plenty of possible customers, which is not good. Therefore, we had to do an uptime test on ScalaHosting.
We took the test based on the current status with 4052 hrs, 32 mins of uptime and found that our website had been online the entire time with 100% uptime. Also, we noted that the uptime was excellent throughout the month, with a great response time. Which means we kept every visitor. we have tested ScalaHosting with Europe Datacenter, for several months to analyse its Uptime, below is the following report for ScalaHosting for the last 7 months.
Load Testing Using K6
Your website can be fast when there are not a lot of visitors. However, as your website grows and you gain more and more visitors, you might notice a lag in the speed of your website. Let us do the load testing on ScalaHosting and see if it can hold up to your success.
To test the speed, we sent 50 virtual requests/second and a total of 5537 requests were made. In the process, we found that none of the requests had failed. The best part of this test was that the average response time was 5.695ms which is great and proves to be pretty fast.
You can see that there were plenty of responses on our website. The responses peaked to reach 13.5 req/s. However, no exact scenario was configured in this test. But it seems to be pretty good for your website based on load handling.
Response Time
The server response time of your website dramatically determines its success. If your website takes less time to load, you might lose all your visitors due to the waiting time. We used Bitcatcha for testing the response time of our website.
As we tested, we saw that the response time varied around the ideal time. Also, the response time was high in places far from the selected server. However, the recorded response time in most areas is quite suitable for a fast website.
Customer Support
Customer support might seem like something other than something to be considered while making a purchase, but trust us, it is. Good customer support can be a great companion for establishing a successful website. Therefore we also checked how customer support worked at ScalaHosting.
ScalaHosting offers customer support through emails, mails, calls and text messages where you are answered by a human every time. Queries related to abuse and technical support can be resolved 24/7, but for billing and pre-sales talk, you might have to wait a little while as it is not available 24/7.
We had to test the customer support ourselves. Therefore, we decided to contact them through various means. The calling option was the most quick service we received after love chat. Emails did not take very long as well. There are ways you can contact them.
(Monday to Friday 2:30 AM to 5 PM (GMT -6, CDT))
(Monday to Friday 2:30 AM to 5 PM (GMT -6, CDT))
Address for mailing: Scala Hosting LLC.
1999 Bryan Street, Suite 900
Dallas, Texas 75201, USA
We contacted the customer support team multiple times and were surprised to find how quickly they resolved our issues with a tiny waiting time. We loved how the customer support worked at ScalaHosting.
📌 If you are Looking for top-notch customer support from your web hosting provider? Look no further than CloudWays, InterServer, and Kamatera – the best in the business!
Security Analysis
Now it was time to test the security system offered by ScalaHosting, as security is one of the significant features that can help you grow and keep your data safe.
Only a few of the security features offered by ScalaHosting include free SSL certificates from Let's Encrypt, and you can enable 2FA from Server Settings on your SPanel. To block any IPs that seem like a threat to your privacy, it uses CSF Firewall as an addition to ModSecurity.
Also, SSH access can be enabled through SPanel's Manage SSH Access. To keep your data safe, SShield automatically scans and informs if there is any possible cyber threat.
Additionally, if you want 24/7 monitoring on your server, it will be provided to you through a small fee. You can enable this service through Website Monitoring on SPanel.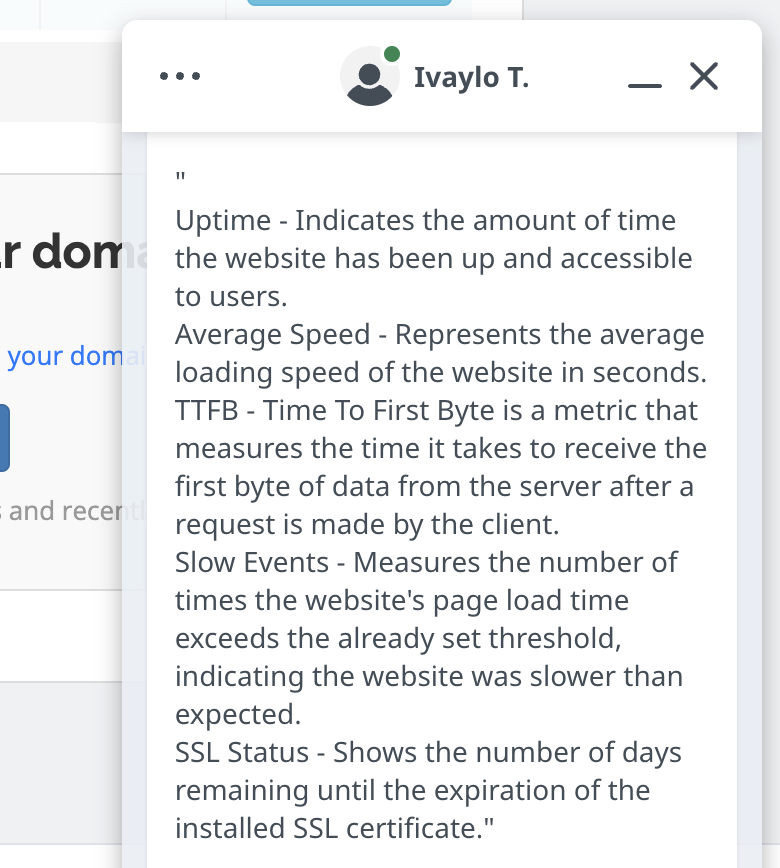 A few more features of ScalaHosting include SpamAssassin for Email filtering. However, they do not offer BoxTrapper.
Backup
ScalaHosting claims to provide regular backups which will ensure that you do not lose any of your data. ScalaHosting conducts offsite backups so that if your data is ever attacked, it will still not affect your backup content.
These backups are free of cost every 24 hours. You can also save your data from the past 3-4 days through a small additional charge. Since all your data is backed up in an offsite location, you cannot restore a single website, you will have to restore an entire server at once.
As mentioned earlier, you cannot restore any specific website, but if you have to, you have the option of creating a backup manually through your account's SPanel. You can schedule the backups as per your convenience and also select the location you want to store them in, either on the server or remotely via SSH connection.
Inodes
If you need help understanding this section, Inodes are just the count of files on a hosting account. If your hosting account has fewer, it might slow down. But that will be fine with ScalaHosting as it offers a generous amount of Inodes per plan.
As per our chat with the customer support team of scalahosting, they have clarified that there is no cap on the number of inodes that can be used, so you can have a great experience with their hosting.
Through all the testing we conducted on ScalaHosting, we conclude that ScalaHosting is suitable for your website and can support good traffic and your growth on the internet. However, there could be some improvement in the speed offered by ScalaHosting. But if you are looking for quick support, ScalaHosting is the best.
ScalaHosting Data Centers Location
Scalahosting no longer provides DigitalOcen and they replaced it with AWS. ScalaHosting has a number of own data centers placed strategically:
You can choose the one closest to your location in order to avail the best services. The locations are pretty good from a strategic point of view as they run very diverse on a geographic scale.
Key Features of ScalaHosting
Let us look at the critical features of ScalaHosting in this ScalaHosting Review.
Budget-friendly VPS hosting
ScalaHosting provides very competitive prices for VPS Cloud Hosting services.
They provide fully managed VPS as well as self-managed VPS plans with varied price ranges.
Even the cheapest plan comes with options for a variety of add-ons, so they let their users tap into a vast resource pool irrespective of their budget.
It also allows for smooth scaling, so expansion of the businesses will be heartily welcomed and easily accommodated.
They provide SPanel Control Panel
Instead of making users pay additional amounts for a cPanel, ScalaHostings have come up with the SPanel, which is a very dynamic and powerful tool.
It was developed and is owned by ScalaHosting, and it comes with built-in security and helps you configure your own website.
It is a compatible and viable alternative to cPanel but requires a large sum of money for licensing. It makes the website all-in-one and gives it all the autonomy it requires ranging from emails to DNS configurations.
While both cPanel and sPanel are popular web hosting control panels, cPanel remains the preferred choice for many users due to its user-friendly interface and extensive features. Among the top cPanel hosting providers, BlueHost, InterServer, and A2Hosting are well-regarded options that offer reliable hosting services and strong customer support.
Automatic daily backups
ScalaHosting provides automatic backups, and your data is stored in at least 3 servers which ensures that you can retrieve your data from any remote server in case of any sort of hardware failure.
Restoring the data is also very easy as they come up with an option to retrieve data right on the SPanel. Apart from that, you can also implement your own backup system or carry out on-demand backups.
Free Domain name, SSL certificate, and CDN configuration
It provides options for free domain, SSL certificate, and CDN configurations, which is a big deal considering it basically provides all sorts of freebies that might otherwise cause a sizable dent in your pocket.
Offers White-label hosting
This might be of interest to larger businesses considering it allows them to become their own providers. The latter can then set a price for their services themselves without being exclusively associated with ScalaHosting.
HTTP/2 on all plans
HTTP/2 is quite an underrated or rather not much talked about service that most companies only provide as part of their premium plans.
ScalaHosting, however, provides HTTP/2 with even its cheapest plans. They use newer technology for their servers which enables them to work faster.
Very Impressive Uptime
ScalaHosting uses highly redundant networks with multiple uplinks that provide excellent site speed and an impressive 100% uptime.
Since fast page load times are associated with downtime and SEO, this facilitates the whole process.
Extensive resource pool
ScalaHosting provides a generous resource pool that its users can tap into, to enhance their websites.
Although the allocation of most resources varies depending on the plan, ScalaHosting is quite generous with its provisions like the shared web hosting plans. All shared hosting plans come with unmetered bandwidth and ample storage space.
SShield cyber security tool
It makes the whole website highly secure, takes on almost 99% of the attacks, and prevents other websites from leeching off your server.
ScalaHosting Refund Policy
Scalahosting provides an Anytime Unconditional Money-back Guarantee, which you can activate in case you don't need ScalaHosting services anymore. Any pre-paid & unused hosting services will be 100% refunded.
Dedicated servers, Renewal, Transfer or Domain registration, Software licenses, and Custom Software Install are options that do not qualify for money back at all.
Price & Plans – ScalaHosting Review
ScalaHosting offers a range of hosting plans to suit different needs and budgets. Here's a closer look at their pricing and plan options.
2 CPU Cores
4 GB RAM
50 GB NVMe SSD
UNMETERED Bandwidth
4 CPU Cores
8 GB RAM
100 GB NVMe SSD
UNMETERED Bandwidth
8 CPU Cores
16 GB RAM
150 GB NVMe SSD
UNMETERED Bandwidth
🔔 Don't miss out on this limited-time offer from ScalaHosting – Get up to 36% OFF your hosting plan and get an Extra 10% OFF with the coupon code 'GOOGIEHOST'. Click now to claim your savings!
Pros & Cons – ScalaHosting Review
Everything in the world has its pros and cons, and so does ScalaHosting. Here are some of the key pros and cons to consider when evaluating ScalaHosting as your web hosting provider.
Pros
Cons
What makes ScalaHosting Blazing fast?
There are several reasons that ScalaHosting is blazing fast-
How Does ScalaHosting Hold Up Against The Competition?
ScalaHosting incorporates unique features like the SPanel for VPS hostings, making configuring the website much easier and more convenient.
It also provides HTTP/2 for all plans, including the cheapest ones. All of these set it aside from its competitors.
Why is ScalaHosting VPS Hosting a Great Choice?
It is a great choice because of the wide array of services that include different types of plans at easy prices, SPanel, Security, SSL certificates, HTTP/2 services, and much more.
Do we recommend ScalaHosting for your Website?
If you are looking for a safe and secure option with amazing uptime, you should definitely go for ScalaHosting.
It will help you with your reach and give you the right balance between having help with configuring your website and doing it yourself.
To learn how to access ScalaHosting's robust hosting features, check my article "ScalaHosting Login".
FAQs- ScalaHosting Review
What is ScalaHosting?
ScalaHosting is a web host service provider that facilitates the building and running of your website.
How much does ScalaHosting cost?
ScalaHosting has different plans that you can check out on their website. On the whole, the prices they offer are actually pretty alright.
Does ScalaHosting offer a website builder?
ScalaHosting provides options for WordPress, which can be used as a good tool for building your website with its good CMS, and it is also easy to configure. Apart from that, it doesn't provide website builders as such.
Does ScalaHosting come with cPanel?
No, it comes with a built-in SPanel which is actually more economical.
Is ScalaHosting any good?
It is very good in the sense that it gives you a generous amount of resources to play with along with excellent up-time. All in all, a great option actually.
Are there any hidden costs?
No, there are no hidden costs with ScalaHosting plans. However, the renewal plans are pretty costly, so, if you decide to stick to the hosting solution, you need to be ready for some additional expenses.
Which hosting plan is better than ScalaHosting?
VPS hosting plan is better for ScalaHosting as they focus more on them.
Does ScalaHosting offer free website migrations?
Scalahosting offers free website migrations for beginners or newcomers only.
Is there any promo code for Scalahosting?
Yes, Get an exclusive extra 10% discount on ScalaHosting with the coupon code 'GOOGIEHOST' – click now to redeem and start saving on your hosting plan!
Conclusion: ScalaHosting Review
Overall, ScalaHosting offers a solid range of hosting plans that come with a variety of features to suit the needs of different types of websites. With their focus on performance, security, and customer support, they have managed to carve out a niche for themselves in the crowded hosting market.
While their prices might be slightly higher than some of their competitors, the added benefits and peace of mind that come with their hosting plans might be worth the investment for businesses and individuals that require reliable and high-performance hosting solutions.
If you're looking for a hosting provider that is committed to delivering excellent customer support, fast loading times, and top-notch security, ScalaHosting is definitely worth considering. With their competitive pricing, 99.9% uptime guarantee, and wide range of hosting plans, they have something to offer for businesses and individuals alike.