TMDHosting Review: Finding the perfect hosting solution for your business website is not easy. You will have to look into 10 to 15 hostings and learn about them. A user's perspective might help you determine which hosting is the best for you and how it works.
In this article, we offer you a TMDHosting Review. Here we have covered all the sections required to test the capabilities and services of this platform. TMDHosting offers numerous hosting solutions along with several other website services.
So let us now dive into this TMDHosting Review and learn more.
About TMDHosting
| | |
| --- | --- |
| 🚀 Speed | From London Server 0.15 to 0.25 sec |
| ⏰ Uptime | 99.95% uptime in the past 365 days, which is excellent |
| 👩🏻‍💻 Support | Phone, Live Chat, Tickets, and Email |
| 💳 Payment Method | Credit and Debit cards, PayPal, Credit Card |
| ♻️ Refund Policy | 60-days full refund |
| 💰Pricing | Starting from $2.95/m |
| 🌎 Data Center | Chicago, Phoenix, London, Amsterdam, Singapore, Sydney, Tokyo |
TMDHosting is a fully managed hosting service provider founded in 2007, which gives a pretty good amount of experience in the hosting field. This hosting platform is open to sharing its data center locations in 7 places across the globe.
On this hosting platform, you will find plenty of hosting services. When we say 'plenty,' we mean it. However, the primary hostings offered by TMDHosting constitute web hosting, shared hosting, WordPress hosting, Linux hosting, etc.
Speed Test and Analysis for TMDHosting
Let us now offer you some user perspectives, we have tested TMDHosting for several categories and are here to provide you with the results.
TMDHosting Server Response Time
To test the server response time, we took the help of GTmetrix. We tried our website hosted on TMDHosting, and the results were pretty impressive.
The global average is about 0.4 seconds, whereas our website hosted on TMDHosting loaded entirely about half of the time, which is excellent.
TMDHosting Speed Test
What do users want on the internet? Just like you, everyone wants speed. And to keep your visitors coming back to you, you must keep your website fast.
Here TMDHosting again regains our trust by performing pretty well. The three layers of caching, 7 data centers, and SSD storage do the job phenomenally.
TMDHosting Uptime Test
How will you gain customers online if your website is not made available on the internet?
Your online website is not like a physical shop that has to be kept open for only a few hours. Your website must run nonstop. Therefore, TMDHosting guarantees 99.999% uptime. However, on testing, we experience 100% uptime which is excellent.
TMDHosting Load Handling
At first, when your online business is small, you might not encounter many problems as the traffic is negligible. But as the traffic grows, your website might tend to become slower.

But not with TMD hosting; we tested for the same on our website, and even with a significant number of requests, our website did not slow down, which shows that TMDHosting has a good load-handling capacity.
Security Analysis
You might need to download some software and pay for it to keep your data safe. However, would you like to pay extra for a necessity? No. TMDHosting ensures that your data is kept secure with the availability of SSL certificates, daily backups, monitoring, etc.
Moreover, some of the unique features that you may not find in other hosting service providers are the availability of Notifications, Firewall, reCAPTCHA, KernelCare, Malware Scanning, Reputation Management, Proactive Defense, and more to keep your site secure from any attacks and spam.
TMDHosting Data Centers Location
The seven data centers of TMDHosting are located in:
TMDHosting Customer Support
If you feel stuck with any query or issue with your TMDHosting, do not sit scratching your head, surfing through the internet. All you have to do is contact TMDHosting's customer support team.
Submit a Ticket
Knowledge Base
Video Tutorials
You can reach out to them through calls, tickets, and emails. Your queries will be cleared within seconds.
Plans of TMDHosting Hosting
One of the best parts of TMD hosting is its plans and prices. It has ample plans in the bucket for its users. If you are looking for shared hosting, VPS Server, WordPress, or cloud hosting, TMD has everything under the same roof.
No matter if you are a blogger, professional, or business, it can satisfy your need for website hosting at affordable prices.
Some of the plans that TMDHosting offers are:

🔔 TMDHosting Offer: For a limited time, Manage your own server and save 70% off the first month! Don't miss out!
Other Services By TMDHosting Review
TMD hosting offers the open-source hosting option to help you to build an idle website that can satisfy your business needs.
Open-source web hosting provides extra features to make an exclusive platform for your website. You can install more elements to your website absolutely free to increase website functionality. Regular application updates can also be done.
With the hosting power provided by TMD, you can download a free and compatible template. Additionally, to boost the website's performance and functionality, more than 1300 free apps are available.
Below are the open-source hosting options list provided by TMDHosting Review:
TMDHosting Domains
Let us look at the domain-related services offered by TMDHosting Review.
Register Domain
With every TMDHosting plan, you get the added benefit of a free domain name.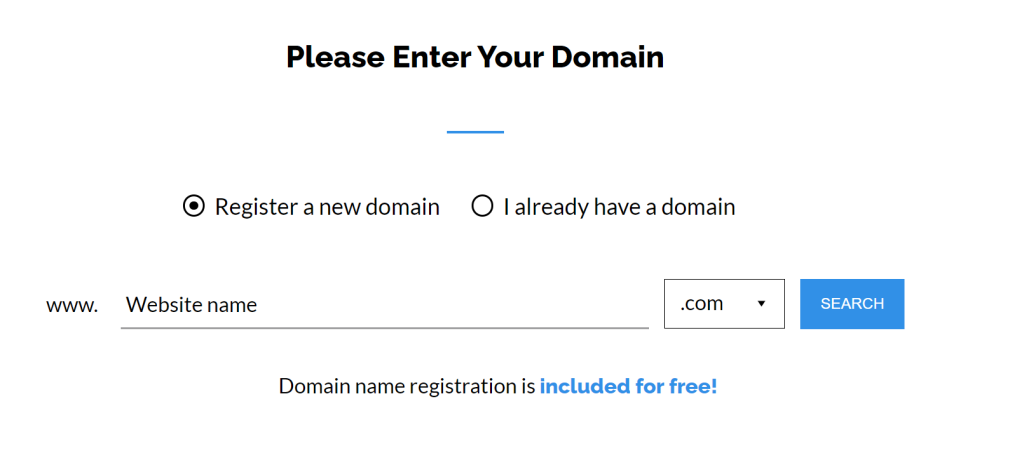 Also, you can get your domain name registered on TMDHosting at the smallest prices.
Transfer Domain
TMDHosting offers cheap domain name registration and a free domain name with all its plans.
However, you might have to look for domain transfer options as this platform does not say much about domain-related services.
Key Features of TMDHosting Hosting
Let us look at the key features of this platform in this TMDHosting Review.
Easy-to-Use Interface
TMD Hosting has one of the easiest interfaces with everything in one place.
The portal dashboard is made in such a way that you will find everything without wondering about it on one convenient portal.
Drag And Drop Sitebuilder
What do you do if you want to customize your business website and add or remove some features? Most probably, you would hire an expert and get it done.
However, with TMDHosting, you can build your website by yourself with the help of a drag and drop site builder included in its hosting plans.
Triple Backup
With TMDHosting by your side, you will never have to worry about the speed of your website. Besides SSD storage and numerous data centers, you get one more thing to keep your website safe.
This hosting platform offers you three layers of caching (АPC, OPCache, Varnish) which means phenomenal speed on your website.
Daily Backups
Another feature that we had to mention was the backups provided by TMDHosting. This hosting platform offers you daily backups. These backups are regulated and updated regularly only by a senior system administrator's staff, such as a person of authority.
Live Malware protection
TMD hosting offers military-grade security through its BitNinja-powered web-based firewall. It means there is no need to worry about breaches and hacks.
As an eCommerce or online store, data threat and loss of personal data are a headache. With TMD hosting, you will be able to safeguard your website with live malware protection.
One-click Installer
TMD hosting offers one-click installers for WordPress with more than 300 apps. It has open-source hosting for almost every CMS like Joomla, WordPress, OpenCart, and many more.
Huge knowledge base
At the time of research for the TMD hosting review, I found TMD hosting has a dedicated knowledge base as a part of their support. This knowledge base clarifies almost every query you may have.
TMDHosting Refund Policy
How much time would you require to use an item and understand if it suits you? A week? A fortnight? A month?
Herewith TMDHosting, you get about two months to use and understand TMDHosting. You can apply for a refund at TMDHosting within 60 days of purchase, and no questions will be asked.
Pros & Cons – TMDHosting Review
Let us now count the pros and cons of TMDHosting Review.
Pros
Cons
Why Should You Choose TMDHosting for Your Website?
We could give you plenty of reasons to choose TMDHosting as your hosting service provider. First of all, here, you get plenty of hosting options to choose from.
Secondly, seven data centers, SSD storage, caching, and more ensure that your website has the best speed. The security system is intact and is pretty good. So why not?
FAQs – TMDHosting Review
Who owns TMDHosting Technologies?
Where is the Base company located for TMDHosting?
What is the uptime guarantee of TMDHosting?
TMDHosting offers about 99.999% uptime. However, on testing, we found that our website hosted on TMDHosting experienced a 100% uptime for an extended period.
Is the lifetime domain really "free" with TMDHosting?
You do get a free domain name with TMDHosting plans, but the life depends on the lifetime of the plan you choose. If you call, it is transferred, and you might have to pay per your new hosting.
How to Order Hosting from TMDHosting? 
To order a TMDHosting, you will first have to create an account on this platform. Select the payment option and complete the purchase. Now you can choose the plan you want and might be asked to register a domain.
How long does it take to activate my TMDHosting account?
TMDHosting offers an instant setup of your account, which means that this hosting platform will start working on your account as soon as you complete the payment. It might take a few minutes.
Why Should I Choose WordPress?
It would be best to choose WordPress as it is one of the best platforms to build your website. It is easy for beginners and suitable for experts, so it is pretty flexible and accessible.
Conclusion: TMDHosting Review
Now let us conclude this TMDHosting Review. This platform offers plenty of hosting, which is impressive and valuable. You benefit from 7 data centers and multiple layers of caching; therefore, your website stays fast.
Additionally, some of the best parts of this hosting service provider include the availability of set builders could be considered a plus point as it uses drag and drops technology. However, it would help if this hosting platform worked on its knowledge base and domain-related services.
Overall, you can avail of discounts on the official site and get the services in the most affordable price range.