Are you looking for a hosting service provider that offers affordable hosting plans yet does an excellent job providing you with the best speed and support? It must be challenging to find such a hosting platform.
However, with Dinahosting, you can choose from numerous hosting services such as Hire, WordPress, cloud, dedicated servers, etc. Also, the customer support could be pretty good.
Let us now get into this Dinahosting review to know more.
About Dinahosting
Dinahosting is a Spain-based hosting service provider with data centers that ensures a good speed for your websites that will help you stay on top of the search engine ranking and increase your audience.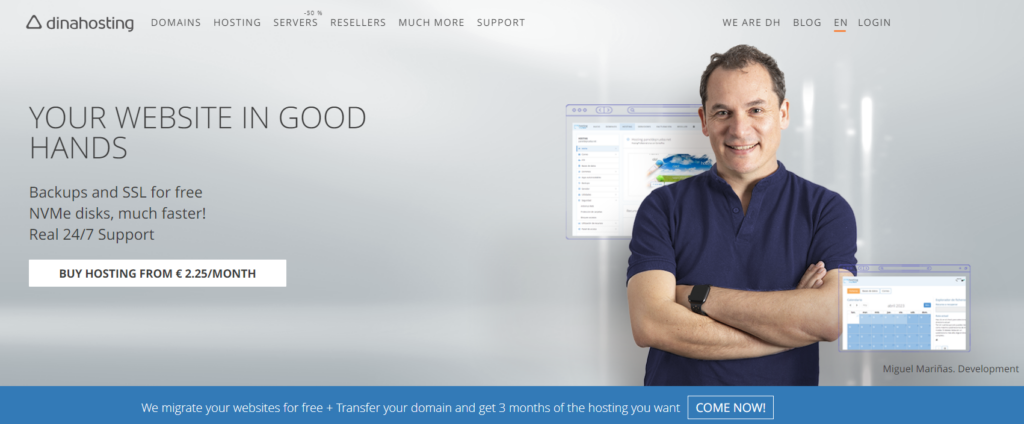 This hosting platform offers you numerous hosting services, including WordPress hosting, Hire hosting, professional emails, cloud hosting, private hosting, etc. Also, you get access to multiple tools here.
Test and Analysis
It is now time to test out the services of this platform in this Dinahosting Review.
User Interface & Ease of Use
The user interface offered by Dinahosting is pretty simple to use and understand. It is built to suit users at all levels of expertise, be it beginners or experts. With the simple design of the dashboard, you can do your hosting tasks easily.
Dinahosting Customer Support
The customer support offered by Dinahosting is pretty appreciable. This hosting platform provides 24/7 customer support through live chat, emails, and calls. The customer support team is pretty quick with its responses.
Security Analysis
The security of your data is crucial as it is the reason your website is running so well. With Dinahosting, you get security features such as SSL certificates, backups, WAF, and more, ensuring your data stays safe. 
Dinahosting Data Centre
The data center of Dinahosting is located in-
Key Features Of Dinahosting Hosting
Now we will list the key features of Dinahosting in this Dinahosting review.
Free SSL Certificates
To ensure that your website makes secure and encrypted connections on the internet, you must take the help of SSL certificates to provide all of that. Therefore with Dinahosting, you get access to free SSL certificates.
Automatic Backups
With Dinahosting by your side, you do not have to worry about losing a bit of your data, as this hosting platform offers you automatic backups. These regular backups are scheduled daily.
Free Migration
Rather than wasting money on a hosting service provider that does not fulfil your basic hosting needs, why not move to a better hosting platform such as Dinahosting. This hosting platform helps you migrate your website hassle-free for free.
Dinahosting Refund Policy
With Dinahosting, you get a safety net of a refund policy. You get a 30-day money-back guarantee on the hosting services, where there is no such policy on domain-related services.
Dinahosting Pros & Cons
Now we must list out the pros and cons of Dinahosting.
Pros
Free migration
WAF (Firewall)
Quick customer support 
Cons
Data Centers only in Spain
FAQ
Conclusion
As we conclude this Dinahosting review, we must list some attention-worthy features of this hosting platform that we might or might not have liked. The data centers of this hosting platform are only located in Spain, which could affect the speed of your websites.
However, this hosting platform takes good care of its customers through quick customer support services. Also, with Dinahosting, you get hosting plans filled with tools that will help you climb up in rank, such as fantastic SEO tools.