Are you on the lookout for the best hosting services at reasonable prices? Or some provider that makes hosting easy and your website to rank at the top amongst the best?
If these are the cases or something related to them, we have a list of web hosting providers we can recommend.
But as for now, we'll discuss a company that almost reaches and top all your requirements. We're talking about YouStable, a trusted and great-performing web hosting company over the years.
Since its establishment, the company has been providing the most affordable services and satisfying the customers' needs, as far as they know and can.
Let's not wait further and continue to read more about YouStable and know all about it!
About YouStable
YouStable was established in 2015 with an aim to prioritize customers and provide the most affordable web hosting services so that no one has to think twice before wanting to start their own website.
YouStable's data centers are spread worldwide in order to provide uninterrupted services. Leading to this, today, YouStable has more than 75,000 happy and loyal customers who are satisfied and continue to work together with YouStable.
Test and Analysis for YouStable
We ran tests and Analysis on each aspect of YouStable's quality of services and came out with some unseen and excellent results.
So, we could not keep them to ourselves. Hence, here are the reports of all the tests we ran on their server:
YouStable Server Response Time
Server response time or SRT is the total time between a client requesting a page in a web browser and the server responding to the request which is measured by TTFB (Time to First Byte).
TTFB measures in milliseconds which is the amount of time it takes to receive the first byte between creating a connection to the server and downloading the contents of a web page.
To check the Server Response Time of YouStable, we used a testing tool known as Bitcatcha which analyzes server response time from around the globe by ignoring the content of the site.
In the course of testing YouStable for its server response time, we observed a server response time lie below 100 milliseconds and the other results that came out were pretty impressive.
We use the Bitcatcha tool to check the server response time from different locations like US(W), US (E), London, Singapore etc, and the result will stun you because the max server response time was 57MS.
YouStable Speed Test
The speed test of the server shows how fast your server will process the user requests and find the needed content.
Anyone can design and develop the lightest and most fully optimized website by themselves or by hiring the best developer but if your servers are slow and not responding as per your expectation, all your efforts would be of no use resulting in low traffic and loss sales.
A slow speed can affect your website growth and in turn your business.
YouStable claims to have an outstanding speed as they never let your server gets overloaded and the network is route optimized.
We used the tool GTmetrix for testing a website that is hosted on YouStable and the result was way beyond our expectations.
We perform an N number of tests to check the speed and all of them gave the almost same result to satisfy our speed needs.
YouStable Uptime Test
The uptime test refers to the time a server runs continuously with any reboot or shutdown. We can say that we can define Server Uptime as the total time duration for which a server is running and it's fully operational.
Even 1% downtime means losing numerous hours being unavailable to your clients in a year.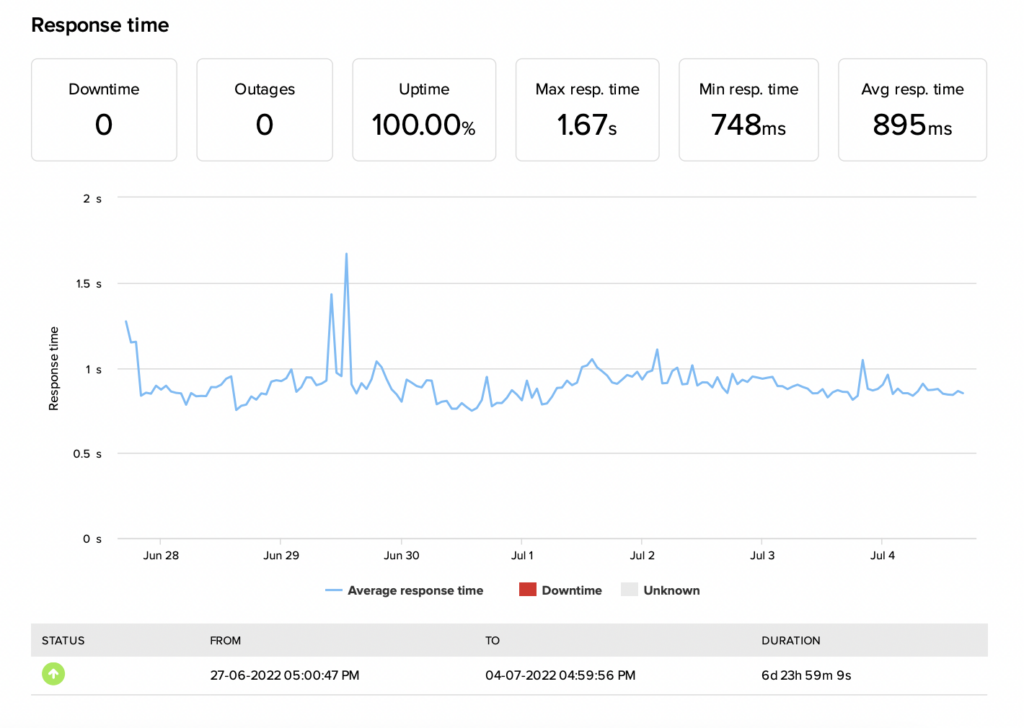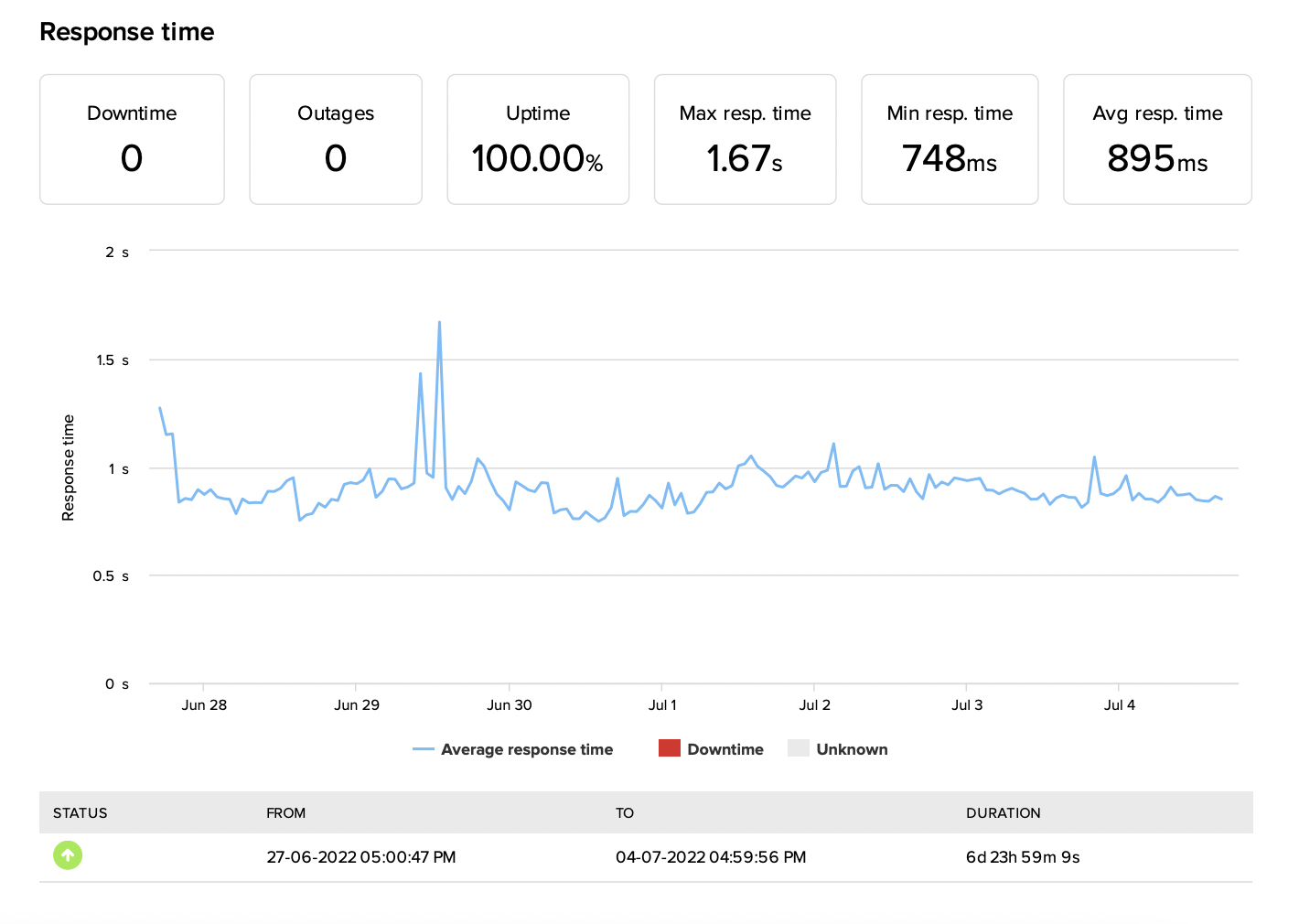 To check the uptime guarantee of YouStable, we used a very well-known tool Pingdom and it almost felt like 100% uptime was being provided to us as promised by YouStable.
We tested our website for 7 days to notice the 0 Downtime and 0 Outages with 100% Uptime which is way beyond our expectations.
YouStable Load Handling
For load testing, we have sent 50 real-time virtual visitors within 1 min 30 sec of time duration with an average rate of 27 req/sec which makes it 1911 requests and gets an exceptional response time of 43ms. The results are quite amazing for the website.
YouStable Customer Support
The most friendly and all-time available customer support team of YouStable is always up and above to solve each query of its users and visitors.
We tried their customer service and got instant replies through the live chat option. Also, during odd hours they worked well to solve our query through an email or phone-call drop.
Hence, we can say that as per the claims by YouStable about their customer support, they withstood them!
Security Analysis
You wouldn't like to pay extra for something you should get with your hosting plan, right? Security comes along with such services, and unlike some other providers out there, YouStable is providing many security measures for free with their hosting plans.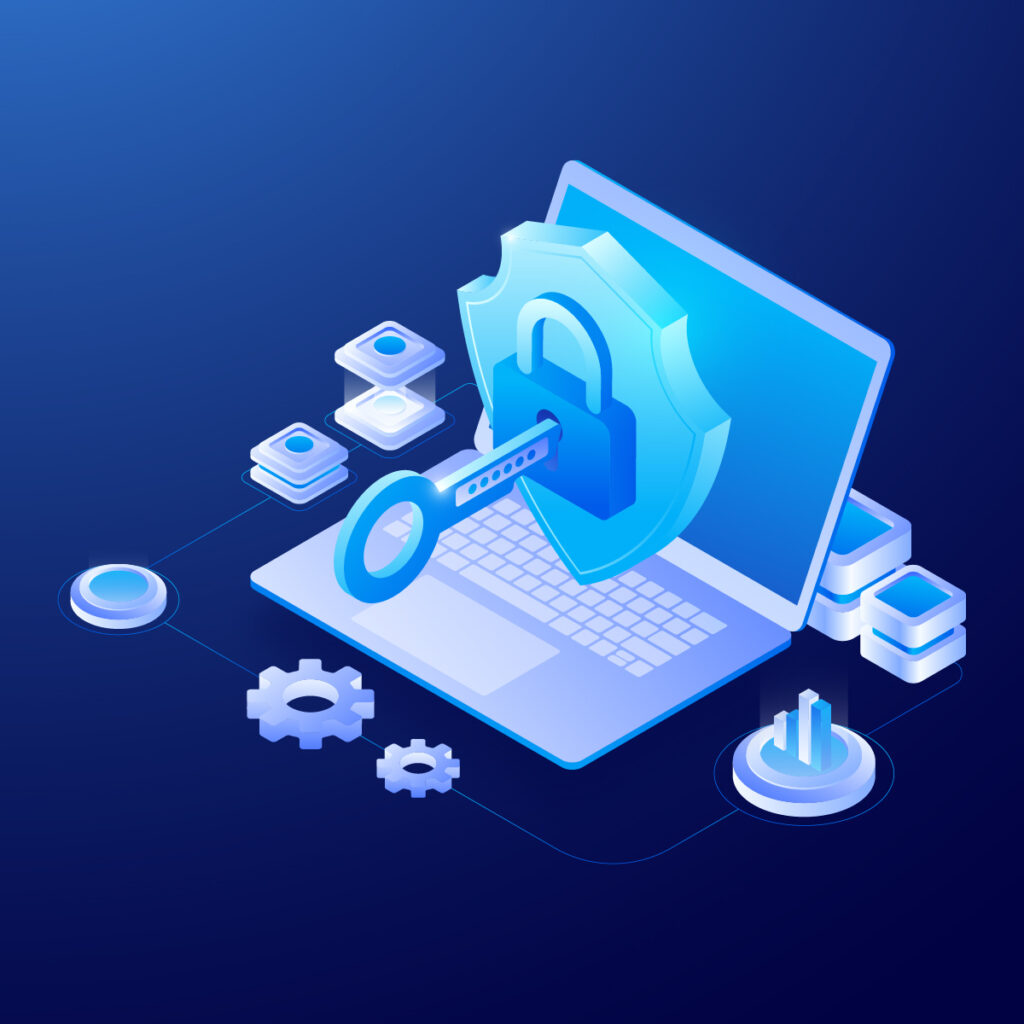 With the availability of SSL certificates, daily backups, monitoring, firewall and other security measures, YouStable also has some unique features like the availability of Notifications, Firewall, reCAPTCHA, KernelCare, Malware Scanning, Reputation Management, Proactive Defense, and more to keep your site secure from any attacks and spam.
Stay assured and relaxed while working with YouStable. They value your data and ensure that it provides the best security to your website for known and unknown attacks.
YouStable Data Centers Location
YouStable provides a wide range of server locations. They have 3 different locations, which gives its customers the lowest latency possible. The data center locations of YouStable:
Key Features of YouStable Hosting
The features determine the services of a product. To know in-depth about the quality of services YouStable offers, here are its web hosting features:
Types of Web Hosting Plans does YouStable offer
Here's a list of web hosting services with their prices offered by YouStable:
YouStable Domains
There's an endless list of domain extensions that YouStable offers. Hence, choose a unique one for yourself! With no hidden fees and a guaranteed unique domain name, you can start your web journey with a different individuality because it comes by name.
YouStable is the best way to get a free domain name. Just sign up for a web hosting plan, and they'll give you a free domain for one year. To enjoy a free lifetime domain, check out GoogieHost Free Web Hosting!
YouStable offers Registering and Transferring services for domains. Let's know it in detail:
Register Domain
Follow some simple steps:
And your domain name is registered by YouStable. They also offer free privacy protection, full control over the DNS settings, and friendly domain prices: '.com' for $11.99/year, '.in' for $7.99/year, '.net' for $12.99/year and so on.
Transfer Domain
Transferring the domain is also easy and efficient. All you have to do is:
The domain will be transferred by YouStable to their company within 4-5 days after completing the process. The prices are the same as one pays at the domain registration time, depending on the extension the user is using. Just make sure the domain name is at least 60 days old to be eligible for transfer.
YouStable Refund Policy
YouStable offers a 30-day money-back guarantee for the first sign-ups. So, if you are new and want to try YouStable's hosting services, they allow you to try, and in case you don't like their services, you can apply for money back within 30 days of the purchase.
The refunds are not applicable after the first or subsequent sign-ups. Rest, if you want to go into more details, please visit their website under the Refund Policy section.
YouStable Pros & Cons
If we talk about the plus points of the company, there are sure to be minus ones too. These are the pros and cons of YouStable services:
Pros
Top-Notch Security 
Various data center locations 
Free Site Migration 
Affordable Pricing 
Cons
Call support is available only during working hours.
Why Should You Choose YouStable for your Website in December?
We have directly listed the reasons for one to choose YouStable:
FAQs: YouStable Review
What is the uptime guarantee of YouStable?
As per its claims, YouStable offers a 99.9% Uptime Guarantee. It also claimed its guarantee to be true while we ran an uptime test on them.
Is the domain really "free" with YouStable?
Yes, if you purchase an annual or tri-annual web hosting plan, you will get a free domain for one year. It comes for free with these plans.
How much does YouStable shared hosting cost?
YouStable's shared hosting starts at just $1.20/month. It has three plans, the other two cost: $1.80 and $2.60/month respectively.
What makes YouStable exceptionally incredible?
The exceptional qualities of YouStable are its 24*7 bilingual customer support and affordable prices. You won't be able to compare such quality features at such low prices easily!
What if I need any kind of help at YouStable?
In case you need help from YouStable, its customer support is 24*7 available through the options of live chat, call, email, and ticket. They also have a knowledge base with a lot of information and clear most doubts and issues.
How does YouStable match up to the competition?
Giving out the most reliable and trusted services with over 75,000 happily served customers, YouStable provides the best post and pre-sales support. It does not let its customers at any point in time.
YouStable vs Hostinger, which is better and why?
We'll say YouStable is better than Hostinger. And why? Because when you buy a low-cost/small plan from Hostinger, they'll constantly nudge you to upgrade, not because of the cost but also because their small budget plans do not provide good services, and one will face challenges while hosting their website through it.
Whereas, in YouStable, the user can choose from the smallest to the largest plans. Just some good quality service at low prices and constant customer support! They will not face any interruptions or nudging from the YouStable.
Conclusion: YouStable Review
Concluding the YouStable Review, we drafted an honest article so that our readers get a fair idea of the hosting platform and make their decision in accordance with it.
YouStable for sure offers in-budget prices with some extraordinary features. But it also has some terms and conditions applied to its refund policy. So, make sure you are confirmed about the option and moving on with their services before making the final decision.
You will get to try with money-back if you are a new customer, so that's the time you can analyse their confidence and decide. Overall, YouStable is one of the best leading web hosting providers built with trust.