Kamatera Review 2021 | Get 30 Days Free Trial Cloud VPS Hosting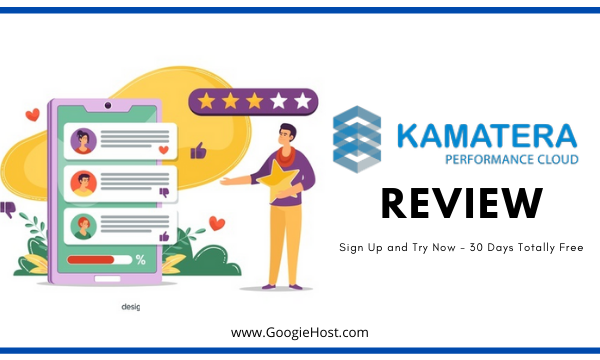 Kamatera Review 2021: This is the time when most of the web hosting services are offering only monthly and annual subscription options. But, will you believe me if I tell you, there exists a service provider who charges per hour basis?
The logic behind this offer is: Why paying for subscription when you are not using the server space at all?
Yes, Kamatera has per hour based service plans. Thus, you can calculate the exact expenses you have to bear before launching your website on their server.
ISN'T THIS COOL!
Kamatera's cloud server is best for small businesses, startups, professionals, and students who doesn't want to spend more while using less space in the cloud server.
By chance, if you are wondering what is a cloud server, then unlike physical servers, a cloud server is a virtual server that runs in a cloud computing platform.
Cloud servers are getting more spotlight in this digital era as they are hosted and delivered on cloud computing platforms on the internet. You can access them remotely; That's why they are called virtual servers.
Kamatera is a cloud VPS hosting provider. It helps businesses of any size and user of any type with their virtual server service by providing reliable, scalable performance at an affordable cost.
In this article, I will give you a through Kamatera review. Using the review, you can make a wise decision if you are looking to host your next website on the cloud.
So, hold on tight and stay tuned till the end of the article!
High-Performance VPS Hosting For
All Your Infrastructure Needs

30 Day Free Trial
About Kamatera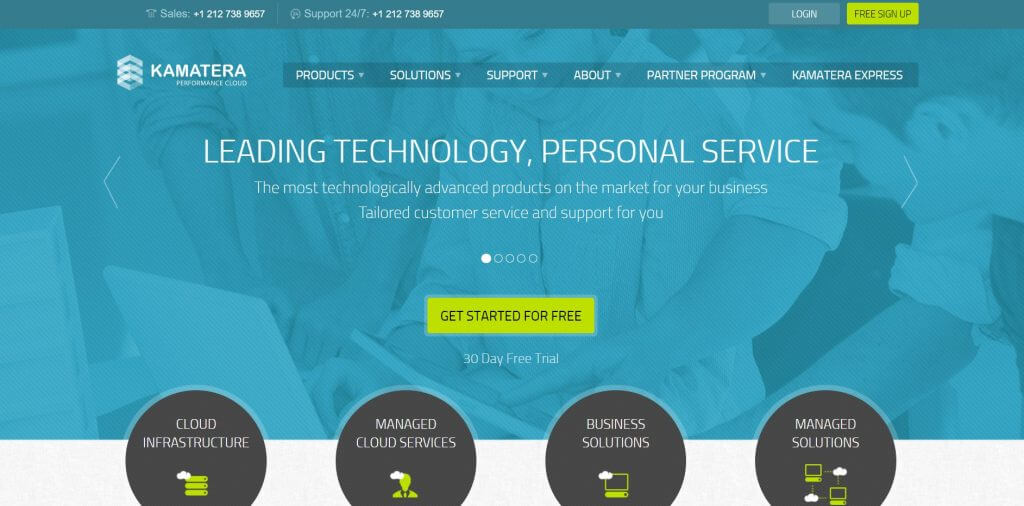 Kamatera was founded in 1995. It is a part of an international IT-based service provider. It has 20+ years of expertise in cloud computing and offers cloud server services all over the world. Whether you are a big company or a small start-up, this has everything that you need.
It not only offers services to companies and start-ups but also to individuals, developers and professional IT persons.
High-quality hardware and regular upgrading the services are the two most beneficial points about Kamatera. 13 data centres and hundreds of servers are there to give you the best in industry services.
Kamatera provides servers with almost all operating systems: Linux, Windows, free BSD to name a few.
In this Kamatera review, let's move to the features, pros and cons with price and plan. After reading, you will have a brief idea about the 20 years old cloud service provider: Kamatera.
Kamatera Hosting Plans with Prices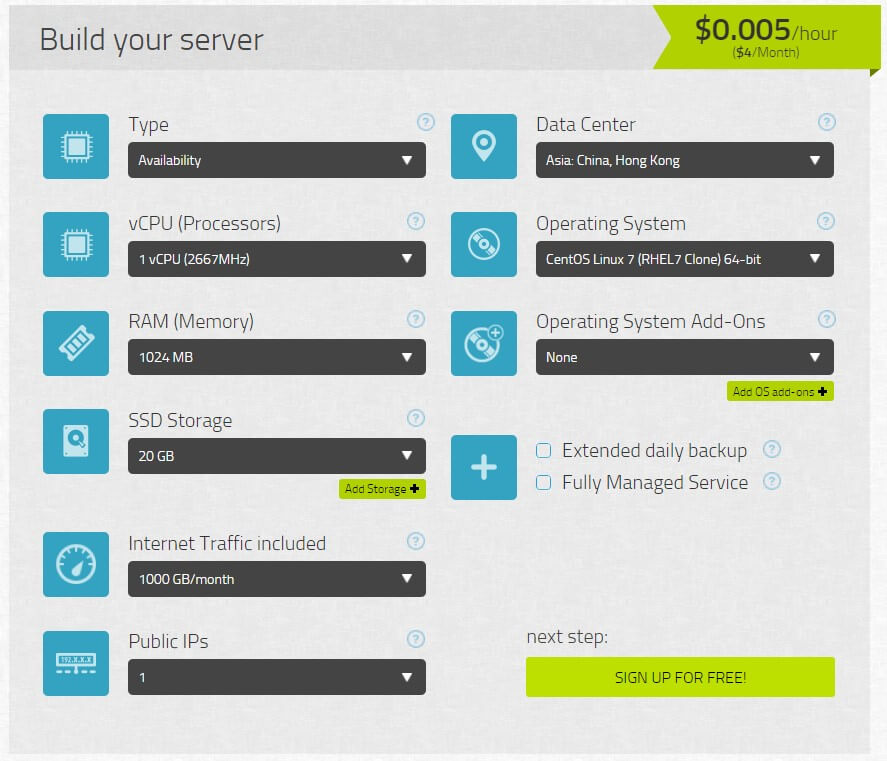 Kamatera offers a price calculator where you can get the exact expense idea before launching your cloud server.
You can also use the calculator in future if you want to adjust your server architecture. Their cloud server product prices are transparent and there are no hidden charges added.
To get the calculation for the price, you can use the main screen of the calculator and choose the desired server configuration.
You can customise and add main memory, storage, and number of CPU cores; You can also combine additional hardware like management tools and firewalls. When you are done with the configuration, the final price will show up in the top right corner of the screen.
Related Review: Customization available with Interserver. READ NOW!
Kamatera also gives you a choice for operating systems (CentOS, Ubuntu, FreeBSD, Gentoo, Debian, Windows or CloudLinux). For the storage options, you can select SSD storage ranging from 30 GB to 1000 GB. The monthly bandwidth limit allowed by Kamatera is up to 500GB.
The price of the plans is just $0.005/hour. You can also get the plans starting from $4/month.
Kamatera 100% Working Coupon Codes
PAY AS YOU GO – INSTANT SCALING FOR ULTIMATE SAVINGS!
Are you worried about your wallet?
Get pocket friendly Cloud Server products from Kamatera.com starting at just from $4.00/month!
In this Kamatera Review, let us move forward to the reason of choosing Kamatera Hosting by Business Owners.
Why Business Owners Choose Kamatra Hosting? (Features)
When we are discussing about Kamatera review, the first thing you should know is its features.
Kamatera's clouds hosting servers are fast and secure to host your website and store your data. A website that runs on a cloud performs faster. You can quickly and easily upgrade by adding memory and disk whenever needed.
Related Cloud Hosting server Review: CloudWays Review
As I mentioned above, business owners no matter small or big choose Kamatera as their VPS partner. Here's the reason why they choose it:
#1 High-performance server 🏋🏽
Kamatera is currently holding its operations on 10 global locations. Its cutting edge technologies with 600GBIT bandwidth makes it a high-performance computing service.
Kamatera constantly upgrades its hardware and infrastructure to keep its cloud computing the best in the market. The company uses Solid State Drives (SSD), hard drives, and Intel Platinum 8270 Processors that guarantee you 99.99% uptime.
Related: Is 99.99% Uptime possible with IDWebHost? Read The Post NOW!
#2 Flexible Cloud Services 🤸🏽‍♀️
Flexibility is the main attraction of any product. Kamatera's products are flexible as well as affordable. You can try them by just getting a 30 days free trial. If you don't like it, then you can drop them at any point of time.
With the motto "Probably the most flexible cloud in the world"; They provide products and services that cost less and are suitable for your pocket.
While researching the Kamatera review, I found that they don't ask a single question if you want to cancel the subscription.
#3 Products that actually suits your requirements 🤹🏽
As a company that has been operating for 20 years – Kamatera offers almost every product that your business may need. The prices are low compared to other service providers which is a plus point.
Highly interactive service, flexible plans, option to walk away if you don't find the product is for you. These are some of the highlighted points about Kamatera review.
A range of products are offered by Kamatera that are flexible and scalable to buy. They offer Private cloud network, Cloud block storage, cloud server, cloud load balancer, Fully managed clouds, Cloud firewall and many more.
#4 24x7x365 round o'clock support ⏰
Not only quality products, but Kamatera also offers a support system that actually helps you. Their customer care offers 24/7 service for all your queries. The response time is unbeatable.
I tried contacting them personally, and they replied swiftly compared to the other services.
Related Review: How good is Niagahoster's 24/7 Support? READ NOW!
Data Center Location

Kamatera has 13 data centres worldwide across 4 continents. Enjoy ultimate availability and performance that thrills. The data centres are:
North America: United States, New York, New York
North America: United States, Texas, Dallas
North America: United States, California, Santa Clara
North America: Canada, Toronto
Asia: China, Hong Kong
Middle East: Israel, Petach Tikva
Middle East: Israel, Jerusalem
Middle East: Israel, Rosh Haayin
Middle East: Israel, Rosh Haayin (2)
Middle East: Israel, Tel Aviv
Europe: The Netherlands, Amsterdam
Europe: Germany, Frankfurt
Europe: United Kingdom, London
Support
Kamatera's tech support is available 24*7*365 days. You can also fill up the contact form for any queries and feedback.
You can reach out to there 24/7 support team via phone or email:
Phone: +1 212 738 9657
Email: [email protected]
For sales related query:
Phone: +1 212 738 9657 – North America, Europe and Asia
+972 (0)74 705 0320 – Middle East
Email: [email protected]
In this Kamatera Review, let us review the performance of the Kamatera web hosting below:
Performance
Kamatera has a high performing server and it has flexible products. It offers customization of cloud infrastructure, managed cloud services, business solutions, managed solutions, cloud firewall, cloud load balancer, and cloud block storage.
After setting up the arrangement, you can estimate the price as per your requirements. This means no bulk payments, hence completely personalized.
You may be thinking what is a managed cloud service?
Read this article to solve all your doubts in one go!
Suggested Read: What is Cloud Managed Hosting Service?
You can also try VPS free trial for 30 day:
Kamatera's first-class support system coupled with performance actually boosts the Kamatera review.
SSD hard drive, 99.9% uptime guarantee, Pay Hourly by the minute or Monthly option, 13 data centres available worldwide, advanced technology and zero maintenance are some of the pro points of Kamatera. The performance is really high with the other facilities mentioned.
Let us tune to Pros and Cons of the Kamatera Review below.
Pros
99.9% uptime guaranteed
No hardware maintenance needed
Plans that you can afford
30 Days Free Trial – No questions asked
Low total cost of ownership
20+ years of experience
Excellent customer support
Simple back up and monitor facility
Cons
Technical Knowledge is required
Is Kamatera recommended? Let us review this in the Kamatera Review section below:
Do We Recommend Kamatera?
Cloud servers are the best mate for a business that needs stability and security. Unlike a physical server, no other server can affect your cloud server when you acquire a server on the cloud.
Kamatera is not a new name in the VPS industry. It is 20 years old now and holds every strong point to get the best option to choose for cloud hosting. The high performance, the customer support that actually hears your problems and solves them makes the brand name trustworthy.
The best part about the service is – You can customize the plans on per hour basis or you can simply go for a monthly basis plan.
While studying for Kamatera review, I noticed that their website is simple to navigate, and they explained everything is well.
I would personally recommend you to once give Kamaerta a try. You will have to pay a slight huge amount to enjoy the services, but don't worry! The 30 days trial plan is there to support you if you don't like the subscription and service.
As a cheap cloud VPS hosting, Kamatera is suitable for free VPS for students, businesses, professionals and developers.
Wrapping Up
I hope you got a brief idea about Kamatera review after going through this article. If you have any doubts or questions related to this review, feel free to ask in the comment section.
You can also go through our other reviews. We publish quality articles that help you to make informed decisions for your next service purchase. You can also utilise coupon codes provided by our blog to save some bucks.
If you liked this Kamatera Review article, feel free to share it across social media. This way you will share the idea and knowledge to those, who are searching for some quality review of Kamatera.
Want to read our Other blogs?
Click Here NOW!