To make your business website available on the internet, you must host it. But where can you find reliable, supportive hosting that works many functions and is also affordable? It isn't easy to find such a hosting, but we have made your search easier.
We hosted our site and curated this detailed ​​UltaHost Review guide to help you choose the best one.UltaHost has one of the best interfaces and an incredible set of features regarding hosting providers we have come across.
Not only do general people like us use this platform to host our small businesses or websites, but multiple large-scale organizations still continue to host their websites here.
With its massive set of features to talk about, let us dig in with everything we need to know in this UltaHost Review.
UltaHost Overview
If you want to get an exact understanding of the quality of its service without reading the entire review, we have summarised everything about UltaHost in the table attached above for your convenience.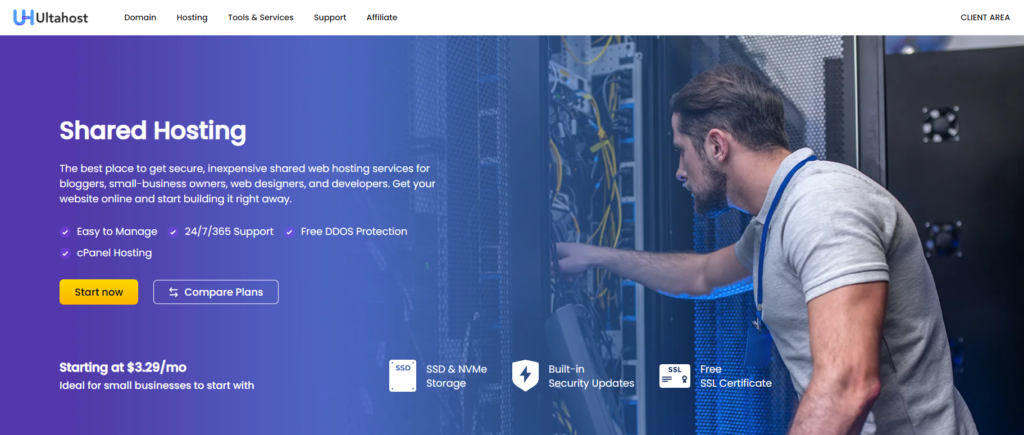 UltaHost is one of the best hosting services in the market that provides its services through its four data centers in different locations worldwide. It offers fast hosting solutions, and speed and security are its main objectives for your websites and application hosting.
It partners with some of the most trusted companies such as Cloudflare, Google Cloud, WordPress, etc. It stays environmentally friendly while moving further with technology to provide you with the best service.
| | |
| --- | --- |
| ⏰ Uptime | 100% uptime in the past 365 days, which is excellent |
| 👩🏻‍💻 Support | Phone, Live Chat, Tickets, and Email |
| 💳 Payment Method | VISA, Master card, American Express, PayPal, JCB, Bitcoin, Discover |
| ♻️ Refund Policy | 30-days full refund |
| 💰Pricing | Starting from $3.29/m |
| 🌎 Data Center | Bulgaria, Holland, Hong Kong, Lithuania, Luxembourg, Malaysia, Russia, Singapore |
WordPress-optimized hosting, eCommerce hosting, Social network hosting, CRM hosting, Mac VPS Hosting, domain-related tasks, and more are available on UltaHost, so let's explore more of them.
Speed Test Analysis for UltaHost
Before you buy a product, you must always look into its details, and it will perform in particular situations.
In the case of UltaHost, we did all the testing you required before you planned to buy their services. So let us look at the test results in this UltaHost review.
Uptime Test
Uptimes refer to the duration when your website is available on the internet and is reachable to your customers. A low uptime can cause significant damage or no growth in your online business because if your website is unavailable most of the time, why would someone want to give it a try?
To ensure that your website does not go through this situation, we have tested UltaHost's uptime over a long time. UltaHost claims to provide a perfect uptime of 100% on specific plans and 99.9% in general, which is great but difficult to attain.
So as per our results of this hosting platform's uptime tests, it offers over 99.9% uptime which is pretty close to 100%. Also, we have tested UltaHost hosting with FrankFurt Datacenter, for several months to analyse its Uptime, below is the following report for UltaHost uptime for the last 10 months.
| | |
| --- | --- |
| August 2023 | 99.99% |
| July 2023 | 100% |
| June 2023 | 100% |
| May 2023 | 100% |
| April 2023 | 99.99% |
| March 2023 | 99.99% |
| February 2023 | 100% |
| January 2022 | 99.98% |
| December 2022 | 99.99% |
| November 2022 | 100% |
| October 2022 | 100% |
| September 2022 | 100% |
| August 2022 | 99.99% |
The uptime provided by UltaHost is efficient, and the average also changes due to any occasion of low uptime, but the overall uptime is appreciable.
Speed Test
Speed is something your visitors will favour while using your website. Long waiting times can cause a loss of interest and, in turn, can cost you your customers. As we saw, one of the significant priorities of UltaHost is providing you with super fast speed, but what measures does it take to offer you this?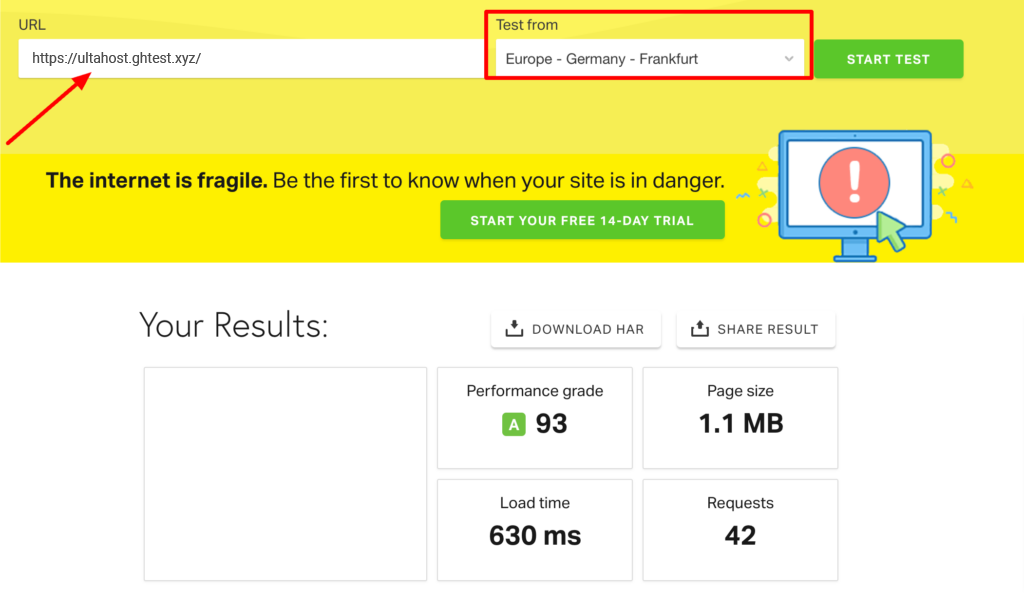 It uses SSD storage for your content which you know is a great way to increase speed as SSD storage works on flash memory and can search for information in milliseconds.
Upon testing, UltaHost showed a pretty fast speed for uploading and downloading. Even with significant size content, it loaded within seconds.
So yes, the rate is quite fast on this platform, and your website will not take more than a second or two to load.
Security Analysis
With speed, you must also take care of the security of your content. Sometimes while you prioritize speed, you might leak information hazardous to your online growth. So keeping your content safe must be a priority.
UltaHost offers several layers of protection to your content. It provides you with paid and free SSL certificates to provide encryption to your website connections. It gives backups to keep you at bay from losing any of your data.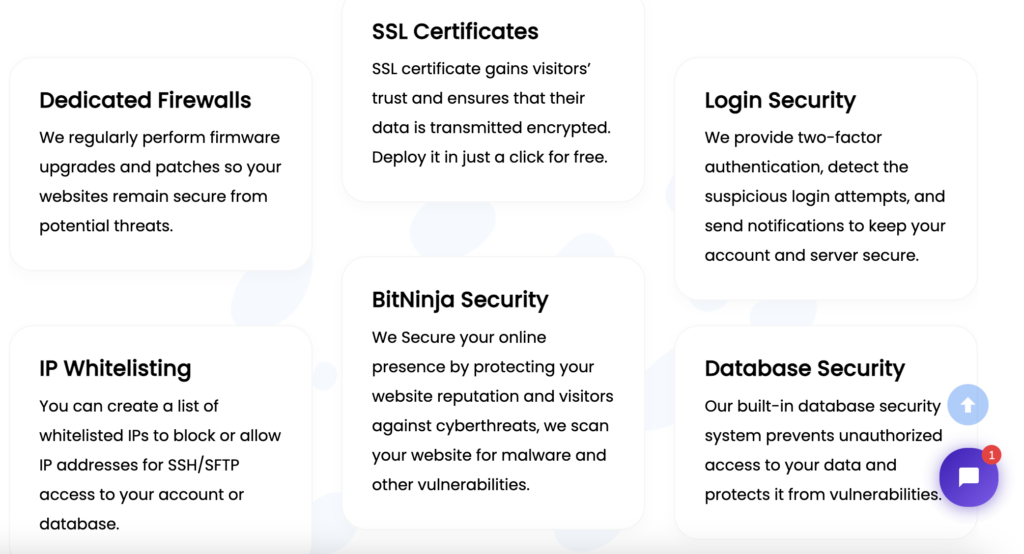 UltaHost provides its users with a variety of Security features that you find in your Hosting Plans, Below we have mentioned the following Security features provided by Ultahost-
All DDoS attacks are also prevented by UltaHost's DDoS protection software, etc. So you can trust this platform as a safe space for your content.
Customer Support Analysis
A customer support system is crucial when you have queries and issues because if this is not provided, you might have to look for that one specific thing on the internet or ask people, which could take up a lot of time and might mislead you.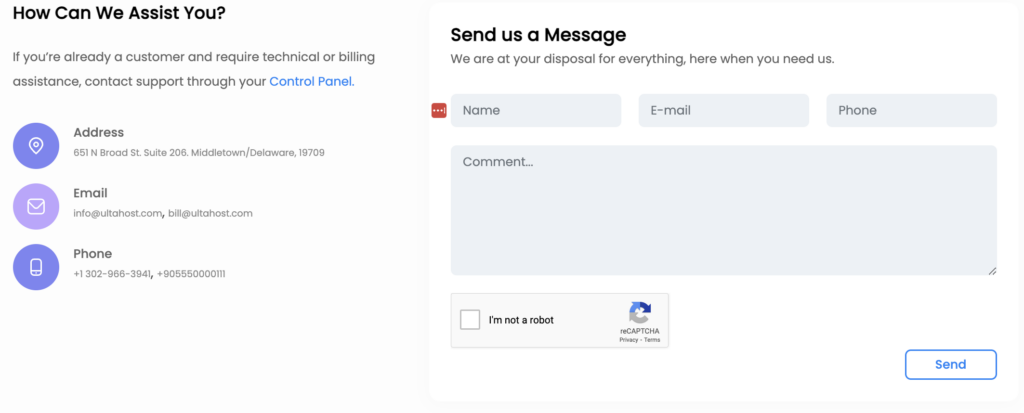 With our recent chat with a Customer Support executive being a customer, the experience was highly satisfactory. Unlike other hosting service providers, the conversation was highly professional and provided just the right assistance that we needed.
Moreover, the response time hardly took seconds and we were able to resolve the issue within minutes of our conversation.

UltaHost customer support is available throughout the day. It is not only for customers but also for others who are looking to enquire about the plans, services, and much more. You can email or raise a ticket from their official site.
UltaHost Datacenter Location
UltaHost offers its secure and super fast services through its 4 data centres spread around the globe.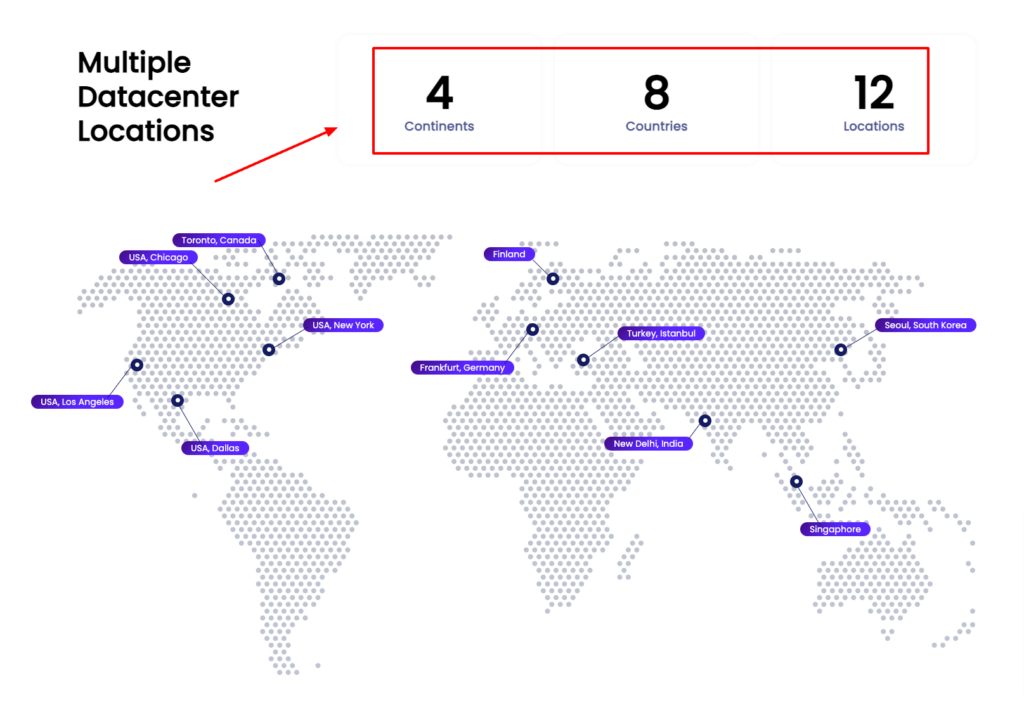 📌If you want more data centre locations, I recommend you to go with Shinjiru, BlueHost, and Hostinger.
Key Features of Using UltaHost Hosting
Let us now take a quick look at UltaHost's key features.
Free Daily Backups
As a measure of security, you must always keep a backup of your content; this helps you recover from any damage to data. Most hostings ask you to pay for this essential service, but UltaHost does not.
This platform offers free daily backups, and you can get your data restored whenever you want. This applies to specific plans, so look into it before buying one.
Free SSL Certificates
Another security measure is SSL certificates, which are required to keep your data safe and your website data connections encrypted. Doing so ensures that there is no data leakage and that your data is kept secure.


UltaHost, unlike other hostings, offers this service for free on their plans. You can also get paid versions of SSL certificates, but the basic ones come for free with this platform to ensure the basic safety of your website.
Powered by cPanel
Whether you are a beginner or a pro, an easy-to-use interface and control panel do not harm and instead ease carrying things out in your hosting journey.
With UltaHost, you get the availability of one of the most used and reliable control panels, cPanel. It provides a user-friendly interface that will help you save money on hiring a professional to get your job done.
Free Website Migration
With UltaHost hosting, you will not have to go through the hassle of getting your website transferred and paying for it. You can sometimes lose your data during migration but not with the platform's support.
UltaHost offers you a free migration service that too fully managed. It migrates your websites, databases, files, etc. risk-free and per your needs.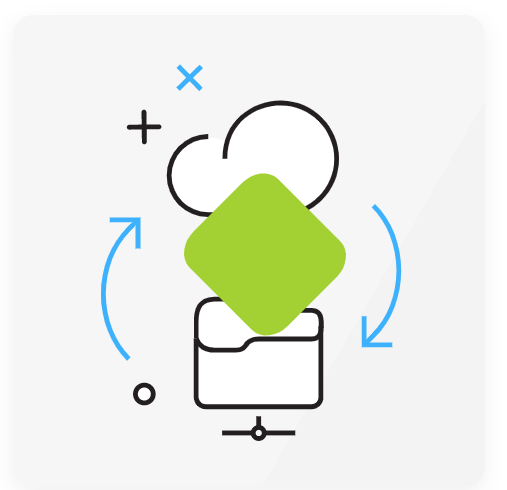 UltaHost Refund Policy
Before you try a new product, always try to look for a refund policy as it ensures that you are at no risk of losing your money on this product, even if it does not suit you. Since the refund policy on the product will save you your money and regret.
UltaHost understands this, it provides a 30-days refund policy. If you are not 100% satisfied with their plans, you can quickly apply for a refund within 30 days of purchase. But do read through their refund policy terms before you use one.
📌The offer is only valid for the first purchase within a period of 30 days.
UltaHost Pros & Cons
The pros and cons of buying an UltaHost plan are as follows:
Pros
Guaranteed Dedicated Resources
Money Back Guarantee
Several free services
Unlimited bandwidth
Free SSL Security
Bullet-Proof Security
Cons
Limited Disk Space
Limited Traffic Volume with each plan
Types of Hosting and Services offered by UltaHost
UltaHost provides a wide variety of services. The hosting services include:
| | | | |
| --- | --- | --- | --- |
| Shared Starter: $3.29/mo | VPS Basic: $5.50/mo | VPS Basic: $5.50/mo | ULTA100 XEON: $129.90/mo |
| 1 Domain | 1 CPU Core | 4 CPU Cores | CPU – Intel® Xeon® E-2276G Hexa-Core |
| 10,000 Visits Monthly | 1 GB RAM | 8 GB RAM | 2x 960GB SSD |
| 30 GB NVMe SSD | 30 GB NVMe SSD | 250 GB NVMe SSD | 64 GB RAM |
| Unlimited Bandwidth | Managed Server | Managed Server | IP Addresses – 1 IPv4 |
| Free Daily Backups | 1 IPv4 Dedicated IP | | Managed Server |
| Free 30-Days Money-Back | | | |
| Explore Plans! | Explore Plans! | Explore Plans! | Explore Plans! |
🔔 Ultahost is currently offering up to 40% off on yearly plans! if you use the coupon code "GoogieHost", you can get an extra 5% discount on both yearly and triannual plans.
Besides hosting, UltaHost provides several other services such as:
Domain
A domain name that sits well with the service or product you sell on your website is crucial since users look for domains that are clear to understand. You can get your domain registered at Ultahost with the most assistance you want.

This platform also offers other domain-related services, such as a WHOIS check to know if the domain name of your choice is available or not.
What Makes UltaHost Different from Other Hosting?
The best thing about UltaHost that makes it different from other hostings is its transparency. It does not hide anything from you and provides authentic information. Its main objectives lie in speed and security, the two things your website requires the most.
To offer you that, it takes measures on several levels such as SSD storage, backups, DDoS protection, etc.
FAQs: UltaHost Review
Does Ultahost offer a money-back guarantee?
Yes, UltaHost offers a 30-day money-back guarantee on its plans. Once you purchase a plan, the 30 days period starts, and if you do not like the product, you can return it and get a refund instead. But this policy does have terms and conditions, so do take a look at it first.
Does Ultahost offer an uptime guarantee?
The uptime provided by UltaHost is 100% on some plans, and in general, it guarantees 99.9% uptime which we also verify with uptime tests over extended periods. This will ensure the availability of your website all day long.
What features are included in the Ultahost Starter Plan?
The basic shared hosting starters plan costs about $3.29 a month. It provides you with one domain, about 10,000 monthly visits, 30 GB NVMe SSD, unlimited bandwidth, free daily backups, free SSL certificates, and a refund policy.
Does Ultahost offer any free trial?
It offers a refund policy, so you must pay when you buy a plan but stay at bay from the risk of losing money for 30 days. So you could call this a trial period, but you do have to pay the money, and you can get it back if you do not like the services.
How does Ultahost Stand on Hosting Competition?
Standing against the competition is not easy, but UltaHost does so through strategic planning and services. It keeps the speed and security of your data the top priority and offers free services, which helps it stand in the hosting competition.
If I'm Beginner, Which Plan is best for me?
Since you are a beginner, your website is growing, which will take some time. Start with the shared hosting starter plans instead of paying extra on plans that provide you services that you do not require.
Do we Recommend Ultahost Web Hosting?
Yes, we recommend UltaHost for your website for many reasons that we came across while forming this UltaHost review. It helps you speed up your website while keeping it secure with no data leakage or threat to your business.
It offers many of its services for free to ensure that your pockets stay safe, and it provides services other than hosting, such as domains and servers.
Conclusion: Ultahost Review
As we conclude this UltaHost review, let us go through its gist. This platform is not so old to the hosting industry but has still formed a firm grip on it around the world. Its services are pretty fast and secure across the globe that is served through four data centres located in Frankfurt, Dallas, Amsterdam, and Montreal.
The plans are pretty affordable, and the starter plans are well equipped to run a website efficiently, so you do not have to pay extra on premium plans initially. Domain-related services are also included in their plans. So make sure you check
The plans are pretty affordable, and the starter plans are well equipped to run a website efficiently, so you do not have to pay extra on premium plans initially. Domain-related services are also included in their plans. So make sure you check out UltaHost!