The two most-used and famous Control Panels of all time- DirectAdmin and cPanel! These two have been user-friendly because of their ease of use and the budgets that come with hosting.
Most of the users have used them, which made its knowledge spread more, and people started preferring either of the two control panels. So, here we are to describe the two panels and draw the difference between the two of them.
They are not very different but obviously have some factors that determine each other differently. Hence, here is an article on how cPanel and DirectAdmin work and where they differ so that you learn all about it and choose your preferred panel with the hosting you purchase!
What is cPanel?
One of the largest hosting firms utilises this UNIX-based web hosting control panel. The user may easily operate the management function with this control panel. The best feature of this control panel is how simple it is to use, regardless of your level of technical expertise.
The server's cloud packages can be managed using it for both small- and big-scale hosting initiatives.
This control panel has made maintaining websites quite simple through automation and an easy-to-use interface. It's the point-and-click graphical user interface that can efficiently complete tasks while using cPanel.

You can learn tidbits about the people who visit your website and always be aware of your users' browsing habits and disc usage while controlling with cPanel.
The box trapper feature in cPanel is a wonderful function that guards you against spam emails. All unauthorised email senders must reply to your receipt of their emails requesting authentication.
What is Directadmin?
All types of hosting accounts work well with the Directadmin control panel. It is a web-based panel with a solid reputation for usability and speed.
It comes with a dedicated and graphical user interface built for browser-based web hosting management for increased convenience.
It enables the administrator to change the MX setting and add or remove data from the DirectAdmin server. Additionally, clients can create, delete, or acquire sub-domain information with its help.
It can be used as an alternative to a quick and simple file transmission protocol. It's the best choice for website development because it's quick, convenient to use and upkeeps with the technology. This control panel allows you to easily install, uninstall or use MySQL (database) in any way you want!
What is the Main Difference Between Two Giants, Directadmin, and cPanel?
Let's talk about the most crucial and main differences between the two types of control panels. We have briefly discussed their performances, prices, support and more for a better understanding.
We can draw a major difference that cPanel offers a better user interface than DirectAdmin. But DirectAdmin comes at much lower prices as compared to cPanel.
It all depends on your requirements. So, without further ado, let's get into the differences between Directadmin and cPanel in depth so that you can make an informed decision while choosing the hosting services for yourself:
1. User Interface
User Interface is something that you see, and the portal is or should be self-explanatory enough for you to browse through and get your work done without having to ask around or wait until someone is there to instruct you.
So, here's the difference between the two user interfaces of Directadmin and cPanel :
A. Directadmin is trying to improve itself and its user interface.

B. It may have fewer options, but it's also easy to use and contains all the latest technologies.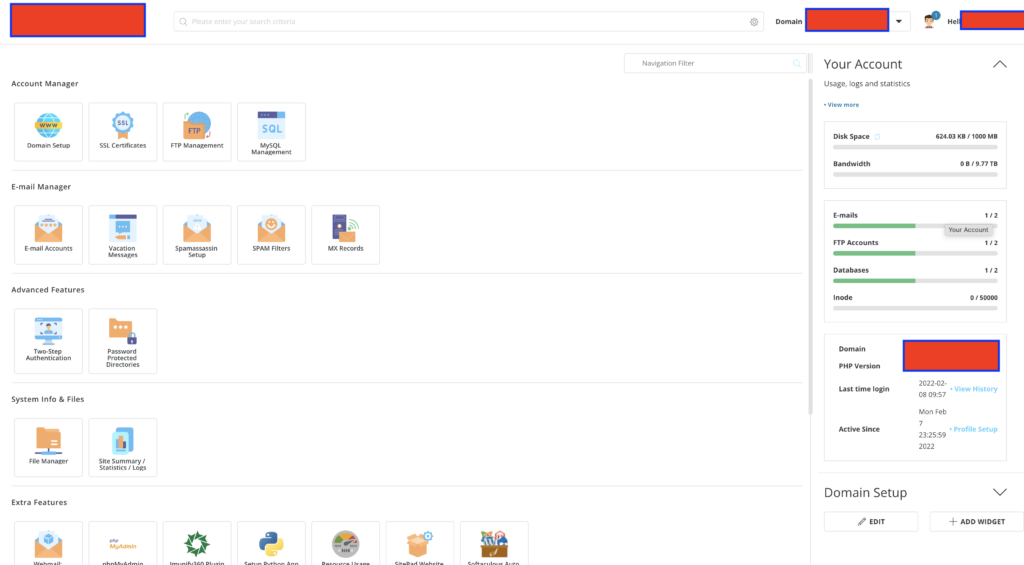 ---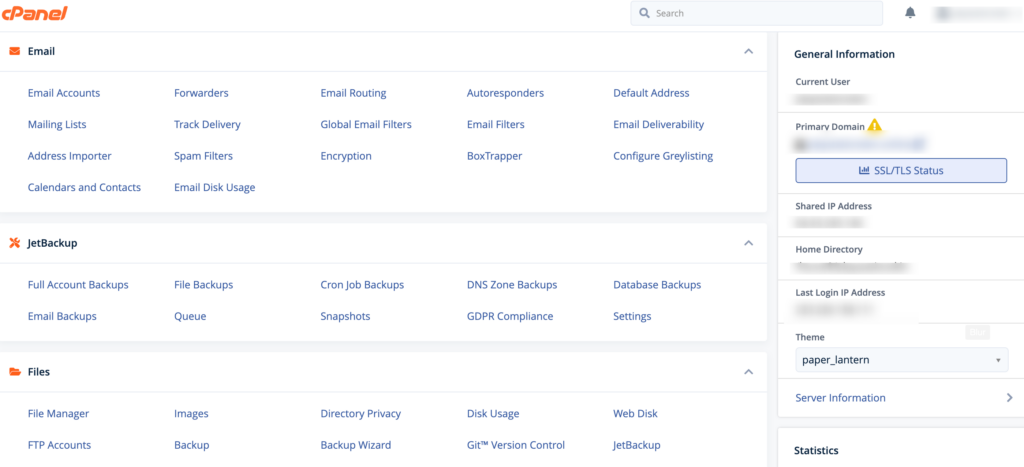 A. cPanel is user-friendly and has a better UX.

B. It offers more options and is simple and understandable.

C. It has WHM features.
2. Performance
Performance determines how fast and efficiently your website will be able to work. And this factor makes your customers stay or exit as well!
Let's know the performance capabilities of both panels and how well and fast they can control your hosting:
| Directadmin | cPanel |
| --- | --- |
| Command-line capabilities Simple server administration Intuitive user interface | Interactive user interface Various configuration functions Preferred by more techy users |
3. Support
Let's talk about the support that each panel provides in times of needs or emergencies :
Directadmin
cPanel
Let's look into the form of contacts and help that Directadmin offers:

A. Knowledge Base Community Forum HelpDesk (Ticket System and e-mail)Sitehelper Technical documents Feature
B. Requests General contact through e-mail.
Let's look into the form of contacts and help that cPanel offers:

A. cPanel blogs
B. Community Forums
C. Support Portal
D. Technical Manuals (cPanel and WHM)
4. Features
Comparison of the extensive features offered by both the panels :
Directadmin
cPanel
The average range of features and options to operate. List of Directadmin features:

A. Create / Modify Admins and Resellers.
B. Reseller Packages.
C. DNS Administration.
D. IP Manager.
E. Mail Queue Administration.
F. The admin can view, stop, start, and restart the System / Services Info menu.
G. Complete Usage Statistics.
H. DNS Clustering.
I. SPAM fighting tools in DirectAdmin.
J. Licensing / Updates.

Have more extensive features and options to choose from. List of cPanel features:

A. Create emails & calendars.
B. Backup, transfer & manage files.
C. Manage domains easily.
D. Launch databases.
E. Migrate new customers with ease.
F. Customize and brand your service.
G. View, analyze, & diagnose server stats.
H. Create cPanel accounts & hosting packages.
I. Spawn cPanel user accounts.
J. Create pricing packages.
K. Offer special reseller hosting
5. Theme and design
Themes and Design make your website look attractive. Hence, which of them are compatible and how conveniently they can work with these panels are written below:
DirectAdmin
In their new evolution theme, DirectAdmin provides four style categories. Every theme and layout can be used by any level easily. DirectAdmin offers the icon grid, regular, sidebar, and hybrid image theme types.
DirectAdmin's direct sub-theme is "Traditional."
cPanel
The most popular themes among the cPanel team include the X theme for WHM, the x3mail theme for webmail, and the paper lantern theme for cPanel.
You can use a "default" or traditional theme for WHM as per your own will.
You may quickly alter your themes and styles in cPanel and DirectAdmin to suit your particular preferences.
6. Security
Security ensures that your server works smoothly and you have no interruptions due to malicious activities. It secures your server from the.
Hence, it's time to know teh security features of both the panels :
Directadmin
cPanel
To assist in attacks, DirectAdmin offers:

A. Brute-force detection and monitoring capability
B. Older versions of DirectAdmin only support port 2222 and block based on the IP of the attacker.
C. Newer versions of DirectAdmin analyse system logs and prohibit IPs based on frequently made requests.
With all of the security features built into cPanel, you can safeguard your machines and clients:

A. Individual IP addresses should be blocked or safe listed.
B. Install SSL certificates across all of your server network's websites.
C. Secure all outgoing messages Provide customers with multi-factor authentication
7. Price
When we compared the prices :
| Directadmin | cPanel |
| --- | --- |
| A. It is cheap in price as compared to cPanel. | A. It is costlier than the Directadmin control panel. |
We have attached screenshots of all the plans offered by both the panels for our reader's ease and understanding of prices with features that are being provided with them:
➔ DirectAdmin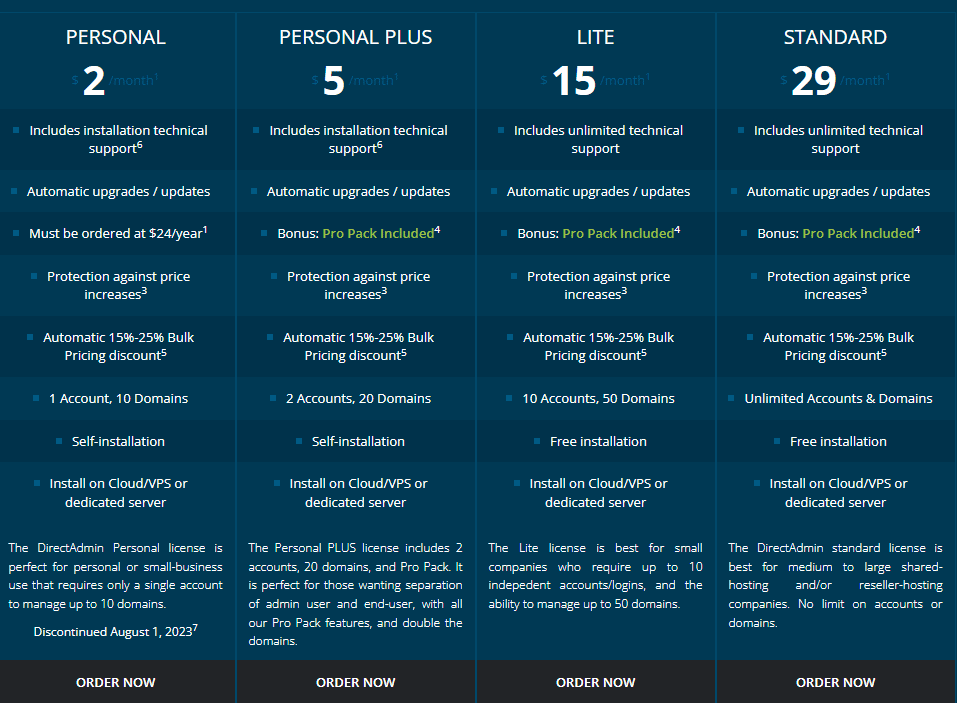 ➔ cPanel
Why do we need DirectAdmin or cPanel? 
These control panels are quite well-liked control panels. They offer a user-friendly web-based interface for managing web hosting servers.
They are liked among the hosting providers because of their ease of use, the things they want to offer and affordable prices to both- the provider and the customer.
Which one is better- DirectAdmin or cPanel
We cannot really determine between these two panels for being better. It all depends on your hosting needs. Both the panels are user-friendly and can be used easily with little learning about them.
All you need to know is that in the performance and user interface area, we can say that DirectAdmin tops other control panels. But when it comes to supporting and security, you can totally depend on cPanel for these services.
But overall, both the panels lack as well as are advantageous in some places, so it becomes equal.
Hence, all you need to do is sort your hosting requirements and choose the one which suits them better.
FAQs – Directadmin vs cPanel
Is cPanel free?
No, cPanel does not come for free. You need to pay for its license to get a hold of this control panel.
What are the same things in Directadmin and cPanel?
Both DirectAdmin and cPanel are control panels made to manage websites. These panels have a lot of features in common, leaving a few to be different (they, too, can be added through plugins if lacking in one of the panels).
So basically, apart from costing and one -two features here and there, these panels share a lot in common!
Does DirectAdmin support multiple PHP versions by default?
Yes, DirectAdmin supports multiple PHP versions by default.
Where does DirectAdmin store website data?
DirectAdmin is just a control panel, so it does not save any website data. It is stored on the server.
What is the difference between cPanel and WHM?
DirectAdmin is just a control panel, so it does not save any website data. It is stored on the server.
How to create a subdomain in DirectAdmin?
The process to create a subdomain in DirectAdmin:
Log into DirectAdmin
Go to "Sub Domains"
Add your prefix
Select the main domain from the dropdown
Finally, submit
Conclusion – Directadmin vs cPanel
As far as we have come across various panels and their functioning, we instantly noticed that cPanel and DirectAdmin were the two control panels that worked efficiently with the hosting, provided user-friendliness to the customers, and were easy plus good-working control panels to be provided by the hosting providers as well.
Hence, we did not take up much time to create this article for all the readers who are still confused between these two panels because, in the end, you will have to choose one of them!
We hope this article clarified most of your doubts about these two control panels, and as per your requirements, you must have compared the two and will surely come out with an informed decision.