Hello, guys. Welcome to GoogieHost, If are you looking for Best WHMCS Alternatives then you are at the right place.
WHMCS is an automation and all-in-one billing platform that automates web hosting business processing like customer support, domain registration, signup, payment processing, and service provisioning.
Switch to Blesta to Save Money
In November, 2023 WHMCS Increased their pricing a lot and now you'll have to pay thousands of dollars to host unlimited customers within your WHMCS dashboard. Blesta is one of the best alternatives available out there, it solves your necessary needs to run a Hosting Company.
Although it is a complete solution for web hosting companies, many organizations have different requirements so they require WHMCS alternatives.
There are several billing software platforms that are rich in features and they may match your company's requirements.
Here we will review WHMCS alternatives that you may find better than WHMCS. WHMCS's full form is Web Host Manager Complete Solution. WHMCS nulled is now available for general availability.
WHMCS Overview
This is a billing software company that offers software for both small and big enterprises. WHMCS was established in 2005 in Houston and currently has 24 employees working in it.
This is one of the most popular web hosting management software that helps manage businesses easily.
It supports signup handling, payment processing, billing aspects, and domain registration services. It is a complete solution to manage tickets and offer customer support.
Why Should You Consider WHMCS Alternatives?
Companies require WHMCS Alternatives as WHMCS is not a solution that fits all organizations.
There are several requirements that cannot be accommodated with WHMCS as there is no need for the advanced features that WHMCS offers so it is better to go for cheaper alternatives.
There are several emerging technologies, trends, and needs that vary as per a company's requirements. This is why several WHMCS alternatives offer web hosting and digital services per the organization's needs.
When choosing an alternative for web hosting and billing automation, it is crucial to follow the latest trends, and get a User-friendly experience that keeps on evolving.
WHMCS Marketplace is a platform where users can discover, try and buy add-ons for the WHMCS platform, and this is available in alternatives too.
So, in case you are not getting the right customer support from WHMCS, then you can look for alternatives that provide better customer support.
Is WHMCS too Expensive?
When you invest in a billing solution that is right for your business, it is crucial to get the right value for money and this decision is quite essential for business owners.
Although WHMCS pricing plans may be more as per your budget and you don't wish to pay for features that you will never use.
This is why you need to invest in a free WHMCS alternative that suits your business requirements.
Read Also: Best Free Mathway Alternatives
Best WHMCS Alternatives and Similar Apps / Services in 2023
Here we are going to list the best WHMCS alternatives and have included many influential platforms. Although, WHMCS is quite good there are several other platforms that have great features, which is why they are good alternatives:
1. Blesta Billing Panel
Blesta is a developer-friendly software that is great for billing management and automation for hosting providers throughout the world. Blesta offers source-documented, object-oriented, and well-written code that is 100% open.
This platform allows integration with virtual servers, domain registry, and control panels. The interface can be customized easily including the dashboard, client profile, and billing overview.
It allows you to configure, minimize and maximize widgets as per your requirement and you will love the clean and intuitive ticket system they offer.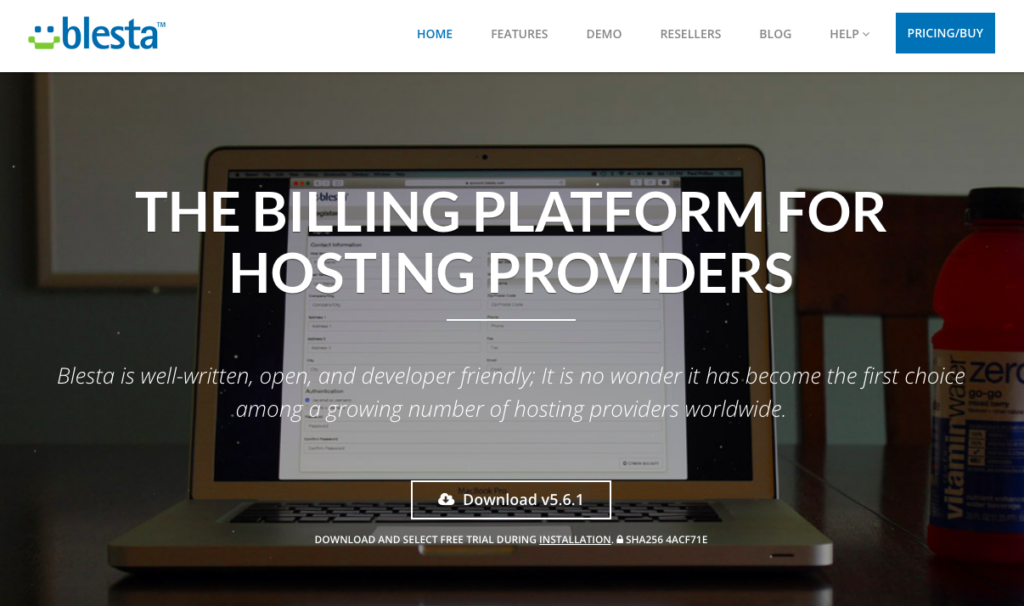 Blesta automates all the aspects of your business from service provisioning, order fulfilment, recurring invoice creation, and delivery.
Features
🔶 Payment Processing
🔶 Multi-currency
🔶 Customizable invoices
🔶 Contact Database
🔶 Online payments
🔶 Online invoicing
🔶 Billing Portal
🔶 Recurring billing
Pro and Cons
Pros
Open-source code
Wide range of extensions
Developer support
Community support
Cons
Could be pricey for small enterprises
---
2. Armatic [Bluesnap]
This is one of the best software solutions that can be used for billing, invoicing, subscription management, recurring billing (click to learn more about what is recurring billing), and payment processing.
Armatic's ecosystem of dashboards, tools, and processes enhances the company's SaaS from a revenue lifecycle management platform.
Armatic solutions are amazing and impact revenue management in a manner that your business runs smoothly.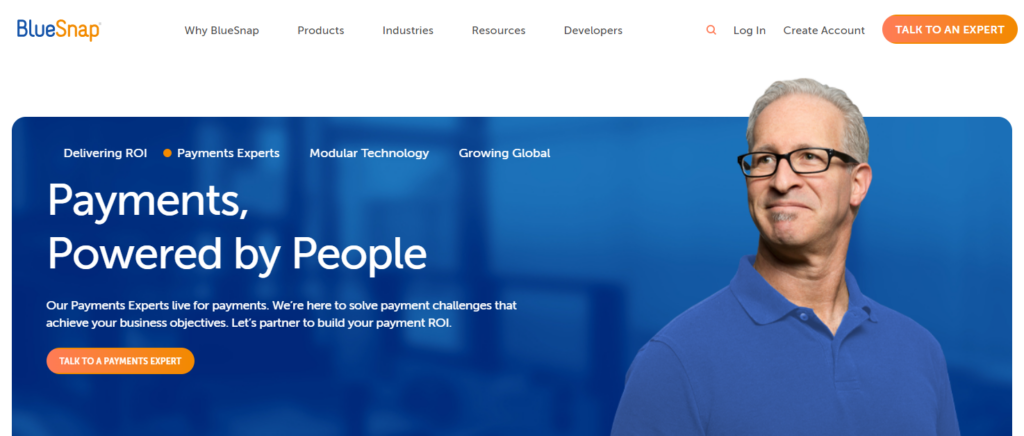 Armatic offers automation and insights from business data that help clients receive better business efficiencies and generate more revenue.
It can also help departments like HR and customer support. This tool can improve productivity for various business departments.
Features
🔶 Invoices
🔶 Subscription
🔶 Payments
🔶 AR Automation
🔶 AP Automation
🔶 eSign
🔶 Quotes and Proposals
🔶 Quote to Cash
🔶 Customer Manager
🔶 Vendor Manager
🔶 Documents
🔶 Employee NPS
🔶 Employee Manager
🔶 Customer NPS
🔶 Employee Advocacy
🔶 Roles
Pro and Cons
Pros
Armatic offers an AR module that automates Accounts receivables by integrating it with external ERP solutions
Armatic AP bundled module automates Accounts Payable
Armatic billing software incorporates invoicing billing and subscription management. This system integrates with third-party ERP systems.
You will get Armatic sales or QTC, which offers templates, and customization for quotes, SOWs, proposals, and contracts.
Armatic customer success module collects feedback and offers a 360-degree view of customer feedback.
Armatic HR module
Cons
HTML editor needs improvement
---
3. Blinksale
This is a cloud accounting solution that has been designed to make collections simple for more accuracy and convenience. This solution is apt for both large and small enterprise accounting.
This software was developed by Doublewide Labs in Dallas in 2005 and using this you can send accurate and white-labelled invoices within minutes to fast-track payments.
This software has Stripe integration and a credit card payment processing network that makes collection faster and streamlined.
You can enjoy unlimited invoices even within a small budget. Blinksale is a solution that is amazing for accountants, attorneys, IT professionals, software developers, contractors, etc.
Features
🔶 Unlimited invoices
🔶 Unlimited users
🔶 Thankyou notes
🔶 Unlimited clients
🔶 PayPal integration
🔶 Import basecamp contacts
🔶 Generate invoices in a minute
🔶 Stripe integration
🔶 Send invoices as PDF
🔶 Freephone and email support
Pros
Set up your account quickly
Fastrack your invoice to the payment procedure
Stripe integration
User-friendly and intuitive interface
Reliable customer services
---
4. Debitoor [ Debitoor is now SumUp ]
Debitoor is a bookkeeping and invoicing solution that has users in more than 40 countries. It has been designed mainly for multiple currencies, multiple languages, VAT support, strong invoicing, and automatic exchange rates.
The design is simple and easy to use. Debitoor software makes fully developed accounting options for users located worldwide.
If you are looking for basic invoicing software that is VAT and GDPR-compliant then this software is just for you.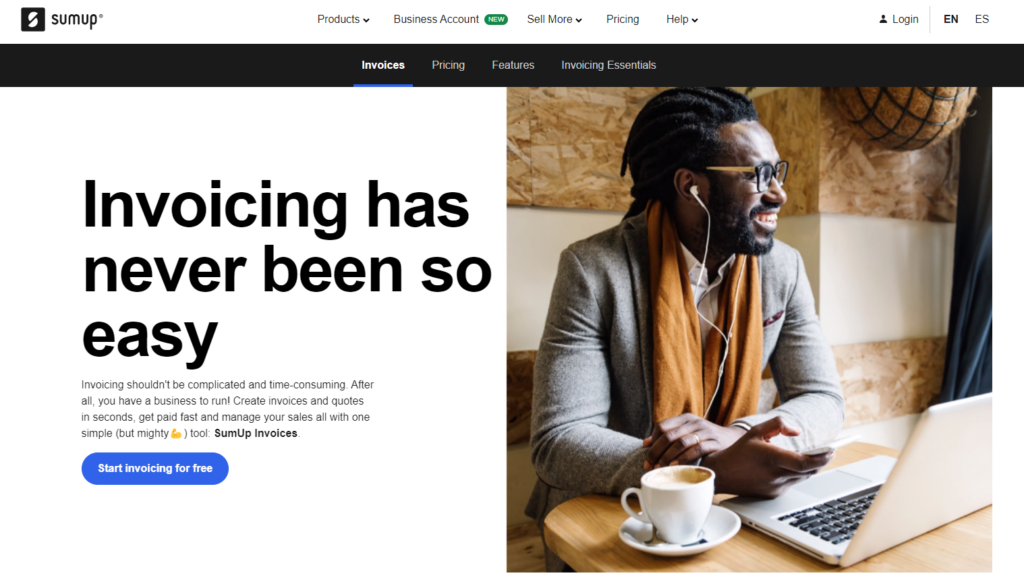 This accounting software is designed for small business owners and freelancers to create professional-looking invoices within a matter of few minutes.
You can also manage expenses, send delivery notes, enter payments and send reminders. The software has been built to be intuitive and is simple and easy to navigate. With Debitoor entrepreneurs get a great tool for business accounting and invoicing in their own hands.
Features
🔶 Billing portal
🔶 Contingency billing
🔶 Contact database
🔶 Customizable invoices
🔶 Hourly Billing
🔶 Dunning Management
🔶 Mobile Payments
🔶 Multi-currency
🔶 Online Payments
🔶 Online invoicing
🔶 Project billing
🔶 Payment processing
🔶 Tax calculation
🔶 Recurring/Subscription Billing
Pros
Interface is intuitive
Easy to use and organized
Templates of emails can be modified
Prices are accessible
You can have a client registry and save predetermined messages
You can take an expense management
Cons
Needs some more AI improvements
---
5. Invoice Ninja
This software was launched in 2014 and this company now has more than 115,000 users. They have developed software that can compete with other popular invoicing solutions. This is one of the few invoicing programs that provide an open-source and free version of this software.
This free version is installed locally and can be customized according to your business requirements. A cloud-based SaaS version of Invoice Ninja is also available in case you don't want to self-host your invoicing software.
Invoice Ninja is amazing for an experienced developer searching for a free self-hosted invoicing option.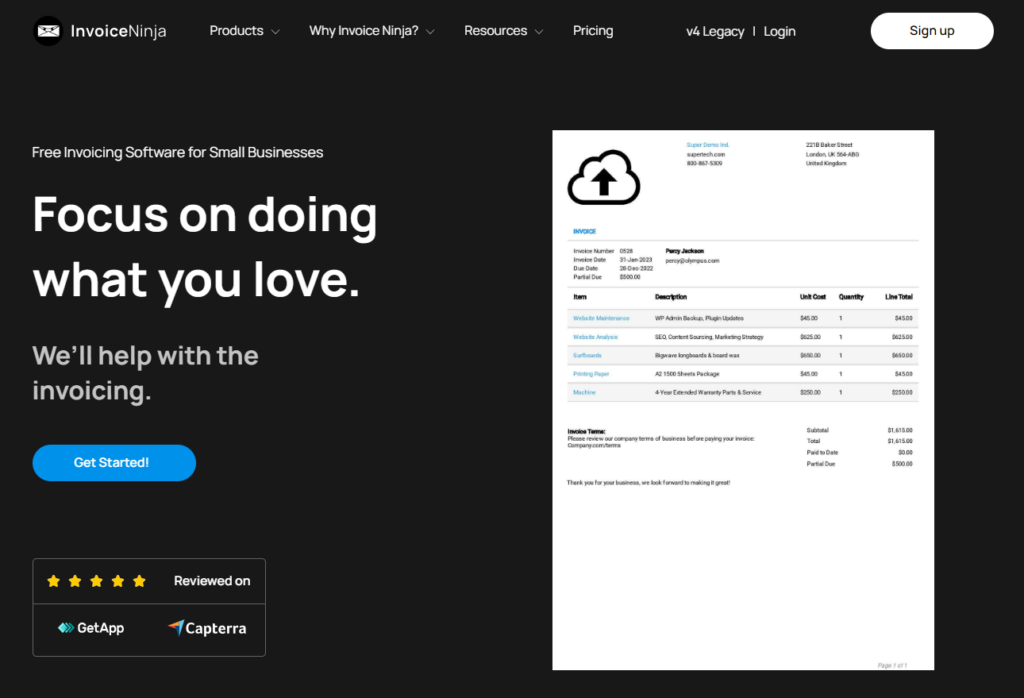 This is an amazing option as you will get more than 40 payment gateways, strong invoicing, good customer support, and free pricing option.
There are numerous unique options like "buy now" eCommerce buttons and listening commands.
Features
🔶 Create tasks, and projects and track time
🔶 You can create invoices and quotations in real-time
🔶 You can accept partial payments and deposits
🔶 You can customize your invoices with a logo
🔶 More than 40 payment options are supported
🔶 There is a professional invoice template design
🔶 You can create auto-bill and recurring invoices
🔶 You can build trust with a custom URL link
🔶 There are Item and product library system
Pros
Software is easy to use
Great customer support
Numerous payment gateway integrations
Free & open-source software
Attractive invoice templates
Free SaaS pricing plan
Cons
No inventory
Limited Reports
---
6. Zip books
This is a free accounting solution that has been designed for contractors, freelancing professionals, small businesses, and growing enterprises. This software can help organizations with bookkeeping requirements and accounting so that payments are faster.
This web-based platform streamlines the financial processes and increases productivity so that payments are faster. ZipBooks has a large list of financial partners, so users can accept payments through credit cards and checks.
This software offers several features like tons of capabilities, time and expense tracking, invoice creation, and future income projection.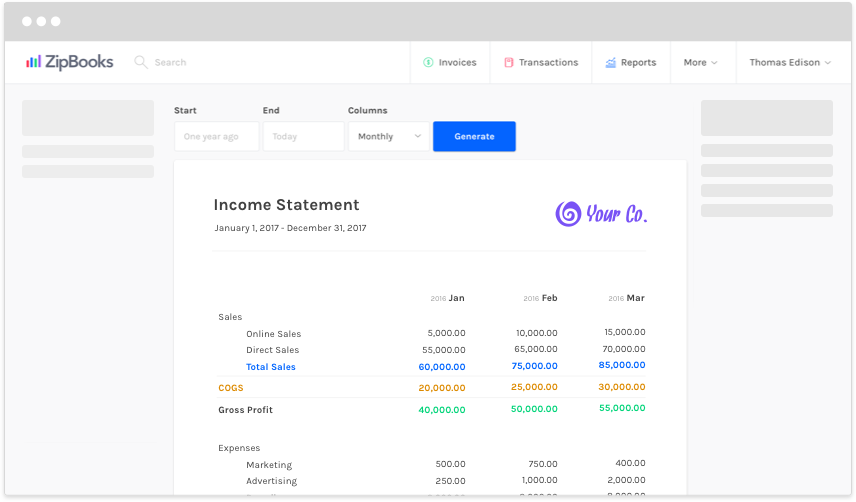 ZipBooks is integrated with popular business applications and systems like Google Apps, Asana, Google Drive, Slack, and Google Chrome.
You can connect to your bank accounts, create accounting reports and reconcile bank statements using this software. This is free accounting software that is quite beneficial for business owners.
There is no need to pay for any subscription plan for the services except small charges if you want to use the services of their financial partners. ZipBooks is an intuitive accounting and bookkeeping platform that has amazing features.
Features
🔶 Time tracking
🔶 Online invoicing
🔶 Team management
🔶 Recurring billing
🔶 Online accounting software
🔶 Send unlimited invoices
🔶 Manage unlimited vendors & customers
🔶 Accept payment by Square or PayPal
Pros
Free accounting software
Bank reconciliation feature
You can view all total accounts receivables
Average invoice age
Paid invoice
Free plan available
Online payments are accepted
The capability of custom invoicing
---
7. ClientExec
This is a unique software for businesses and hosting companies and this package offers powerful and efficient services for support, management, and billing. The main objective of ClientExec is to help small as well as medium businesses administer their online work and enhance their working ability.
This is online software that can be accessed from any browser and helps organizations increase the speed and efficiency of dealing with client support issues. ClientExec automates regular tasks and makes daily work easier.
It has an intuitive interface that keeps a track of all the relevant business information.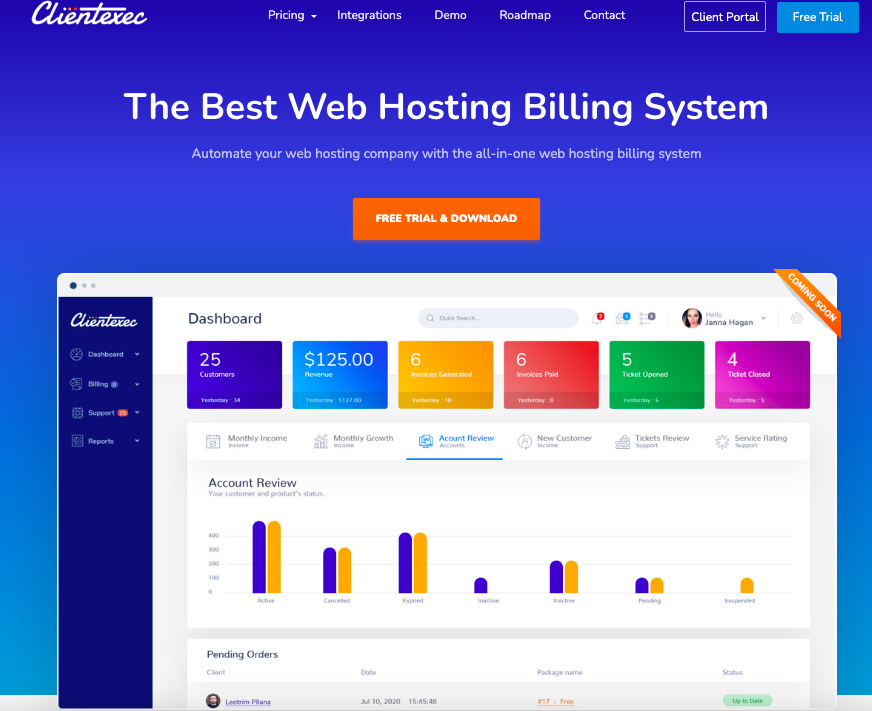 You can track all the invoices and can create a recurring fee structure. You can use invoice managers to merge various billable items and can create acceptance for credit cards and can keep a track of the credits.
You can get ten types of open-sourced reports to get information about your business. You will get two separate interfaces with ClientExec, one for the client and one for the provider.
Features
🔶 ClientExec has an email management system that helps you track, route, and deliver messages
🔶 It offers easy setup and automates daily tasks to administer your company
🔶 This software tracks all the related information and allows the merging of billable items
🔶 You will get about 10 open-sourced insightful reports like revenue reports, support reviews, etc.
🔶 The user-friendly and intuitive interface helps you provide your clients with quick billing and profile functions
Pros
You can send emails directly
Emails are routed and ClientExec keeps a track
There are different integration plugins
Multi-currency billing
Automated provisioning
Intuitive interface
---
8. BoxBilling
This is a billing and client management software that offers various features for software developers to control the billing aspects of their businesses. BoxBilling offers automated billing, product provisioning, and invoicing. This software lets the users use multiple types of currencies so people throughout the world can use them.
There are free versions with limitations but pro versions of the software can be used at $5 per month.
You will get unlimited access to the features and users can use their own branding. This is an efficient software that offers automatic billing to customers with invoices.
It can be translated into several languages so that companies can cater to international customers. BoxBilling is an affordable and great alternative to other billing software available in the market.
Features
🔶 Complete billing platform
🔶 Open-source
🔶 Templates
🔶 Add-ons
🔶 Invoice management
🔶 Invoice billing
🔶 Invoice processing
Pros
Affordable
Great community support
Several features to help with billing
Payment processing
Billing and invoicing
Billing Portal
Cons
Can have bugs
No Support for Hostinger
Almost Dead
---
9. HostBill
This is a powerful, all-in-one automation, flexible, client management, and support tool for online businesses. It can help you run an online business successfully using automated services and management for invoicing and payment collection.
There are several advanced features and modules. You will get app integration with various control panels, payment gateways, and domain registrars.
It is a comprehensive solution for SSL resellers, domain name sellers, Hosting, and Cloud/VPS solutions providers.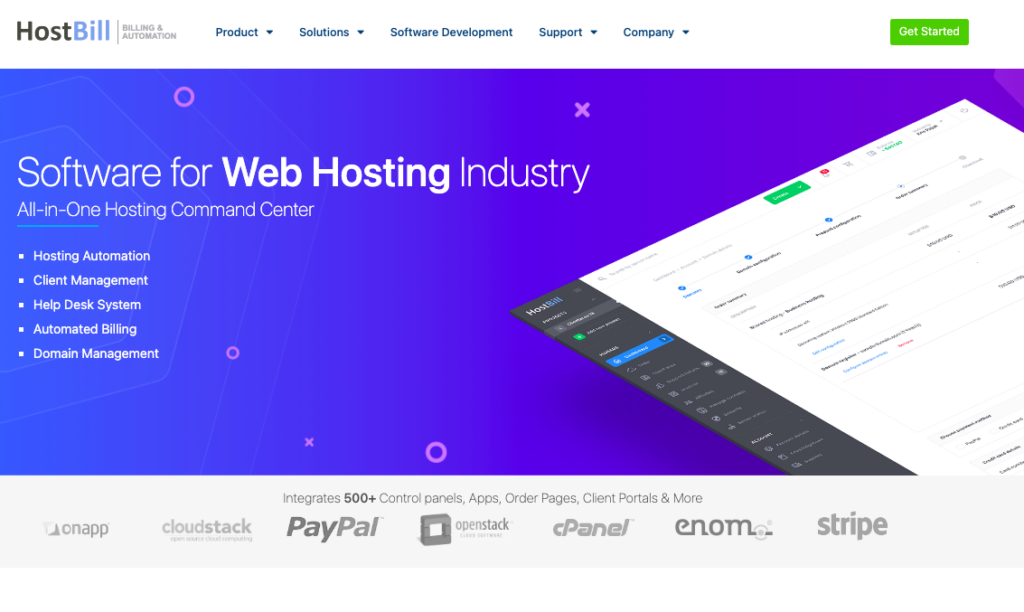 It helps them automate and manage their business online easily. Hostbill specializes in providing billing software for small to large businesses.
Features
🔶 Time tracking
🔶 Custom report wizard
🔶 Custom Report Wizard
🔶 QuickBooks Integration
🔶 Accepts Credit card payments
Pro and Cons
Pros
Contact database
Billing Portal
Customizable Invoices
Hourly billing
Multi-currency
Online Payments
Cons
No free trial on paid plans
---
10. BillingServ
This is a web-based solution that helps you accelerate the invoicing and ordering process so that transactions are carried on smoothly and companies get paid quickly.
BillingServ allows you to sell products and services with no compromise on data security so it is ideal for online merchants, online businesses, and retailers.
You can create a safe shopping environment for your customers. You can manage your invoices and estimates in a simple manner and can initiate email campaigns for marketing.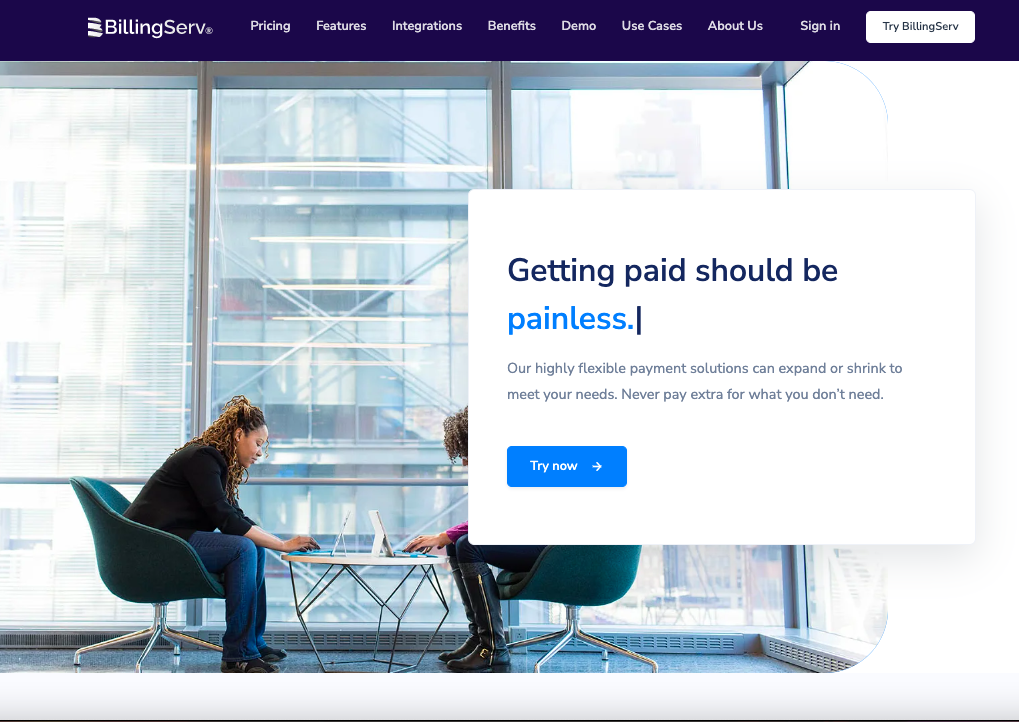 Customers can easily purchase products from your website. There is a powerful reporting tool that gives you insights into your clients.
Features
🔶 Payment processing
🔶 Multi-currency
🔶 Contact Database
🔶 Online payments
🔶 Customizable invoices
🔶 Project billing
🔶 Online invoicing
🔶 Billing portal
🔶 Hourly billing
🔶 Mobile payments
Pro and Cons
Pros
Quick customer support
Payment schemes are easy to set up
Easy to use
Speedy setup
Competitive Pricing
Cons
Difficult to learn at the beginning
FAQs- WHMCS Alternative
What is the best WHMCS alternative?
According to us, Armatic is the best WHMCS alternatives due to its brilliant features.
What is the cheapest WHMCS alternative?
Armatic is the cheapest alternatives to WHMCS as the pricing starts from $250 and goes up as per the customization of the plan.
Is there a free alternative to WHMCS?
No, there are no free alternatives, but Armatic provides cheaper plans
How can I get a free WHmcs license?
This is included with almost all reseller packages and dedicated servers. VPS customers can also obtain a WHMCS license from HostGator at $5 per month as a free WHMCS license is difficult to avail of.
Final Words
Finding and using billing software like WHMCS can be quite demanding and when searching for a billing software like WHMCS, business owners need to consider the platform's support.
Choose a billing platform that is well-tested, popular, and an industry leader. A reliable and trustable WHMCS alternatives can take you a long way.