Old businesses or new firms might find it hard to kick start the business with a greater growth rate and success. You might set up different branches, also open a website and run it.
But all these methods are not giving much fruit. Why?
Okay, let me explain, you started a website; that is the best thing a person could do to increase a theory business's growth rate. But running a website must be done right. A few things you must consider while running a website are its security, features, design, SEO, domain name, and, most importantly, speed.
But no one would serve you a finished product on a silver platter, right? But what about a hosting service provider?
Yes, your hosting service provider is responsible for providing most of the tools you need for your website and for efficiently putting it on the Internet.
So which hosting service provider might be the best choice for your Website? Well, you do not have to do all the head-scratching. Because we did the searching for you. Through long periods of research, testing, and analysis, we have the best hosting service provider that could suit your requirements.
So let us dive into this Namecheap review.
About Namecheap
You might be surprised that Namecheap was founded in 2000, giving it over two decades of experience providing excellent service worldwide. It has over 15 million domains under management and a 4.7-star rating per 2 million user reviews.
It started with a vision to provide the best domains at the best prices but performed splendidly in the hosting game. It has added many web hosting services since 2000, such as hosting, security, managed WordPress, and more.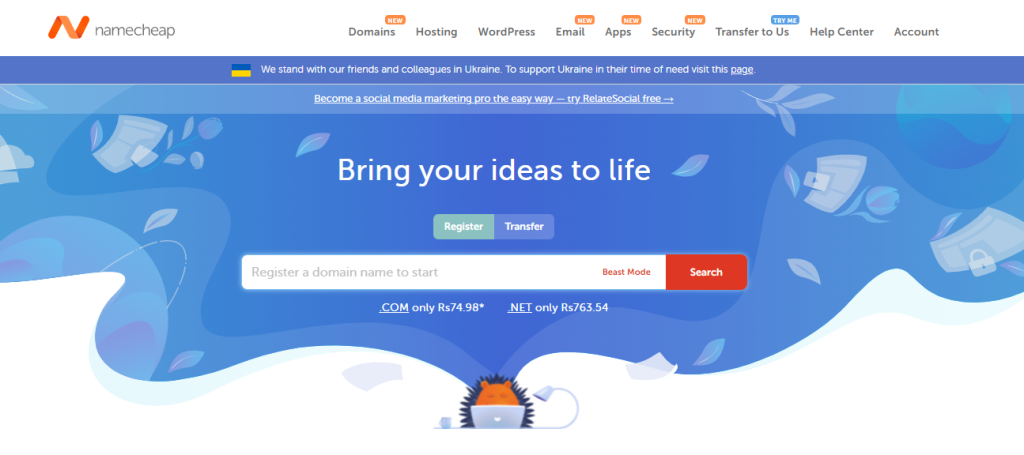 Domain registration and transfer have never got easier with Namecheap at hand. Also, it provides you with the best customer support, security, and speed at pretty economical prices. Moreover, it helps you build your online presence through the tips offered in your email every month. So let us know more about Namecheap in this review.
Speed Test and Analysis for Namecheap
As we know, with a website, one requires speed and security. Without enough speed, it might cause a loss of customers as they will have to wait for your Website to load.
And without protection, you will experience a loss of content and, most probably, money. So let us see the results that we got working with Namecheap.
NameCheap User Interface
So are you a complete beginner and have no hosting or Website experience? Are you afraid to lose your money because of that? Do not worry; we worked with Namecheap for quite a while and checked if it is entirely user-friendly or not.
Namecheap, when you visit the Website, you have the option to register or transfer your domain on the front. All the things you require are listed on the top bar. The hosting you want to choose domains name, emails, WordPress, account, etc. So once you create an account on Namecheap, your interface will be easier to use and do not require you to have much knowledge or experience.
It has several apps to choose from to help you build and run your websites and apps and develop their design and functionality to a greater level. You can select any of those with just a few clicks.
Namecheap is built entirely user-friendly.
Namecheap Speed Test
We've landed on one of the most critical aspects of an excellent hosting service provider—speed. Speed is a significant factor that determines your Website's success. So choosing a hosting service provider that will offer you and your customers the best speed is crucial.
To test the speed of Namecheap, we tested its uploading, downloading, etc. So over a long period, we recorded the average results, and the results were pretty remarkable. The graph showed that Namecheap's uploading and downloading time did not reach the global average but were comparatively low. So you can expect faster service from this hosting platform.
Namecheap Uptime Test
You cannot always keep your shop or your agency opens all day and all night because you and your team members require rest after working for long hours. But that does not go with your Website on the internet. It does not require any rest and can run every second of the day throughout the year. And this is the advantage of having a business website.
Namecheap claims to give no downtime. But is it true? We tested our Website for uptime over days, perhaps weeks, and documented it.
To our surprise, the claims came to be true. Over the weeks of testing this platform, our Website did not experience any downtime and was up and running all day. So we can say with Namecheap hosting, you will not lose any of your customers at any hour.
Security Analysis
Everything valuable to us must be kept safe, and we have different ways of doing so. For the money, you keep it in your bank; for your jewellery, you keep it locked in your closet. But what do you do for the content on your Website? You need to stay safe with your hosting service provider.
For the safety of your data, Namecheap has several tools installed. This included SSL, fast VPS, domain name privacy, premium DNS, etc. It has the industry's leading support and has two-factor authentication (U2F, TOTP & OneTouch) to keep your account and domain secure free of cost.
Customer Support
A support system that is ready to help you any time of the day is crucial when you are not an expert in a particular field, be it sports or hosting. The web hosting service provider you choose must always be available to you, reply quickly to your queries, and not keep you waiting and stuck with your issue.

Namecheap's customer support stays online 24 hours a day and, 7 days a week to reply within seconds. Do not worry we have tried and tested it.
You are answered by an actual human and not a machine, so you can quickly get your doubts cleared. You can go through their knowledge base, have a live chat, raise a ticket or report any issue you have; you will be welcomed with a smile.
Namecheap Data Centers Location
Namecheap has several data centres in the US and Europe.
Key Features of Namecheap
To what Namecheap offers you with its plans, let us look at its key features in this Namecheap review.
AutoBackup
You must know that keeping a copy of your documents is crucial in case of loss or the original documents, and you still have a copy of them as a backup that you can use. Namecheap offers you a similar solution.
It provides AutoBackup for free, unlike many other hosting service providers who charge you for it.
With a few shared plans of Namecheap, you get free AutoBackup on the cPanel dashboard. You can schedule your backups daily, weekly, or monthly and use them whenever needed. This backup also saves your settings, so stay relaxed.
Easy Website Builder
Suppose you are one of those particular types and do not want the Website to be built according to someone else. You will be happy to know that with Namecheap, you can create your Website as per your requirements and designs.
But do you have experience of doing so? If not, do not worry. Namecheap offers the drag n' drop feature to help you build websites with the slightest effort. You can place images, videos, and files on your Website effortlessly.
You also get many templates, languages, and designs to build a website.
Free SSL Certificates
You must ensure that your data is safe and makes secure connections. To ensure that, your hosting service provider must take up the responsibility. With Namecheap hosting, this is handled by offering free SSL certificates to ensure that your data make safe connections.
WordPress
If you want WordPress installed, you do not have to break your head and buy tools also hire people for just one sake. Namecheap helps you deploy WordPress within a few clicks with the Softaculous app installer.
This will help you update and maintain your open-source applications effortlessly.
Personalized Email Service
When you run a business, you must take care of the queries and issues that your customers might have. Just like Namecheap's customer service, it provides you with a separate email id that you can create to help your customers contact you.
You could use it for official messages as well. This email id is domain name-based to resonate with your business, and you can use it on your Website as a medium to contact through.
Namecheap Refund Policy
You always choose to buy a product after you have gone through its completed description, features, cost, and everything else that is required.
Once you start using it, you might always like it as much as you liked it before you want to buy a different product from the same company but do not want to lose your money.
If you find that the plan you bought from Namecheap does not suit your requirements and want to return it, you can always apply for a refund within 30 days of purchasing it. Yes, Namecheap has a 30-day money-back guarantee; it does come with the T&C applied, so please go through it before applying.
Namecheap Pros & Cons
Let us now look at the pros and cons of buying a Namecheap plan.
Pros
Economical prices.
Variety of services.
100% uptime.
Free SSL certificate
Cons
Only four data centers. 
Highly Priced Services
Dashboard Interface could be more clearer to navigate
What makes Namecheap Blazing fast?
One of the main reasons for the blazing fast speed of Namecheap is its CDN. Its Content Delivery Network or CDN is a crucial aspect that ensures that the data on your websites, such as pictures and videos, are delivered at the fastest rate possible.
How to Order Hosting from Namecheap?
To order hosting from Namecheap, you will first be required to make an account on it. Now you click on the 'Hosting' option on the top bar, look into the features offered in the plans, choose the one you want, and select whether you want to buy it for a month, a year, or two years.
After this, you may place an order and fill out the payment details, and you are all done.
How to Install WordPress on Namecheap Hosting
To install WordPress on Namecheap hosting, you don't have to do much work. Namecheap provides you with a Softaculous app installer that will help you install WordPress within seconds.
It offers a managed WordPress hosting solution, EasyWP. It takes care of all your WordPress websites' security and running aspects.
Do we Recommend Namecheap for your Website?
Precisely yes, we do recommend Namecheap due to many reasons. As the name suggests, its plans are pretty cheap but are filled with features and tools that do not require you to pay extra. It is an all-in-one platform where you register and transfers your domains, build your Website and successfully run it. So why not?
FAQs- Namecheap Review
Is Namecheap the Best Choice?
It depends upon your hosting requirements, and yes, it is one of the best.
What are Namecheap nameservers?
Namecheap name servers are responsible for keeping files that contain information about the domain names.
Does Namecheap Offer Free Domain Name with Hosting?
Yes, your plan comes with one free domain.
How much bandwidth does Namecheap offer?
It offers unmetered bandwidth.
Conclusion – Namecheap Review
So we went through the Namecheap review, and these are a few things that we discussed. Namecheap has been around for over two decades with tremendous experience in providing hosting and domain services across the globe.
The plans are pretty economical and come filled with features that could be great for running small, medium, or big-scale websites. So as we went through the good and bad reasons to buy a Namecheap hosting plan, we felt the good ones dominate.