So you have started a website for your business? You did make the right move as the internet is the new world, and everyone looks for whatever they want on the internet before getting off their couch.
Give your customers the ease to reach out to you, and they will favor you.
To put your website on the internet, you must host it. Plenty of hosting companies provide excellent web hosting with everything you require to run a website successfully. They offer you the best services, security, and support with just two downsides: one, they are expensive, and two, they are unmanaged.
When the hosting you choose is unmanaged, the problem is that you have to do all the hosting work by yourself. Not everyone is an expert when it comes to website hosting, so you end up paying a professional to get your job done.
But with this, you will know about a few hosting service providers that can help you manage the most reliable unmanaged hostings you will get at affordable prices and save you time. So let us move further in this Cloudways review to know more.
About Cloudways
| | |
| --- | --- |
| 🚀 Speed | From New York Server 0.4 to 0.9 sec |
| ⏰ Uptime | 99.99% uptime in the past 365 days, which is excellent |
| 👩🏻‍💻 Support | Call Support, Live Chat, and Email |
| 💳 Payment Method | Credit and Debit cards, PayPal, Master Card, Visa, and American Express |
| 💰Pricing | Starting from $10/m |
| 🌎 Data Center | India, Singapore, Sydney, Japan, Canada, US(W), US(E), London, São Paulo, Germany, and more. |
CloudWays Overview
Being in the hosting industry for a long time, Cloudways was founded in 2011, giving it about a decade of experience. It has about 500 employees and is based in Malta. It partners with some of the most popular and reliable cloud hosting service providers such as Google Cloud, AWS, DigitalOcean, etc.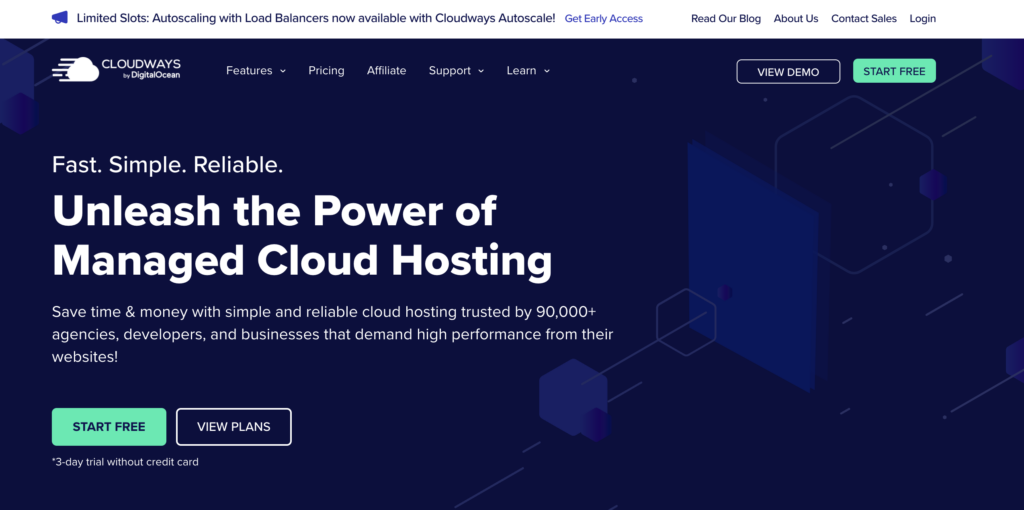 It provides a managed web hosting service of reliable hostings that are unmanaged but provide excellent services.
It's up on the news! The website hosting company Cloudways is getting sold off! It is now purchased by cloud services provider DigitalOcean Holdings Inc. for $350 million.
The amount is said to be paid over 30 months following the completion of the acquisition, according to a statement released by DigitalOcean, recently. It's expected that CloudWays will be under DigitalOcean till September 2022 and rebuild itself to be available for small and medium-sized businesses as well now!
With this hosting, you will not have to do the cloud maintenance as they do it for you; they keep your data safe, offer easy updates, and additional benefits. So it saves your energy, money, and time. Now, let us dig deeper into this Cloudways review.
Speed Test and Analysis for Cloudways
So we have already informed you that Cloudways offers managed Cloud Hosting to host popular and reliable hosting services.
Okay, agreed, but does it maintain speed, security, uptime, and customer support? These are some of the most essential features you look for in hosting, and having a good score is crucial. So we ran some tests to let you know the truth in this Cloudways review.
Cloudways User Interface
To have an easy and satisfying experience, your hosting must provide a user-friendly interface to do all your work yourself and not pay a professional to get it done. Because doing so might cost you pretty extra, and all the settings might not be in your favor.
Once you log in to Cloudways, you will see the plan or server you have bought. You have the option to see your applications and projects as you slide through the options on the top bar. Under servers, you can have your applications, and once you select any of your applications, you can see all of your details and the panel.
The interface provided by this platform is pretty easy to use but might require you to search through features a little. Everything is not displayed on the page, so you will have to go through different pages to find what you are looking for.
Cloudways Speed Test
Now, let us talk speed. We all love speed, don't we? Be it food delivery or website loading, we want speed everywhere. So do your customers.
Making them wait for your website to load is a big mistake if you're going to grow your online presence. So what does Cloudways do about it?
To ensure the best speed of your website, this platform stacks several world's best server software such as Memcache, PHP FPM, Varnish Cache, Redis, Apache, etc.
Yes, there are more to the list. But does this software make any difference in your website's speed? Let us find out in this Cloudways review.
We tested the speed offered by this platform through several servers; these results might differ from time to time and from place to place. But the results were quite remarkable. None of the servers had a long waiting time, and we found in our tests that Asian servers performed pretty well for speed, but others were not far behind.
Hence, Cloudways maintains a good speed for your website, even on the most basic plans with the default settings.
Cloudways Uptime Test
Since we are not robots and require rest, we cannot always keep our offline businesses open for customers. Also, the time zones are different worldwide, so people are awake at other times, and that does not mean that someone could not order your product at an odd hour.
So maintaining a reliable uptime is crucial for your website and business to grow. Because any second of downtime, you could lose a customer. Why let that happen?
Your customers are important to you, and you are essential to Cloudways; it claims to provide 99% uptime so that you don't lose any of your customers. As per our test results, the average uptime that our website hosted on Cloudways experiences 99.99% of uptime. Well, that does form a reliable uptime.
📌 For the best server uptime, I recommend you to go with ScalaHosting and InterServer. Both are dedicated to providing managed cloud hosting services with a 100% server uptime guarantee.
Security Analysis
When you value something, be it gold or content, it must be protected from anything that could threaten its safety.
So that means the content on your website is valuable, and that too can experience attacks. So save it at all costs. It won't cost you that much.
For Cloudways, the security of your content is the topmost priority, and it does all it is possible to ensure that. Cloudflare is a crucial part of this platform's security system and includes more. It offers DDoS attack protection within 3 seconds; the Web Application Firewall (WAF) also is involved in protecting your data.
Customer Support
Some of us might be curious, and some might be confused. And both of us require someone who can resolve our queries without having to wait for a long time and get quick solutions. Yes, we mean a support system, and in the case of hosting, a customer support system.
As you know, Cloudways provides you with managed hosting services of reliable hostings, and you might be confused in that case.
But guess what? How will you resolve your queries and doubts if you are not directly in contact with your hosting provider? You need not worry because Cloudways takes care of your problems by itself.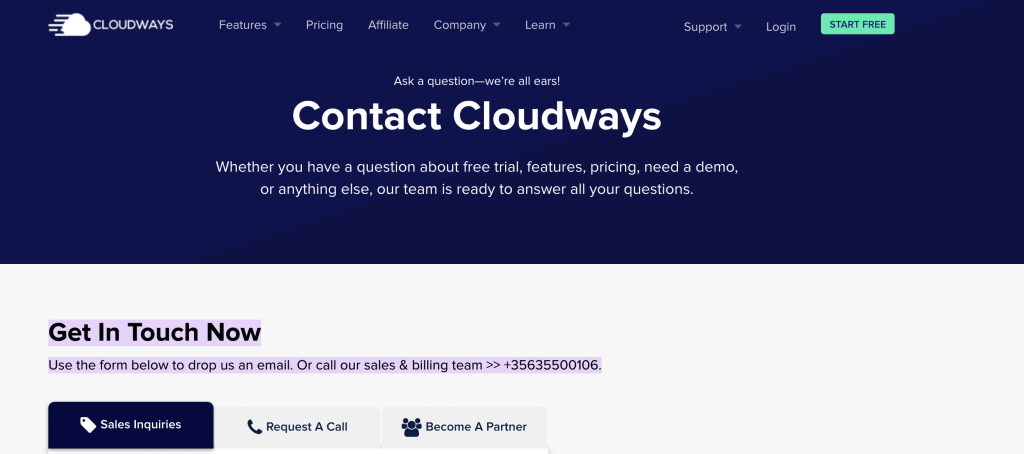 This platform provides free customer support 24 hours a day and 7 days a week. So no matter what your doubt is about your hosting, you can just raise a ticket or live chat with their customer support team.
Besides, it offers different levels of customer support as per your choice and requirements.
Cloudways Data Centers Location
Data centres are the crucial part of your hosting that determines speed and connectivity. In the case of data centres, the more, the merrier. Cloudways has over 25 data centres as it hosts your websites on different hosting.
Cloudways has several servers in locations such as:
📌 Kamatera, ScalaHosting, and InterServer have the best cloud-based data centre locations all over the World.
What type of Web Hosting Does Cloudways offer.
Cloudways offers managed web hosting to hosts provided by Digital Ocean, Linode, Vultr, AWS, and Google Cloud.
Key Features of Cloudways Hosting
We must know its key features in this Cloudways review to learn more about this platform.
SSD Storage
You have already understood the importance of fast speed in running a successful website and business. There are various types of storage, and one is different from the other and might also be better than the other in multiple factors, such as speed.
To ensure the best speed, Cloudways offers SSD storage. As you might know, when you want speed, you must choose SSD storage. This type of storage works faster at searching for information that your customer asks for, making your website faster.
1-Click Free SSL Installation
Your data must be kept secure, and there are various ways to do that. Cloudways offers features such as Dedicated firewalls, two-factor authentication, Bot Protection, etc.
Apart from all these, it offers one more free service, SSL certificates. Let's Encrypt SSL certificates to ensure safe connections to your website and fulfil all your HTTPS requirements.
Block Storage
As your website and business growth, which is your main objective, the content gets larger and larger, asking for extra storage. Your website might also start getting slower as you increase the storage capacity.
Cloudways helps you scale your storage requirements as per your regular use and enables you to increase the storage within a few clicks without affecting other parameters of your servers.
Applications
Applications make your work even more straightforward with a website running and hosting. But deploying applications on your hosting might get complicated, and some apps might also not be supported.
With Cloudways, you do not have to worry about all that hassle since it helps you deploy over ten WordPress and Magento sites on one single server. Also, it supports all sorts of PHP applications.
1-Click Backups
We know it gets too harsh when you lose your data as you have to build everything again from scratch. But why let that happen? Just like everything in life, you must also have a backup for your data.
Cloudways creates scheduled offsite backups, and you can also demand one. So whenever you lose or delete content but want it back, you can always get it back from your offsite backup storage.
Cloudways Refund Policy
Cloudways, as of now, does not offer a refund on your purchases but does offer you something different than that. You get to use your plan for three days under a trial period, so once you are sure that this is the one you want, you can pay and buy the plan.
Another concept introduced by Cloudways on your plans is "pay-as-you-go". This means you do not have to pay for long periods at once.
You are only required to pay for as long as you use their service. If you use their plan for one day, you will only be charged for that.
Pros & Cons – CloudWays Review
Like any product has its advantages and disadvantages, Clouways plans have their own. So let us take a look at them in this Cloudways review.
Pros
Cons
Why Should You Choose Cloudways for Your Website?
Don't you want it to be the best whenever you choose to host your website? But not all hostings come at an affordable price and might not be managed, making your work challenging and confusing.
Cloudways, on the other hand, offers you managed hosting, the same reliable and premium class unmanaged hostings at an economical price.
You get all the benefits of the hosting you're working with and Cloudways. So it's two-level benefit hosting. So why not choose it for your website?
If you are planning to go with Cloudways, then here is the article with step by step process to unlock the Full Potential of Cloudways Hosting with Powerful Cloudways Nameservers.
How Much Does Cloudways Cost?
The costs of Cloudways plans depend upon the plan you choose. The basic plan costs $10 a month, the starting rate you can expect. But the prices can go up to $275 a month.
But as you know, if the amount changes, the services also change, so choose a hosting that suits your requirements, not just your pockets.
FAQs: CloudWays Review
Is Cloudways safe and legit?
Yes, it is. It provides hostings from some of the most trusted hosting service providers along with their benefits and adds their own. The terms of service are clearly explained by Cloudways and are under legal limits.
Is Cloudways Easy To Use?
The user interface provided by Cloudways is built to be user-friendly and helps you look for your settings and change them with as much ease as possible. The interface is pretty easy to use, but you might have to search through it to reach your destination.
How does Cloudways work?
To make it easier for you to understand, there are several hosting service providers that offer a great service, but the only problem is that they are unmanaged, which makes your work complicated. Cloudways offers the managed version of some of these unmanaged reliable hosting service providers.
Does Cloudways offer a Free trial?
Yes, it offers a 3-day free trial period. Cloudways offers all the benefits of unmanaged hosting and adds its own benefit of a 3-day trial period for you to try it out yourself.
How many visitors can Cloudways handle?
It can handle a vast number of visitors. Since it offers hosting by some of the most popular and reliable hosting service providers, the number of data centres and servers is huge, which helps Cloudways to maintain a good speed even with a huge number of visitors.
What is Cloudways hosting plan best for WordPress?
It depends on your needs, and the basic $10 Digital Ocean plan also works pretty well. All of the web hosting service providers are well-equipped to host your WordPress, and you can also install it with a click.
Does Cloudways Hosting Offer Extra Services?
Yes, it does. The extra services offered by Cloudways include free migration, CDN, firewalls, backups, and more to keep you running along with technology and also maintain good security and speed.
What is the uptime guarantee of Cloudways?
It offers a 99.9% server uptime guarantee. This means that your website will be put up on the internet almost every minute of the day for your customers to access and also buy your products.
Does Cloudways offer free website migrations?
Yes, it does offer free migrations. Whenever you want to shift your website from a different hosting to Cloudways, you can get it done or do it yourself with clicks and that, too is free of cost.
Conclusion: Cloudways Review
We concluded this Cloudways review, so let us summarise its key points. This platform has been experienced in the hosting business since it was founded in 2011. It offers managed web hosting, which also provides over 25 data centres across the globe. This ensures fast speed and connection worldwide.
It partners with some of the biggest hosting companies such as DigitalOcean, Linode, AWS, Vultr, and Google Cloud. Cloudways offers the services these hostings provide and their own to save you money and time. So since it allows for so many benefits in one place, why not give it a try?