You must have visited many sites that provide normal web hosting services, but what about a company that provides cloud infrastructure for joint marketing?
We were looking for a company that provides cloud services with each type of hosting. Hence we found Vultr. If you are still wondering, this company comes with a complete cloud structure to provide the best experience in cloud hosting and storing your data with a 100% guarantee.
And after knowing its configurations and the large number of services that they offer, we could not wait but share an honest Vultr Review with our readers. Let's move ahead with the review to take an in-depth analysis of Vultr.
About Vultr
| | |
| --- | --- |
| 🚀 Speed | From United States Server 30 to 260s |
| ⏰ Uptime | 100% uptime in the past 365 days, which is excellent |
| 👩🏻‍💻 Support | Tickets, and Email |
| 💳 Payment Method | Credit and Debit cards, PayPal |
| ♻️ Refund Policy | Not Available |
| 💰Pricing | Starting from $2.50/m |
| 🌎 Data Center | India, United States, United Kingdom, Germany, Australia, Canada, France, Japan, Poland,…etc. |
Vultr provides easy cloud server deployment, bare metal servers and storage worldwide. They have worked towards achieving perfection in cloud infrastructure. Hence, spreading its wing across 26 worldwide locations.
Apart from that, they have over 45 million instances deployed by thousands of clients with 100% SSD and high-performance Intel vCPUs. They are powered by robust options of control panels and APIs.
Apart from these striking points of Vultr, it's time to learn more about them. We tested them to give the most truthful review about this company.
Test and Analysis
We made sure that we checked their website and services with heavy traffic and other powerful obstacles in order to know how worthy Vultr's services are:
User Interface
Vultr has an easy-to-use interface with self-explanatory options. You will not wander around in search of something on their website.
You can also configure their plan and customize and scale it as your choice. Vultr is way better at ease and simplicity than its competitors in the market.
Security Analysis
Vultr provides robust security features to protect users from various kinds of attacks. It offers a native DDoS mitigation system that adds 10Gbps of mitigation capacity per instance, safeguards all attached IPv4 addresses, and protects against layer 3 and layer 4 network attacks.
With real-time analytics and reporting, and also firewalls ensure that they detect any foreseen attacks and restrict them before it attacks your server.
While using their services, we did not face any downtimes, data loss, or any kind of malicious activity attacking our servers, it was a smooth process while working with Vultr.
Customer Support
Vultr offers various ways to contact them in case of need or when you want to clarify some doubts. There is no live chat option available, but you can:
These are the support features that Vultr offers and is available on. You can expect their reply in a less time frame.
Vultr Data Centers Location
Vultr is spread across the world. It has over 26 worldwide, with its servers at every corner. They are ready to serve every part with great speed and connectivity.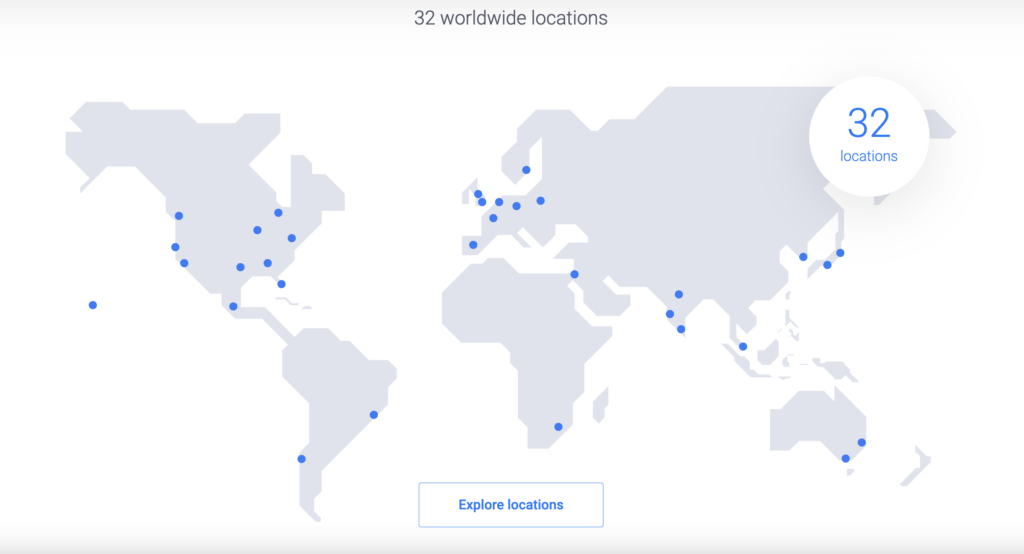 There have also listed the locations where Vultr's data center is present in different locations in these countries:
Enjoy the services of Vultr in these countries and from the neighbouring ones. And we think there's almost no place that is left!
Type of Web Hosting Does Vultr offer
There's one basic and the most fruitful and known service that Vultr offers and has its focus on only that hosting-
They offer cloud services to their users for a better experience and an upper hand in Hosting.
Key Features of Vultr Hosting
Key features are the hands and legs of a body. Hence, for them to be working properly is essential. Just like that, features make and break service. Now, let's look into the key features of Vultr:
Vultr Refund Policy
Vultr states that after paying from a legit payment method like a credit card, your Subscription Fees will be billed to you on a regular basis after the first payment.
Vultr says that it holds the right to stop or terminate your services if they are unable to execute payment using your chosen method of payment. Unless you inform them otherwise, then the Subscription renews itself automatically. But there is no money back that they provide.
Though it doesn't give any money-back guarantee, they give you a $100 credit after signing up. You can set up your hosting with it for the first time for free!
Vultr Pros & Cons
Every coin has two sides. So does any service. It will always have something that it excels in and something because of which it lags back. So are you ready to know such advantages and disadvantages of Vultr's Hosting services?
Pros
Custom ISO
Many choices of Operating Systems
Wide range of cloud products
26 worldwide locations
One-click apps
Cons
No money-back guarantee
Unmanaged Hosting Solutions
Why Should You Choose Vultr for Your Website?
The main question that arises is why one should choose Vultr hosting. If we come on to comment on that, after experiencing their services, we can surely say that they are the best and truly high-performing SSD Cloud Server providers in the market.
Apart from that their customer support is quite quick and resolves the problems in no time. Also, you can scale up your plans as per your needs whenever you want!
Overall, their services are affordable but worth paying for if you want to host with cloud servers!
FAQs: Vultr Review
Can I trust Vultr?
Yes, you can trust Vultr. We are saying this through our experience, the $100 credit they offer, and the legit information they have on their site. Apart from that, they have been in the market for years and have been reliable and trusted by thousands to date.
What operating system templates do Vultr offer?
Vultr offers a lot of operating system templates. We have mentioned them all below:
Linux (Alma, Arch, Rocky and Vz)
CentOS
Debian
Fedora
Fedora CoreOS
Free and Open BSD
Ubuntu
Windows and Windows Core
Does Vultr Hosting Offer Extra Services?
Apart from VPS and Dedicated Hosting, Vultr also offers services like Kubernetes, Cloud and High-frequency Compute, Bare Metal, Object/Block Storage, DDoS Protection, Direct Connect, and Load Balancers.
Does Vultr offer free website migrations?
What payment methods does Vultr accept?
The payment methods Vultr offers are Credit Card, PayPal, Crypto, Alipay and Wire Transfer.
Does Vultr Offer daily backup?
Yes, Vultr offers daily, weekly and monthly backups. They say-
"Giving details of some of the highlights of using Vultr automatic backups with your cloud servers."
Conclusion: Vultr Review
Apart from its outstanding and dedicated cloud services, Vultr also offers some great features with its hosting services. But its services are unmanaged for now, and when you ask for customer support related to hardware or other problems, it mostly replies within 15-30 minutes.
But their reply is almost a default one that they offer unmanaged services. Thus, they can't hello you with that particular problem. Though, they have mentioned that they offer unmanaged services in their terms and conditions, so yes, most professionals lay their hands on Vultr's services.
Overall, it's worth a try! And when you can try it for free web hosting with a $100 credit in the first place, then why not?