What if I tell you there is no need to stick to one server to host your website. Rather than using a single server, your site can take advantage of a "group" of servers that utilizes resources from a centralized pool.
This simply implies that if one server stops working for a while, the other works on its behalf to keep everything up and running.
Cloud Hosting Platform uses multiple different servers to balance the load and maximize uptime. When you host a website using a Cloud hosting server, unlike traditional web hosting, you get a part of the cloud host that is called a cloud cluster.
Vultr is one of the best web hosting with cloud storage across the world. Cloud or VPS is a very powerful server Vultr has and it also provides the cheapest services in the industry. It is a perfect cloud hosting for startups.
In this Vultr Review, I will take you through the features, pros, and cons of Vultr so that you will have a brief idea before you host your website with them. Stay tuned till last to get the complete and up-to-date Vultr review.
What is Vultr?
Vultr, one of the best SSD Cloud Hosting Solutions founded in 2014, by David Aninowsky founder of the company Choopa, LLC to empower businesses and developers through offering simplified, customized, high-performance-based cloud solutions.
Why Choose Vultr As Cloud Hosting Solution?
Vultr is one of the best-managed cloud hosting platforms that occupies many portions of the market. Let us have a look at why you should choose Vultr?
Vultr Promo Code and Gift Codes
From time to time Vultr offers promo and coupon codes to its users utilizing these you can save a considerable amount.
Are you looking for coupon codes and gift codes to save some bucks while purchasing SSD cloud VPS Servers?
Vultr has always been the best choice for users because of its special discounts and offers. Since January 2021 it is offering $100 credits on every new sign-up. You can enjoy 30 days of completely free service by using this coupon code.
What else can be more amazing than a high configuration server providing $100 credits straight away to its new subscribers!
How to get the vultr coupon code?
sign up for a new account and get $50 free credit. No coupon code or gift code is needed. The only condition is to sign up through a promo link.
In case you want to subscribe to the service of Vultr for a month or two, this coupon code is going to help you in getting some free credit.
Click on the coupon code below to get the offer.
Web Hosting Plans: Vultr review
When discussing Vultr review, it is a mandated thing to take a look at the hosting plans and products Vultr offers.
How can anyone complete the Vultr review without taking a look at its web hosting plans and other products!
So here I am presenting you with a piece of brief knowledge about the plans and products Vultr has. Don't forget to stay tuned!


#1 Cloud compute
Cloud compute doesn't require a long-term commitment. It is a cloud-based hosting service using which you can deploy your website from any of the 17 server locations instantly. It starts at only $5/month.
It gives you access to the server, the operating system of your choice, API, and customized cPanel. If you are just a newbie in advanced web hosting it is a great option for you.
#2 Bare Metal Simplified
Bare Metal Simplified is kind of a dedicated server with customization. It provides direct access to the physical hardware without a virtualization layer.
It has an array of cloud features typically available for standards compute, such as hourly billing, fast API-driven deployment, and availability in multiple regions.
The price is $120/month and if taken per hour basis then it will charge $0.179/hour. There are also two more plans coming soon – Intel Atom and Intel Scalable.

You get full control with unrestricted access to everything offered by the physical hardware that your website supports. Enjoy the single-tenant non-virtualized hardware with the elegance of Vultr's cloud orchestration platform.
Vultr is providing a new offer now for August 2021. You can get $100 free credits for trying their Bare Metal servers and also 60% Off on plans. Check out the Promo and gift code section for more details.
#3 Dedicated cloud instances
With Vultr's dedicated cloud instances, say goodbye to noisy neighbors. Enjoy CPU, SSD drives, and RAM that is dedicated just for you.
The price starts at $60/month and $0.089/hour.

Dedicated cloud instances are just the alternative of Bare Metal Simplified. You can rent the full or any fraction(25%, 50%, or 75%) of the dedicated server using hourly billing. It is one of the best flexible dedicated server options.
#4 Block storage
Block storage – as the name says, is not a hosting plan. This is an extra service offered by Vultr which is a highly available storage solution( Vultr claims, it is 99.99% available).
In case you have a large amount of data – like product descriptions, images, videos, and transaction records, then you can purchase block storage from Vultr and keep your data safe.
A large reliable Fast SSD-backed and highly available cloud storage gives you enough space to store your data with high flexibility. Where other cloud storage sets a specific storage limit, Vultr's block storage makes it the best in the industry option.
The price starts at $1/month for 10GB storage capacity.
#5 Object storage
Many of us don't like to pay for the whole when we need to use very less or a portion of any product or service. So, you must be thinking, why should I purchase Block storage when you don't need this large storage capability!
No worry at all! I have covered everything that you should know in the Vultr review.
Vultr has another storage option – you pay for what you use. If you don't need a huge capacity to store data like block storage then go for the Object storage – you have to only pay for the amount of data stored or transferred out of the bucket.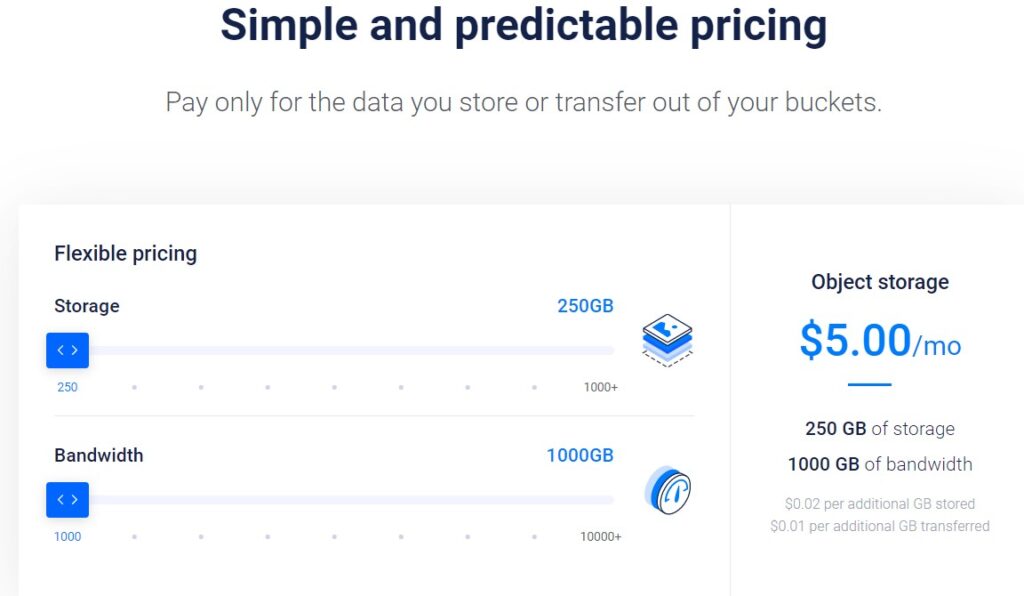 It has a flexible pricing structure that offers you storage as below as $5/month for 250 GB storage with 1000 GB of bandwidth. It gives you the flexibility to add scalable storage on demand and you can also manage it through S3 API.
#6 Load Balancer
Imagine you have an e-commerce website that attracts more customers to your application. To manage the traffic you have to deploy another instance of an e-commerce store. The load balancer distributes traffic across all your instances of the application.
Vultr offers a scalable, secure, and balancer with a powerful API. The load balancer ensures your traffic management with SSL configuration and also allows you to bring your SSL certificate.
It is so expandable that you can also simply add or remove instances from your compute pool and the load balancer will route the traffic accordingly.
Likewise, the flexible API keeps the deployment process easy and fully automated. You can easily manage the load balancer cluster. Its price starts at $10/month and $0.015/hour.
#7 Native DDoS migration system
Now you can add an additional layer of protection to keep your hosting server and operating optimally even when there is any kind of attack.
This service is available in 11 locations worldwide. It provides you real-time analytics and reporting, no increased latency (no routing of your traffic to third-party and no compromise in website speed while keeping it secure), and powerful mitigation(DDoS Protection adds 10Gbps of mitigation capacity per instance and safeguards all attached IPv4 addresses.
The price starts at $10/month and $0.015/hour up to 10 GBPS.
Features: Vultr review
#1 Value for Money
Value for money is the foremost part of Vultr review. Vultr is something that is actually value for money. You get every aspect that a cloud hosting solution needs to provide – a complete package of cloud hosting provider.
#2 Serving 17 server locations worldwide
Vultr has the largest worldwide network with 17 server locations. It enables its users to access the server no matter where they are.
It serves across the continents and countries like North America, Europe, Asia, Australia, United States, and Canada (from Seattle and Toronto to Atlanta and Miami), as well as additional servers in London, Paris, Singapore, Amsterdam, Tokyo, and Sydney.
For instance, if you are somewhere in Southeast Asia country, it suggests you connect the location in Tokyo, Japan. Because Tokyo has the fastest and stable internet facility in the world.
However, if you want to host in India, you have no better option other than YouStable.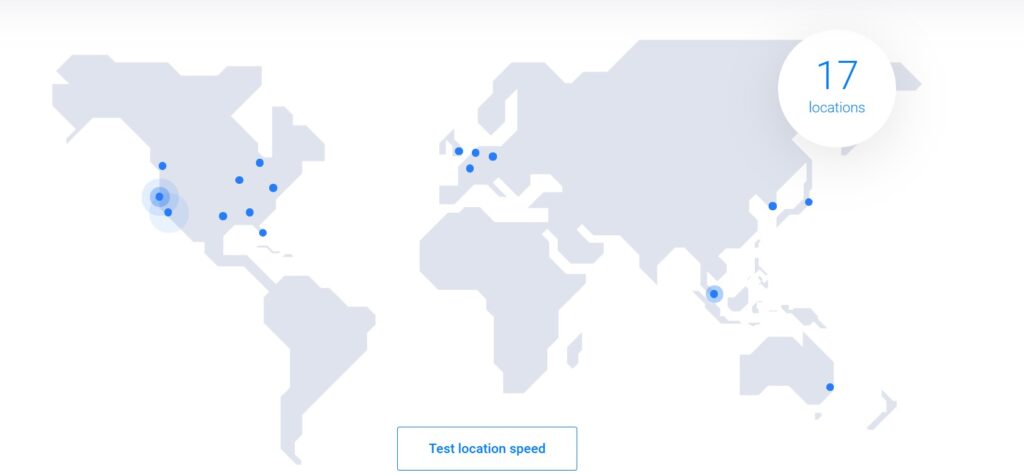 #3 Powerful custom Control Panel
Vultr has a powerful cPanel that works amazingly. No matter whether you are a Pro or a newbie – you have to spend less time managing the control panel. Many features are just one click away and it really saves time. So that you can concentrate on other important things.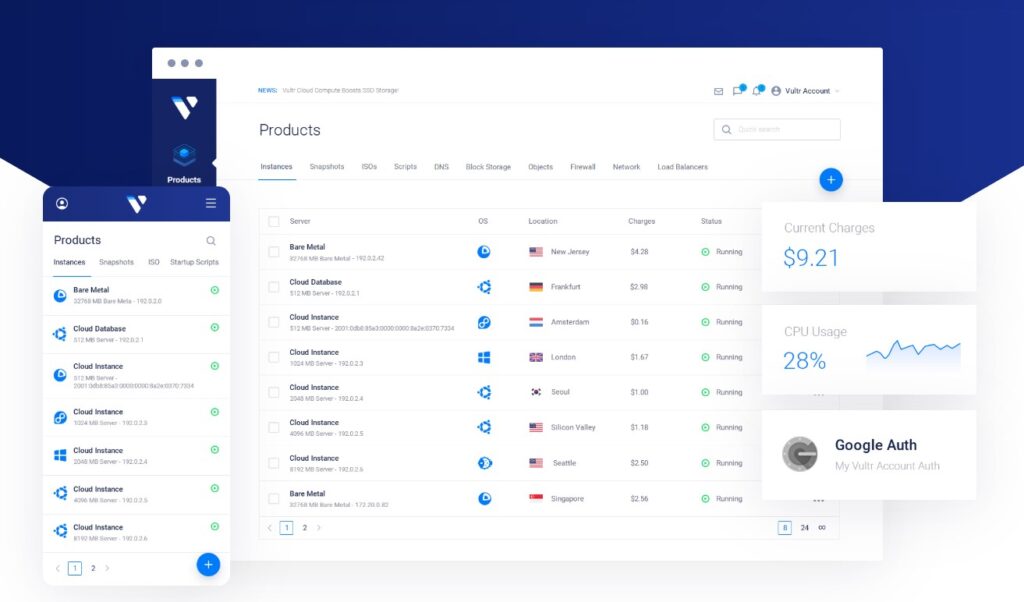 Vultr's cloud control panel has useful features like:
Deploying server without lengthy processes- you can do it in a simple click on mobile or desktop.
The control panel's interface is so easy that a new user can also navigate through instructions.
You can get instant analytics of your servers' overall health
#4 Flexible Operating System Choice
Vultr offers you to choose any of your favorite Operating systems to run your website. Whether you are using Windows or Ubuntu- it gives you a flawless experience.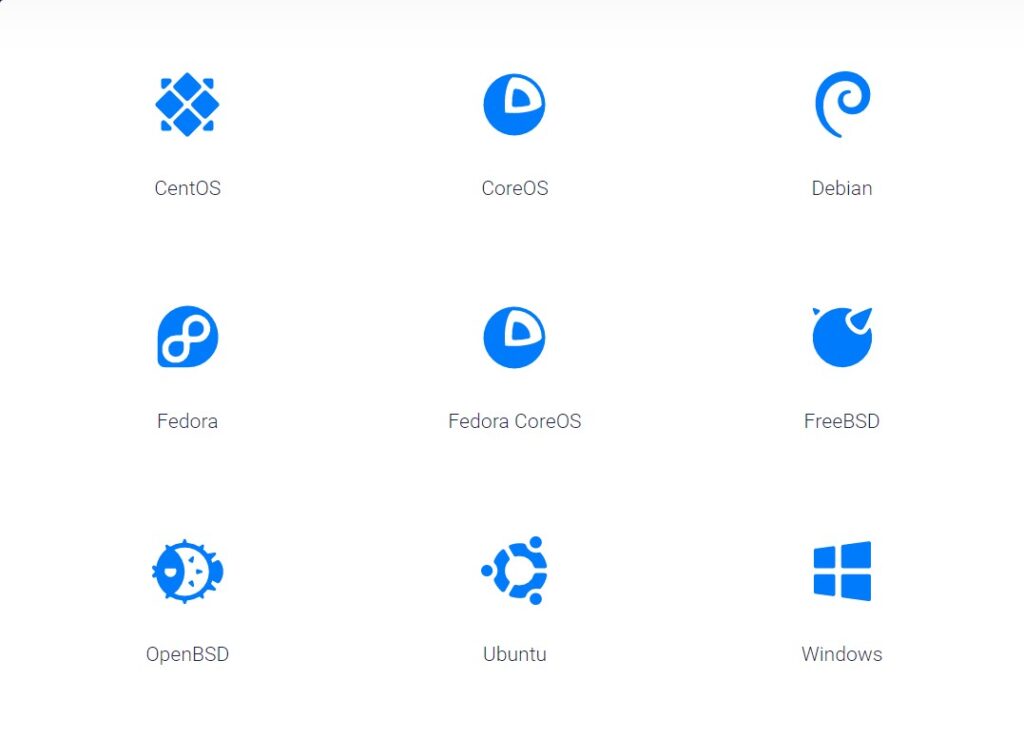 The Operating systems apart from Windows and Ubuntu, Vultr supports are CentOS, CoreOS, Debian, Fedora, Fedora CoreOS, FreeBSD, OpenBSD. You can choose the one that suits you best.
#5 Advanced Network
Vultr has a high speed public and private network backed by 100% SLA you can rely on. Its powerful networking feature helps enterprises to expand high performed customized and scalable cloud infrastructure.
#6 One-click installation
Vultr provides a range of one-click installers for popular web applications, games, and tools to manage the website. The one-click installer is easy to use and saves your time while taking care of many of the managerial works.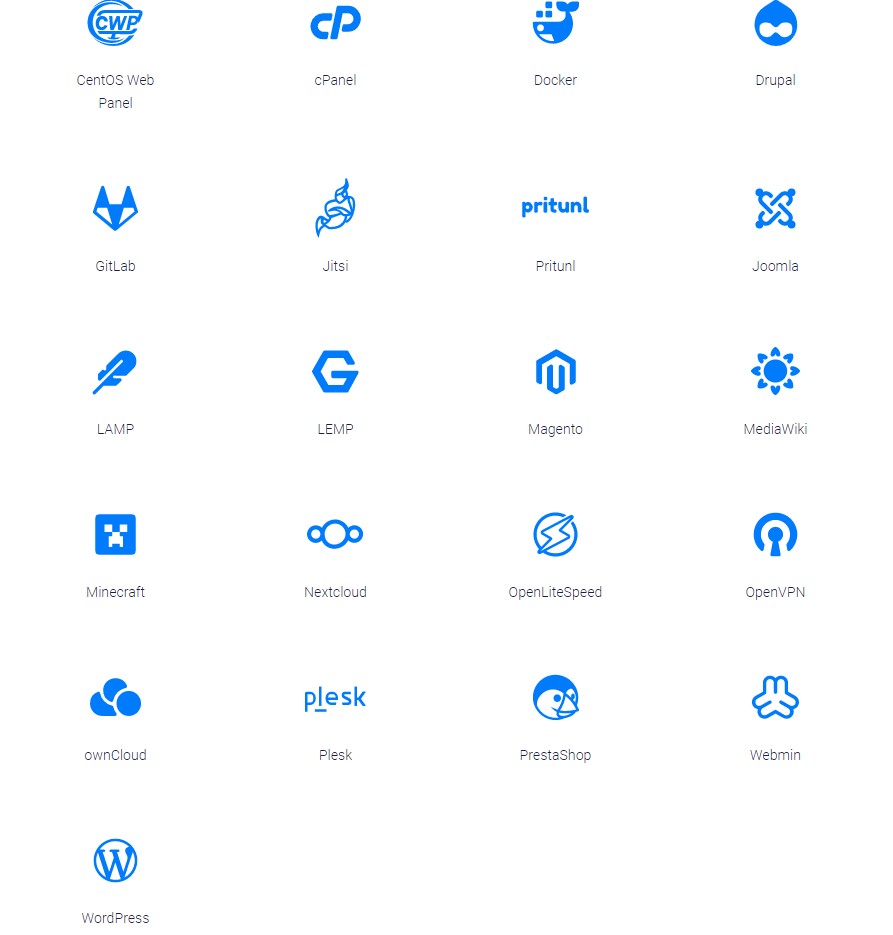 The best part is that the installer includes cPanel, Docker, Drupal, GitLab, Joomla, Mediawiki, LAMP, LEMP, WordPress to name a few. You can also deploy the Minecraft server using this one-click installer if you want.
#7 Snapshots and Backups
Snapshots on Vultr works as server backup for zero expenses. It also takes backups for only $1 so you need not worry about losing data at any point of time.
Snapshots and backups are the unique features that add positive points to the Vultr review.
#8 Upload your own ISO
You can upload your own choice of operating system to the server. In addition to this, you have full access to the ISO library of Vultr.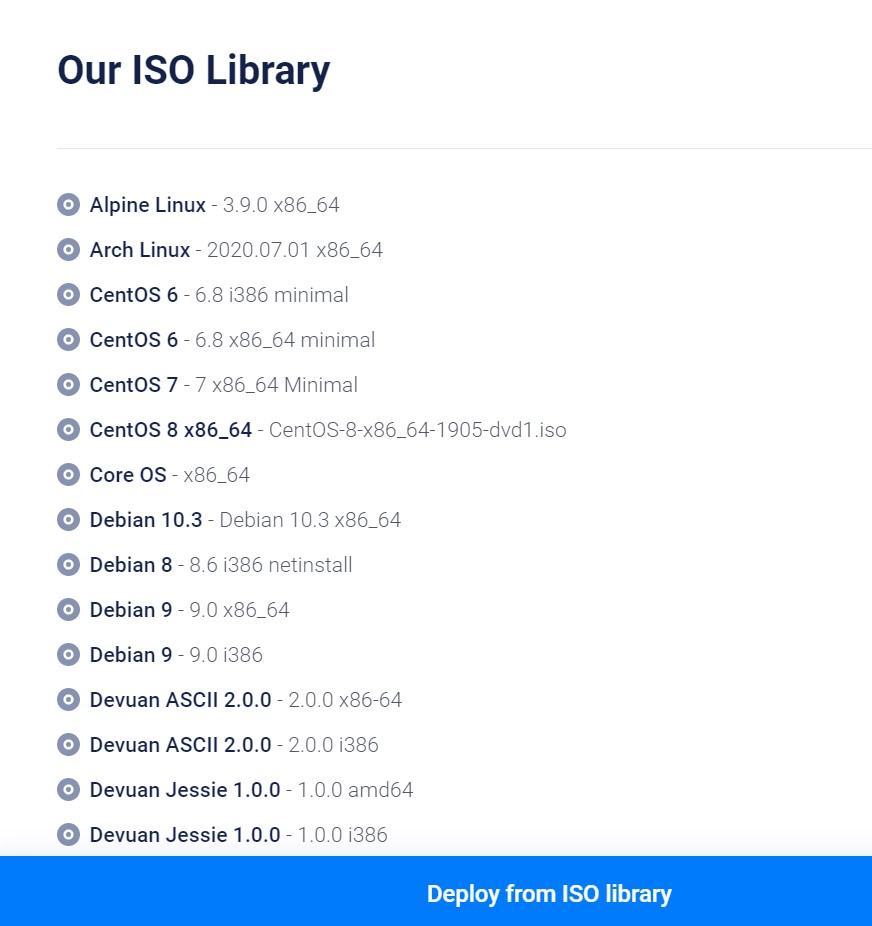 How do I get a VPS on Vultr?
Creating your very first VPS on Vultr is easy to do the task. You have to just follow below steps:
First of all, create your account on Vultr by signing up with your email id.
After you logged in, you will see a dashboard. Press on the blue button to create a new server
In the next page select your server type. Here you have to select the hosting type you want from – Cloud computes, bare metal, dedicated cloud).
Select a server location depending on where do you live. You will connect to the nearest server in the region you are located.
This is the step where you have to choose the operating system for the server. Always choose the Long-Term Support version to get security updates.
This is considered the most important step because here you have to select the server size you need.
Last but not the least, here you have to name your host. You can press on " Deploy now " to create your server.
Vultr will send you an email with the IP of the server and how you can connect to it.
Congratulations 🎉 you have successfully created a server on Vultr and connected to the server!
Vultr Review: Pros and Cons
Pros
Prices are affordable
Uptime Guarantee
Cloud storage is value for money. It is a cheap cloud hosting with cPanel
It connects with 17 data centres around the globe in just a blink of an eye.
You will get Snapshots system free cost cost
They provide 100% SSD storage
The monthly or hourly payments option
Cons
The payment dates are not flexible. You have to make the payment on every month's 1st date.
Not that beginner-friendly interface( you need to practice to get used to the interface.)
Customer support is not available for live chat and phone support.
FAQs: Vultr review
How to add SSH key to Vultr?
To log in to your server without a password, you need SSH key. SSH Keys gets automatically added to servers during the installation process.

To add the SSH key to the control panel please follow the below steps:
Log in to your control panel
After login, go to https://my.vultr.com/sshkeys.
Click "Add SSH Key".
Input the descriptive name for the key.
Paste it in your SSH public key.
Click "Add SSH Key".
What is the vultr nameservers?
ns1.vultr.com
ns2.vultr.com
How to Configure DNS on Vultr?
You can now configure the DNS for your domains through Vultr's dashboard.
Conclusion: Vultr Review
I hope the Vultr review has cleared many of your doubts and given you an overall idea about how cloud servers work and why Vultr is the best choice when it comes to web hosting with cloud storage.
Not only high the performance-based server Vultr provide, but also it gifts so many promo codes, coupon codes, and gift cards to its new and existing users. In my view this is the best point when someone talks about the Vultr review. After all, who doesn't want to save a few bucks💸 !
If you ask me what I love about Vultr then I would love to share the varieties of products it offers is the second thing that attracts me (Coupon codes are still in the first place, I guess!!) Vultr is the best cloud service for small businesses without a doubt.
People across the globe are giving pretty positive statements about the Vultr review.
No matter how well someone clarifies, the real user can understand its worth! I insist you give a try to Vultr ( you can go for the 60 days plan where you are also getting $5 credit) to know why people around us refer to using Vultr.
Do you have any questions or feedback related to the Vultr review? Want to add anything more to the article? Please feel free to drop a comment in the comment box.
Want to know more about other great hosting solutions provided by top hosting companies like WPX Hosting and Interserver?
Click here to check our blog filled with everything worth your time.