Best live chat software for WordPress in 2021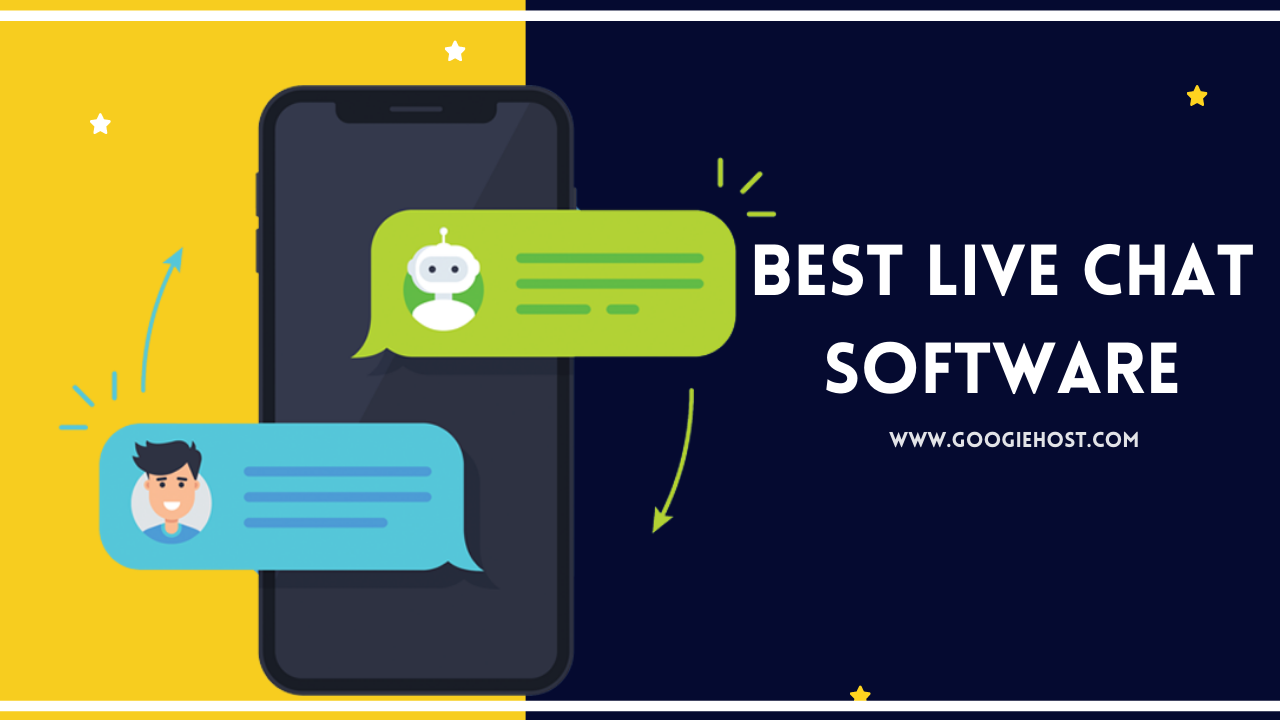 Are you looking for the Best live chat software for websites in 2021? Live chat plugins are the fastest and easiest manner to get in touch with your customers. It allows you to efficiently support your customers easily at any time of the day.
Live online chat support enhances engagement with potential customers who might leave the website if there is no chat facility available.
Adding live chat software for websites is the best way to communicate with your website visitors, while they are on your website and provide them with instant assistance.
We will provide you with a review of some of the best live chat software so that you can choose the one that is right for you.
What is Live Chat Software?
If you want to make your website more interesting then adding personal touches like Live chat software to your website can give you great rewards. This personal approach helps bloggers receive great benefits.
Live chat software helps you provide exceptional customer service by empowering you to resolve customer problems instantly.
You can resolve the sales queries in real-time and provide a human presence till the customers are ready to buy.
Live chat software offers immediate customer support and information and works like an instant messenger where customers can communicate with you easily and instantly.
Using the best live chat software for eCommerce, you can promptly answer customer queries that help boost your website conversion rates.
What are the Benefits of Live Chat Software?
There are many benefits you can reap from the best live chat apps which can provide a positive impact on your organization:
You will get better sales and conversions: Using live chat on your website helps increase sales and conversions. When the customers browse your website they have any queries about the product and services you offer, and with live chat support, you can answer the queries immediately. Live chat support is very powerful, and it helps the buyers overcome problems and reach buying decisions. Your website will have better sales as live chat is like a sales assistant 24/7.
Support costs are reduced: Providing customer support can be expensive as the customer service team handles both phone and email requests. However, with live chat support, the service team can be engaged in multiple chats at one time, while phone calls can be only one at one time. You will require a smaller team and can cut support costs.
There will be better trust with your buyers: In retail stores there are salesmen to help buyers with the sales process, but during online shopping live chat can help you have a direct conversation with potential customers and help them make an online purchase easily.
You will get a competitive advantage: when you offer live chat support to customers, then you will get a competitive edge over your competitors. You will be different from your rivals if you will use live chat support as you can respond instantly to buyer requests and queries.
Get the better value of sales: With live chat support, not only your sales will increase, but the value of sales will increase too. When you chat with your buyer and understand their requirements, you can recommend other products and cross-sell to increase average order value.
Keep your customers satisfied: With live chat, you can improve customer support and provide memorable customer support. Customers also prefer using live chat support as they feel more satisfied.
Instant contact with the visitors: Although websites get many visitors every day, not everyone is a buyer, but using live chat, you can collect information about the visitors and turn them into leads. Whenever a live chat session begins, it starts with the contact information, so use this as an advantage for your email marketing strategy.
How we reviewed the best live chat software solutions?
There are some factors, you need to consider when thinking of live chat support software. All the live chat platforms are created using particular objectives that differentiate them.
It is important that your topmost priorities and needs are met. If you are having trouble choosing the right live chat software then we have provided a review by listing their qualities, so choose live chat service providers as per your personal needs:
· Features:
Product features are one of the most important factors for a potential customer. We have listed the features of different live chat solutions so that you can choose easily. Features comparison is important to identify the best software that is suitable for you.
· Customer support:
This is an important criterion for decision making as several times businesses require customized solutions or have technical problems. While selecting the best live chat tool businesses are ready to pay more price for products if the website owner offers better customer support.
· Pricing:
Pricing is also an important factor when choosing live chat software. There are many free solutions as well as affordable paid plans available. If you are a small business then choose the right tool that is valuable for your website.
· Security: When choosing the live chat tool, there is a need for security policies and in case the security measures are low, then the product may not be ideal.
Related: Casino Apps – Are They Safe and Secure?
Best live chat software for WordPress
EngageBay
EngageBay is one of the best Live Chat software, loved by over 30,000 businesses globally. With both iOS and Android applications, EngageBay lets you offer exceptional customer service anywhere, anytime.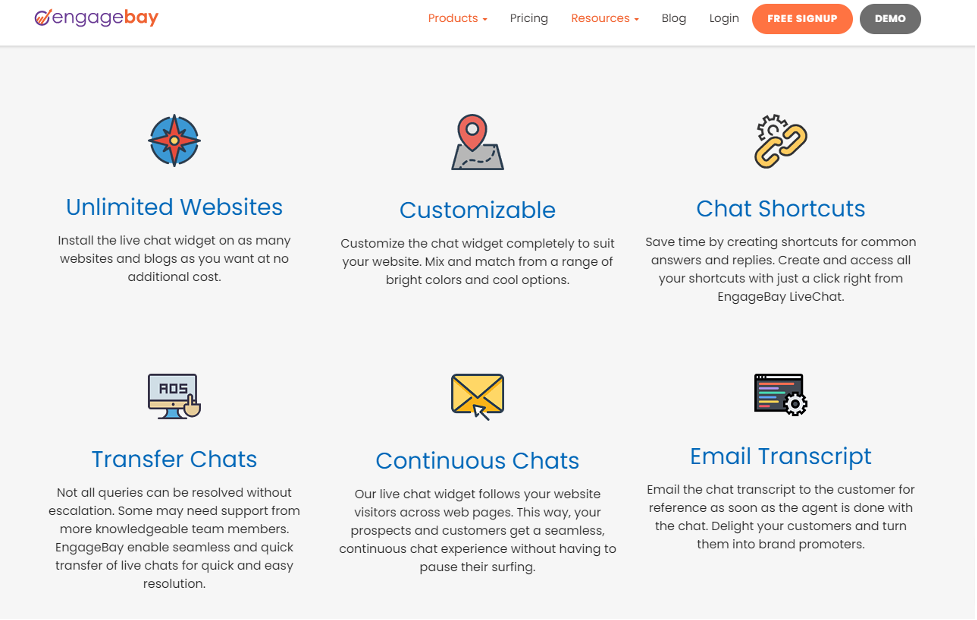 But EngageBay is more than just a Live Chat software. It is a full-fledged marketing automation tool with a host of features, including helpdesk, email marketing, omnichannel broadcasts, customer support ticketing with automation, a landing page builder, autoresponders, and canned responses.
With the integrated CRM, audience segmentation, and predictive lead scoring, you can easily win at marketing and customer service with personalized campaigns and powerful, informed live chat.
Features
Live Chat lets your customers resolve their queries immediately
You can get a 360-degree view of your customer's actions, helping you personalize your approach in both marketing and customer support activities.
Using canned responses and proactive messaging, you can offer proactive support by inviting your customers to interact with you through live chat. 
You can customize your chat messages, widget, and colors based on your website and brand theme.
With EngageBay's advanced analytics, you can gain valuable insights through chat transcripts. This can then help your agents offer personalized recommendations and service. 
You can embed the API on any website. 
Pros:
Unlimited websites
Customizable
Canned responses
Cons:
No WhatsApp integration
No video chat option
Pricing:
EngageBay offers four different pricing plans: Free, Basic, Growth, and Pro.
The free plan is forever free for up to 15 users and offers a host of features, including Live Chat, Helpdesk, predictive lead scoring, autoresponders, and more. 
The Basic plan starts at $12.99 a month and offers 1,000 contacts and 2,500 branded emails.
The Growth Plan is the most popular plan and offers 20,000 contacts and 20,000 branded emails. It is priced at $24.99 a month and offers advanced marketing automation features. 
The Pro plan is suitable for larger enterprises and is priced at $49.99 a month for 30,000 contacts and 30,000 branded emails. You get advanced features such as custom reporting, web analytics, and a dedicated account manager.
You also get a 20% discount on annual subscriptions and a 40% discount on biennial subscriptions. 
LiveChat:
LiveChat is one of the best messaging tools that can be merged into your website to tackle sales queries instantly. LiveChat offers iOS and Android apps that help you build better customer engagement.
Even the desktop apps for Windows and Mac have a rich user interface that enhances the customer services of your website.
Features:
There are many chat tools with LiveChat like chat tags, canned responses, chat routing, transcripts, and customer engagement with targeted messages.
There are customization features along with strong reporting and analytics capabilities.
It provides top-notch security to customers with encrypted messaging, visitor banning, and crest card asking.
Pros:
Easy to use interface
Strong capabilities of analytics
Can send reports and chat summary through email
They offer a dedicated app marketplace for all types of integration and customized integration too.
Cons:
It lacks video chat and co-browsing
Mobile apps have less functionality.
Pricing:
LiveChat has four pricing plans along with a 14-day trial offer for team subscriptions. The Starter plan starts at $19 per month, Team Plan is at $39 per month, the Business plan is available at $50 per month and for the Enterprise plan, you have to contact the sales team.
HubSpot:
HubSpot is a platform that offers a live chatbot that is just right for your business. It is a freemium lice chat solution that does not require a CRM. there are outstanding benefits like targeted welcome messages, scheduling meetings, and custom branding.
HubSpot live chat software looks professional when visitors interact with your website. Businesses can chat with customers and visitors in real-time and automatically redirect the messages to the right team.
Existing information can be used about repeat customers to personalize their live chat experience. Chat boxes can be managed easily with ease as they are stored in a universal inbox.
Features:
HubSpot Live chat widget is well-designed to work on both mobile and desktop browsers.
Users can leave their email addresses in the chat's inline field.
There is an instant reply bot that allows you to send an instant response when users start a chat.
You can show knowledge-based articles or help them create a support ticket.
Chats can be triggered by creating Chatflows.
You can create a shared team email address for every Inbox.
You will get mobile apps for iOS and Android and can carry out live chat conversions anytime.
It has an extensive API that allows you to build a functional application for integration.
Pros:
Easy to use interface
Unified box
Seamless integration with HubSpot
HubSpot API is very strong
Cons:
Limited features
No chat broadcasting
Pricing:
HubSpot offers a free forever CRM plan that includes live chat. If you want to access all HubSpot's features then you need to upgrade your plan.
The most popular package is the Growth Suite Bundle that offers HubSpot's CRM, Service Hub, Sales Hub, and Marketing Hub. This bundle provides the most functionality that is needed for live chat software.
The second plan is the Professional plan for which you will get 50,000 contacts and 10 users. The third plan is the Enterprise plan, which gives you access to 100K contacts and 10 users.
LiveAgent:
LiveAgent provides one of the best live chat software platforms for small and medium-sized companies. It provides a combination of live chat and email ticketing so that your customer support is robust.
There are numerous useful features like automated ticket routing and internal coordination tools.
Features:
You can easily place a chat box or email ticketing system on your mobile app or website
You can create multiple chat boxes or email addresses for various departments.
You can set up auto-rotating for tickets so that no support requests are missed.
Tickets can be assigned to the agents or departments and can be transferred between the owners also.
LiveAgent can integrate with Facebook, Instagram, and Twitter for unified messages.
Easy to use interface that supports agents
LiveAgent offers iOS and Android mobile apps along with a web app
They offer 24/7 technical support through phone, live chat, and email
There are numerous security settings that enable you to limit the types of files that can be sent through live chat.
Pros:
User friendly
Great support
Easily configurable
24/7 available
Fast integration
Cons:
No Whatsapp integration
No Instagram integration
Pricing:
Free plan by LiveAgent is full-featured as you will get a live chat button, call center support for a single number, and ticketing for one email address. Paid plans are also available.
The Ticketing plan is available at $15 per agent every month and the Ticket+Chat plan costs $29 per agent per month. If you add Social media accounts then it will cost an extra $39 per month.
The last plan is an All-inclusive plan that costs $39 per agent per month and offers unlimited features.
Olark:
Olark live chat software works like a human connection to provide top-notch customer service. It helps enhance traffic and sales on your website as you can solve customer issues instantly.
You can easily gain important information from your clients to provide effective support. You can get detailed insights from Olark and make better decisions.
You will get a customized chat widget and can change it as per your business interest. The software is user-friendly and can be installed and operated easily.
Features:
You will get a visual chat box that will give a unique touch through customization.
Automated messages are available to engage maximum customers and save your time and effort. You can greet your customers and send notifications instantly.
Olark provides in-depth reports about chat volume, customer visitors, rating, agent performance, traffic, and sales.
You can make smart decisions, task assigning, etc. through useful information.
Olark offers powerful real-time chat that generates better conversion.
Olark makes your live chat management easier.
Pros:
Olark offers a user-friendly live chat application
You will get the feature of reporting to check the quality of employee chat
eMails are sent automatically and you can organize, monitor, and share real-time data.
Cost-effective platform
Better speed
Chat widget can be customized
Cons:
No mobile application
No image sharing option
Pricing:
There are several flexible plans like monthly, yearly, and 2-year plans. The monthly plan starts at $17. One year at $15 per month and 2 Years at $12 per month.
UserLike:
It is the best live chat for WordPress that allows you to chat with customers using multiple channels like website, Whatsapp, Facebook messenger, Telegram, or SMS.
You can create personalized conversations and contacts can provide feedback on services and features. It is a cloud-based chat software that can be integrated with existing websites.
It enables real-time communication between employees, customers, and internal team members.
Features:
You can acquire leads, increase conversions and solve customer issues
All-inclusive button integration
Custom design
In-context forwards
Sticky chat
CRM integrations
Smart customer profiles
Pre and post-chat survey
Pros:
Support for all messaging channels
Automatic chatbots for customer support
Automatically enriches customer profiles
Cons:
The user interface is clunky
No tools like co-browsing and video chat
Pricing:
You will get four plans with UserLike. Team plan starts at $29 per month, Corporate plan at $99 per month, Business plan at $299 per month, and Flex plan pricing on demand.
SnapEngage:
This is an omnichannel customer engagement live chat platform that helps businesses increase customer engagement. You can get increased sales and reduced cost-per-interaction.
It is a chat service that can be easily set up on your website and you will get seamless integration with other third-party services like CRM software, help desk, marketing solutions, and project management. You will also get the ability to provide services using SMS.
Features:
Chatbots help increase conversion rates
Strong CRM and help desk integrations
Advances analytics to get better ROI
Pros:
Easy to setup with CRM integrations
You will get audit logs and Single sign-on
HIPAA compliance
Chat widget customization
Cons:
No co-browsing and video chat
No file-sharing
Chat routing has limited options
Pricing:
SnapEngage offers many plans for the users. The Essentials plan offers great features at $16 per user per month. The Professional plan starts at $26 per user per month and for the Enterprise plan, you need to contact the sales team.
FreshChat:
It is a live chat solution platform that engages them through chat using channels like mobile apps, websites, and social pages. Businesses and their teams can get context-driven messaging solutions with FreshChat.
It can help you understand the customer in a better manner using social profiles and leads. It allows the users to start a real-time chat using AI-powered chatbots or live agents.
You can connect the chats to support tickets on a Slack channel or Zendesk. You can stay productive using smart plugs, saved responses, labels, private notes, and desktop notifications.
Features:
You will get campaigns, sales bot, and integrated self-service
There are intelligent message routing and canned responses
There are features like customizable branding and supportive integrations
Pros:
Chatbot and Bot real-time options
Desktop notifications
Easy to use
Integration into the website is quick
The interface is user friendly
Cons:
Pricing:
There are four messaging plans for all businesses. The Sprout plan is free and the Blossom plan starts at $15/agent/month. Garden plan is at $29/agent/month and Estate starts at $45/agent/month. Forest plan is at $69/agent/month and you will get add-ons like Whatsapp business, acquisition, and engagement.
JivoChat:
JivoChat is an easy-to-install best free live chat software that offers the best business communication tools for e-commerce companies.
You will get live chat, emails, Facebook messenger, and calls in one app. Businesses can build 360 degrees customer support system and connect freely with customers. It uses innovative and customizable mobile chat wizards to boost sales.
JivoChat enhances Customer engagement with real-time visitor monitoring. It can easily integrate with the existing website and it is easy to use.
Features:
VoIP functionality
Proactive responses
Reports about agent's performance.
Pros:
A free plan is great
It supports several channels like Telegram and Facebook Messenger
Simple and easy user interface
They offer VoIP calling
Cons:
No video chat and co-browsing
No chatbot builder
Pricing:
JivoChat plans are amazing as you will get unlimited chats and websites with every plan. It is free for the first five agents. The professional price starts at $13/agent/month and it comes with all the JivoChat's features. You will also get 14 days free trial.
Tidio:
It is an amazing software for small online businesses which streamlines with emails, and Facebook messenger. Chatbots can be used to provide instant service 24/7 and automate lead generation.
This chat software allows real-time customer communication through a customizable chat widget. There are chatbot templates for answers to basic queries and to collect visitor's emails.
There is a simple setup process and the user interface is intuitive.
Features:
Customize the ChatBox colors
Amazing design for dashboard and chatbox
Chat from mobile apps and website dashboard
ChatBot functionality
Canned responses
Analytics
Visitor tagging
Integrate Facebook Messenger chats
Pros:
Affordable pricing
User Friendly and easy to understand User Interface
Suitable for small and medium-sized businesses
Chatbot builder works well
Cons:
Do not offer API
Less customer engagement tools like video chat and co-browsing
Pricing:
Tidio offers a forever-free version for 3 operators. There are Communicator and Chatbots plans with extra features available at $18/month with a 7-day free trial. There are customized plans available too as per your business needs.
Tawk.to:
It is an agent-centric live chat app that helps communicate with visitors. Businesses can monitor and chat with visitors on your website and respond to support tickets.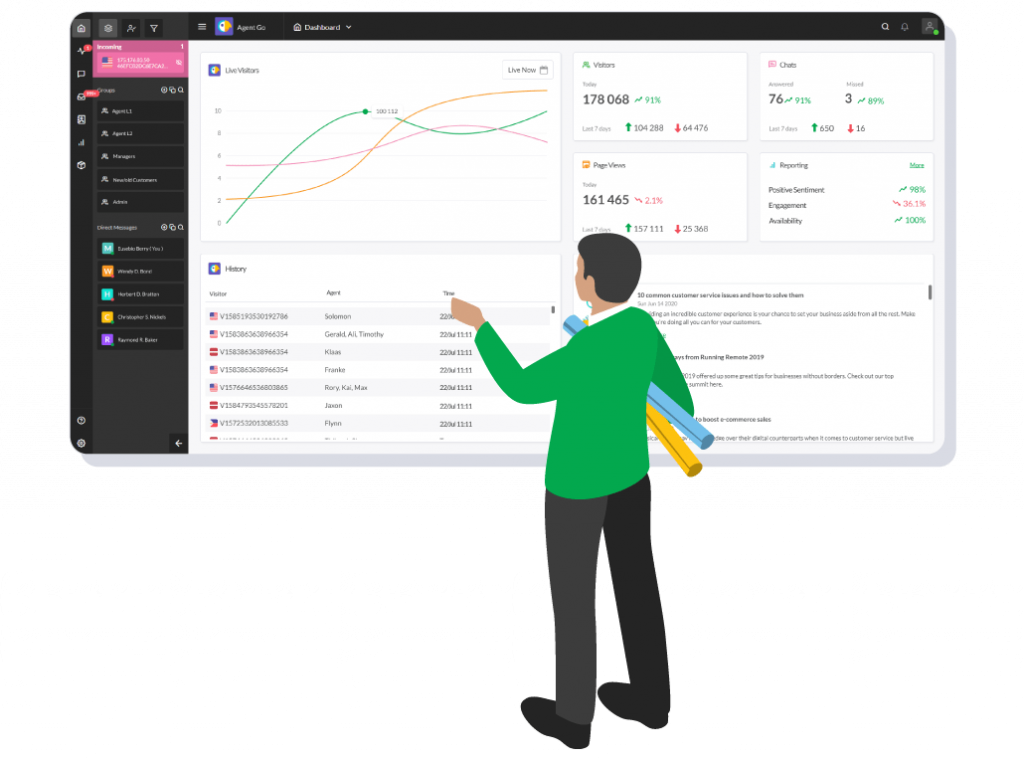 There are great features offered by Tawk.to that give competition to pricey tools. If you are looking for a free live chat plugin that is amazing then Tawk.to is one of the best options.
Features:
Canned responses
Unlimited agents
Built-in ticketing support
Chat through the web interface, Windows and Mac desktop apps along with mobile apps
File uploads
Unlimited storage for chat history
Automatic triggers that let you chat instantly with visitors
Message sneak peek to see what clients are typing
Detailed analysis
Pros:
Simple, easy, and quick to set up
No limitations on agents and chat history
You can tag and assign conversations to the right agents to respond
Cons:
Pricing:
Tawk.to is a free live chat software with no limitations on features and agent seats.
Conclusion:
With the above-stated best live chat software for website reviews, you might have got an idea about which live tool is right for your business.
The best live chat solutions that are listed above offer great features. Paid plans are affordable and some free plans have decent features too.
You will get an intuitive live chat tool with almost all the live chat software