As 2021 started and we are still in the middle of a pandemic so it's better to switch Work From Home and managers you all must track your employees working with Best employee monitoring software.
Are you looking for the Best Employee Work Monitoring Software which is professional yet free to use? It is very important to track your productive time and unproductive time on the work desk. So for that, you'll get the proper information.
These applications will help you become more organized, efficient, and do more things. You can also increase your strength of productive time.
If you are a freelancer, small business office owner, or a big production house and looking out for desk time recording software with some productivity enhancement, then you are at the right place.
We've done the research for you and it will help you select the right desk tracking software or app for you.
In the results, you will see some Free and some Paid Desk Time Recording Software with their Features. Tap on your ideal employee Monitoring Software from the below table.
1. DeskTime
DeskTime is an easy-to-operate time tracking app that was launched on July 1st, 2011 by Draugiem Group with three key features
This software or application will track your employees' work time productivity and it was basically designed to help managers and their teams to identify their productive employees and unproductive employee.
The real part is, that this application can actually help your employee to be a productive source to the company.
Control Panel of DeskTime
DeskTime comes with an easy-to-understand control panel and lots of features that will help your employee grow faster and be a better asset to his organization.
Desk Time Solutions
DeskTime Works on these things.
Installing DeskTime on your Computer
Follow the Step-by-Step Procedure to install Desktime on your Employee's PC.
Download DeskTime.
Install DeskTime on your computer.
Launch DeskTime and sign in to start tracking your time.
Restart your system.
(Very easy to use)
Setup Procedure
Firstly sign in to DeskTime
Go to My Team Member and press Add Team Member.
Now simply add the details of your employee and he will get an email with a user ID and Password.
Now you are all set.
Platforms On Which It Supports.
Price
2. EmpMonitor
EmpMonitor was launched in 2014 and this company is owned by Sumit Shah who is an Indian entrepreneur.
EmpMonitor is a cloud-based employee time management application or software used by enterprises and businesses to track things down. It can also increase their productivity.
Key Features
Why is EmpMonitor good?
Empmonitor is a good software and below are the reasons why.
Control Panel Of EmpMonitor
You can easily track your work on EmpMonitor and counter your unproductive activities.
Pricing with Plan Variation
Free Plan
Bronze Plan
Silver Plan
Gold Plan
3. Hours
Well, Hours is a Timeclock app with a color-coding option to manage tasks and projects with reminders. This software is very simple and most suited for people who are not looking for some in-depth features.
This application allows you to watch a running list of times and easily switch between your tasks.
Basically, Hours is for you is all you need a basic and simple time tracking app with a basic report generator function.
Hours Control Panel
A simple and easy-to-operate control panel with Hours.
Special Features
Hours consist of 3 Key Features
Platforms
Price
4. Toggl Track
Toggle is an easy-to-operate time tracking app that allows you to track your employee's daily activities across different platforms like the web, mac, ios, etc.
Provides you with the best-detailed insights about your employee and an opportunity to optimize their workflow by identifying areas where he or they can improve.
Toggl has an attractive and easy-to-operate user interface with fast access to reports and changes in recorded time.
Toggl is also a great employee time tracking app and project management tool.
Toggl Interface
Toggl interface is also quite simple and easy to operate.
Special Features
Platforms
Price
Toggl gives you a 30 days trial package which is for 5 users and then it has a monthly pack and an annual pack you can select as per your choice.
Monthly
Starter: $10 per user
Premium: $20 per user
Annual
Starter: $9 per user
Premium: $18 per user
5. Timecamp
Timecamp is also a Cloud-based time tracking solution with a large number of possible integrations
This app allows project managers to collaborate and track down billable working hours and can also monitor project status
TimeCap is basically used by managers and made for organizations looking for an all-in-one time tracker and billing app.
As in addition, this app can also be called employee productivity tracking software that integrates with project management tools.
Timecamp User Interface
By projects, tasks, and report. Timecamp loves to keep it simple.
Special Features
There are 4 basic features of Toggl Track
Platforms
Pricing
Free for 1 User
Basic: $7 Per User
Pro: $10 Per User
Basic: $5.25 Per User/m
Pro: $7.50 Per User/m
6. Time Doctor
TimeDoctor application is actually in-between time tracking and employee project management.
This application is quite powerful and it gives very detailed information about your employee, it also allows managers to take screenshots of their employee's work.
TimeDoctor accepts multiple payment gateways, so you don't really need to be worried about the mode or the type of payment method.
TimeDoctor was made for large companies and it can store up to 500 employees' data with a proper report system, this application will actually save your time. Also, you can get the best live chat software.
TimeDoctor User Interface
Time Doctor will help you get more productive time.
Special features
TimeDoctor has 4 basic and decent features.
Platforms
7. ProofHub
ProofHub is an all-in-one team management and project collaboration that is powerful and also good in reporting features.
By using this application you will get an automatic timer that starts with your billable hour or as soon as you start working on a task.
It is one of the best software for teams and management to track their productive hours and be more productive.
User Interface of ProofHub
No one can lie to ProofHub, it got proof of everything.
Special Features
ProofHub comes up with 3 special features:
Platforms
Pricing
You will get an ultimate control plan with unlimited user data with a minimal charge of $89 per month but billed annually, ProofHub also offers a 14 days trial package.
8. Timely
Timely has a very interesting time tracking technology, Artificial Intelligence. Timely will create your timesheets and visualized reports which will be created by an AI system.
Timely records everything, GPS locations, meetings, emails, websites, and documents, and this software will start with your windows and will end with your shutting down.
Timely is good for you if you are an individual or a small business or a large business, Timely will give you accurate information about the productive hours and unproductive hours. Also, Free Landing Page Builder
And will also help you figure out what you did yesterday and what are you doing today, a full and complete report.
A Sample Of Timely Record Chart
Easy to the under-record chart of Timely and work on your productivity.
Special Features
There are two special features of Timely
Platforms
Pricing
Free 14-day trial with a 20% discount if paid annually
Moonlight version: $7/month
Freelancer version: $14/month
Professional version: $23/month
Small companies: $49/month (two seats)
Medium companies: $199/month (10 seats)
Large companies: $449/month (30 seats)
9. Kickidler
Kickidler is also an employee monitoring software available in the market for all sizes of businesses. This Software is a solution for managers, Managers can easily track their employee's productivity and increase security measures.
The mean feature of this software is real-time live computer monitoring with proper screenshots and keystroke locking.
User Interface Of KickIdler
A complicated but very useful interface of Kickidler.
Key Features
Platforms Available
Pricing
10. ActivTrak
A good productivity application with a user-friendly interface and an attractive employee monitoring analysis tool that focuses on worker productivity.
This application is also quite powerful and it was created to be called a good tool to watch during the COVID-19 pandemic.
Well, this application gives a sporty look and it has a very quick administrative UI. This application gives free data of 3 gigs. This application also gives one screenshot per activity and a real-time view with a website blocking feature.
Interface
ActivTrak's insight is right in front of you and it is quite useful for managers.
Key Features
Pricing
A 14-day free trial is also available.
11. MoniTask
Monitask boosts the productivity, accountability, and efficiency of your employee or your team. This software allows you to track your employee remotely, and stay focused on the task given.
Monitask is a lite software that makes it quite easy to operate, the managers can access the dashboard anytime and check their employees productive time and unproductive time.
This desktop tracking application is available on both Windows and Mac.
Monitask Features
MoniTask User Interface
User-friendly and easy-to-understand graphs with high standards.
Pricing
Monitask is also available for free but it will be for a limited time, but if you get their full version it will cost you $4.99 per month and an alternate option is $2.99.
12. Workpuls
Work plus is an online time calculator and attendance software that focuses on employee work time tracking and analyzing its work productivity.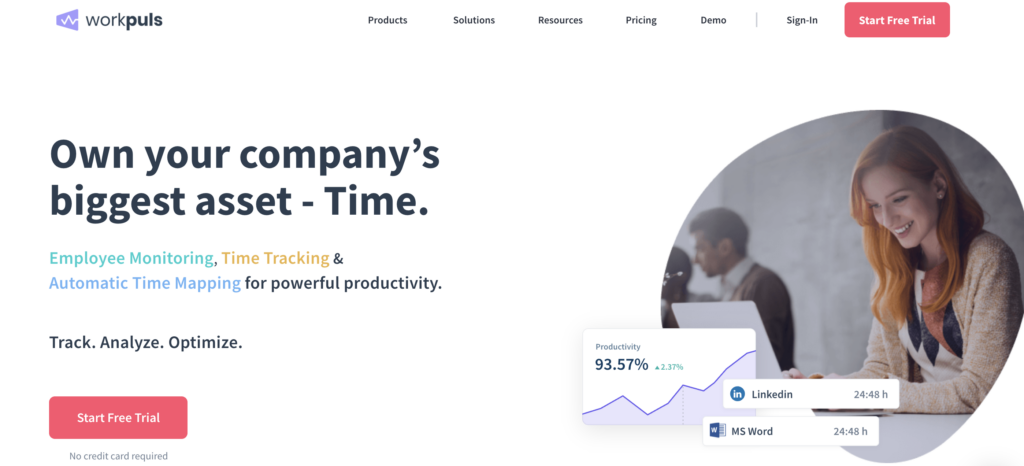 By using this software you can easily spot your lagging performers and top performers in your team. This software works automatically, with no manual start or stop.
This software can easily calculate every second of the employee on their desktop without interrupting their work.
User Interface Of Workpuls
A complete record of employees working.
Special Features
Platforms
Pricing
If you are paying annually then you will get a discount of 20% and the basic Employee Monitoring version will cost you $6 per user per month,
The time tracking version will cost you $8 per user per month and the Automatic time mapping version will cost you around $15 per user per month.
13. TeraMind
Teramind is an easy comprehensive tracking application with multiple functions as it can capture a user's activity anytime and can even record the screen for better proof.
This software can track emails, keystrokes, zoom sessions, and many more things, this is an easy-to-use application but the in-depth monitoring feature is quite complicated.
User Interface Of Teramind
Easy to navigate and easy to understand how valuable an employee is.
Key Features
Pricing
Costing is available in INR you can convert it into your native currency.
14. VeriClock
One of the strongest employee time tracking software in 2021, this software gives you a number of impressive config functions and this software watches the employee through
it's a depth-sensing feature and nowadays there is some software available to fool desktop time tracking software but this application is smart enough to ignore restrictions and do its assigned job.
This software won many awards but its UI is a bit similar to Hubstaff. Vericlock does its job well and it focuses on time tracking and user comfortability. You can start the service through your cellphone or your desktop.
User Interface Of VeriClock
This application can also record your GPS data and you can easily track everything about your employee.
Pricing
$10/month account fee
$5 per user and you will get a bunch of features
15. InterGuard
InterGuard is a highly customizable employee monitoring software that is fully loaded with features such as a wide selection of modules with a refreshed UI which is more intuitive and is very convenient for search functions.
Inter Guard gives outstanding reports and notifications which are automated.
Interguard User Interface
A highly customizable user interface with interactive color combinations.
Key Features
Pricing
$9.99 per user per month and the price may vary with the number of persons and number of months.
16. Tick
If you own a very big organization and are looking for software that is available on various platforms then Tick is the employee working tracking software of your choice.
Tick is the solution for every freelancer, small business, startup, and very big organization that works on recurring projects and tasks then with the help of tick you can easily track down how much time is productive and how much unproductive.
User Interface of Tick
As you can see below TickSpot is available on various platforms, you can track down what you are doing during your working hours.
Special Features
Platforms
Pricing
Conclusion
As I have already mentioned that we've done the research, so all of the above were the best time tracking and time management applications for Employee Monitoring.
Select the right one for you and keep on tracking your employee's data in a very systematic form you will also get graphs of daily, weekly, and monthly records.