When we were finding it difficult for our website to reach the market even after our website having all the needed potential, we discovered that certain country-specific restrictions were posing the issue and we needed to upgrade the security of our data. 
Thus, we decided to shift to some excellent DMCA ignored hosting servers and it was then that we came across QloudHost. Having experienced its versatile features and ease of use, we thought of providing you all with a detailed and personal review of QloudHost.
About QloudHost
QloudHost is an exceptionally admirable offshore hosting provider that offers complete security, firewall protection, and DDoS protection to users. QloudHost ensures to maintain the privacy of user's data along with the advantage of letting your website enter foreign markets.
QloudHost has come up with a number of hosting plans and top-notch features. All the plans offered by QloudHost are simple to understand and there's hardly any difficulty that one has to face while using QloudHost.
What Makes QloudHost Different from Other Hosting?
QloudHost sets itself much ahead of other offshore service providers in the aspect that QloudHost provides the much-needed security and privacy to the user's data.
Even though QloudHost is not amongst the oldest DMCA ignored hosting servers, you can put your entire trust in QloudHost as long as privacy is concerned.
User Interface and Ease of Use
The prime factor that sets QloudHost apart from several other DMCA ignored web hosting service providers is the intuitive interface and the ease of use offered by Qloudhost to the users. With separate columns for Services, Tickets, and Invoices you are sure to have hassle-free navigation through QloudHost. 
The excellent user interface also displays the active products or services that you are using. As a user, you can conveniently order new services from the shortcuts that are easily visible when you open the QloudHost platform.
Everything from Billing to Customer Service Support can be accessed in no time, thanks to the simple and easy-to-use user interface of the platform.
Speed Test Analysis for QloudHost
Having experienced the intuitive user interface and ease of use, we even conducted the speed test analysis for QloudHost. The results for the same are given below.
Page Speed Tests
In order to test the server response time of QloudHost, we also conducted a page speed test. Page Speed Test is crucial to know the loading time of a page. Well, the results of the trial were excellent. GTmetrix rated the website with an A grade with an LCP of 265ms and TBT of 0ms.
Customer Support Analysis
QloudHost provides top-notch customer support to users. Apart from the overall performance, QloudHost is commendable and appreciable in terms of customer service support as well. 

The Live Chat feature on QloudHost enables a user to put forward a query at any time of the day. In order to contact their team of technical experts, you can either use Email or a Ticket and get easy and quick solutions to your problems.
Uptime Test
The Uptime Test is basically conducted to know the availability of your website on the Internet. Higher the result of the Uptime Test, the more the chances of your website being available on the Internet.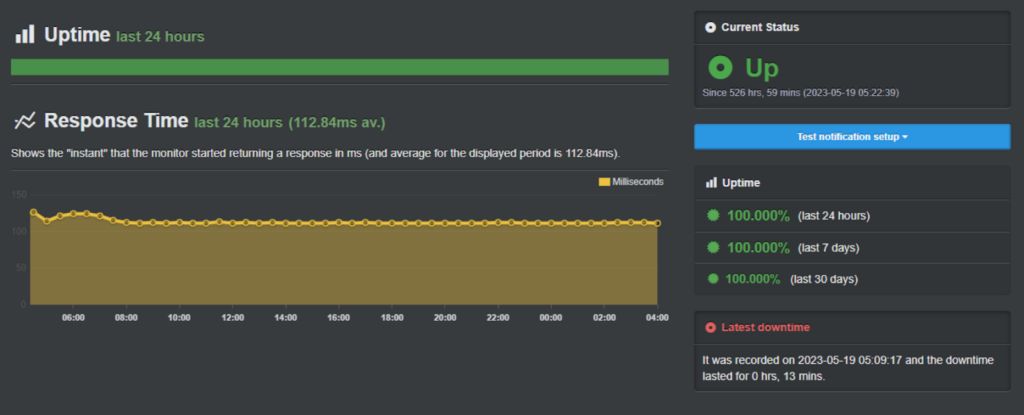 When we conducted the Uptime Test, we were amazed to acknowledge 100% results as can be seen in the image below.
Security Analysis
Security Analysis is as important as the page time tests and the uptime results. Therefore, we decided to have a security analysis for QloudHost. QloudHost is secure for the reasons mentioned below.
Full DDoS Protection
QloudHost provides complete DDoS protection to provide excellent availability of your website on the internet. QloudHost ensures to protect your website from unwanted and harmful DDoS attacks that can result in crashing your website.
Anti-Malware
QloudHost has an efficient anti-malware system and firewalls that restrict unauthorized access and prevent cybercrime or cyber threats. Thus, QloudHost is cent percent secure to use.
Consistent Onsite Monitoring
Not only this, QloudHost offers consistent onsite monitoring of your website. It is done to ensure that no kind of security breach occurs and your data remains safe. Providing safety to your data, QloudHost ranks far ahead in terms of security.
Complete Data Privacy and Backup
QloudHost provides top-notch features of data privacy and backup. Your personal data on QloudHost is visible only to limited sources and not everyone can have access to it. This way, you become easily untraceable on the Internet and the safety and privacy of your data is properly ensured…
QloudHost Data Center Location
QloudHost data centers are located in Netherlands and Amsterdam.

Key Features of Using QloudHost Hosting
To provide you with a better understanding of QloudHost, let us discuss the key features of using QloudHost.
Daily Backup
You just don't need to worry about the security of your website as long as you use QloudHost. QloudHost provides a daily backup feature to the users so that your data can be easily and conveniently recovered in no time.
Provides Root Access
One of the most magnificent features of QloudHost is that it offers complete root access to the user. Using QloudHost means that you will be able to easily access their servers and that automatically adds more value to your experience.
Easy Migration
Now suppose that you are not satisfied with your existing QloudHost plan, it takes no time to upgrade to a better plan, that too without having to lose any data at all. Hence, QloudHost provides easy and managed migration to the users.
QloudHost Refund Policy
As per the QloudHost Refund Policy, you get to avail of a 30 days money-back guarantee. This ensures that using the service is absolutely risk-free and simple. A user can withdraw the money for 30 days if he is not satisfied with the service.
QloudHost Pros & Cons
QloudHost is an excellent DMCA ignored hosting server that respects user's privacy and provides entire security to your data. Let us have a look at QloudHost's pros and cons.
Pros
DMCA ignored the hosting service.
30-day refund policy.
Offers complete security and privacy.
Multiple plans to choose from.
Cons
The reply time of the customer support team can be quite long at times.
Why You Should Choose QloudHost for your DMCA offshore Website in 2023?
By choosing QloudHost for DMCA ignored VPS hosting, you are sure to get root access, daily backup, several plans to choose from as well as utmost security and privacy. Even though DMCA is young to the offshore service provider, yet QloudHost has given commendable results so far.
The user interface you get to experience with QloudHost is simple and quite easy to understand. There are several ways to contact the customer support team including the live chat feature, email, or by raising a ticket.
Do we Recommend QloudHost for your DMCA Ignored Sites?
Yes, we do recommend QloudHost for DMCA ignored sites. The plans offered by QloudHost to the users come with unlimited storage and daily backup, thereby protecting your data and website in case of any mishappening. 
Further, QloudHost is absolutely safe and secure and your privacy is considered to be the utmost priority at QloudHost.
FAQs: QloudHost Review 
Is QloudHost hosting legit?
Why is QloudHost so cheap?
Considering the need for a secure and robust web hosting service for businesses needing more privacy and security, QloudHost offers cheap and affordable plans along with a 30-day refund policy.
Is Windows hosting available with QloudHost?
Yes, QloudHost provides Windows server hosting with excellent performance and instant customer support through the live chat feature.
Is QloudHost the Perfect Host for Your DMCA Ignored Website?
How do I migrate a website to QloudHost?
In order to migrate a website to QloudHost, the first and foremost thing you need to do is to have a backup of your files and then enter the domain of the website and upload the files on the QloudHost server.
Is QloudHost easy to use?
Yes, QloudHost is simple and easy to use. The interface is intuitive and everything can be easily managed via the control panel.
Conclusion: QloudHost Review
QloudHost is an outstanding and super-amazing offshore website hosting service provider. It has a range of unique and exquisite features that make the user experience tremendously good.
Primarily, QloudHost aims at providing security and privacy to a user. QloudHost offers various plans as well as a 30-day refund policy in case you are not satisfied with their service.