Want an easy way out to manage your staff? Have a business and are experiencing difficulty managing HR duties? If you want to focus more on growing your business, then leave this work with us blindly to help you choose among the best Cloud Based HR Software.
In this article, we'll be discussing the Top 5 Cloud based HR Software available that makes the People management of your enterprise easy. And not only that, we are going to provide you with a comparative analysis of all the Best HR Software, its features you'll be enjoying, the pros and cons you'll be experiencing, and its prices, enabling you to pick the most suitable one from among depending upon your enterprise needs and budget size.
So before we start any further, let's know about what cloud HR Software is and what it actually does.
Also Read: Best Live Chat Software
What is Cloud HR Software?
To put it simply, Cloud HR Software is an online tool that helps big businesses to manage, control and supervise their staff's activities using a cloud-based platform. (For those who do not know what a cloud platform actually is. Storage and Accessing data through the internet via any remote desktop rather than using any computers' hard drives are called Cloud based technology)
The cloud based HR Software enables the management to perform a wide range of HR processes such as employee database management, salary and benefits administration, hiring process, employee attendance tracking, and a lot more
Cloud HR software makes the job of an HR smooth and simple thereby eliminating the need to have an in-house HR management mechanism or any other sophisticated IT infrastructure to perform the above duties.
The software allows users(Business Management) to access relevant HR information and such software can perform its functions from any location with internet access.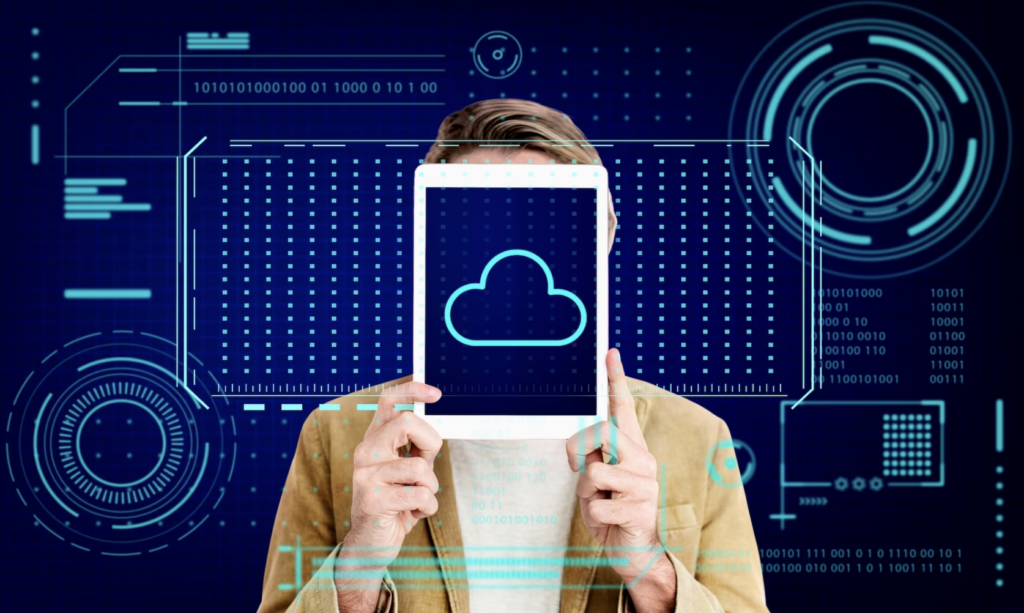 In a nutshell, Cloud HR Software transforms old techniques of human resource processes by simplifying and organizing relevant data in turn increasing efficiency and allowing HR officials to solely concentrate on other goals thereby improving overall organizational performance.
The requirement to conduct HR functions(Staff management functions) with less effort and free of cost? Get hold of this Cloud HR software.
Also Read: Best Cloud Storage Providers
Best Cloud HR Software
Here, we have listed the top 5 Cloud HR software providing the features of the Software, the Merits & Demerits of using the Software, and the prices as well. So, Let's begin:
1. Monday.com- Start for Free with no credit card or other formalities required
Monday.com is an excellent HR software, with an all-in-one feature to handle employee management systems.
It has the ability to perform all the HR operations like leave management, attendance status tracker, employees health management recruitment process, and a lot more.
The HR application merges with other relevant software applications that employees normally use like Zoho mail, slack, Microsoft Office, and others too.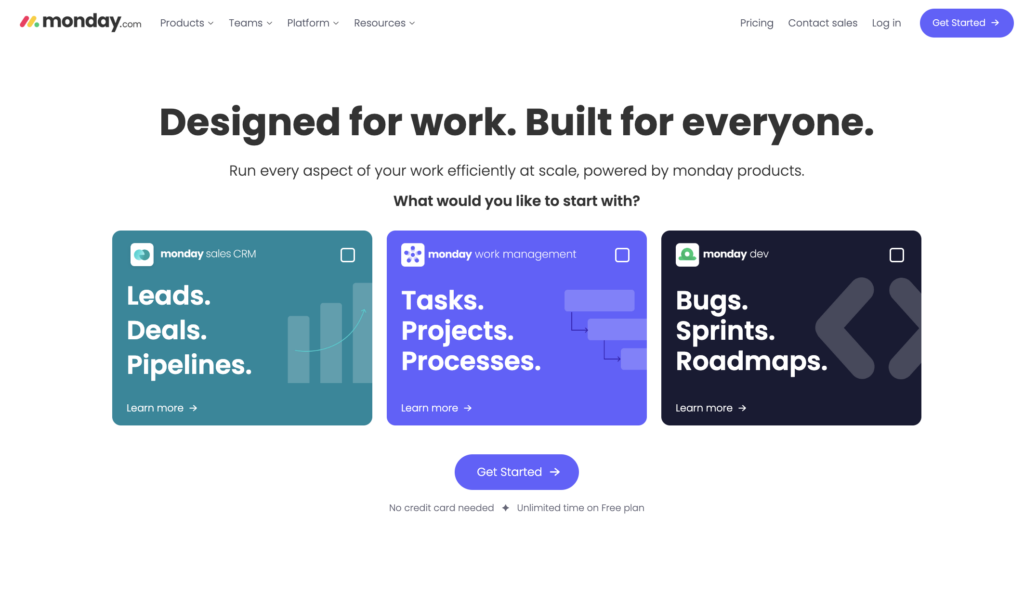 Monday.com Features:
The interesting features one will enjoy on using monday.com HR software are as follows:

🔶 Allows effortless progress tracking, task assignments, and smooth communication among the administrative officials.

🔶 Can be accessed via computer and mobile phones ensuring the team can access and manage their task anywhere and anytime.

🔶 Create and assign tasks and place deadlines easily with the help of this Software.
Monday.com Pros & cons
Pros
Offers a user-friendly interface.
Offers appealing charts, to track the status of their performance in the projects.
Enables you to monitor employees day to day performance.
Makes it easy for employees to submit applications for leaves.
Cons
Premium plans are at a higher rate.
Monday.com Plans and Price
The Free service is amazing among the small-scale enterprises providing you with basic utilities. For larger businesses, you need to avail the premium services after incurring a substantial payment.
---
2. BrightHR Software – Book your Free Demo Now!
Brighthr is a cloud-based HR tool that is specifically designed to simplify people management for businesses of all sizes. It offers a wide range of features and tools aimed at the consumption of less time in administrative tasks thereby enhancing productivity.
It aims at simplifying HR processes like centralized Employee Administration, and Documents Management, offers guidance & Legal help, and a lot more.
Let's see what utilities can organizations gain by using BrightHR Software:
BrightHR Features
Interested to know about BrightHR, Right? Let us dive into some specifics that BrightHR Software brings you:

🔶 Maintains Employees' Database enabling the management to store and manage employee information.

🔶 Tracking Attendance records of employees.

🔶 Enables HR manager to set goals, track progress, and draft performance reviews.

🔶 Obtain push notifications and reminders to help employees and HR officials stay well-informed about upcoming tasks, deadlines, and a lot more.
BrightHR Pros & Cons
Pros
Staff leave bookings to track employees' holidays in just 4 easy steps 
24/7 easy access to employee's database, and attendance records.
Track your Team's presence in just a few clicks.
Quick and efficient Recruitment support.
Helps management to get performance reviews of the employees.
Cons
The services offered by BrightHR are over-priced.
BrightHR Plans and Price
The prices of the services offered vary as per the number of employees in the particular organization.
---
3. Zoho People- 30 days free trial with no credit card required.
Zoho People is a management-friendly cloud based HR software. It provides a wide range of amazing HR managing features and functionalities to enable businesses to efficiently handle their staff.
Zoho people app simplifies HR operations by freeing you from complex administrative jobs. Moreover, it can effortlessly track Employees records, monitor attendance and generate reports for payroll(salary, taxes) processing.
With that being said, let us read the features that Zoho People provide to its users.
Zoho People Features
Zoho People HR app offers a gamut of features that caters to the complex needs of HR administration tasks. Some notable features that Zoho Mail offers are as follows:

🔶 Scalable Employees database for all employee-related information, such as contact details, profiles, and a lot more.z

🔶 Provides a methodical manner to track employees' attendance via manual entry or biometric devices.

🔶 Helps to record staff's punctuality, leaves, and absence.
Zoho People Pros & Cons
Pros
Assist in creating and conducting performance reviews for staff. 
Allows to set Goals, and index to judge the employees' performances.
Mechanisms for managing employee's training and development sessions.
The entire recruitment process can be facilitated using Zoho people software.
Cons
Customer care service give delayed response
Have expensive plans available for users.
Zoho People Plans and Price
The cost of various services offered by Zoho people are available at affordable rates. You can choose from among the services offered depending upon the size of your firm.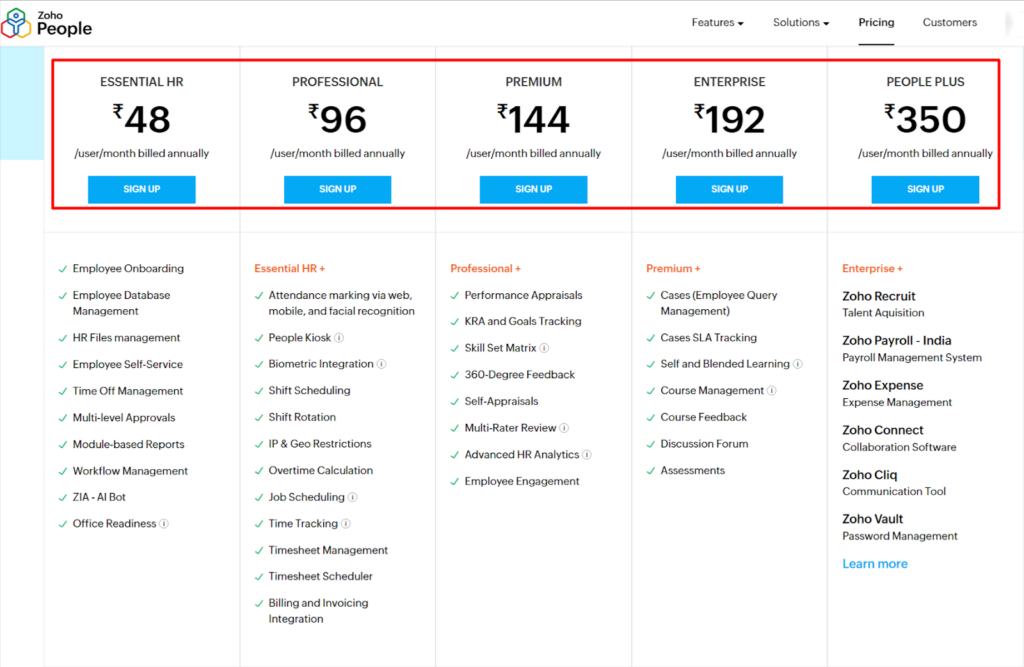 ---
4. Paycor – Best Payroll management
Paycor is a leading HR management software with services for small and medium-sized businesses.
It is a cloud-based HR platform with essential tools required to modernize HR managerial tasks like Recruiting, training, development, and leave management.
In short, paycor provides a comprehensive solution for payment of salary management, HR administration, time, and attendance tracking in a unified platform.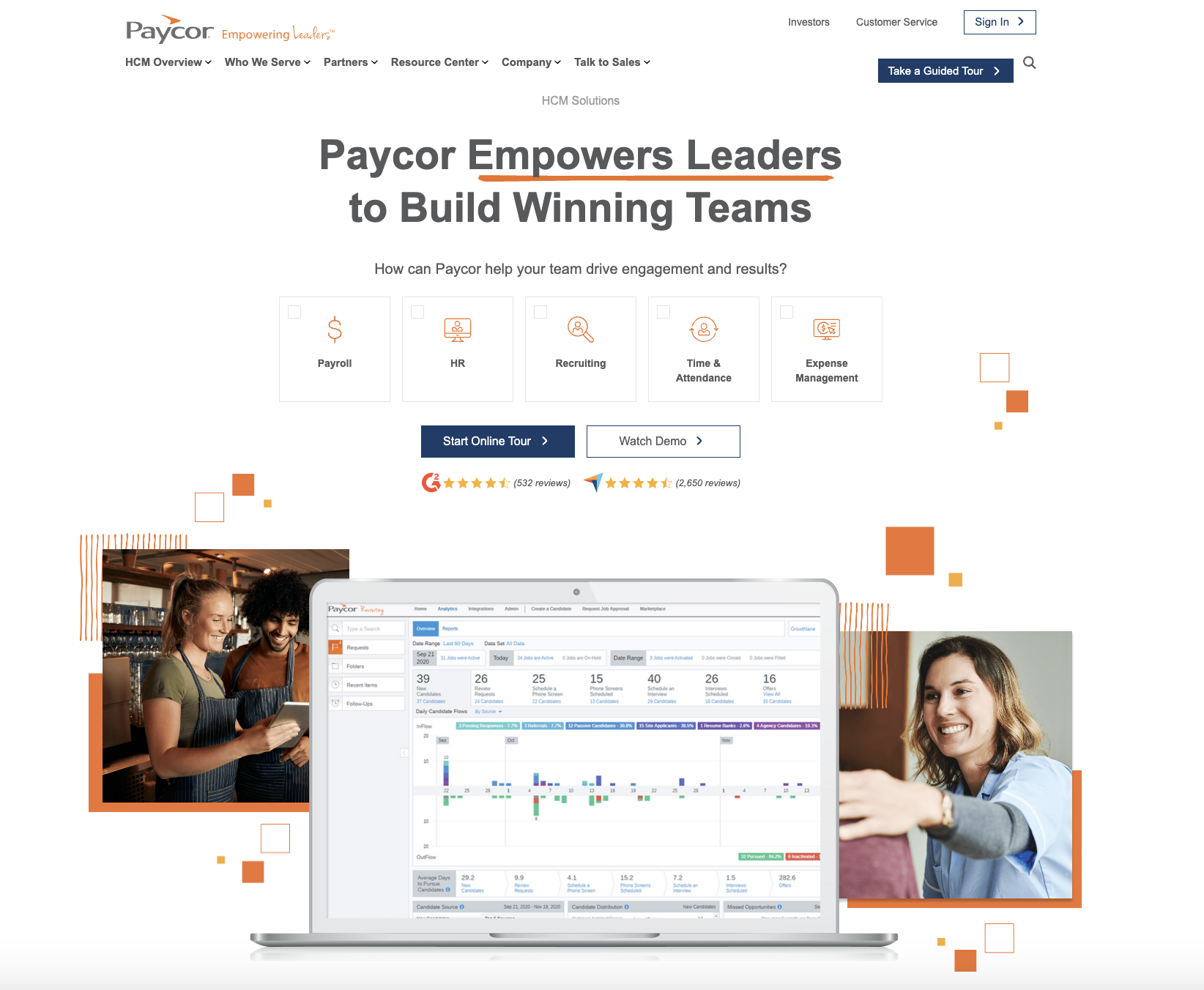 Paycor Features
🔶 One of the core features of Paycor is the payroll capabilities. It allows enterprises to calculate and manage employees' salaries, taxes, benefits, and a lot more.

🔶 Offers tools for time and attendance tracking. This in turn helps employers keep track of employees' working hours, breaks, and leaves as well.

🔶 Provides features for employee recruitment, a new hiring process right from the initial step of job posting to the last step of hiring a suitable candidate for the job.

🔶 Reporting tools of Paycor help identify and analyze employees' performance. Moreover, the data collected is useful in the decision-making process to improve overall HR performance.
Paycor Pros & Cons
Pros
Paycor offers Payroll handling, benefits administration, routine, and attendance tracker.
Navigable features make it accessible for both HR managers and the staff.
Paycor merges with other office apps to help improve managerial efficiency.
Cons
Paycor costing may be a cause of worry for small and budget-constrained businesses.
Paycor Plans and Prices
Paycor provides a Free trial opportunity to its users on first use.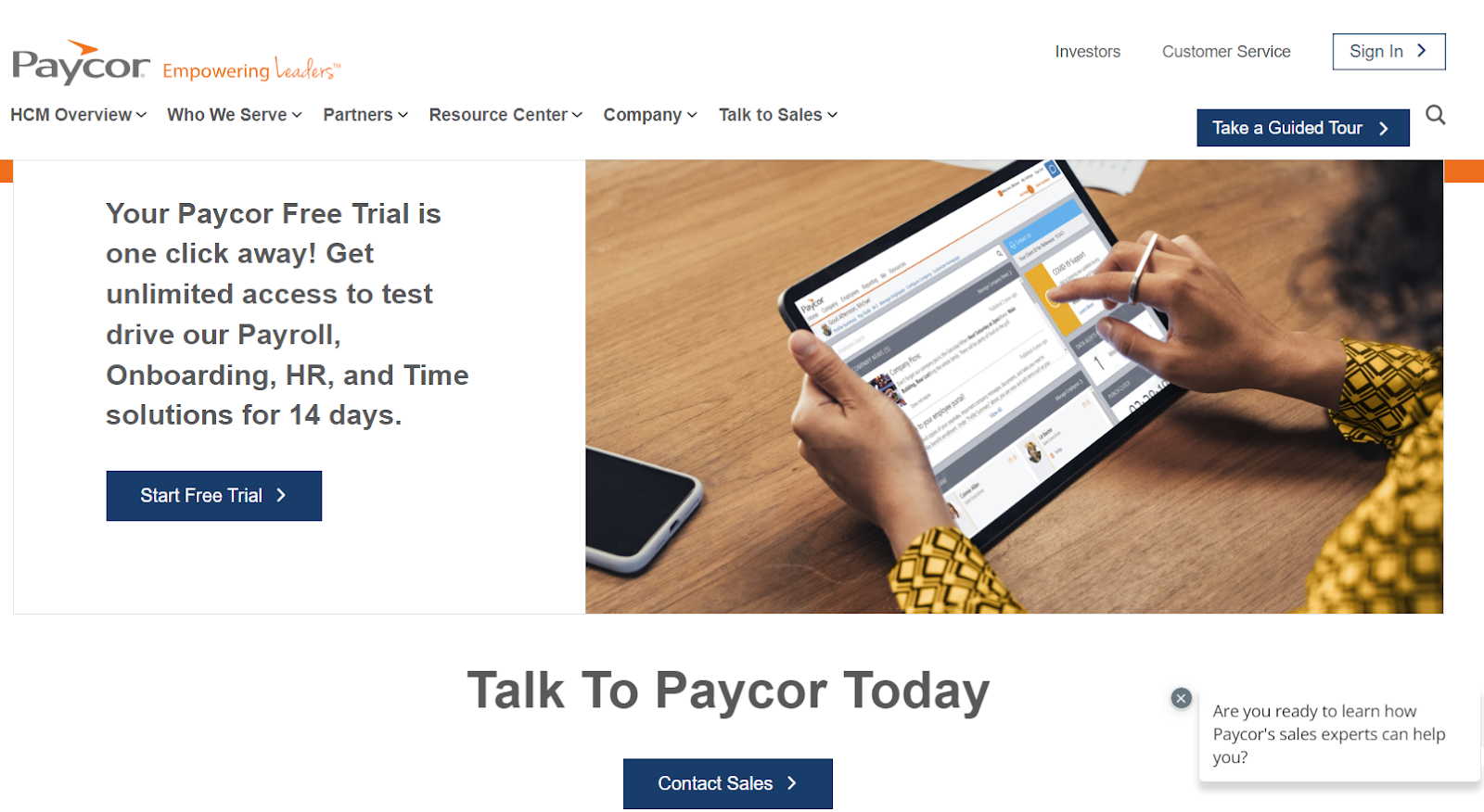 ---
5. Rippling- Start @ $8 per month (Holds HR and IT Capabilities)
Rippling is one of the best HR software with which you can simplify and centralize your employees' database. It provides a ground to manage all your people's operations in one place from onboarding to offboarding.
It can not only handle HR operations but also IT infrastructure as well. Besides, Rippling provides amalgamations with popular business software such as email providers and some productivity tools allowing for a smooth flow of information within the organization.
Let's look more into the features offered by Rippling to its clients: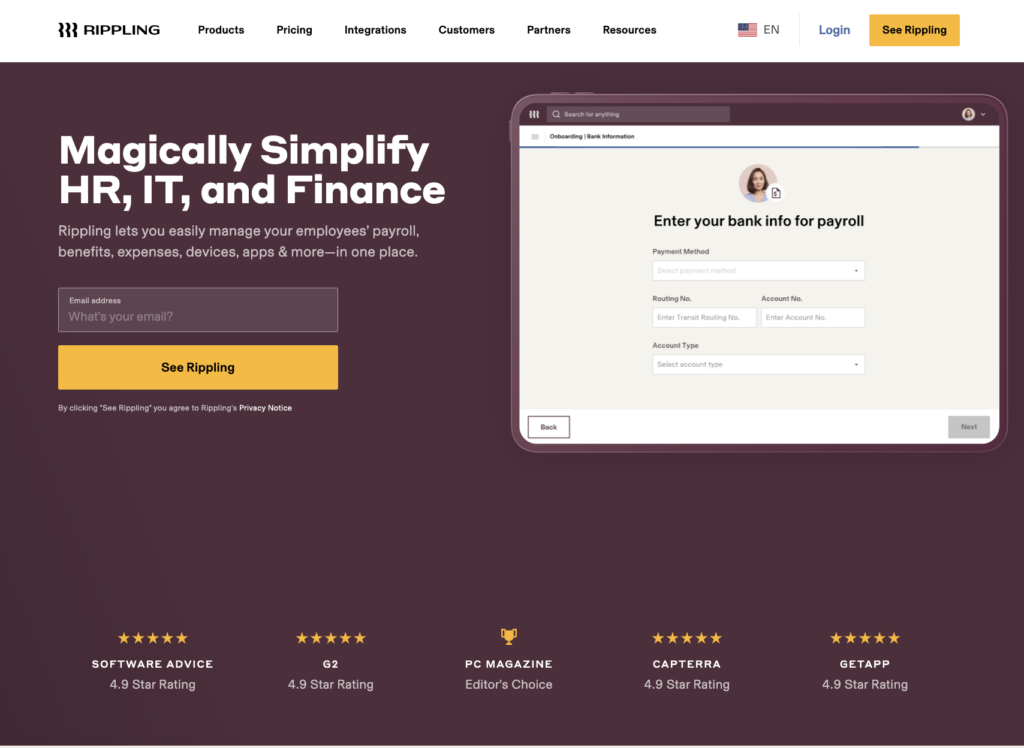 Rippling Features
🔶 Rippling has every application you need to easily handle global staff from HR to IT.

🔶 Brings all employees' data into one unified record. It provides one place to record, manage, update, and report on everything.

🔶Provides a payroll management system enabling the HR manager to generate accurate payroll, calculate taxes, and distribute payslips to employees.

🔶 It makes the recruitment process of employees plain and easy.
Rippling Pros & Cons
Pros
Creates and sends HR Documents to employees without any hard labor at all.
onboarding and offboarding process in just 90 seconds.
Easily assign tasks to employees and managers.
Support team of Rippling is responsive 
Cons
Expensive and time-consuming 
Rippling Plans & Price
To view the various plans offered by Rippling and its price, you need to approach the Support team which happens to be responsive. You need to drop your contact number & email address in the Contact Us tab of Rippling.
The Support team will contact you soon to let you know the price as per the requirements of your organization.
Though the starting price is $8 per month(most HR software provides basic services for free), which is an expensive amount for any startup company.
After knowing Each and every HR Software, you can easily pick the most suitable one from among those listed above as per your requirements. Lastly, the question that pops up in our mind is why we should choose a cloud-based HR software when things can be done manually too.
The answer to this simple to escape mountainous hardships and tremendous amounts of paperwork, choosing a cloud-based HR software is a must where Employees' database management and a lot more HR-related operations can be performed effortlessly.
Let's look deeper into why one should opt for a cloud-based HR software and even if he is choosing one, then which one he should go for.
Why should you choose cloud-based HR software?
To boost the overall performance of your enterprise, choosing a Cloud-based HR Software can bring numerous benefits. Here are a few reasons why it can be useful:
It is true till now that using HR software enables you to boost business performance. Now let's see what a user should look for before picking up an appropriate cloud-based HR Software.
Key Features to Look for in Cloud HR Software
The features that are essential to be present in the HR software you use are as under:
FAQs: Best Cloud HR Software
Let's resolve the common doubts that users normally have related to the usage and availability of cloud-based HR software.
What is an example of a cloud based HR system?
A Cloud-based HR Software is an online tool that helps to handle administrative tasks of big businesses related to people management. Instead of using the outdated technique of keeping a staff performance report, you can use Cloud-based HR application software to keep track of your employees effortlessly.
Monday.com, BrightHR, and ZohoPeople are examples of Cloud-based HR Software to enable the manager of the company to carry out HR-related operations thereby boosting performance.
What is the Best Cloud HR software in India?
The Best CLoud-based HR Software in India is Zoho People and ZingHR due to its easy to handle database and free services.
Is any Best Cloud HR software free?
Yes! Zoho People and monday.com provide free services to its users. However, to avail of premium services you will be required to pay a lump sum.
Is there any free hr software india?
Yes! There is HR software that provides services for free in India. Zoho People provides a 30 days free trial and Monday.com provides basic services for absolutely no charge.
Conclusion
Lastly, going through this page might have helped you to understand what HR software actually is and how it is useful to your organization enabling you to pick an appropriate one for yourself depending upon the needs of your business organization.
Please do share the post with your closest ones and feel free to drop your valuable comments down if you find this post informative.