Are you running an online business? If yes, then it is very likely that you are working with a user base you have to manage and maintain. And especially at the business's initial stage, it looks pretty tricky due to a small team.
But that is the place where HubSpot comes into play, with its intuitive and easy-to-use CRM tool, it does not even matter whether you have a team or not. You can easily manage your user base in just a few clicks.
It was suggested to us by one of our clients who is currently running an e-commerce website — after which we tested and found it quite impressive. So we decided to tell you everything about it here in this Hubspot CRM Review.
So without any further delay, let's get started.
About HubSpot
| | |
| --- | --- |
| 💰Starting Cost: | $45/mo |
| 🔔Amount of Subscribers: | 1000 |
| 🏆Competitors: | Convertkit and SendinBlue |
| 👨🏽‍💻Support: | 24*7 Customer Support |
| 💳 Payment Method: | Credit Card, Bank Transfer |
| ♻️ Refund Policy: | No Refund Policy |
Hubspot is a CRM tool that is used to maintain all the records related to the company's user base. For those who are unaware of CRM, it stands for Customer Relationship Management, which kind of software used to analyze customer insights.
Established in 2004, HubSpot has been one of the top picks for CRM tools in the business world, and currently, more than 150000 active companies are using HubSpot to manage their customer base.
Grab a Free CRM from HubSpot.
HubSpot offers you a 14-day free trial that you can avail yourself of to test their services and features without any credit cards in just a few clicks.
You can easily avail of their free trial by simply following the mentioned steps and getting the same experience as in the premium plans.
From this dashboard, you can easily manage and maintain everything like SEO, marketing, automation, sales, and much more.
HubSpot Pricing and Plans
Here in this section of our Hubspot CRM Review, we have attached a screen of its plans where you can see that it offers three different plans that you can use based on your budget and needs.
We will recommend you to go with its Professional plan if you are looking for more features at less price.
Easy To Use Interface
The one that we loved the most about it was the user interface — it was a very elegant-looking and easy-to-use dashboard. You can get an about its interface from the below-attached image.
At the top-left corner, you will find all the tools that you will need to boost your online business — which are mentioned below.
No matter whether you are a beginner or a pro in the business industry, you will easily be able to use their dashboard, all thanks to their well-labeled and clean interface.
HubSpot Email Templates
In addition to email automation, SEO, sales tools, etc., You get many unique and beautiful email templates that you can use for creating elegant emails. HubSpot provides you with various categories of templates which you can opt for simply by searching its name on the search section.
Some of the popular categories are mentioned below.
Note: If you don't like anyone of these or you wish to create your desired email, you can also do that by clicking on the "Custom New Templates" button.
HubSpot Automations
Before telling you about HubSpot's email automation tools let's dive into the meaning of it — Automation is an intelligent process built to send automatic emails to the targeted audience without any active involvement.
And the best part is that HubSpot provides you with predesigned automation workflows, which you can easily use to trigger and launch email campaigns, newsletters, bulk promotional emails, and much more in just a few clicks.
An email automation workflow looks something like this: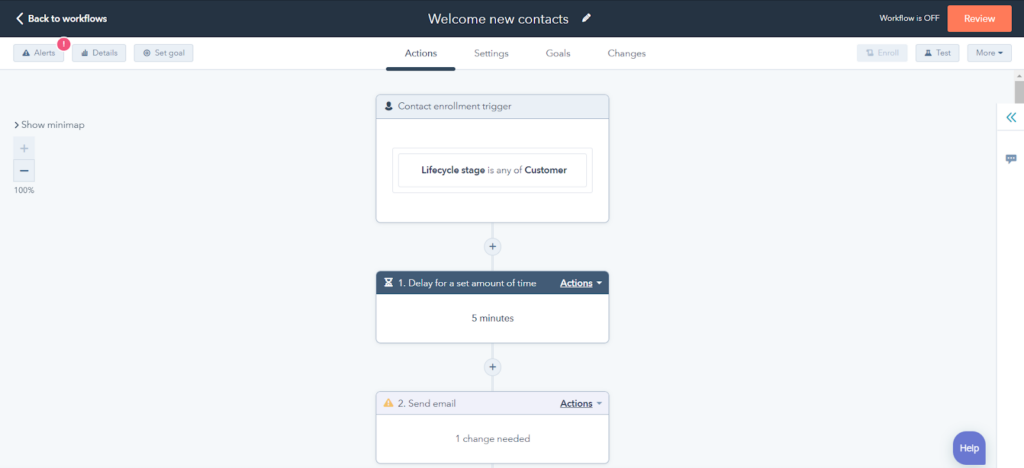 HubSpot Features
In this section of our Hubspot CRM Review, we have mentioned some of its key features that we found unique and can help get a better understanding of its quality and reliability.
These were some of its key features that we found quite interesting so we decided to mention them in detail.
HubSpot Support
When it comes to features and quality, HubSpot is one of the best CRM software in the market, but what about its customer support? Let's discuss its customer support here in this section of our Hubspot CRM Review.
With a team of technical experts, HubSpot provides you 24*7 customers with various modes which you can see in the image attached below.
Note: You can also use the Live chat to connect with their team members.
HubSpot Pros and Cons
Here in this section of our Hubspot CRM Review, we will discuss some of its major pros and cons to understand the complete picture of whether it will be suitable for your business or not.
And here they goes like:
Pros
Multiple tools for complete digital marketing 
Affordable price 
Elegant email templates 
Email Automation 
14-day free trial
Also Read: Best Cloud HR Software Solutions
FAQ's – HubSpot CRM Review
Is HubSpot Good 
Yes…..!
Whether you are running a small business or an MNC, HubSpot can be really beneficial for business, allowing easier management of your customer base.
How many emails can you send with HubSpot?
You can send unlimited emails to your users no matter whether you have ten subscribers or ten thousand — you can email them without any restriction.
How many subscribers can you have on HubSpot?
It completely depends upon your selected plan. For example, you get access to add 1000 subscribers at just $45/month.
What payment method in HubSpot?
HubSpot accepts various payment methods that you can use to purchase their services — some of which include Debit cards, credit cards, etc.
Why Use HubSpot Over Other Email Marketing Solutions?
HubSpot has been one of the top picks, especially among small business owners — all thanks to its features and commitment to quality. In addition to that HubSpot provides many free tools that you can use if you have a lack of funds.
Final Words – HubSpot CRM Review
Hubspot has completely changed the way companies manage their user base by providing an innovative and powerful platform. In addition, it has made email marketing very easy, all thanks to its automation and collaboration tools.
We would like to end our Hubspot CRM Review here with a suggestion that if you lack funds and are looking for CRM software that can help you with some free tools, then HubSpot can be an option for you to choose.
We hope you find this article helpful and if you have any queries then feel free to ask them below in the comment section.