Customer support service 24/7 is the bedrock for any renowned company operating with a sole motive to earn profit. However, due to insufficient calling agents the quality of customer service is impacted which results in a heavy loss to the firm. What should one do in such a case?
In such circumstances, Call Center softwares can be widely used to mitigate the issues arising not only out of insufficient service staff but also due to difficulty in managing multiple calls & tickets in an efficient manner.
In this page, we will be covering the 10 Best Call Center Softwares and the factors that one should consider while choosing the Right Call Center Software for handling the support services of his company.
So without any further delays, let's dive in to get the creamy details about various Call Center Softwares. 👍
Comparison of Call Center Software Solutions
Also Read: Best Live Chat Software
Importance of Call Center Software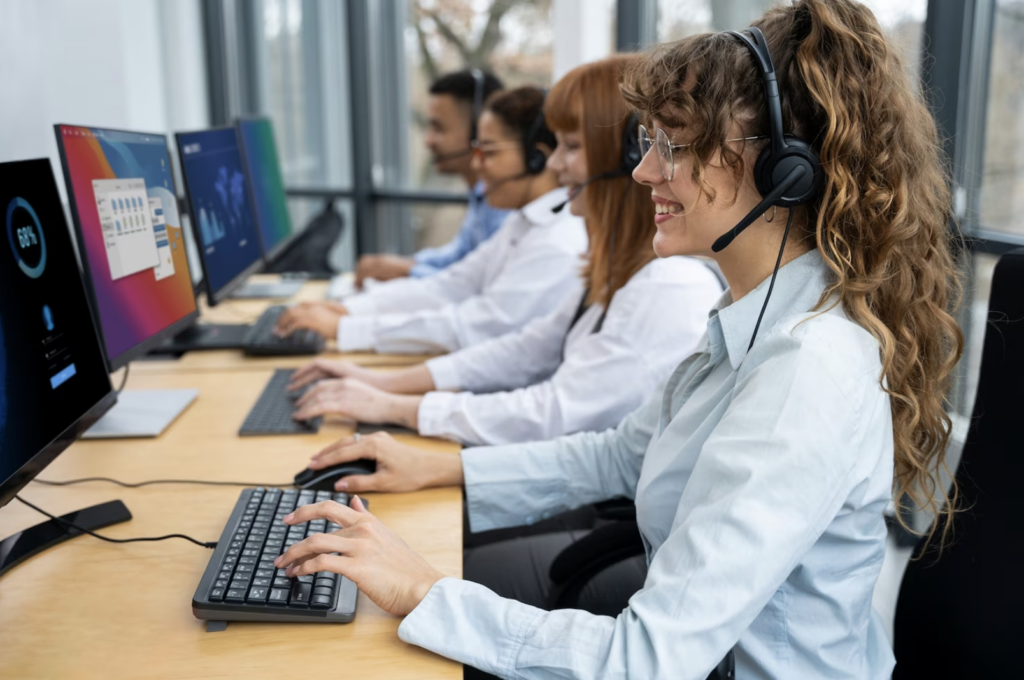 Before we take a leap forward to explain to you about each and every Call Center Software, First, let us understand the importance that it carries in the Marketing Field. Here, are the importance listed as under:
Enhanced Customer Service
Since the customer Care Service is the GrassRoot benefit that any firm needs to offer its potential clients, it becomes crucial to handle the Inbound & Outbound calls, Support tickets, Live Chats, Emails and many more support mediums efficiently.
Thus, by using Call center software, the quality of customer services is enhanced.
Improved Efficiency
The good quality customer care service in turn improves the overall efficiency of the firm. Using the Right call center softwares, the support staff can respond to the multiple calls and several tickets according to the level of priority, can answer the live chat requests instantly and provide technical assistance to various requests in an efficient manner.
Advanced Reporting and Analytics
Call center Softwares not only efficiently turns raw data into comprehendible reports but also helps to analyze patterns & trends and suggest actionable insights to make necessary changes and improvements.
With so many advantages at stake, let's now dig deep into the creamy details about the 10 best Call center software that can provide you with enhanced call center solutions.
Top 10 Call Center Software Solutions
Here, we have listed the 10 best Call center software that can provide you with easy call center solutions at times when you have several issues to solve. To start off, let's discuss the Zoho desk.
#1) Zoho Desk
With Zoho Desk as our point of discussion, is a comprehensive customer support software that provides a wide range of powerful features to simplify and enhance your support related operations.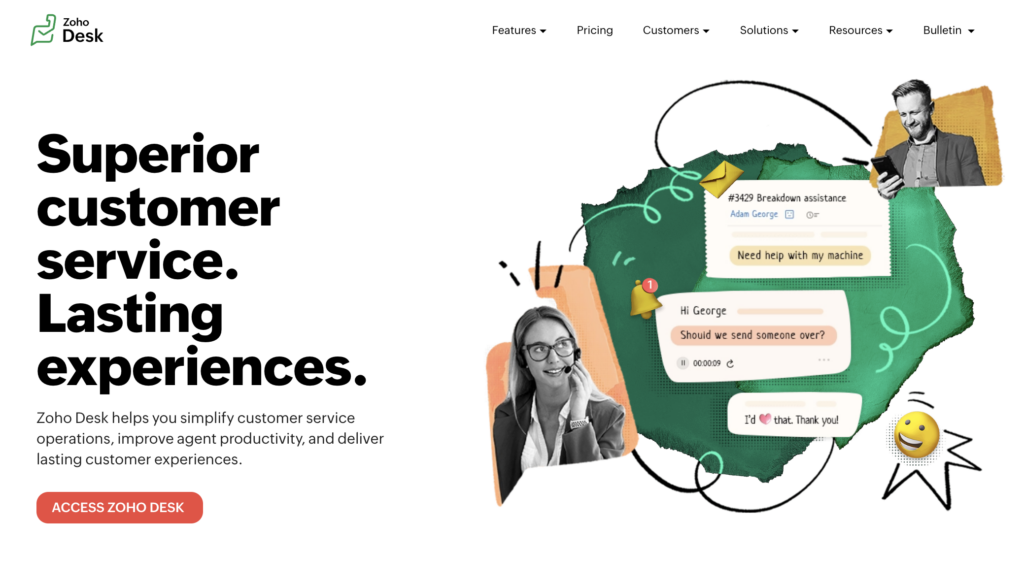 It assists you to easily access your clients and provide them with quick resolutions. It also helps your support staff to remain productive and organized 24/7 with the help of powerful tools.
Features
With that being said, lets see some of its highlighted features which may help you understand Zoho desk in a better way.
Plans and Pricing
Want to buy this software, right? So let's have a look at the pricing policy of zoho desk that it offers for its useful services.
---
#2) 3CX-
3CX is a powerful communication system that offers a wide range of features designed to enhance the communication among your team members within your organization and streamline the customer care services as well.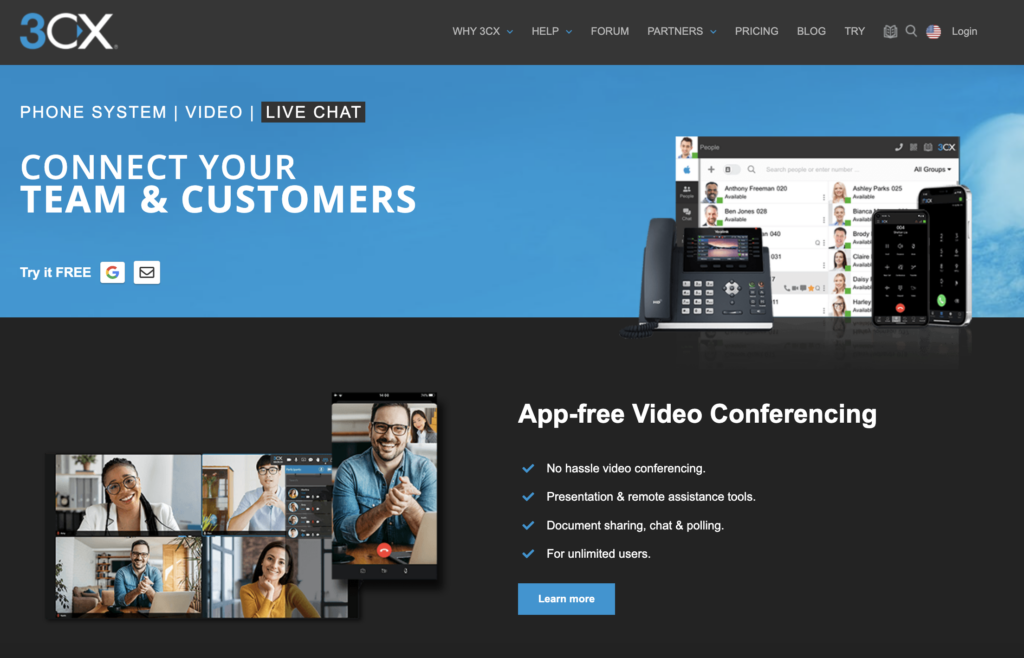 It provides App free Web Conferencing, Live chat with website visitors and answer whatsapp business messages to mention a few. Want to know more about 3CX Application software? Let's get down for more features offered by 3CX:
Features
The features provided by 3CX are as follows:
It is normal for you to inquire about the pricing policy after knowing attractive features that can provide useful assistance to your firm.
Plans and Pricing
The cost of various plans offered by 3CX are as given under:
---
#3) RingCentral Contact Center:
RingCentral is a Cloud-based phone system and efficient collaboration platform that provides customer service friendly features to enhance the support provided by the team to the clients.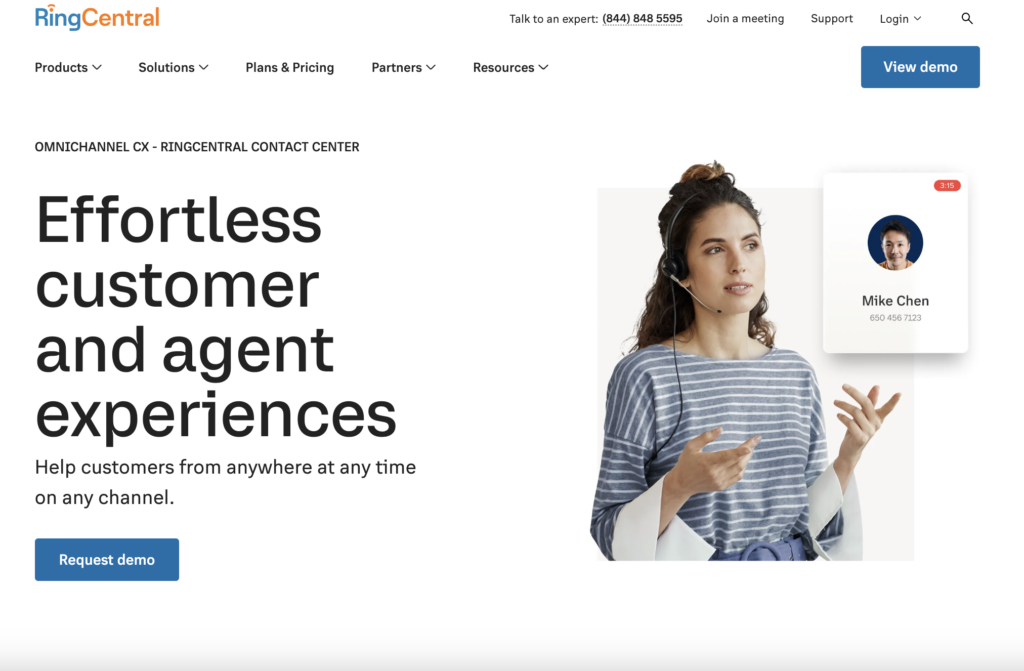 It combines all the support channels to impart intelligent, connected and personalized customer experience. Let us see what Ring central Contact center has for you to offer:
Features
The features of RingCentral Contact Center are as follows:
Are prices as attractive as the features provided by RingCentral? Continue reading to know more about it.
Plans and Pricing
The plans offered and their related prices are provided as under:
---
#4) Dialpad-
DialPad is an AI-powered intelligent Platform that offers a variety of Customer care features to enhance the business communication and customer services as well. It provides Phone Support, Video conferencing, Cloud Contact center, Live chats and a lot more.
With AI powered features Dialpad elevates the level of performance and productivity in customer support service.
What more does it offer? Might be the question cropping up in your mind. To this we have brought the features offered by DialPad:
Features
The Followings are the features provided by DialPad:
With that being said, let's make an effort to look at the various pricing policies offered by DialPad.
Plans and Pricing
The various plans and the prices offered are as follows:
---
#5) CloudTalk Business Phone System-
It is one of the best Call center softwares that is renowned for helping businesses to connect with their customers in an efficient way. To explain further, CloudTalk is a VoIP business calling solution that is used by customer service staff members.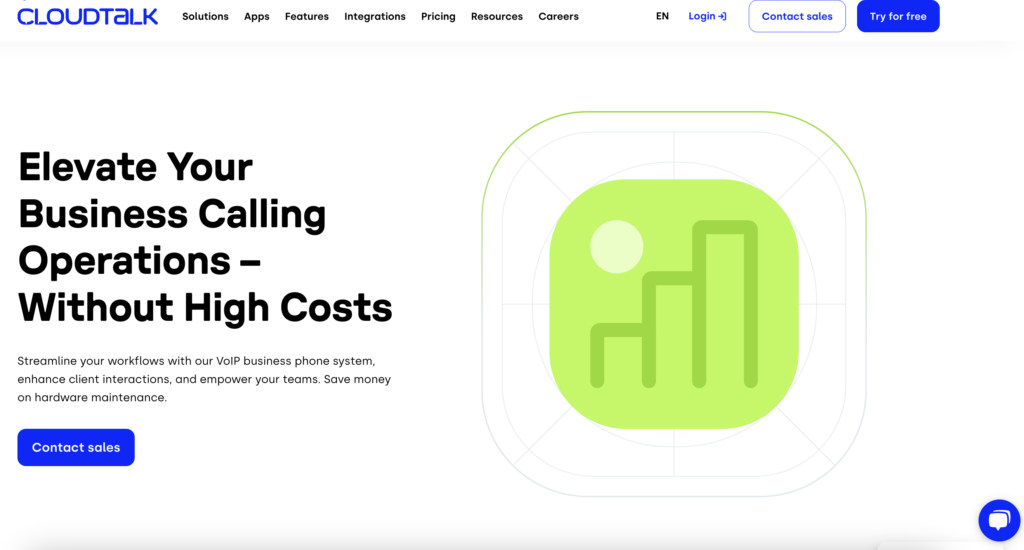 It handles various operations and gives managers with analytics that they need to optimize performance thereby increasing calling efficiency.
Let's have a look at its features to know about it in more details:
Features
1. Voice features
2. Call routing features
3. Integrations
So many features offered by CloudTalks? This means the price is skyRocketing ? Not at all! Lets see the plans and prices offered by CloudTalk.
Plans and Pricing
Below, we have discussed the prices of the services offered by CloudTalks:
---
#6) Freshdesk-
Freshdesk is a customer support software platform that helps firms to manage and control their customer service operations. It offers a wide range of features and tools to enable efficient and effective customer support, Ticketing management and collaboration among support teams. So what makes FreshDesk different from other softwares?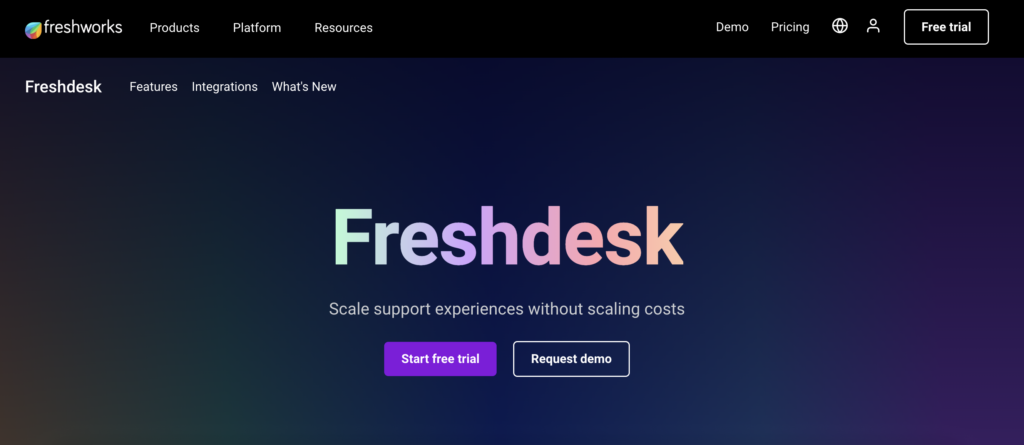 It easily manage inbound(incoming) customer queries and requests from various support channels such as phone, email, chat and social media as well. Let's have a deeper look at the features offered by FreshDesk
Features
The features offered by FreshDesk are as follows:
Lets see what the various plans offered cost?
Plans and Pricing
A brief has been provided about the prices of the plans offered by FreshDesk
---
#7) Vonage-
Lets see what Vonage actually is? Vonage is a call center application that is designed to improve customer service and enhance communication capabilities within a call center environment.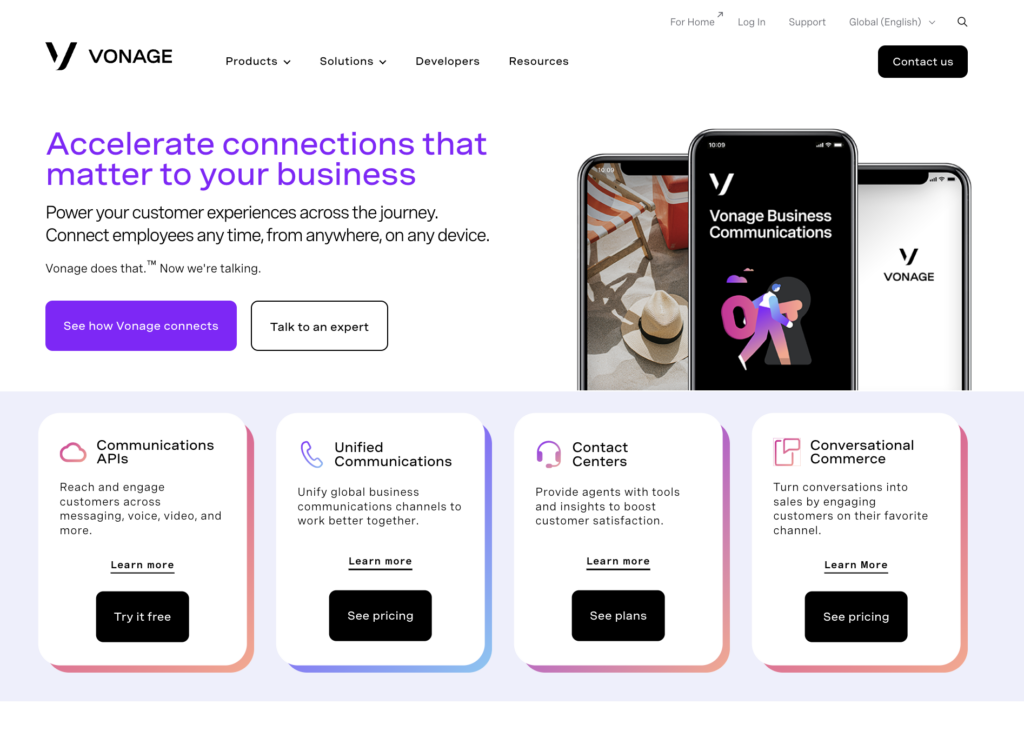 Vonage offers integration with customer relationship management systems, enabling agents to access important customer information during calls. Overall, Vonage aims to enhance the efficiency and effectiveness of customer service operations. There are a lot more features which we'll be discussing below.
Features
The features offered by Vonage are as follows:
Plans and Pricing
The plans and pricing offered by Vonage are as follows:
---
#8) 8×8 Virtual Call Center-
Talking about 8X8 Virtual call center refers to a specific type of call center setup that relies on the technology provided by the company 8X8 Inc. to handle inbound and outbound customer calls IT offers a range of tools and features designed to facilitate efficient call center operations.
What more does 8X8 have to offer? To see the features, look down further to get more details about it.
Features
The features offers by 8X8 virtual call center the following are:
Plans and Pricing
To know the pricing policy for each and every plan offered by 8X8 virtual call center, you need to contact the sales team for the same.
---
#9) LiveAgent-
With LiveAgent as the point of our discussion, it is a call center software that offers smooth ticket solutions, enables the agents to connect with the clients via multiple support channels and offers integration with several relevant tools to enhance the work performance of the agents.
Most of the features are driven by AI ensuring effectiveness in handling customers.
Let's look at the features that LiveAgent has to offer:
Features
The features are as follows
1. Ticketing system:
2. LiveChat features
Plans and pricing
The features offered by LiveAgent are available at the prices provided as under:
---
#10) Ringover-
RingOver is a cloud based call center software that is designed to empower businesses with effective communication solutions for their virtual call centers.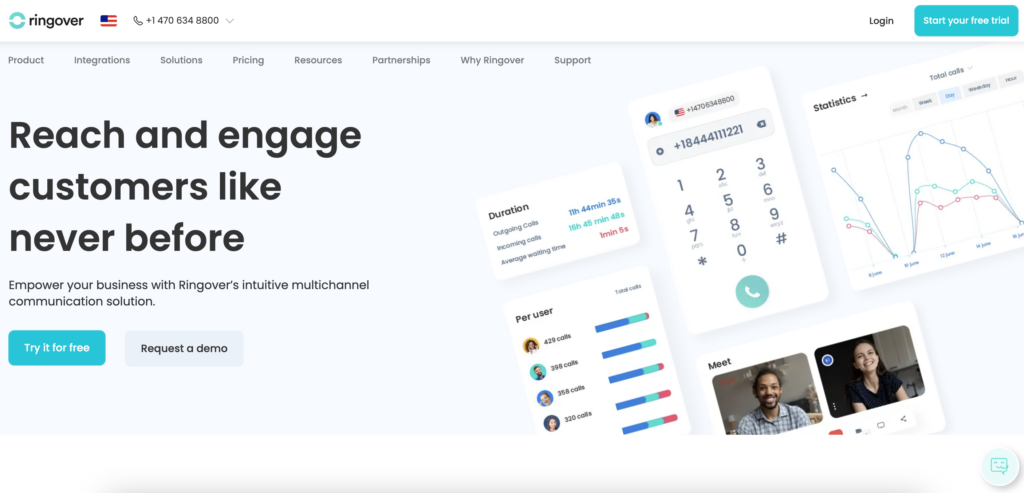 With Ringover you can effectively manage the inbound and outbound calls, track call logs and provide smooth customer support. It is a reliable and feature rich call center software that empowers businesses to efficiently manage their virtual call center. To see the features provided by RingOver, keep reading the page further:
Features
The features offered by RingOver are as follows:
The features always come with a price tag, so to see the prices of the related services, keep reading.
Plans and Pricing
The pricing policy are as user:
With so many call center softwares at stake, the problem of choice arises among all of you, Right? Now to choose the Perfect Call center software, you need to adopt a few factors that we have discussed below. We urge you to read forward and acknowledge yourself with the relevant details.
Factors to Consider When Choosing Call Center Software
Keep in mind the Factors stated below before Choosing the Right call center software to handle your customer services and communication within your organization efficiently.
The factors are as follows:
Flexibility:
Pick the software that can be easily operated by browser so that simply using laptops, headsets and internet connections you can connect with your customers.
Integration Capabilities
Before you choose the right call center software to handle your customer support services, make sure it has the ability to integrate with various other platforms to provide excellent support service to your clients.
Features and Functionality
Select a call center software that can make a variety of features like call routing, call recording, security, integrations with different platforms to help the needy customers by self services, thereby increasing customer service efficiency.
Free trails
Who doesn't want to check first and then use it to be double sure about the quality of features offered by the Call Center Software? So choose the software that can provide you a privilege to perform free trials of 5 to 10 days before actually buying the services from it.
Conclusion- Best Call Center Softwares
Through this article, you got to know the Top 10 call center softwares that you can use to reduce your effort on customer services and thereby efficiently managing the Support staff as well.
We sincerely believe that the information provided about the call center softwares, its features and general pricing policies might help you to compare and analyze the same before you can make an effort to purchase it. You can also contact the support staff of various call center softwares Provide your valuable insights to help us improve more.