Uptime is one of the most crucial parts while running a website. A single second of downtime and the website will start losing potential clients. Hence, to not face any loss in business and assure that the website gets or remains popular and successful in the eyes of the visitors.
When your website is not working properly, and there are more competitors in the market with a better working website, the user will jump onto them, exiting your website immediately. Because if this is not the case, anything else wouldn't matter! No advertisement expenses, telling people about it, or anything else.
So, keep a check on your VPS Server's uptime by using the top best uptime monitoring tools. Since here we are with an article about it, you need not worry anymore!
What Are Uptime Monitoring Tools
If your website is always available, it will attract more and more customers. Because given the cost of downtime, you may not be able to suffer the loss of clients and users and the reputation of your business.
Some specific tools regularly check your website's uptime to ensure a successful business. They ensure that your server is facing no downtime and is always available without risking losing potential customers.
Hence, Uptime Monitoring Tools help you determine great uptimes as well as a great website working on the web and producing revenue leading no one to leave unimpressed with your smooth-running website.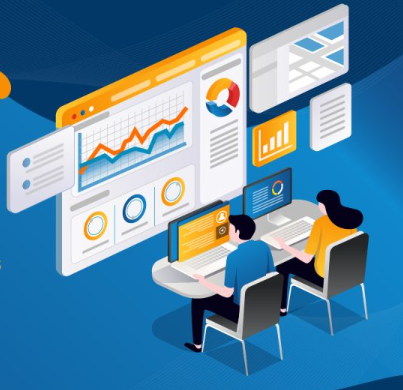 7 Best VPS Server Uptime Monitoring Tools 
A list of some amazing uptime monitoring tools that'll make your business go in the long run:
1. Paessler PRTG
Since 1997, Paessler PRTG has been providing monitoring services to organizations of all sizes and industries, from small firms to huge corporations. Over 500,000 users use PRTG and other Paessler solutions in over 170 countries to monitor their complex IT, OT, and IoT infrastructures.
Paessler's PRTG Network Monitor uses a sensor-based method to monitor.
A PRTG sensor is a basic monitoring element that might track the amount of space on a disc drive or the CPU load on a server, for example.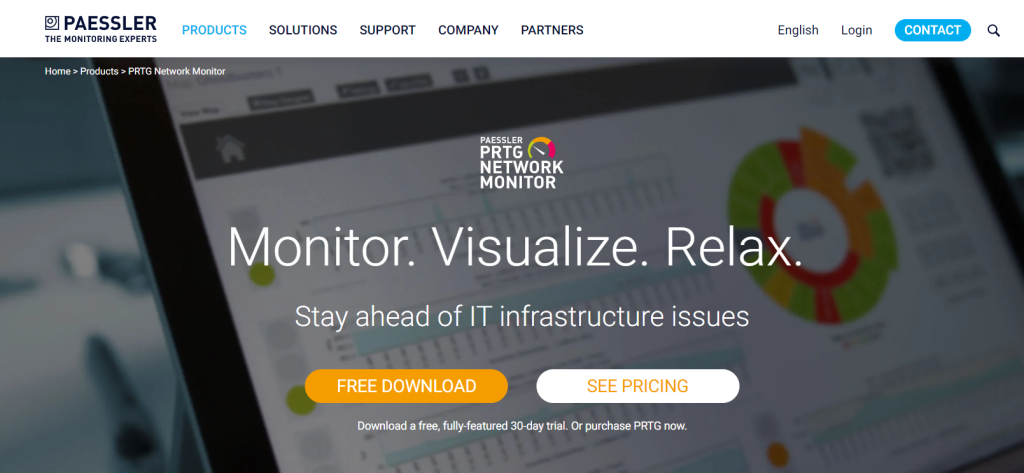 The advantage of this strategy is that if you employ fewer than 100 sensors, PRTG can be used as a free uptime monitoring solution. Because you may pick and choose the sensors you want, PRTG can be completely customized to meet your demands. It also provides a 10-day free trial so that you do not jump to conclusions but test them before trusting.
Features
These features make Paessler one of the best Uptime Monitoring Tool providers:

🔶 Flexible Alerting: PRTG has over ten built-in technologies, including email, push notifications, playing alarm audio files, and triggering HTTP requests. SMS text messaging and EXE file execution is also supported by PRTG on-premises. Their free push notifications keep you up to date when you're always on the go.

🔶 Simple to make: With over 300 map objects ranging from device and status symbols to traffic charts and top lists, you can create maps with the integrated drag and drop editor and incorporate all your network components.

🔶 Customizable: Create your own map objects with custom HTML.

🔶 It's simple to share: By providing its unique URL on a dashboard within your company's LAN only or even outside your company, you can publish maps for private or public access.
Plans and Price
They provide a 10-day free trial for PRTG Hosted Monitoring so that the users can test and analyze their services before making a final decision. Hence, here's a price listing of its hosted monitoring plans: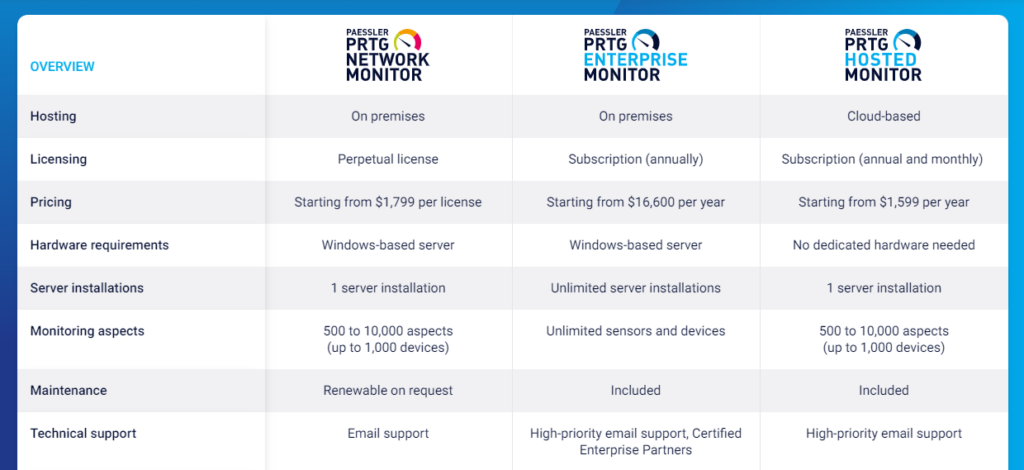 Ease Of Use and Interface
PRTG offers multiple user interfaces for its client to choose the best per their ease and requirements. These different user interfaces are specially designed to fulfill different purposes like making up the:
What all does PRTG 's user interface does, and which one can be your best choice?
---
2. Uptime.com
Uptime.com was established in 2013 and offered a supportive staff, reliable and comprehensive services, and prioritizing customers as their first preference.
Face no more 404 and ensure peace of mind because Uptime.com is there to check the downtimes, domain health, and the page speed of your website. It doesn't fear you with false positives. It checks the results from 5+ different locations before warning of some issue to you.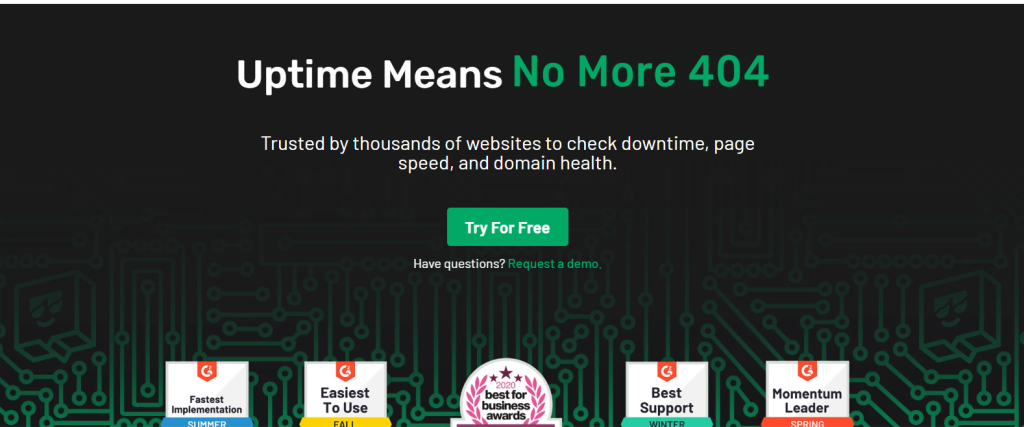 Uptime.com are offering a no credit card-required free trial/demo for 21 days to the users to understand what their services do and whether it is what they want or not!
Features
Listing some best features of Uptime.com's website uptime monitoring:

🔶 Makes sure everything is in order: Choose from dozens of inspections that track everything about public and internal websites, applications, and services, including performance, downtime, or the domain's health.

🔶 Forms and flows are tested: Downtime and mistakes are difficult enough; catching them shouldn't be one of them. With Uptime.com's no-code approach to transaction checks, you can quickly identify issues with funnels, flows, and forms.

🔶 Keep an eye on both public and private websites: Private probing servers monitor intranet apps or internal sites behind firewalls. In contrast, public websites are reliably tested for speed and performance from hundreds of global monitoring locations.

🔶 Detect problems before they become incidents: Detect online outages or performance issues across your systems confidently and systemically check downtime findings to eliminate false alarms across sites, apps, and more.

🔶 You can rely on top-notch assistance: Their 100% human support team is ranked the best in web monitoring and is available 24 hours a day, 7 days a week, so you can spend less time looking for help and more time addressing problems.
Plans and Price
Uptime.com has two plans. One is basic, and the other is a premium for experts. They also provide customizable plans that start at $67 per month.
So, if you want everything according to your choice and only the things that you need or the things that aren't available in the Essential or Premium plan, you can go with this option.
Until then, here's a screenshot of the basic and premium plan of Uptime.com's uptime monitoring:

Easy Of Use and Interface
The user can now find the support option on the dashboard itself because that wasn't available and created chaos. It provides a natural user Interface with options available for them to choose from and use in accordance with themselves.
You need not be a technician to use this platform. It is really easy to use and knowing that this platform is secure and reliable, you'll be able to leave things on them with peace of mind.
---
3. Sematext Synthetics
A worldwide best uptime monitoring platform, you can avail anything you need for website monitoring services. They have also curated status pages for the user to understand the functionality of their website without thinking about it much.
Sematext offers a 14-day free trial/demo for the users to test and try. You can purchase one of its best plans. The option of pay as you go is available.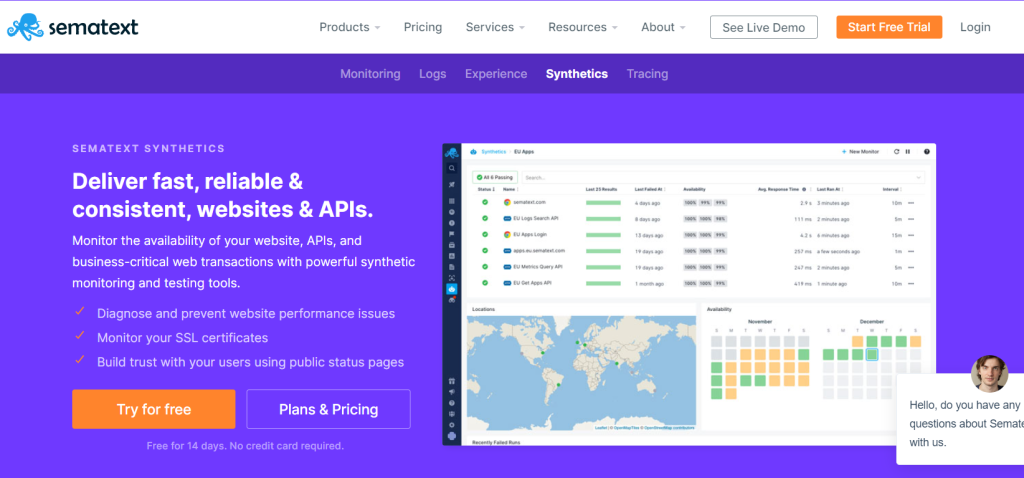 Features
Listing some best features of Sematext Synthetics website uptime monitoring:

🔶 Worldwide Uptime Monitoring: Monitors global site availability to ensure that customers get the same experience no matter where they are in the world. Sematext Synthetics performs quick and accurate uptime testing to notify you when and where your website is unavailable.

🔶 Website Uptime Notifications and Alerts: In real-time, Sematext Synthetics provides precise data about your site's uptime and availability. Continuous monitoring, combined with customizable alerts and notifications, ensures that you know prior to anyone else that your website is down.

🔶 Pages of Status: To share the status of your services, upgrades, or planned outages, establish public or private status pages, or create a service status to share with customers or colleagues.

🔶 Root-Cause Analysis: It is a method of determining the source of a problem. Sematext Synthetics can help you dig deeper into the incident and speed up troubleshooting. Filter data to better grasp what's going on across your entire website and spot trends in performance.

🔶 Everything You Need to Keep an Eye on Your Website: Get a complete picture of your site and its underlying infrastructure by going beyond uptime monitoring.
Plans and Price
Sematext offers unlimited sources and users with no overage charges or fixed data buckets. Besides its 14-day free trial, they offer the most affordable prices for monitoring.
Look for yourself:

Easy Of Use and Interface
Sematext Synthetics offers extensive capabilities such as SSL monitoring, customizable status pages, alerting, and thorough incident reports, among others, with an intuitive UI and customizable notifications.
It provides an easy dashboard and self-explanatory terms for the users to understand and surf the platform.
---
4. Pingdom Synthetic Monitoring
With more than 20 years of experience and delivering the best of services in this field, Pingdom offers 100+ server locations worldwide to monitor websites that are being operated from any part of the globe.
They are instantly notified about the problems your website might face and make sure to get to the root of the issue and help resolve them as quickly as possible. It also offers page speed monitoring and other aspects with a 30-day free trial, or you can also request a demo of its services.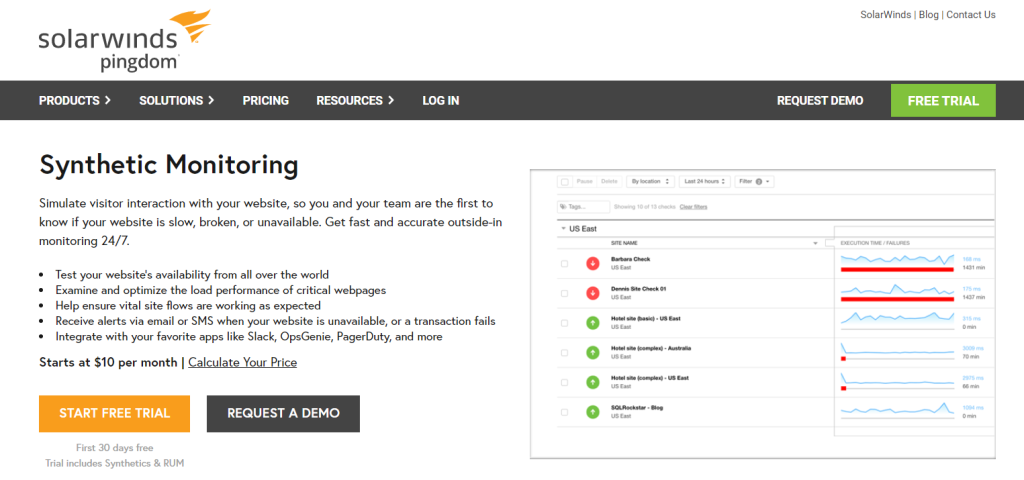 Features
Pingdom Synthetic Monitorings' uptime monitoring features:

🔶 Transparency inspires loyalty: Pingdom's simple public status pages make it simple to share uptime with clients and coworkers. It's included in all plans, takes 10 seconds to set up, and everyone trusts it.

🔶 Get to the bottom of the issue: Knowing about a website's trouble is only half the battle. You also need to figure out what's causing it and fix it as soon as possible. Pingdom performs additional testing and a Root Cause Analysis, allowing you to figure out what went wrong and reduce time spent resolving issues.

🔶 Get notified when there's a problem with the site's availability: Knowing when your website is down is crucial for any company. As a result, Pingdom will send you an email, SMS, push notification to your mobile device, or integration with your favorite app to notify you as soon as possible. They always run a second check on every occurrence before alerting you to come out with false positives.
Plans and Price
Pingdom offers a 30-day free trial and demo, but what after you do like their services and confidence? Here are the plans that you can opt for when permanently working with Pingdom Synthetic Monitoring: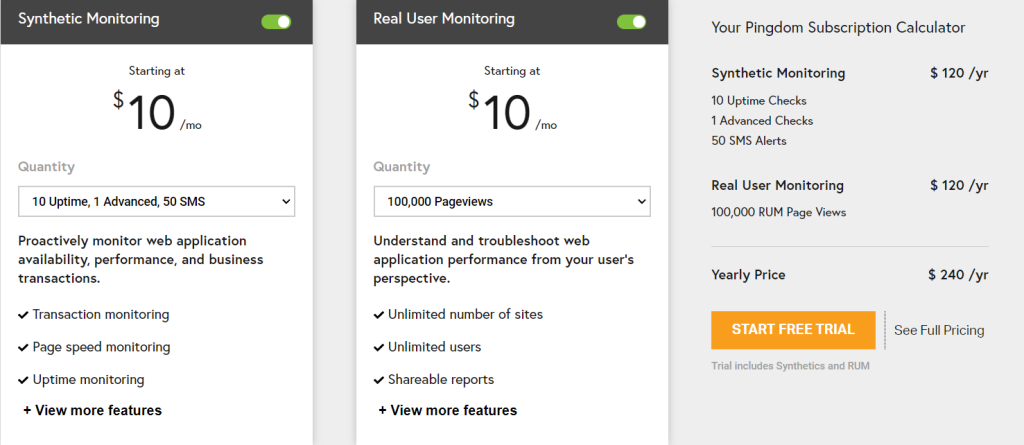 Ease Of Use and Interface
The user is intuitive. Anyone can easily use and work with Pingdom, from a novice to an expert.
Get to the bottom of your website's performance and reliability issues. Pingdom is simple to set up, operate, and comprehend. In general, after implementation, you should see an increase in web performance within minutes.
---
5. Site24x7 Website Monitoring
Site 24×7 provides a real-time IT monitoring service so that you can keep a close eye on your IT resources.
With a 30-second poll frequency, you can check the availability of your websites from over 110 locations worldwide and address downtime issues beforehand.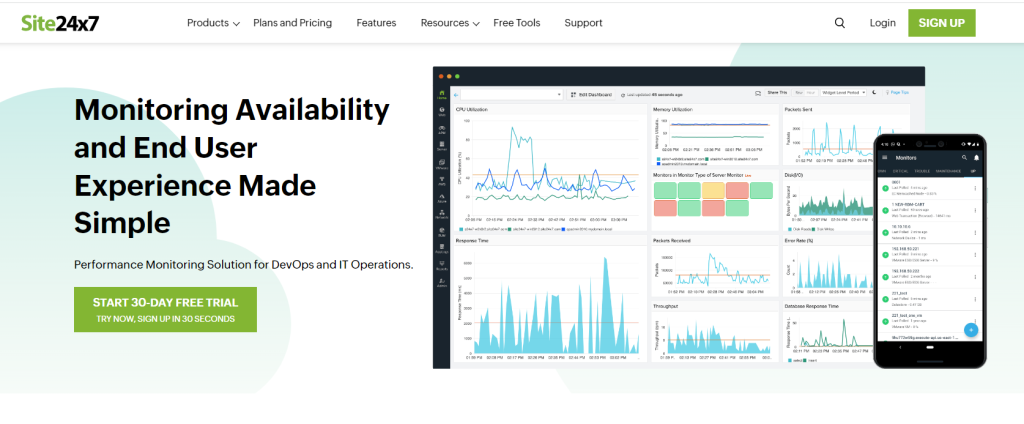 Features
Site 24×7 offers a lot of features. Let's see if they are of some use to you or not:

🔶 RCA: They offer root cause analysis to find the reason behind the issues and recurring problems.

🔶 Uptime Accuracy: Nearly exact percentages of uptime are incurred up to 4-digit accuracy with run checks every minute.

🔶 Dashboards: The users can build their choice of dashboard to view key monitors' stats easily.

🔶 Reports: Get proper reports on uptime trends and all other aspects that one should be monitoring being a website owner.

🔶 Instant alerts: Receive alerts via SMS< emails, voice calls, mobile app notifications, and a few other ways. They won't leave a place to contact you and warn you about the disturbances.
Plans and Price
Site 24×7 gives a 30-day free trial to its customers. You can opt for it, test them and then decide to continue or not. In case you do, here's a price listing for your reference. Also, they have an enterprise-level plan that the user can customize according to their needs.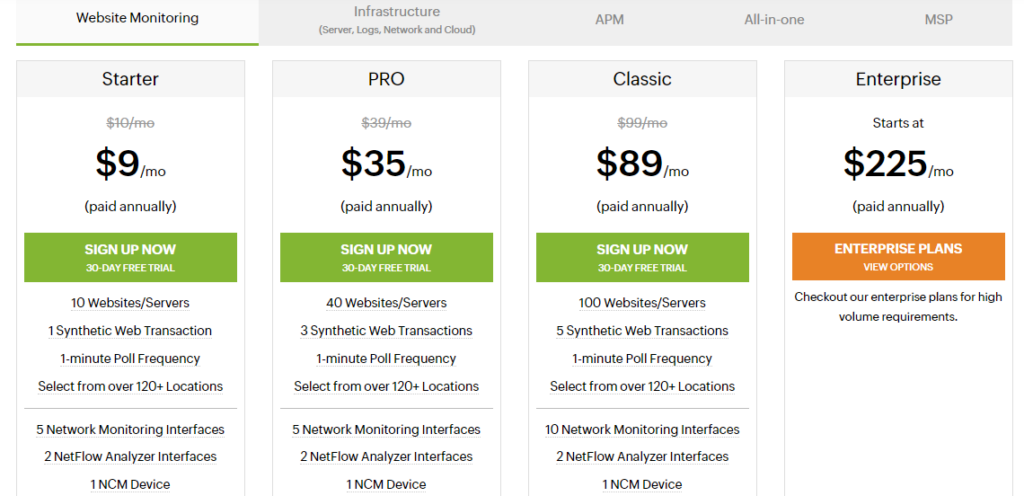 Ease Of Use and Interface
Site 24×7's user interface is dynamic and uncluttered, with graphical representations of data in the form of line charts, geographical maps, and scatter graphs making data interpretation simple. Nonetheless, Site24x7 can be made more user-friendly, and its capabilities can be enhanced.
---
6. Better Uptime
Better Uptime checks your website every 30 seconds and sends you a warning if it detects a mistake. The alert includes a thorough screenshot containing all the information needed to diagnose the problem.
Better Uptime includes a built-in incident management system that tries to avoid fraudulent incident reports by retesting each reported issue three times.
Save big with Better Uptime with a lot of features at reasonable prices.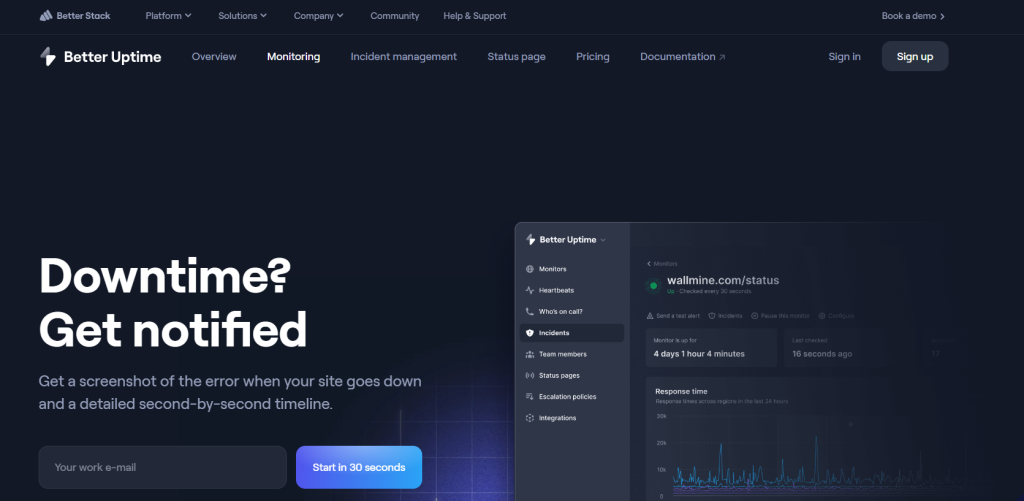 Features
Features of Better Uptime:

🔶 Captures screenshots and error logs: Not only detects when the website is facing any disruption but also identifies the problem and lets the website owner know about it through screenshots and error logs.

🔶 Expiration of pings, SSL certificates, and TLDs: It's just a matter of seconds to set up uptime monitoring because of the in-built monitors.

🔶 No false alarm: There have never been any bogus events. Before sending an alert, they verify each HTTP and other incidents with three different sites.

🔶 Voice call alerts are unlimited: Their all-you-can-alert pricing includes SMS, Slack, e-mail, MS Teams, and push notifications.

🔶 Monitoring of cron jobs: tracking your serverless workers and cron jobs is constant. If they do not work, the owner will be informed about it.
Plans and Price
Get assured with Better Uptime's 60-day money-back return guarantee. Also, they start at Free! Look for yourself: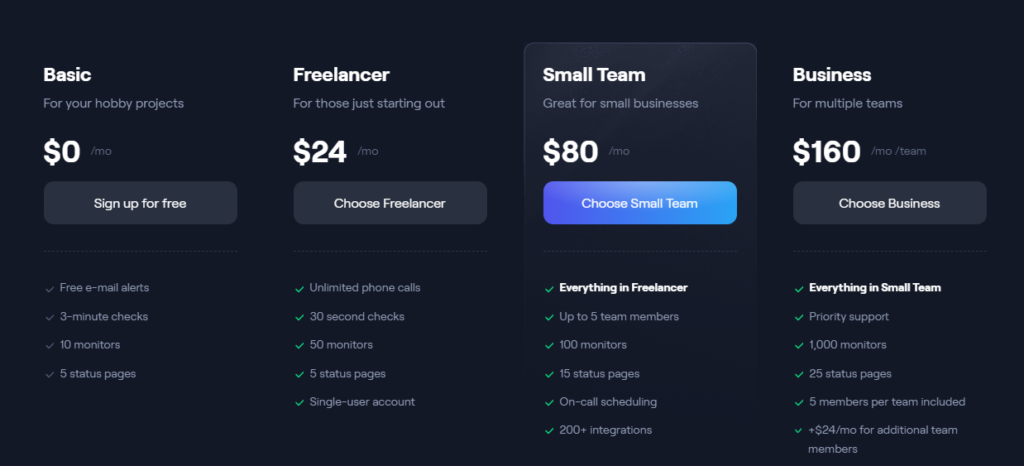 Easy Of Use and Interface
We heard about as well as analyzed the user interface of Better Uptime, and we found it to be very easygoing and self-explanatory. If you follow the steps, you'll be right there! One will not need any expertise to understand its working.
Better Uptime includes a built-in incident management system that tries to avoid fraudulent incident reports by retesting each reported issue three times. Hence, it's easy and efficient to use.
---
7. Server Density
With each and every type of alert that a service can impart to ensure Server Density is offering the better working of the website.
With 100+ integrations set up in seconds, Server Density monitors the dashboard and provides excellent infrastructure monitoring for servers, clouds, websites, and others.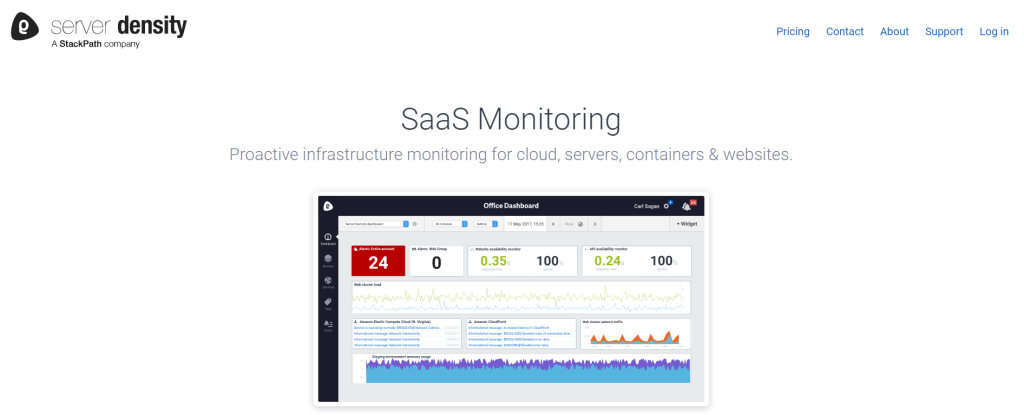 Features
These are the features of Uptime Monitoring offered by Server Density:

🔶 Multiple locations: It's a good option for large sites because of its 37 server locations worldwide.

🔶 Get a hint of the issue even before you get an alert: The wait options on alert ensure that an issue is going to occur before sending an alert notification.

🔶 Flexible API: It integrates and helps create personal alert templates and services.
Plans and Price
Starting from a 14-day free trial, these are the upgrades and their prices, according to the number of servers the client chooses: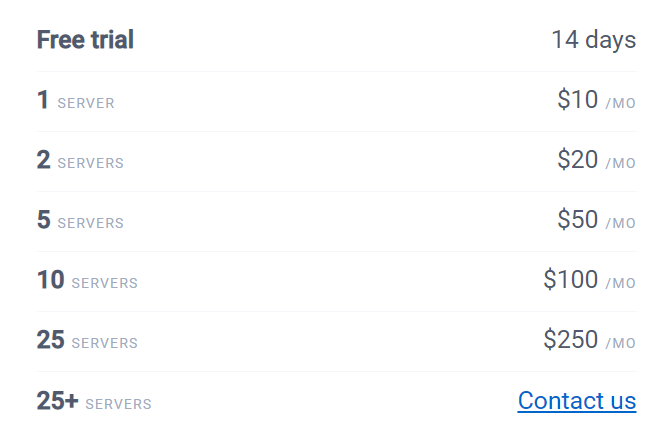 Ease Of Use and Interface
It is easy to use and go through by the user. However, the interface can get busy when monitoring more than 10 sites.
Talking about its user interface is this program's most pleasing feature. The design pays attention to the most critical indicators, such as website availability and the number of activated notifications, so they don't go unnoticed.
Server Density is also part of StackPath, a web services platform that focuses on speed, scale, and security. This implies that you can use Server Density to integrate your up-down monitoring solution into a larger IT monitoring and management strategy, all from a single unified platform.
The interface can get busy when monitoring more than 10 sites.
Why We Need Uptime Monitoring Tools
Uptime monitoring offers all the data that tells how to maximize or improve a website's performance and uptime, leading to its availability.
Every device may face problems at times, also the websites on the internet. Hence, uptime monitoring sends alerts as soon as an incident occurs so that it can be fixed immediately.
One may get these alerts through SMS, e-mail, Phone call, Slack, or any other available medium. But yes, that notification will reach out to you no matter what.
Benefits of Using Uptime Monitoring Tools
Here are some benefits of Uptime Monitoring Tools:
FAQ's – Best VPS Server Uptime Monitoring Tools
How do I monitor server uptime?
Steps to check server uptime in Windows:
Right-click on the taskbar to bring up the Task Manager.
Make sure you have SPU chosen on the left side of the performance bar at the top.
The uptime will be listed near the bottom of the screen.
You can opt for uptime monitoring from a provider to ensure the best performance by getting alerts on problems and being tension free to monitor it on your own again and again.
Are Uptime Monitoring tools safe?
Yes, Uptime Monitoring Tools are safe. They, in return, ensure the proper working of your website/app.
How does uptime monitoring work?
It's fairly straightforward. On servers, some robots check to verify if your website is working properly every time it is accessed. If not, it will inform you that your website is having problems.
The major problem is usually with the server, but it could also be with any plugins you have put on the site. In either case, these robots will inform you whether your site is up and functioning normally or if something is wrong. Also, maybe things seem completely fine to you, but uptime monitors ensure they get to the root of everything and even figure out some unknown issues to resolve.
How do I use Better Uptime?
It's pretty simple to use Better Uptime. Follow these few yet straightforward steps:
Navigate to Monitors. Make a monitor.
Tick the boxes for Call, Send SMS or send e-mail.
Change the Check frequency according to your purchased plan.
Create a monitor by clicking the Create monitor button.
How do monitoring tools help in monitoring the server?
It monitors servers using the SNMP and WMI protocols on a regular basis to guarantee that they are up and running at peak performance 24 hours a day, seven days a week.
These tools collect and retain all data for historical performance tracking, troubleshooting, and other issues.
Conclusion – Best VPS Server Uptime Monitoring Tools
We are at the end of this very informative yet best free website monitoring tool, ensuring that your website is always up and running. If you are looking to gain success or continue on that path, ensuring that your website is always available to the visitors is one of the most crucial parts.
There's nothing that can stop you from excelling in your field of business now. Hence, these Server Uptime Monitoring Tools are made for users like you. Who knows the importance of these tools, do not like wasting time but investing it on getting your business better and making sure you never lose potential clients because someone is monitoring your website 24/7.
So, what are you waiting for? We listed the most appropriate and best VPS Server Uptime Monitoring Tools for you to choose from according to your needs and make one of the best decisions for your business!