Microsoft and Google are unbeatable when we talk about ease and popularity but If it's about data privacy then they are far away.
Communication on these two platforms isn't secured because it doesn't have end-to-end encryption and can easily be accessed by government agencies in the case of legal conflict.
Now if we talk about Gmail, then it allows third-party servers to scan your private emails to show you more personalized advertisements. So what's the solution?
The solution is to encrypt your emails with a Secure email service provider. A secure email service promises you that your data won't be misused ever.
There are more than enough Secure email services that you can get at a stripper cost. In this article, we are going to tell you some of the best Secure email services that ensure you have excellent privacy.
Welcome to GoogieHost, let's get started with today's topic.
What Is Secure, Encrypted Email?
Email is the primary medium for most business and professional communication. It's important to protect your sensitive and private data from cyber threats and Government agencies.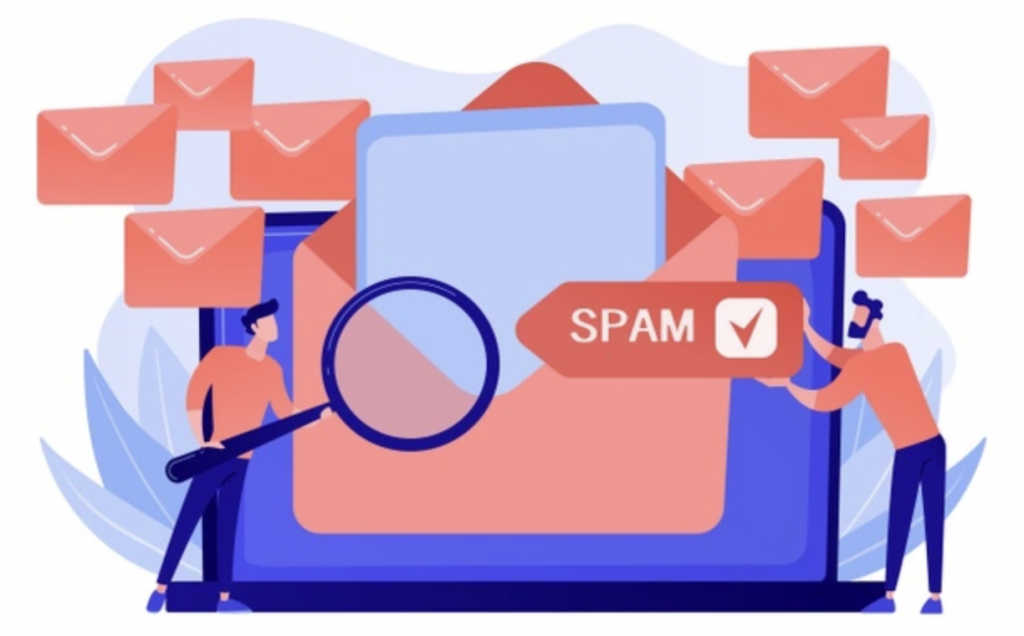 A secure email means the communication between email servers is encrypted, so it's really a tedious task to decrypt the whole information and message in a readable format. Even the most experienced hackers face failure while decrypting the message.
Best Secure Email Providers
Now it's time to tell you the Best secure email providers in 2023, which ensure you the best security with End-to-end encryption.
1. Protonmail
The first one on the list is Protonmail, one of the most popular and best secure email service providers around the Globe, based in Switzerland.
Your data is protected by strict Swiss privacy laws. Moreover, their data centers are located deep down in a swiss nuclear bunker, almost 3000 feet below the ground.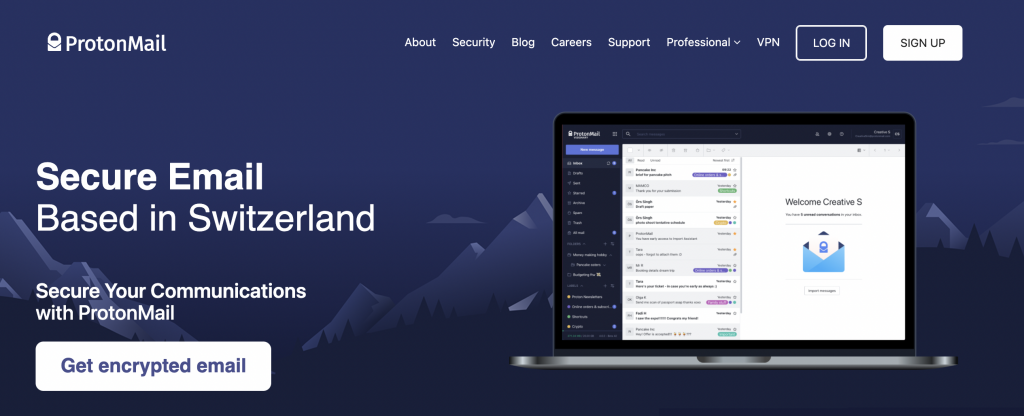 This is one of the best Secure email service providers that have a no logs policy and End-to-end encryption where they have zero encryption access. That means, that even they can't decrypt your encrypted messages.
You also don't need to worry about advertisements, as they don't treat your data like a product.
Protonmail is an open-source service which means you can do it for free until you need to upgrade. You can use their web-based client that supports almost every browser on your Pc.
If you are using mobile, then the Protonmail app is available on both Android and iOS platforms. Also, get the Best Email Marketing Software and tools
Pros and Cons
Pros
No logs policy.
End-to-end encryption.
Open source platform. 
Secure calendar and file storage.
Cons
Web client is not so fast and updated.
It can log your IP if you're a criminal suspect. 
---
2. Tutanota
Starting in 2011, Tutanota is the world's first secure email service provider with over 2 million clients. Tutanota offers you an encrypted address book, an encrypted calendar, and the encrypted contact form Secure Connect.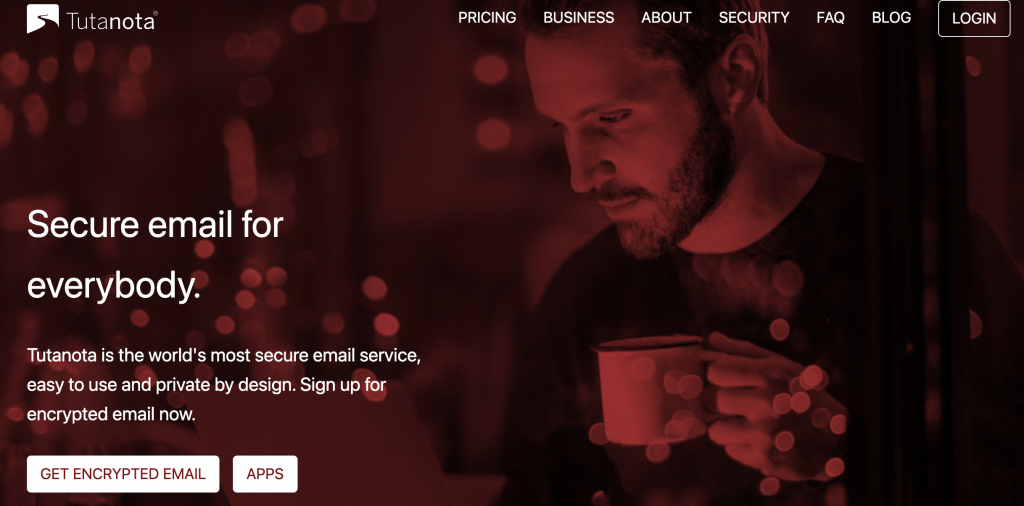 Tutanota's mission is to protect all human rights activists, Journalists, and as well as citizens around the world. That's why it provides freemium (Free+Premium) services.
Apart from End-to-end encryption, they provide you 2FA ( Two-factor-authentication) to also keep your account secure like encrypting your emails. Their data centers are all over Germany and it has one of the strongest privacy rules.
The best part about Tutanota is its compatibility. Tutanota works fine on every platform as their application is available on Android, Windows, macOS, and iOS.
Pros
Affordable.
No logs policy.
Spam filter.
Encrypted calendar. 
Cons
Germany is in the Fourteen Eyes countries. 
Extra storage is expensive. 
---
3. Mailfence
Mailfence is a secure email service provider based in Belgium, a country that is famous for its strict data privacy legislation. It's a great alternative to a regular mail service provider like Gmail. There is no chance of a third party stealing your data.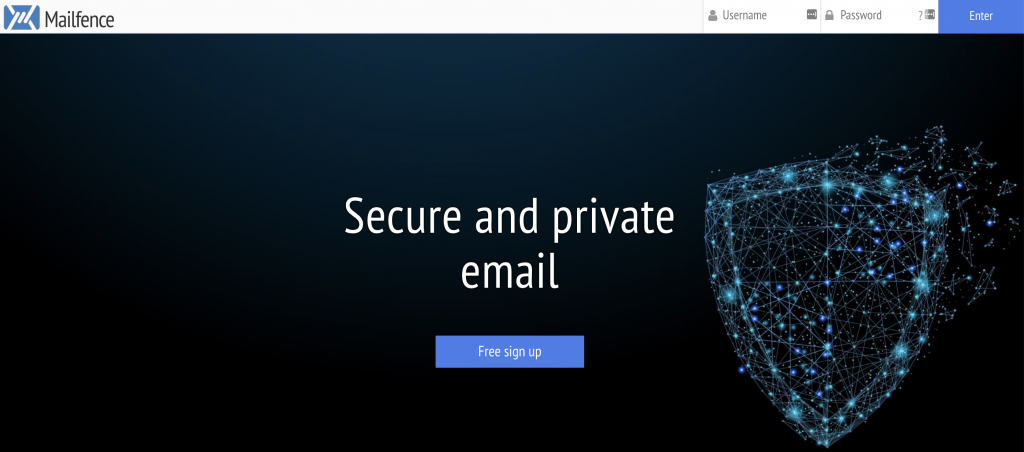 When it comes to security features, Mailfence has plenty of them. Besides End-to-end encryption your emails are accounts are protected with password-encrypted messages, Digital signatures, and two-factor authentication.
It also offers you an integrated calendar that makes sure you never miss out on any event. Like other secure email service providers, it also allows free users to use its platform. You can access Mailfence on web and mobile application platforms.
Pros
PGP supports.
Digital signatures.
Two-factor-authentication.
Open source platform.
Cons
Customer support is not up to the mark. 
---
4. Mailbox
Mailbox is another secure email service provider based in Germany. It is funded privately which protects it from outside influence which is a great thing for you.
You will get an ad-free experience with Mailbox security and it also has spam and virus protection.
Your data is also protected by strict German law. Mailbox respects your privacy from the very start, as they ask you for recovery mail when you sign up.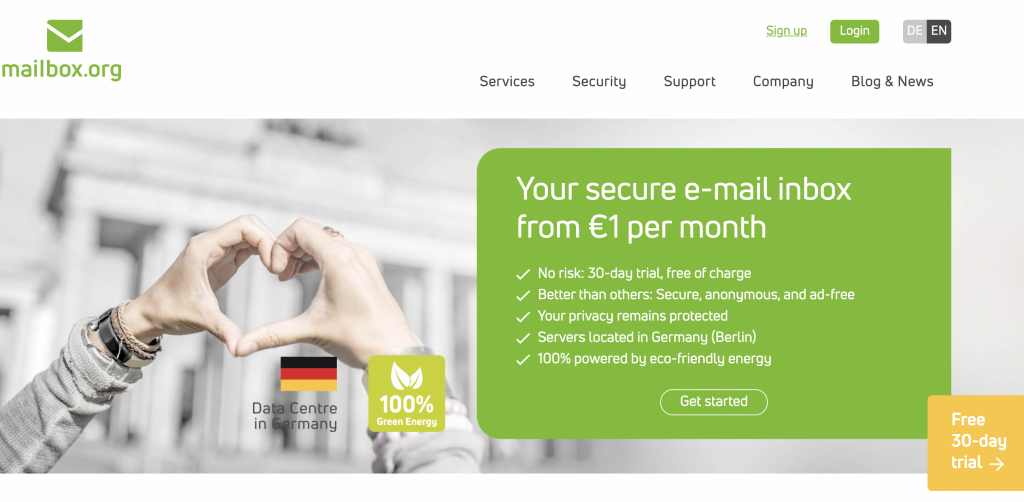 Mailbox uses PGP encryption to protect your message. And when you are sending your emails it is protected with SSL and TLS.
That means your message cant to be accessed by someone when it is transmitted.
You get an easy user interface that helps you to use this platform easily. It allows you to send encrypted mail as well as normal mail. Like other secure mail service providers, it's not free of cost.
Pros
PGP supports.
Transport level security.
Two-factor authentication. 
Cons
No mobile apps.
No free services. 
---
5. Thexyz
Thexyz is an enterprise-level secure mail service provider that syncs with Windows, webmail, and mobile apps. It is based in Canada and has been in the market for 12 years now.
If you are looking for a private mailbox, then this could be a great alternative to that. You get an ad-free experience as it does not allow third parties to scan your data, they always prioritize your data security more than anything else.
It also has spam filtration in order to protect your account.
You don't need to worry while sending the mail, as Thexyz assures you with SSL/TLS protection that doesn't let anyone read your message while it is on its way in transit. Also, your account is protected by two-factor authentication.
The only drawback of Thexyz is, that their data centers are located in the US and Canada some of them are located in the UK.
The main locations like Chicago, Montreal, London, and Sydney are listed on their website which makes the Five Eye's access unavoidable.
So if you are very privacy-minded or you have some confidential information in your mail, then you might wanna avoid this secure email service provider. here you can also get the Best Email Hosting Providers For Small Business
Pros
Spam filtration.
Ad-free experience.
Two-factor authentication.
Full mobile synchronization.
Cons
The free version is not available.
Five-eyes location-based. 
---
6. Runbox
Runbox is a secure email service provider based in Norway, it aims to provide security & privacy in communication that happens through emails.
But do keep in mind that Norway isn't far from the reach of the 14-Eyes intelligence alliance, so that might be a concern. This is a partially-open source platform.
However, as an email provider, they provide you with good security. It includes TLS/SSL to protect your email before it reaches your receiver. You are not going to face any hassle while using it, thanks to its easy ad-free user interface.
The best part is that you don't have to give any personal information while creating your account. Runbox also lets you use two-factor authentication to restrict your mailbox and account.
Pros
Easy UI.
TLS/SSL security. 
Ad-free experience.
Cons
Not fully End-to-encrypted.
Nine-eyes country. 
---
7. Startmail
Starmail is a private secure email service developed by the founders of Startpage. Startmail is one of the most secure email services. They safeguard your data and email activity with state-of-the-art security and technology.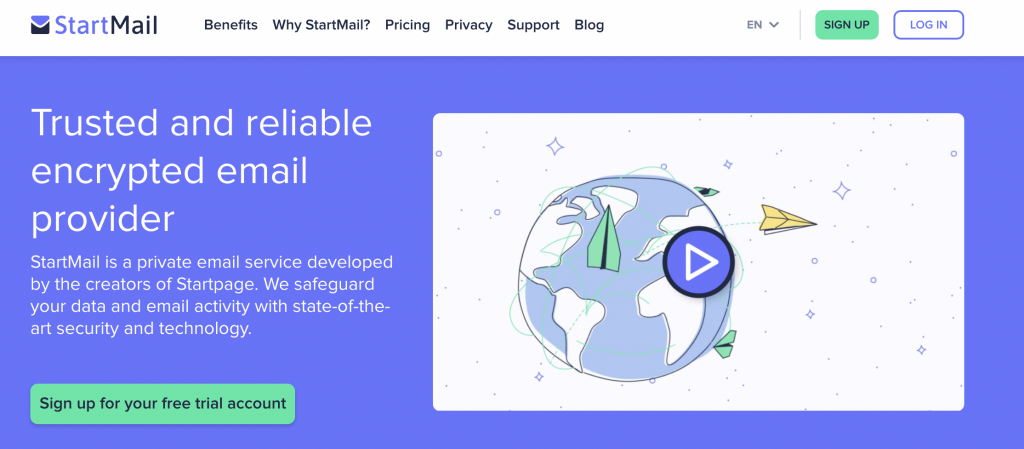 It provides you with fully integrated PGP, so you can safely communicate with other users who have a PGP setup. PGP is only implemented server side which means it does not offer you full end-to-end encryption like other email service providers are bragging about.
You can also use all two-factor authentication, to ensure that your emails will be secured if someone finds out your password.
If we talk about compatibility then, Unfortunately, Startmailnt doesn't have a mobile application to make your experience better. Their mailbox is paid only but you can get 30 days of free trial with 10GB of encrypted cloud storage.
Pros
Comes with PGP.
Two-factor authentication.
10GB of encrypted cloud storage. 
Cons
Encryption isn't end-to-end.
Does not have a mobile application. 
Security Features to Look for Best Secure Email Providers
Not every secure email provides you with Top-Class security. If we talk about getting the best secure email provider then, we need to make sure that it has the most important security features.
How Does Secure Email Work?
There are mainly two protocols that make secure email possible. These two are –
Transport layer security as its name suggests, basically provides security when the message moves from sender to receiver. That means your message can't be read when on its way of transit. Before TLS was introduced it was too easy for cybercriminals to read the message when it was in transit.
Now TLS is only functional before the message is delivered to the receiver. So if a cyber hacker gets access to the receiver's inbox, he/she will be able to read the message. To prevent this, secure email comes with an End-to-end encryption feature.
End-to-end encryption ensures that the message is encrypted by the sender and only can be decrypted by the receiver. End-to-end encryption uses public and private keys to secure the message. Now to keep this simple, the senders encrypt the email message with the receiver's public key and the receiver decrypts the message with the private key allocated to the sender.
Why Use Secure Email Providers?
There are multiple reasons to use secure email providers, especially when it comes to business or professional work.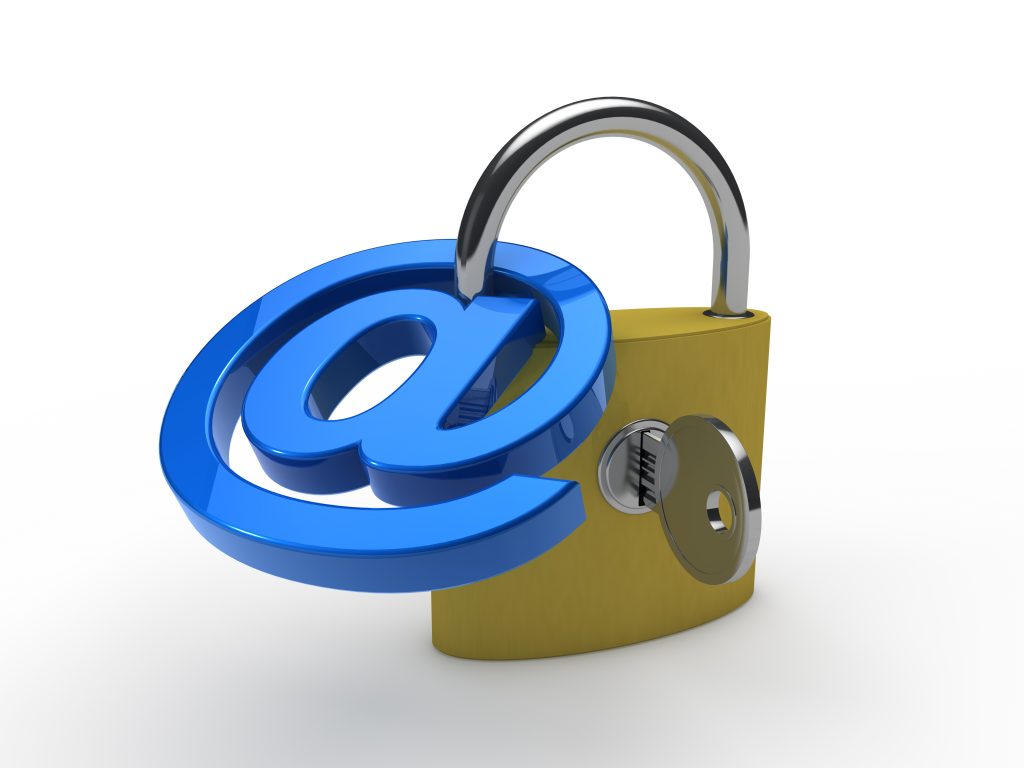 FAQs – Best Secure Email Providers
What is the safest email account?
There are multiple secure email accounts you can get with End-to-end encryption. Now, if we talk about the most secure email then, Protonmail provides the safest email account.
 Is Gmail a secure email?
The answer is no. Although Gmails provides you TLS security which makes you make your email encrypted while it is transmitting.

But after it reaches the receiver in the mailbox, it is no longer secured by the provider and that's the reason you see personalized ads once you open Gmail.
How do I send a secure email?
The best option is opting for a secure email service provider which allows you to send email messages with End-to-end encryption and TLS. There are multiple free and paid secure email providers available in the market like Prtonmail, and Zoho mail.
Why should I need to encrypt my emails?
You should encrypt your emails because if it's not, then people can access your personal information, and messages that you are sending to someone. Moreover, if you are running a business then leaking your data can be a disaster for your business. Encryption prevents all of this.
What is the most secure encrypted email?
The most secure encrypted mail you can get is $99 or more. Because it ensures that your messages are end-to-end encrypted and only accessible to their sender and receiver. On top of that, it also provides you with Two-factor authentication to protect your account.
Get Started with Best Secure Email Providers
Now, this is everything about Secure Email services, Before you get started with any of these always make sure of two things.
First, your secure email servers are not located in the Five Eyes intelligence alliance or any country that doesn't have a good privacy law.
Now the second thing always goes for the best security features, never ever compromise your security. End-to-end encryption and Transport layer security are two major security features that make your email completely encrypted.
Additional features like encrypted calendar, compatibility, and User interface are not so crucial things, you can decide these things in your own comfort.
If you are confused to choose the best secure email provider then you can choose from our list mentioned above.
That's it for today, if you have any questions or suggestions then feel free to share them in the comments. Thanks for visiting GoogieHost, Well see you with another topic.
Looking for Something Other than Best Email Hosting ….