As an innovative marketing services provider with smart email automation features, SendPulse provides its services to all types of businesses. Whether you are running a startup or an MNC, SendPulse has bundled amazing tools that can help you improve your business growth in just a few clicks.
We have been using it for the last three months. Here in this SendPulse review, we will discuss our personal experience to provide unbiased information about its quality and reliability. Just stick with us till the very end, and you will understand the complete picture of its services.
Overview SendPulse
| | |
| --- | --- |
| 😀Free Trial | A dedicated free plan. |
| 💰Starting Cost | $6.40/month |
| 🔔Amount of Subscribers | 500 |
| 👨🏽‍💻Support | 24*7 customer support |
| 💳 Payment Method | Debit/credit card and Paypal |
| ♻️ Refund Policy | 30-day refund policy* |
SendPulse is an email marketing service provider that comes with features like an email verifier, workflow automation, and much more. In addition, it offers a free CRM to automate your sales and manage your user base more effectively.
It was launched in 2015, and since then, it has been a top-rated service provider, especially in the CRM market. Since it provides free CRM software, unlike the other's expensive plans.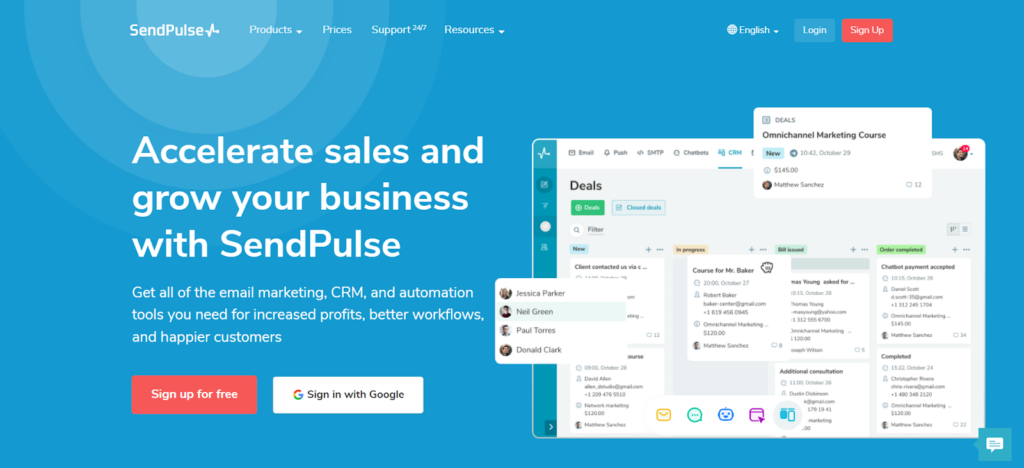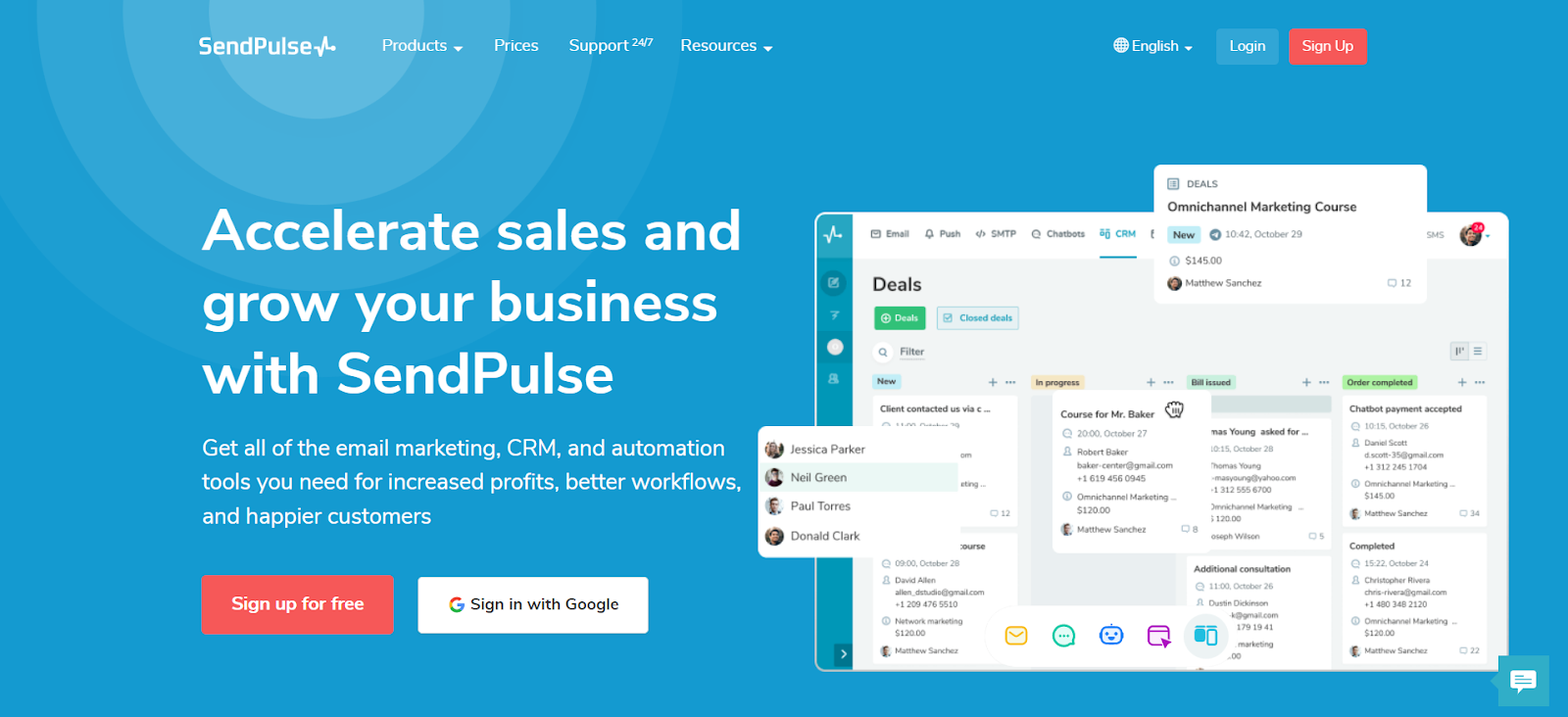 SendPulse Features
Here, in this section of our SendPulse review, we will discuss some of its key features that we found really unique while using their services — and they are as follows.
So these were the features that we found unique and impressive, so we mentioned them for your convenience.
Easy To Use Interface
When it comes to the user interface, Sendpulse has built its dashboard to be very simple and easy to use. As you can see in the image, you will find all the sections on the left side of the dashboard from where you can choose an email list and create your campaign.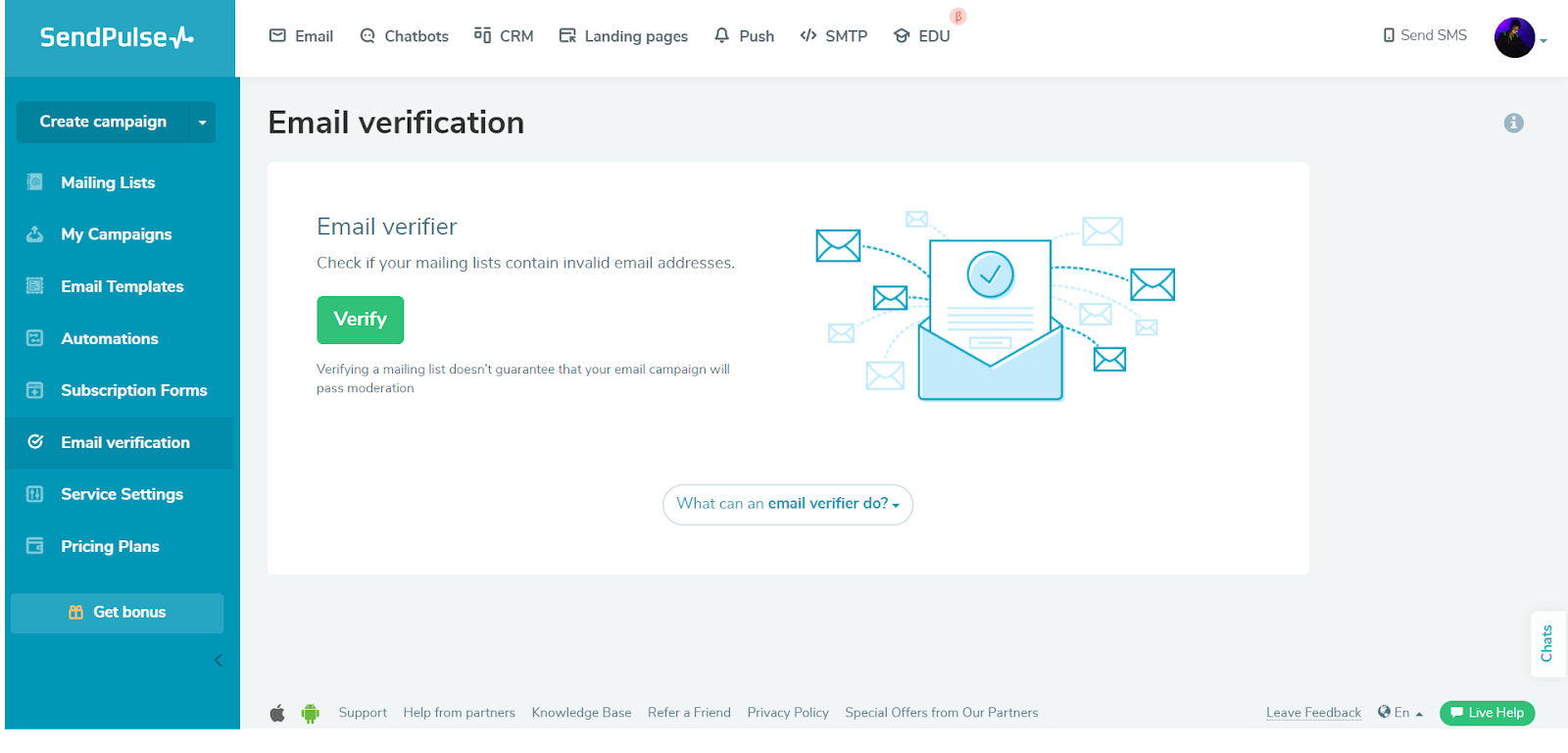 SendPulse Email and NewsletterTemplates
SendPulse provides you with many elegant and beautiful predesigned templates that you can use to create your desire for the campaign by simply drag and drop method.
In addition, they have also provided you with template builder options so that you can create a custom email and save it to use every time you run a campaign.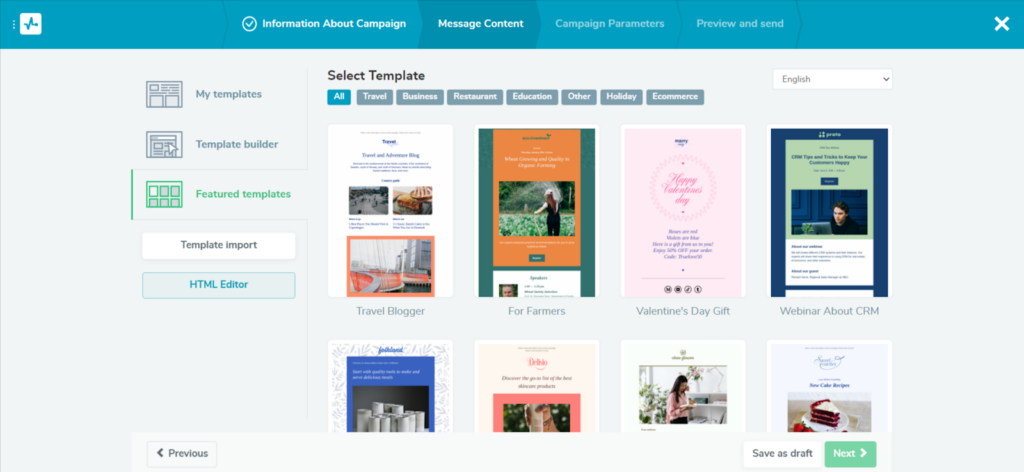 For your convenience, they have created dedicated categories of the template which we have mentioned below:
Note: There are many more email templates available in the market, but these are the most popular ones.
SendPulse Automations
With SendPulse automation features, you can create an automation workflow so that you can put your campaign on autopilot and shift your focus on your product. Even though it does not provide any predesigned automation workflows you can easily create your workflow by following the mentioned steps.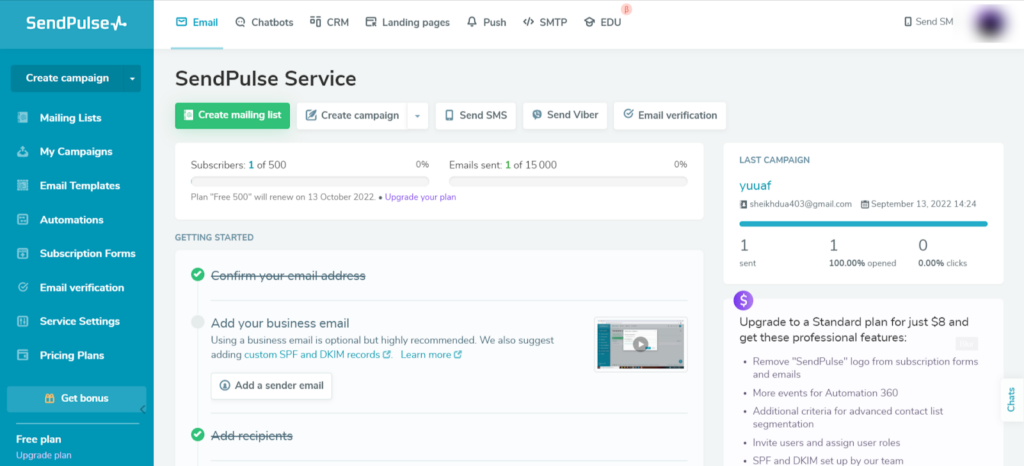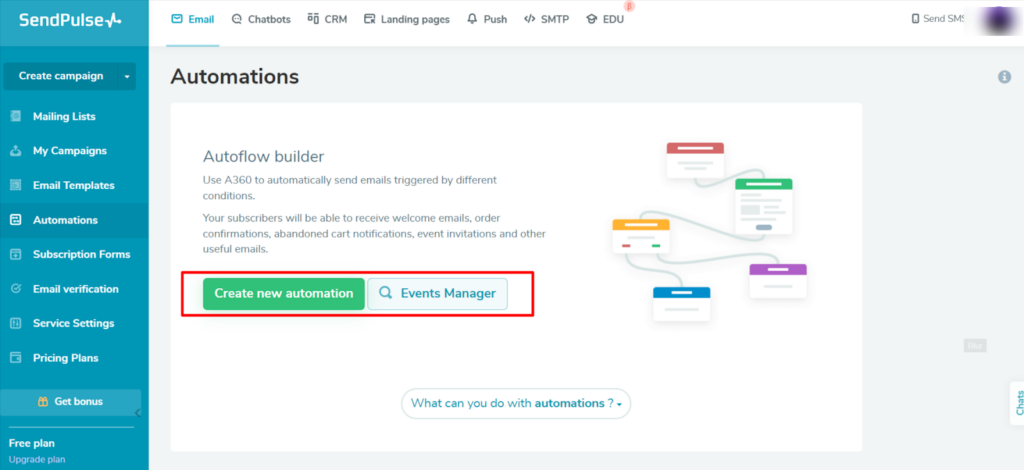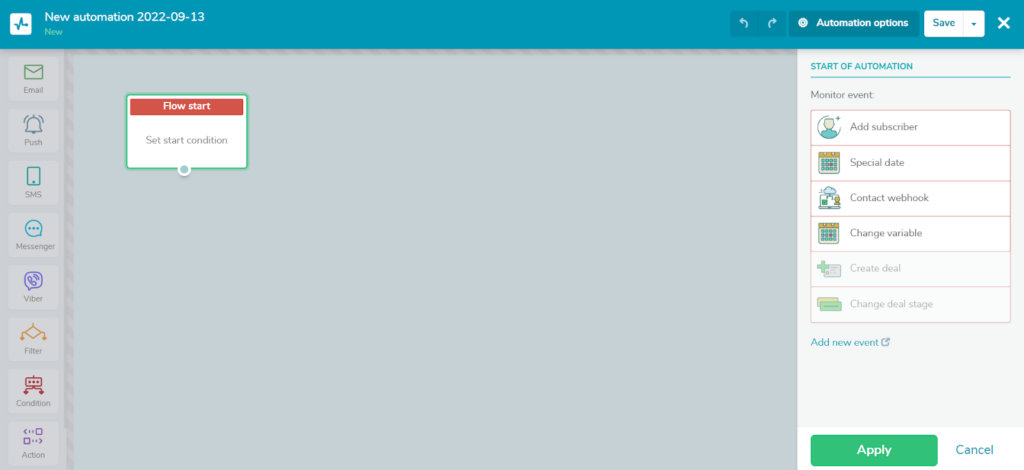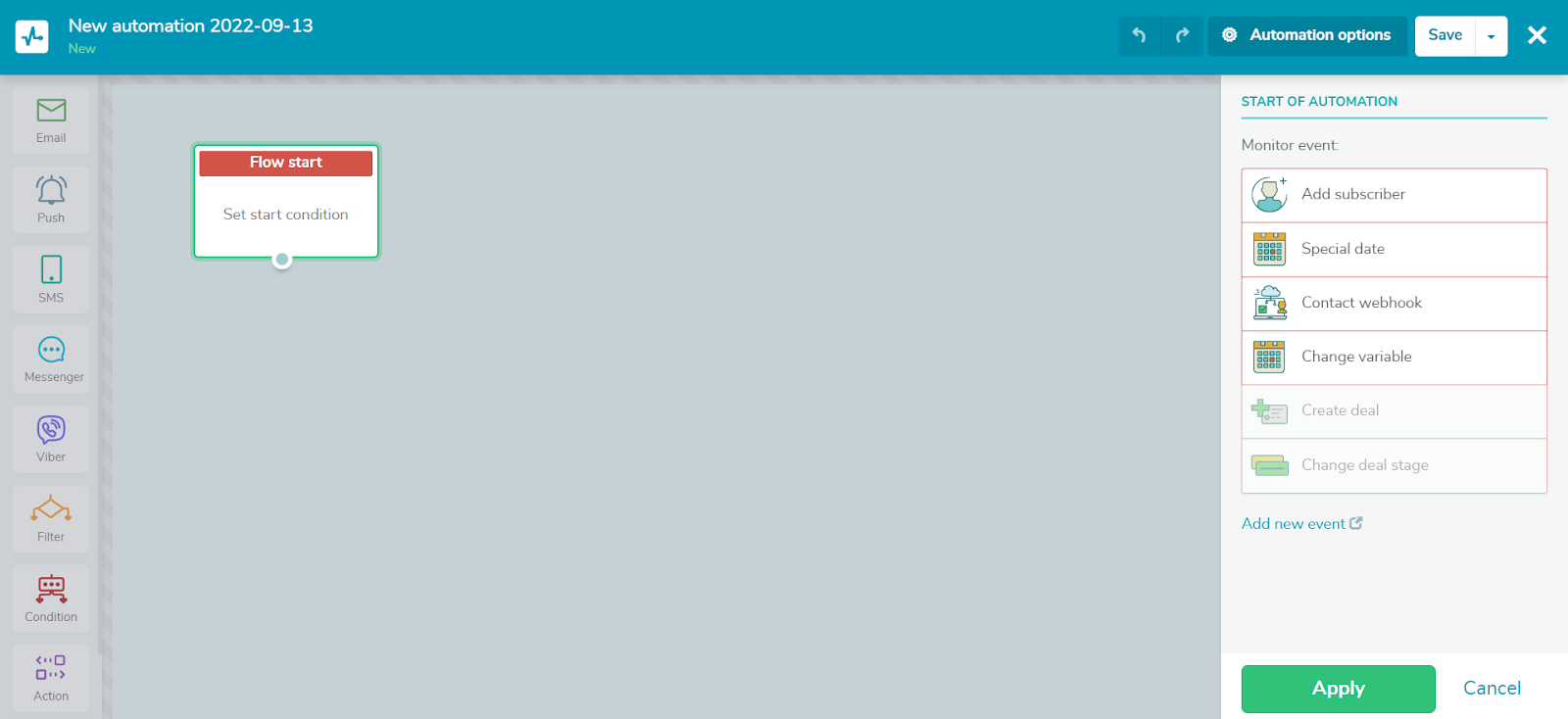 SendPulse Support
SendPulse has created a dedicated team of technical experts to provide you with 24*7 customer support. The best part is that they provide multiple modes through which you can connect easily.
The modes via which you can connect to them are as follows: 
In addition to that, they created an extensive knowledge base with a solution to all the possible problems which can occur while using its services.
Note: Their customer support response is very slow. 
SendPulse Pricing and Plans
Here, in this section of our SendPulse review, we will discuss its price and plans. It offers you two payment options which are mentioned below:
As you can see, the prices are in the below-attached image.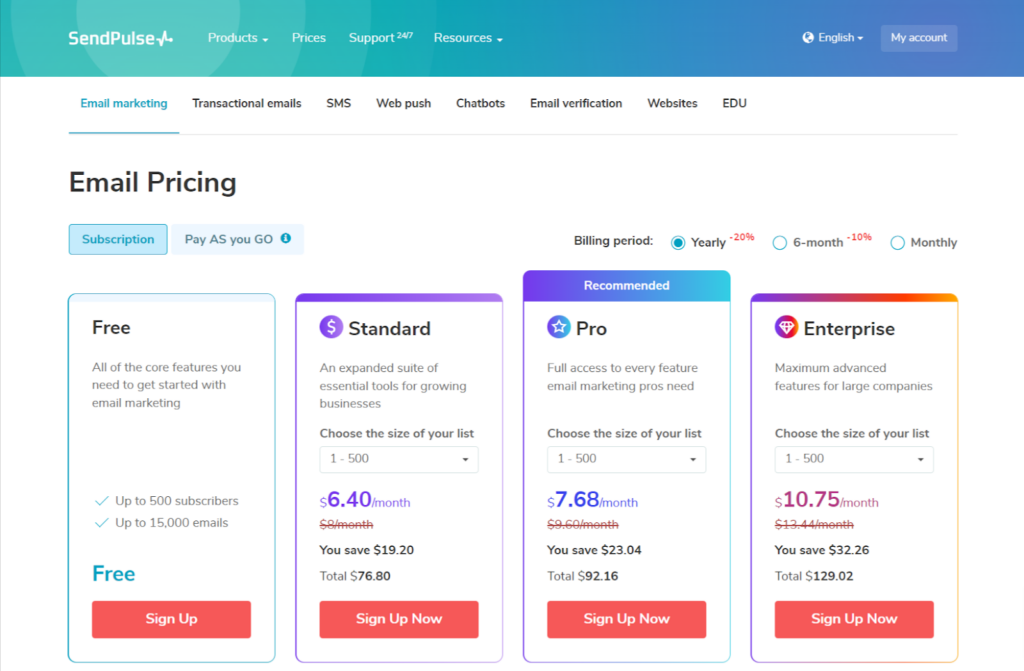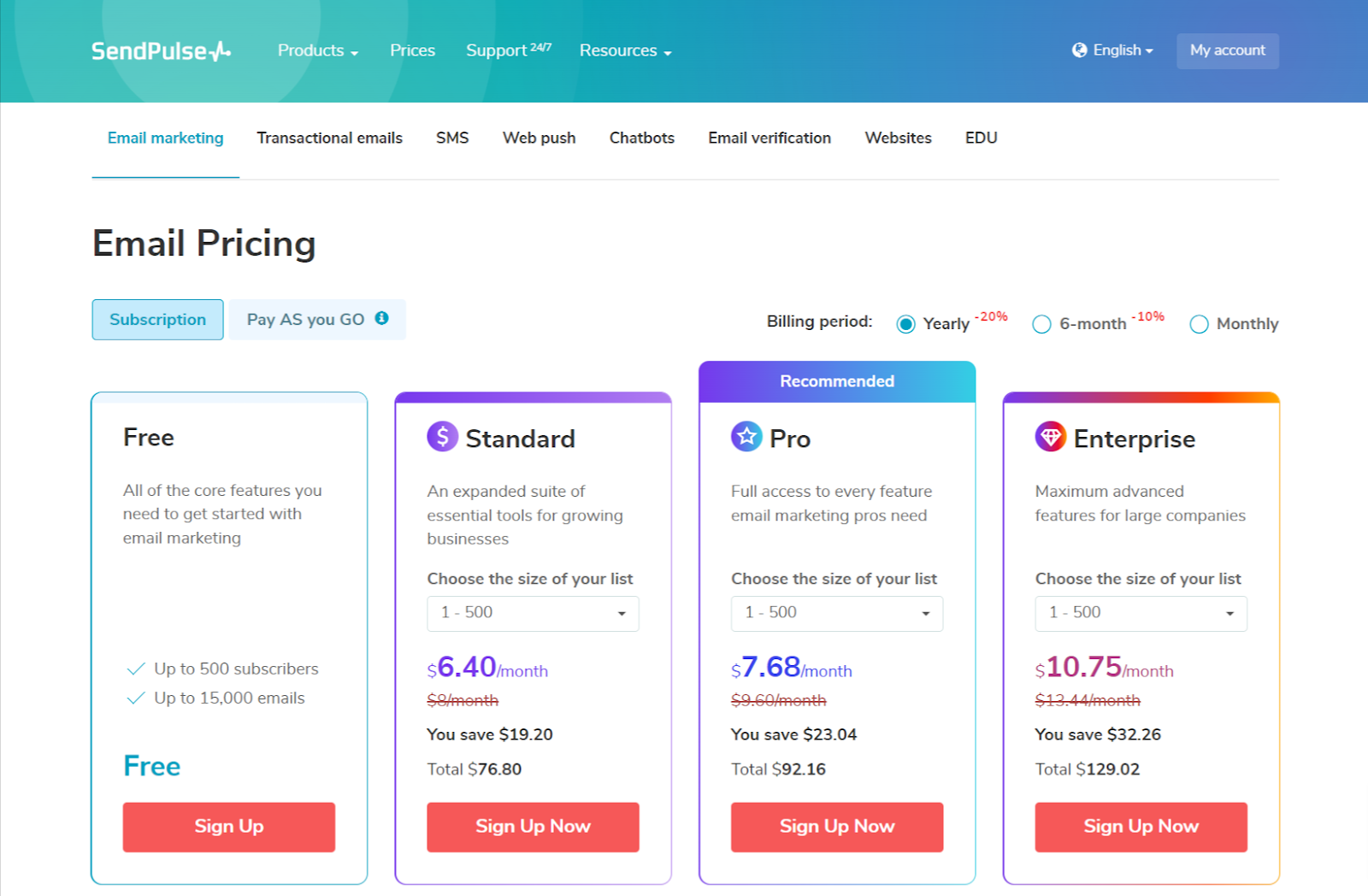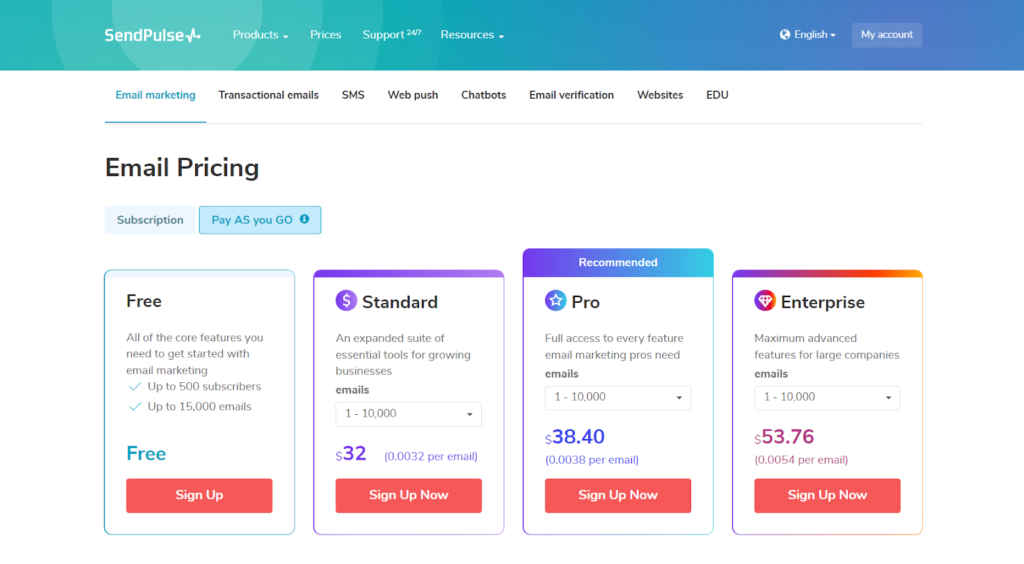 Note: As you can see in the image attached below that their free plans provide significantly less resources. Hence we recommend you to go with their premium plans for better performance. 
SendPulse Pros and Cons
Here, in this section of our SendPulse review, we will discuss some of its major pros and cons to provide you with a complete picture of its service's quality. And they are as follows:
Pros
Allows sending 1500 emails in the free plan. 
Free email templates 
Email automation facility 
No hidden charges 
Cons
Limited resources in the free plans 
Slightly slow customer response 
No predesigned automation workflow 
FAQs – SendPulse Review
How many accounts can I add to the chatbot?
Sendpulse offers two plans for chatbots which are mentioned below:
Free plans: In the free plan, you can use three chatbots of different channels Instagram, messenger, and telegram.
Premium plans: There is no restriction for chatbots in the premium plans, you can connect many like WhatsApp, Instagram, etc.
Are there any limits on sending emails?
How many subscribers can you have on SendPulse?
In the premium plans, you can have unlimited subscribers for your campaigns, but in the free plans, you can have only 500 subscribers.
Why Use SendPulse Over Other Email Marketing Solutions?
If we talk about what separates Sendpulse from the market, then its affordable plans will be the answer. For example, you get unlimited emails to your subscribers for just $6.40/month, which is really amazing.
Does SendPulse provide Dedicated IPs?
Yes…!
It does provide dedicated IP to its customers but that is only in its SMTP services. In their email services, you will get a common IP address.
Does Sendpulse has created a video knowledgebase? 
Yes, in addition to an extensive handwritten knowledge base Sendpulse has created a video knowledge base with a solution to possible problems that may occur while using its services.
Final Words – SendPulse Review
Sendpulse is a fantastic marketing software with impressive features like free email templates, email verifier, email automation, etc., making it one of the best service providers in the market.
We would like to end our Sendpulse review with a note that it also provides you with a free online course to help you use its tools more efficiently and grow your business to the next level.
Hopefully, this review has helped you to make your decisions wisely, and if you have already been a Sendpulse. Then we welcome your rating in our review section below.