These days it is next to impossible to run a business without an email address. Even if you are a blogger or running a personal brand email is a necessity for every purpose. A customized email gives your business a professional look.
But you must be thinking you have to spend huge bucks to get one email with your domain name. I would like to tell you that many service providers are offering free or almost free email hosting for your custom domain and you can utilize them for your benefit.
Are you looking for free email hosting providers for your personal or professional use? Stay tuned till the end of this article to know more about how email hosting works and what free email hosting providers you can trust.
What is Email Hosting?
Email hosting is a service that rents out email servers to the user. There is both a free and paid version of email hosting, and you can go for any of them as per your choice.
If you have a domain name and you want an email with the same domain name, then you have to sign up for a hosting email service.
Best Free Email Hosting Providers in 2023
Choosing a free email hosting provider is no more a myth. You can go for any of the available email services in the market to create an email for your website. But as per the above essential factors, I have listed some of the best free email hosting providers.
Neo provides a tailored email hosting service designed for small businesses, start-ups, and entrepreneurs, equipping them with a professional email address.
For those without a personal domain, Neo offers an option to utilize its co.site domain with your brand name. Moreover, it adds value by providing a free one-page website, a feature aimed at bolstering the brand identity and boosting the reputation of its clients.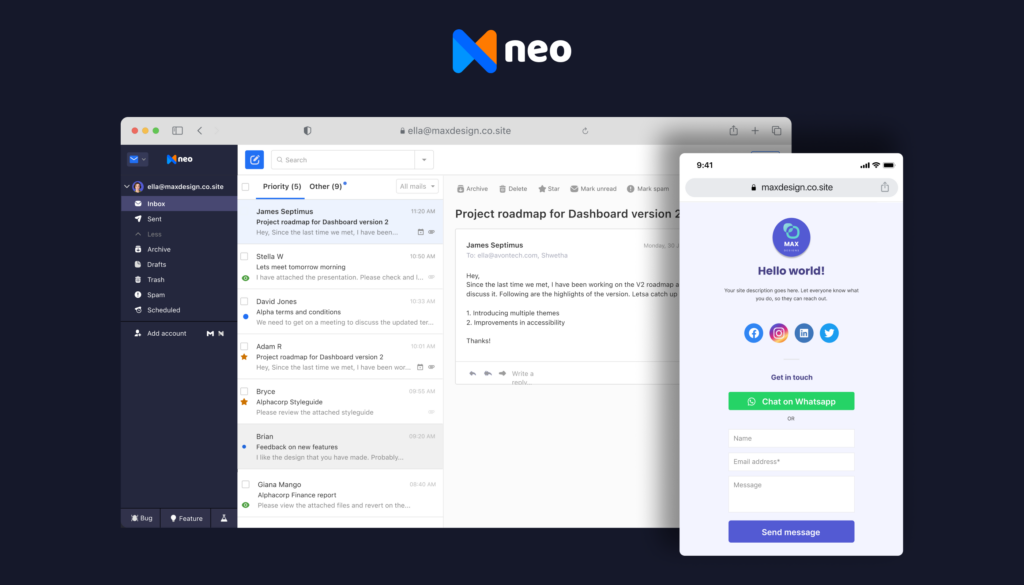 Neo allows users to create a business email account without domain name.
Follow below steps to sign up with Neo

🔸 Navigate to https://www.neo.space/
🔸  Select the 'Free Trial' option.
🔸  You can choose to continue either with or without your own domain. If you don't possess a domain, Neo graciously provides a complimentary co.site domain name.
🔸  Input your existing email address to establish your initial mailbox.
🔸  After a few more steps, you will have successfully set up your company email domain address.
Neo offers a hassle-free and rapid setup, providing customers with robust and intuitive tools to help build and reinforce their brand. It includes productivity-enhancing features such as a complimentary one-page website, 'Send Later' option, email templates, read receipts, follow-up reminders, and a priority inbox.
These features are designed to optimize workflow and allow users to concentrate on the more critical aspects of their business.
Pricing
---
2. GMX Mail
GMX Mail is not as well-known as other email services, but it is one of the most powerful free email hosting providers.
It meets every basic need of a business in terms of email. It has various options like contacts, organizers, message composition, and many more.
You can also import contacts from your social media handles and sync them to your email. You have to manually add contact lists after it gets synced from your social media.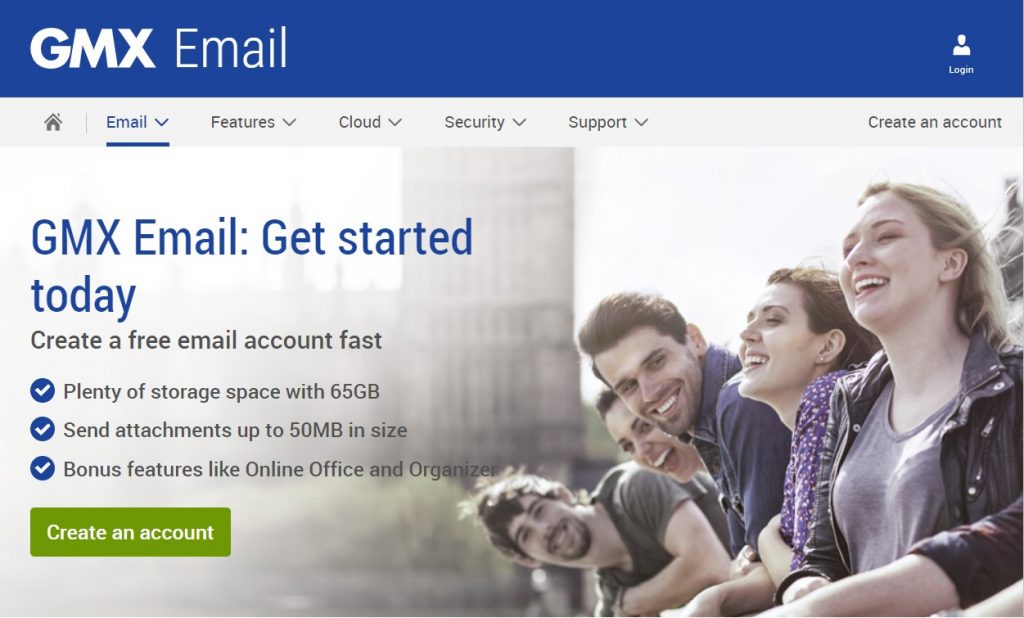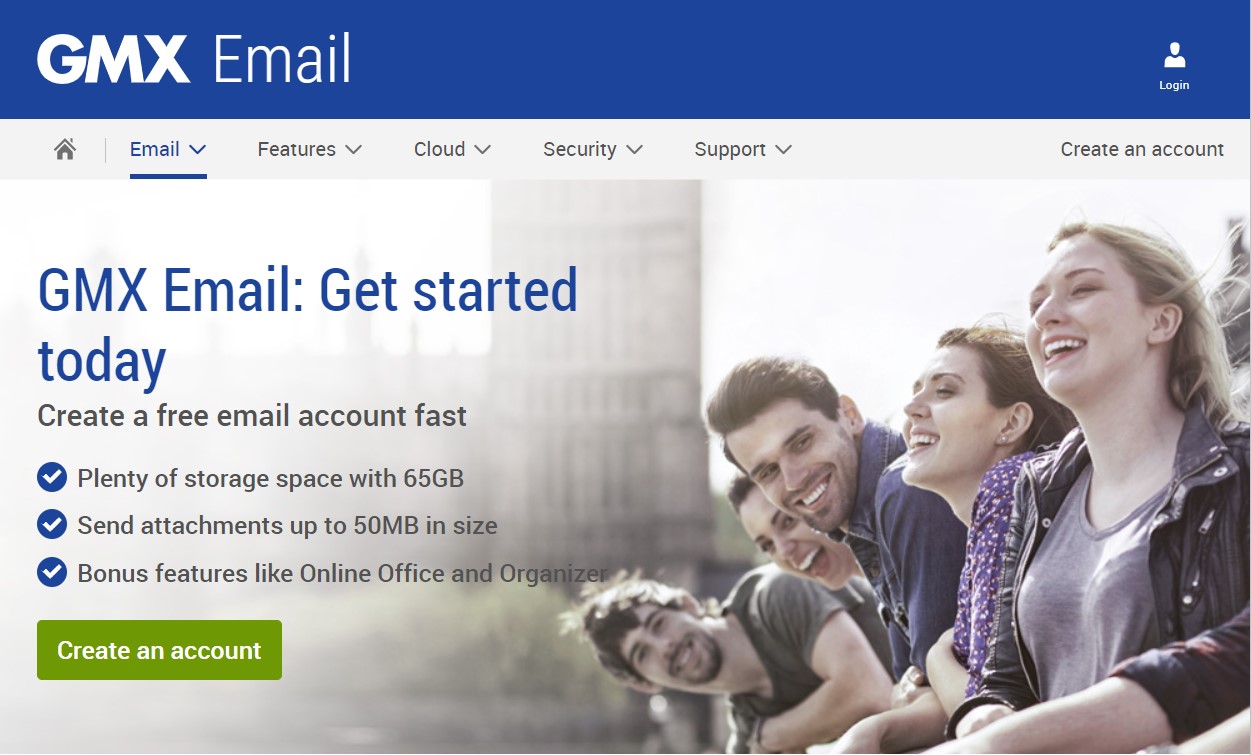 It can also integrate calendar tasks so that you can set up appointments. The program will send you reminders whenever needed. You can also add an auto-responder to send a reply to the emails received when you are away.
GMX is easy-to-use email hosting. Follow the below steps to sign up for GMX mail–

🔸 Sign up and give basic information like name, birthdate, and country.
🔸 Choose an email and set your password
🔸 Your email id is ready to use
You can use online subscriptions or accounts while hiding your personal information by creating alias email accounts. GMX mail supports redirecting your other email account to its inbox so that you won't miss any of the important mail.
While most email service providers allow only 20MB or 25MB files, GMX has a 50MB limit for attachments. You can add any of the files from your computer drive or from cloud storage.
GMX also gives you the option to cancel the mail before sending it in case you want to recheck or edit the message body. Your email and files are protected with SSL so that they can stay safe. GMX service has a 7 built-in spam checker to screen emails before reaching your inbox. This way, you can stay safe from spam and unwanted emails.
One of the drawbacks of GMX mail is – it shows frequent ads. And the inbox is separated into various mini windows, and every section shows a lot of ads. Click here to sign up for the first time and enjoy free email hosting now!
---
3. Zoho Mail
If you are a small business with a low budget then Zoho Mail is for you. Zoho Mail is an email hosting service provider that offers ad-free email hosting.
As a leading player in the email hosting industry, it has everything in its free version.
It is a secured email hosting service provider with numerous benefits. It has an in-built collaboration platform so that the entire business team can stay connected in a single inbox.

Zoho Mail has a 5GB storage capacity and it supports 25 users in the free version plan. The free version is full of features and gives easy access to the Customer Relationship Management (CRM) package.
If you want to set up a new account in Zoho Mail it may take some time. If you are a new user then follow the below steps to sign up for the first time.

🔸 Sign up for a new account by providing your domain name.
🔸 Provide your personal details.
🔸 Verify your domain by logging in to your DNS manager.
🔸 Once your domain is verified, you can add users and create groups, to begin with customizing the client base.
Zoho Mail is one of the responsive and trustworthy email services with easy to use interface. You can tag emails and enable different members of the team to access the message as per relevance. Users are free to create detailed spam filters to avoid unnecessary emails.
Not only performance but also Zoho Mail is very good in terms of security concerns. Its high-security data centers are backed up by physical security and DDOS protection.
You can also select data protection tools to detect malware, DMARC, and spam filters.
Plan and Pricing
Zoho's free forever plan is for small businesses and individual users. You can use it for up to 5 users with 5GB storage per user and a 25MB attachment limitation. Only a single domain can be used in the free plan.
If your requirement is more then you can go for any of the three paid plans of Zoho Mail. The plan starts at below $1 per user per month.
Email Hosting for multiple domains
Domain aliases
Email routing
Offline access
Tasks, Notes, and Bookmarks
Mobile apps for iOS and Android,…etc
It has everything that mail lite+ has, but apart from that it also has extra features like:
Huge Attachments up to 1 GB
Archival and eDiscovery
Email backup and restoration
White labeling
S-MIME
Resource booking
Secure Business Email
Online file manager
Online Wordprocessor
Online Spreadsheet
Presentation software
Instant chat communication
Online Meeting Software
Intranet and Collaboration
Do you want more features than the free version? Upgrade your plan from free to premium in a click. A 15-day free trial is available for the Mail premium plan-no credit card is required.
---
4. iCloud Mail
Apple iCloud Mail is another email provider to have a business email that adds regular new features.
People who use Mac can utilize iCloud Mail as their email provider. In the free version, the user will get 5 GB storage for file storage and emails.
For more storage, you can get a premium version of iCloud Mail. You can share the storage between all the apps and devices. It is easy to use and accessible on the Web via IMAP.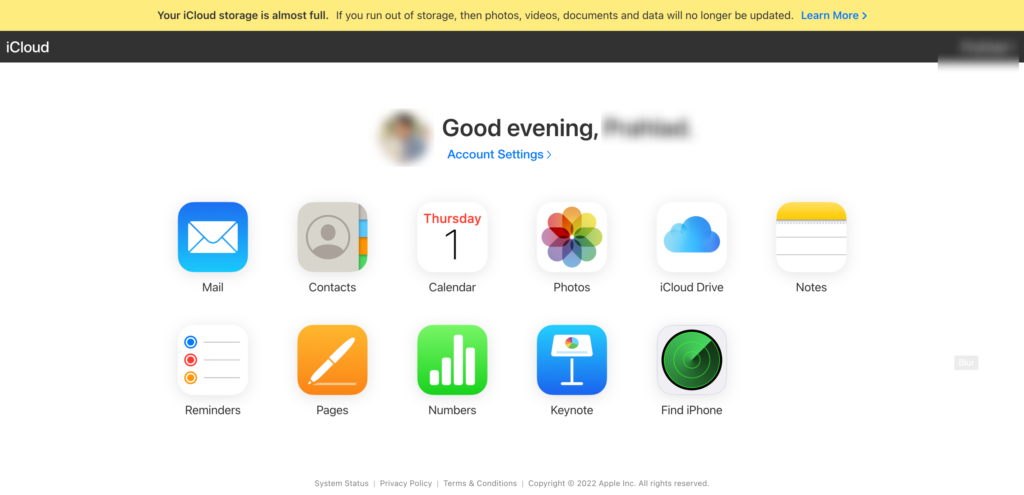 The advantage of using iCloud mail is its ease of integration. iCloud Mail is encrypted with SSL but the data stored on the IMAP mail server is not encrypted.
It has easy-to-use search functionality and the ability to label email senders as VIP senders. This way you won't miss any new messages from important senders.
iCloud Mail is supported with all Apple devices like Mac, iPhone, iPad, and iPod and also supports Windows computers with iCloud for Windows. The best part of iCloud Mail is that its web interface doesn't show advertisements.

To set up iCloud Mail:

🔸 Create an iCloud address
🔸 Set up your iCloud Mail service on Mac or other Apple devices.
To access the iCloud web you have to visit iCloud.com on your PC browser and log in with your Apple ID. the iCloud Mails spam filter keeps junk and spam emails out of your inbox. You can manually add emails to the junk folder or create rules to block unwanted emails.
iCloud Mail doesn't support POP access, that's why you have to configure iCloud Mail IMAP access to receive messages in outlook and other emails.
Plans and Prices
The mail services by Apple iCloud offer prices according to the country. As for now we have describes its features and plans with US pricing:
50GB of storage
iCloud Private Relay (Beta)
Hide My Email
Custom Email Domain
HomeKit Secure Video support for one camera
200GB of storage
iCloud Private Relay (Beta)
Hide My Email
Custom Email Domain
HomeKit Secure Video support for up to five cameras
2TB of storage
iCloud Private Relay (Beta)
Hide My Email
Custom Email Domain
HomeKit Secure Video support for an unlimited number of cameras
Try the premium version of iCloud mail and enjoy more storage now!
---
5. GoogieHost
If you are someone who is looking for free or almost free web hosting with a free email service then Googiehost is a perfect choice for you.
Googiehost founded in 2012 is a free hosting service provider that offers free email hosting service with its web hosting services.
You can enjoy up to 2 free email addresses along with its free web hosting to give your business a professional look.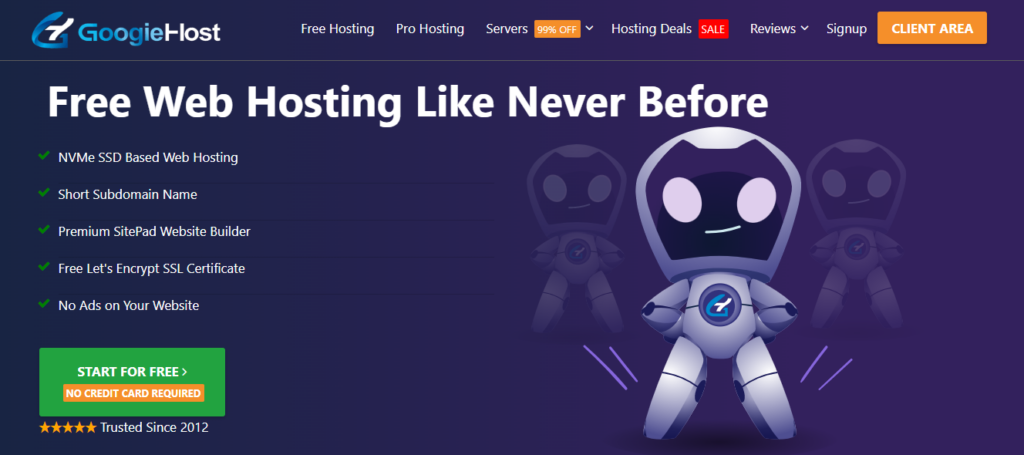 Googiehost's free web hosting you will get 1000MB SSD storage and unlimited bandwidth. There will be no ad on your website as well as on your email service.
Create free professional e-mail accounts for your business without paying any extra charges. The uptime guarantee is 99.95% and you will get 24/7 helpdesk support.
Googieshost is a leading player in web hosting and is well known for providing cheaper web hosting and free web hosting service with email hosting service absolutely free!
Enjoy free web hosting with free email addresses now! Click here to sign up and create your account.
---
6. Yandex Email
If you are looking for free email with additional storage then give it a try Yandex Email. Yandex- a Russian web company that offers global email tools.
It offers a free email service with unlimited online message storage. It has rich text formatting and email card templates to customize your email.
Yandex mail has a facility to attach files up to 22MB individually and 30MB in total per mail.
For security enhancement, Yandex mail scans each incoming mail to check for spam and malware. You can also manually block spam mail senders.
Though Yandex mail doesn't offer two-factor authentication to enhance security it has a detailed activity log to detect any suspicious activity.
You can schedule your emails with its customize interface to make it simple-looking mail to your customer. All of your Yandex services can be accessed via one email account.
Price and Plans
Yandex provides packages and their pricing depending on the period for which you are buying their mail services, for example, annually, triannually, and more. Let's look into the plans and pricing of Yandex's services:
1. Premium 200GB: $1.79/month (annually)
Without advertising
Extra Bed +200GB
Uploading large files- from 1GB
Backup of important mails
2. Premium 2TB: $ 1.03/month (bi-annually)
Without advertising
Extra Bed +2TB
Uploading large files- from 1GB
Backup of important mails
3. Premium 3TB: $7.89/month (annually)
Without advertising
Extra Bed +3TB
Uploading large files- from 1GB
Backup of important mail
Create your account on Yandex and enjoy free email domain hosting now!
How to Choose a FREE Email Hosting Provider?
Choosing an email provider is one of the crucial acts as you need to choose the perfect email provider for your brand name. Choosing any free email hosting service may not suit your business goals.
Here are some of the main factors one should take care of when going to get a free email hosting provider service for personal, professional, or business use.
Security
Security is one of the main concerns when you decide to get a free email hosting provider. There are many companies offering free email hosting but not all of them are secure.
Always choose an email service that never shares your data with any third-party service and even doesn't access your email on its own. SSL-certified email hostings are one of the safest ones to avail.
Spam Filter
At a time when spam messages are everywhere, you as a business need an email service that doesn't entertain spam mail and messages. So it is necessary to check the spam filter system before opting for any email service that is free.
When free versions usually don't take necessary precautions to prevent spam mails- you have to choose an email hosting provider who is strict in this matter. No one should waste their valuable time manually filtering spam emails from others.
Easy to use
An easy-to-use interface is another main factor in choosing a perfect free email hosting provider. If the dashboard will be clumsy or confusing then it will be difficult to work and you may miss any important information or mail.
So, always choose a free email hosting provider that has easy to use interface and a simple dashboard.
Storage
Storage is the first thing that comes to our mind when we talk about emails. How much data, files, images, and mail can be stored in an email is the main concern for any business.
If you get an email service that doesn't have enough storage then you may face problems every now and then to store your valuable data and files. Choosing a free email hosting provider with high storage capacity is very essential.
Uptime
Most of the time as a business you may not get extra time to send each and every mail on time. Here, scheduling the mail comes to the rescue. But, if you schedule a mail at a particular time and some of the mail didn't get delivered because of server downtime then it may harm your business image and profitability.
That is why it is very necessary to check the server uptime while taking up any free email hosting provider service.
How to create an iCloud email account?
If you don't have an Apple ID then you have to create one. You can follow the below steps to create an iCloud email account on your iPhone or iPad–

🔸 Visit the App Store and tap the face icon
🔸 Click on create new Apple ID.
🔸 Create your email address and give iCloud.com as the suffix.
🔸 Fill in details like region or country.
🔸 Check the Term and condition box and click Next
🔸 Now fill up your personal details like Name, and birthdate and click Next
🔸 You will be asked to give credit card details, you can also skip this step. And click Next
🔸 Enter your contact number and confirm it.
🔸 Click Next and check your email to get verification mail from Apple. Verify your email.
🔸 Your iCloud email is now ready to use.
Please note- you have to give the country code of the billing address for the payment method.
How to get free email Hosting from GoogieHost?
You can follow the steps given below to create your free email hosting account:

🔸 Sign up to googiehost.com for free web hosting and create your account

🔸 Choose your free plan along with domain names

🔸 Fill in your personal details like name, birth date, country, and other details

🔸 Wait for 24 – 48 hours. It typically takes this much time to activate your account

🔸 Once your account is activated enjoy free web hosting along with free email service
Conclusion
Free email hosting for small businesses is a necessity because this is the best way to stay in the loop with your customer with your brand name. When choosing a free email hosting for your domain always take some factors into consideration- speed, uptime, security, storage, and easy-to-use dashboard.
At a time when every business has a customized email address, it is a must to get a free email hosting custom domain for your business. The above-listed free email hosting providers are the best in the industry players and they are safe and secure to use. That is why we have covered them.
You can now sign up for the best free email hosting along with free web hosting with Googiehost. This way you will get hosting and email service absolutely free! Hurry Up!! Your next domain name with free web hosting along with 2 email addresses is waiting for you!
I hope this article has cleared your queries about the free email hosting providers and now you can choose your desired email id as per your domain name. If you like this article then don't forget to share it on social media.
To read our other articles please click here.