Email marketing has been prevalent in the market since the hype of promoting businesses came into the market. Email marketing helps companies reach out to a larger audience through attractive templates that increase brand awareness and make readers think about the company's products and services.
These emails make sure that they attract new customers but also retain the existing ones, as the company can give out various coupons, introduce new products, create awareness and achieve a lot of other intents through it.
But a user gets thousands or hundreds of emails per day, so how will yours be the one that attracts them or the one that comes in front of their eyes? Now, what if we say we have come up with such an email marketing service provider that makes sure that their email cuts through the noisy inboxes of the subscribers and makes them notice your company's mail?
If you are interested in the same, it's time for you to explore one of the leading email and digital tool marketers who have been working for more than 20 years now. Then, we are talking about GetResponse in this GetResponse Review!
Read ahead to learn a lot more about the company and how it will help you to grow your business in no time!
About GetResponse
| | |
| --- | --- |
| 😀Free Trial- | 30-day free trial |
| 💰Starting Cost- | $15.58/month for 1,000 subscribers |
| 🔔Amount of Subscribers- | 1,000 (user can go up to 100,000) |
| 👨🏽‍💻Support- | Email and 24/7 live chat (after logging in) |
| 💳 Payment Method- | Visa, MasterCard, Discover, Maestro, JCB, and American Express. They also accept PayPal from certain areas. |
| ♻️ Refund Policy- | No refund policy |
Started by a single person in 1997 from a Polish city. GetResponse has spread its wings worldwide and has come a long way from easy and affordable marketing tools to quality-rich and reliable marketing services.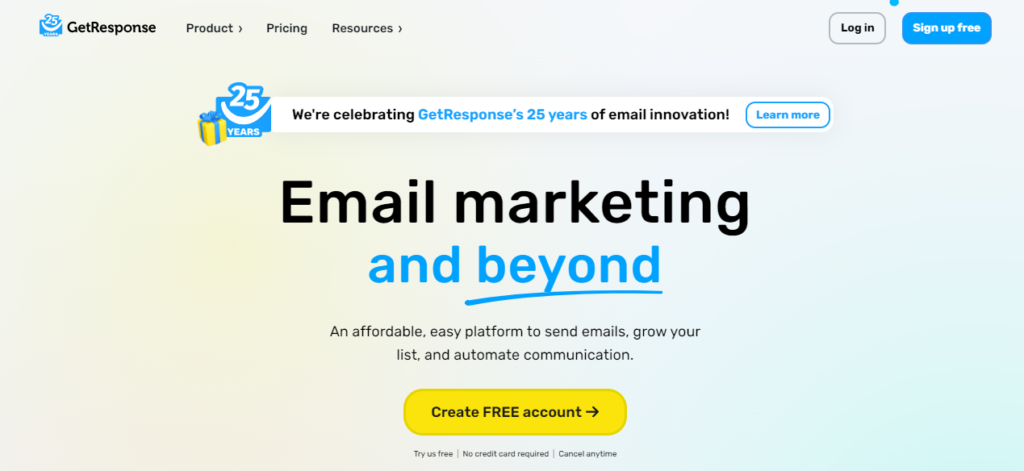 Today, they have served more than 350,000 customers globally and contain 30+ tools and 12+ integrations which makes them top the market and not lack from any end.
They also give multilingual support (8 languages) so that everyone around the world is comfortable communicating their issues with GetResponse and getting them solved real quick!
GetResponse Pricing and Plans
Here's a description of the plans and prices for up to 1,000 subscribers; you can choose the number of subscribers as per your needs and see the changes in prices while adjusting that on the subscriber scale on their website.
For now, the basic plans:
Unlimited newsletters
1 landing page creates and hosts 1 landing page with a monthly limit of 1000 visitors.
Website builders create and host 1 website and access all essential features like galleries, popups, and forms.
Connect your domain
Signup forms and popups
Autoresponders
Unlimited landing pages
Unlimited Website BuilderGet all advanced features inside the website builder and enjoy a bigger bandwidth for your website.
Basic segmentation is based on contact details stored in your account.
Email Scheduling
Integrations and API
Marketing automation
Event-based automation
Webinars
Advanced segmentation
Contact scoring
Sales funnels
Quick transactional emails, simple automated order confirmations, and abandoned cart emails. Available by integrating GetResponse with Shopify, PrestaShop, or Magento.
Ecommerce segmentation
Abandoned cart recovery
Promo codes
Product recommendations
Web push notifications
You can also go for bigger plans that you can customize as per your choices: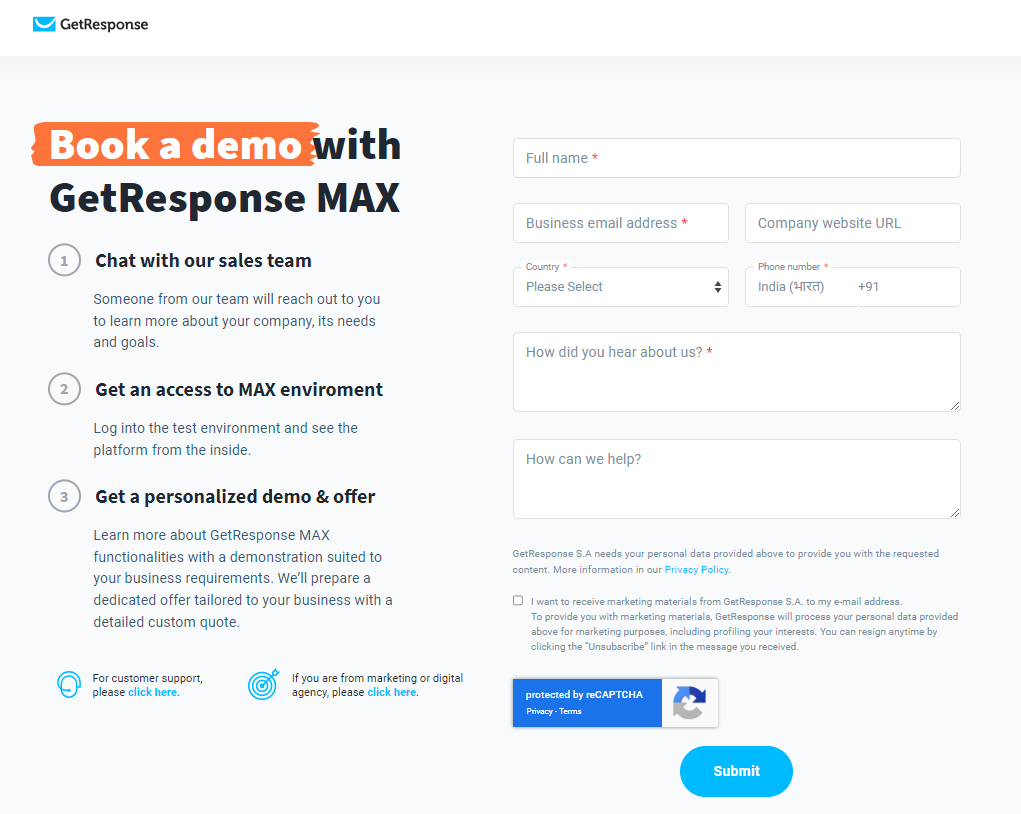 Easy To Use Interface
GetResponse has a well-laid-out website with self-explanatory steps and clicks. You won't need an outsider's help to get on board with them.
As we have also worked with them, their dashboard is simply made with easy-to-use and go-through instructions. You can easily browse your activities and take note of them through their easy and straightforward dashboard.
See how easy it looks: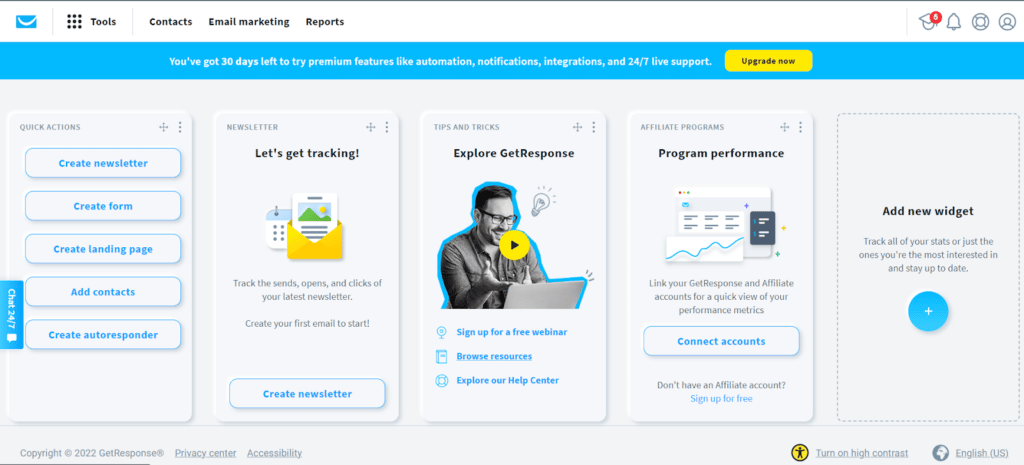 Performance and Security
GetResponse has great performance when it comes to customer support, services, or any other thing. It responds quickly to all our queries and makes sure it gives smooth services that do not cause disruptions at any point in time.
Coming onto security, GetResponse offers daily backup, and the data is stored in multiple security-focused data centers, present globally. They update networks with the latest security patches and also have an eye on them with a dedicated network that monitors 24/7. They inspect before getting anything live.
The billing data is also protected using state-of-art encryption, and all the security measures are taken like they are at a bank. Lastly, they also offer RAIDs, redundant power supply, and redundant internet connection as well. So that the user never faces any interruption in the services.
GetResponse Templates
A single design decision should be the final one, is the thought that GetResponse portrays. You can make a theme that captures the aesthetic of your company. Create your design using a blank template or alter them as per your needs and campaign's targets.
Save time by giving your emails an identifiable and consistent look. You can also put together reusable content and create a template that you may use for various messages.
All of your stored templates are located in the dashboard, where you may examine and modify them as necessary. When creating your email, you can also choose it from the "My templates" list present in the dashboard.
Also, you can create a personalized email. Develop your call to action and include any fresh details that might interest your contacts. You might even find yourself motivated to design a fresh template.
Lastly, you can get ready-made templates as well from GetResponse's side.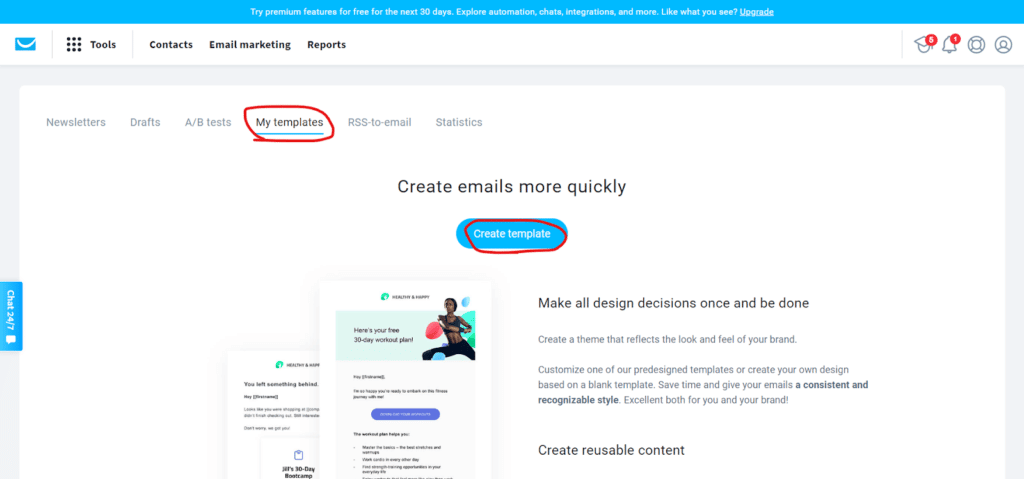 GetResponse Marketing Automation
When someone meets the criteria you specify, such as joining your list, clicking a link, or going to a website, automation messages are sent out.
Use it to greet new contacts, acknowledge customer purchases, and retrieve abandoned carts. You can send a single email or prepare a whole series to establish a long-lasting relationship with your contacts.
You can also create workflows for automated yet customized marketing campaigns with GetResponse.
A scenario that you create using conditions, actions, and filters is called a workflow. It enables you to target your contacts according to their behavior.
Customers should receive product recommendations from you on a timely basis. Like you can send a kind welcome email to your new subscribers. If they don't open an email, send them a reminder.
And automation helps you to achieve exactly that and much more. You can view workflows, automation messages, and events working from the dashboard.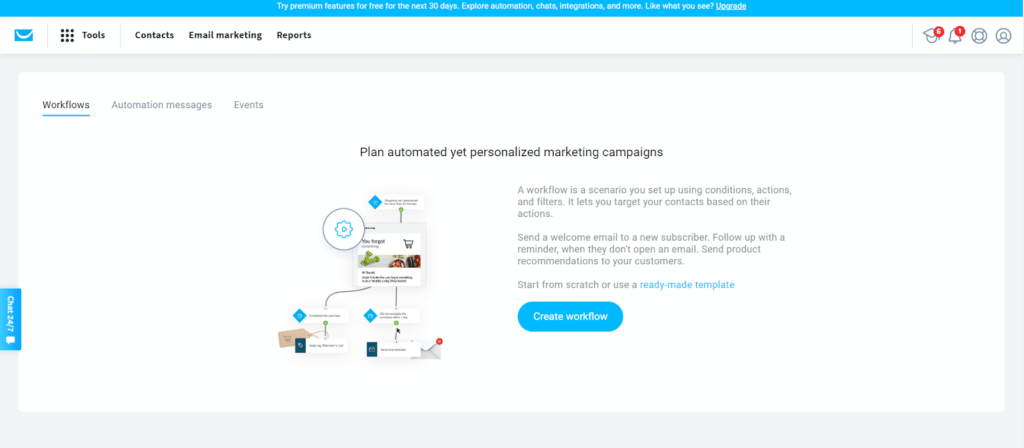 GetResponse Support
GetResponse offers various ways to resolve your problems, apart from 24/7 live chat support and emails that are quite responsive. They also offer blog posts and resources that contain guides, videos, and all.
Apart from that, they give out Webinar Library (live and on-demand sessions), a help center like a knowledgebase, and API docs.
All of this makes sure that the customer never leaves unsatisfied or without getting their problems solved from GetResponse if any!
GetResponse Features
Features are like the soul of the body. What features does GetResponse give out in their email marketing services? Let's have a look:

GetResponse Pros and Cons
If you've gone through some advantages, it's time to learn about the disadvantages of the company as well:
Pros
Free Plan 
30-day free trial 
Free tool and templates 
Various payment options; you won't get stuck here!
Responsive and 24/7 Customer Support 
Cons
No Refund Policy 
No Phone Support 
How to Get a 30-Day Free Trial from GetResponse
Automate your marketing with GetResponse without paying a single penny for the services.
Doesn't that sound amazing? Because yes! GetResponse is offering a free 30-day trial for users to get used to their brand and services. They think that users should know what they are getting into and only continue when they are sure about them.
Hence, when we started with GetResponse, we got a free trial for ourselves as well, and only after we were satisfied with their services we decided to take them up without a single doubt. As we went through the process, we knew it all.
Here's how you will have to sign up for the 30-day trial of GetResponse's services: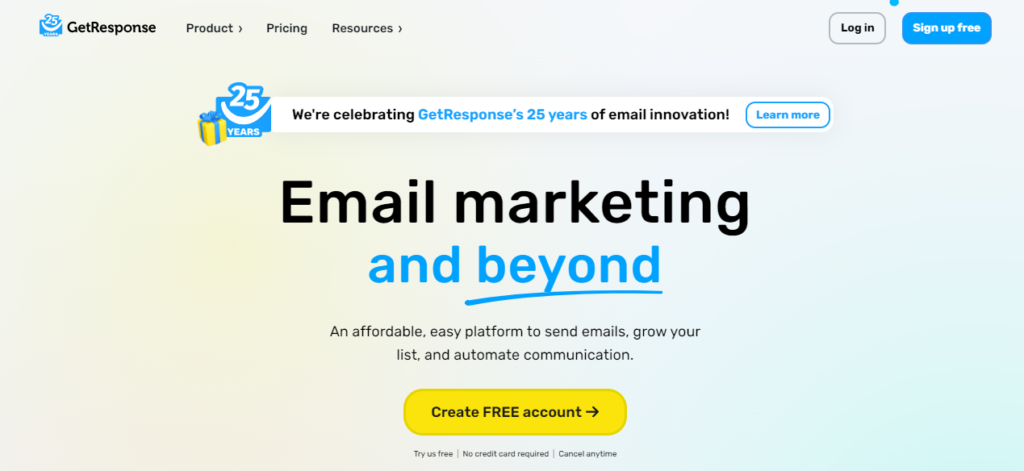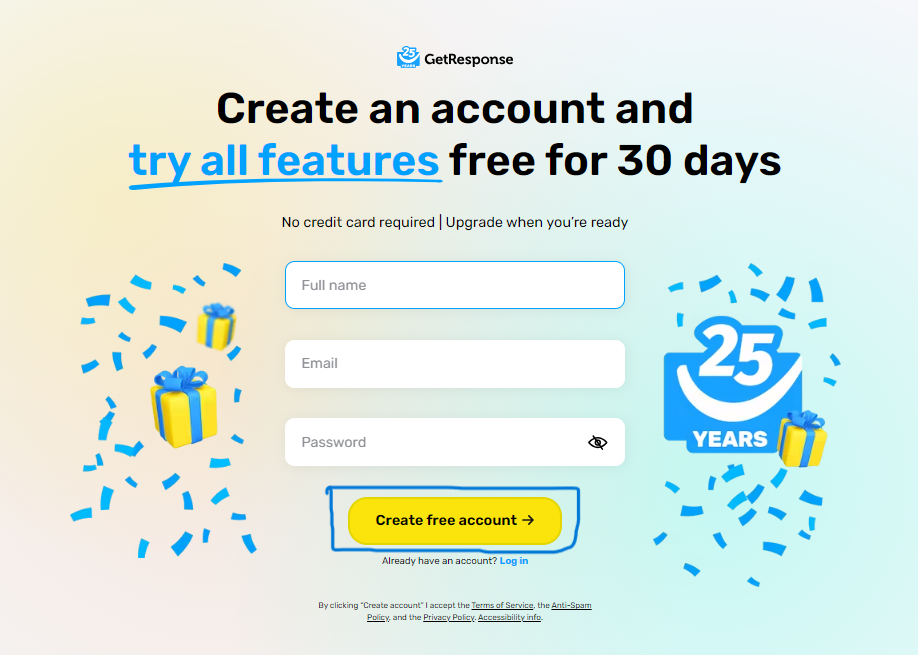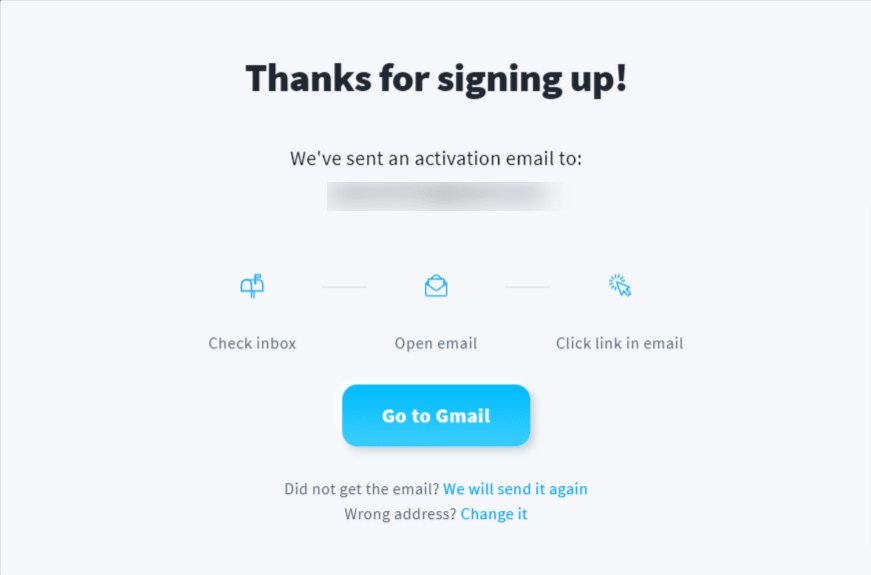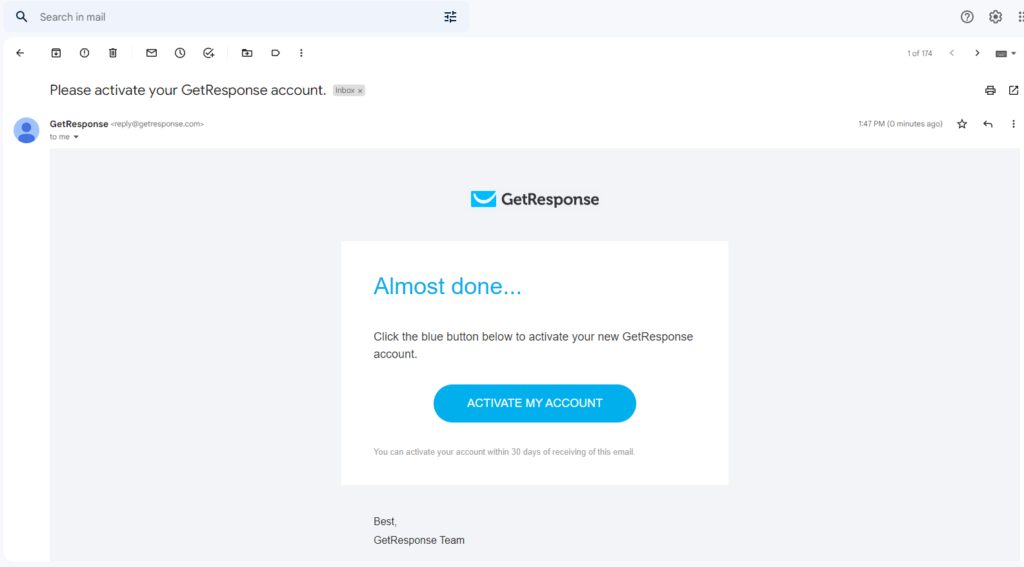 Do You Have any Contacts?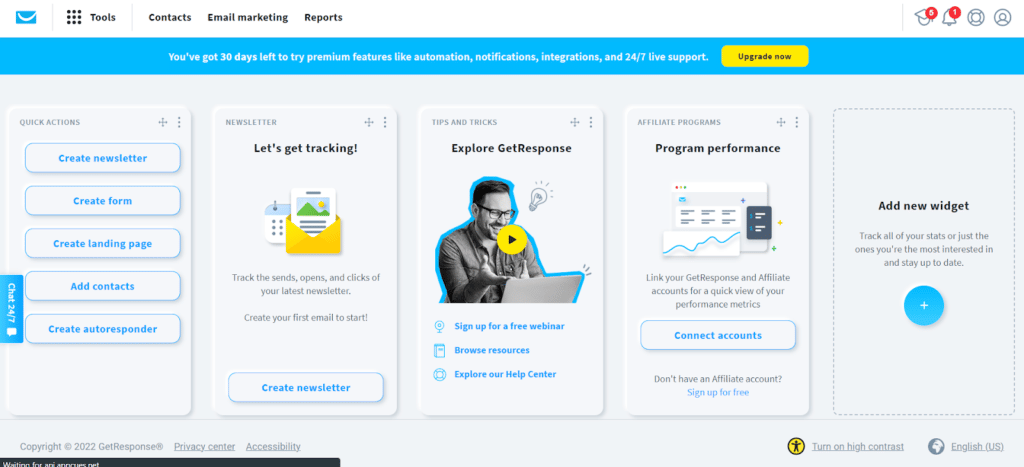 Now, for the next 30 days, you can enjoy the premium services of GetResponse without giving a single penny or even entering any credit card details!
FAQs- GetResponse Review
Why is GetResponse Popular?
GetResponse is popular because of its intuitive and easy-to-use interface and services. On top of that, you are getting premium services for free for 30 days. Who wouldn't like to grab that opportunity?
But apart from all the offers, GetResponse's services and the trust of thousands of people over them over the past 20 years and more have made them famous in the market when it comes to email marketing and other digital marketing services.
What is the refund period?
Does GetResponse Email Go To Spam?
This is what GetResponse has to say about this question.
"Rarely, but it is up to you. Many different variables contribute to whether a message goes to an inbox or the spam folder. Unfortunately, we can't guarantee the message will be delivered to the inbox as it is largely based on content and individual subscriber settings."
To avoid something like this from happening, GetResponse has given some informative blogs on them, which you can check out on their website's blog section.
How many emails can you send with GetResponse free trial?
What payment method does GetResponse accept?
GetResponse accepts various payment methods like Visa, MasterCard, Discover, Maestro, JCB, and American Express. They also accept PayPal from certain areas.
Also, here are some additional payment methods: This is what we like about GetResponse. It gives unlimited email sends with its free trials as well!
You can look at all the payment methods here: https://www.getresponse.com/help/what-payment-methods-do-you-accept.html
Final Words- GetResponse Review
One thing that we would like to say is GetResponse offers some features and services that go out of our minds, How can a company give out soo many things for free or unlimitedly?
But we guess that is what GetResponse is about! Apart from one or two glitches in the refund policy, you won't even face difficulty contacting them and solving your problems. It's a great service provider.
If we had a say in your decisions, as we did for ourselves, we would highly recommend and even make that decision for you to try out GetResponse once for your brand. If not, ahead it is solely your choice. Start from the Free trial because there's no harm in it, and see yourself and your brand getting up and above.
So, are you ready to try them out after reading this detailed GetResponse Review?