Email Marketing has been one of the most important factors when you want to grow your business and reach a greater audience.
But how to send emails to thousands of subscribers or maybe hundreds, together, with convenience and with proper template and assurance of them receiving the email?
If you want to ensure all of these and more factors that determine the success of your brand, you need to choose an email marketing agency that helps you in fulfilling this goal!
Hence, introducing our lovely readers to MailerLite, one of the best email marketing companies with over one million customers worldwide, has proven its worth with its services and trustability.
So, are you ready to read an unbiased opinion of MailerLite in this MailerLite Review?
Overview
| | |
| --- | --- |
| 😀 Free Trial | 30-day free trial |
| 💰 Starting Cost | Start with a free plan. But the premium plan comes at $9/month for up to 1,000 subscribers. |
| 🔔 Amount of Subscribers | 1,000 |
| 👨🏽‍💻 Support: | Knowledge Base and Email support |
| 💳 Payment Method | PayPal, Credit and Debit cards |
| ♻️ Refund Policy | 30-day money-back guarantee with terms and conditions |
About MailerLite
MailerLite started as a web design company in 2005, and later realised how important email marketing was becoming for them to come to this field.
So, in 2010, they went into the email marketing business and until now has grown with more than 1 million users worldwide. MailerLite offers clean designs, an easy-to-use content editor and intuitive solutions for complicated tasks.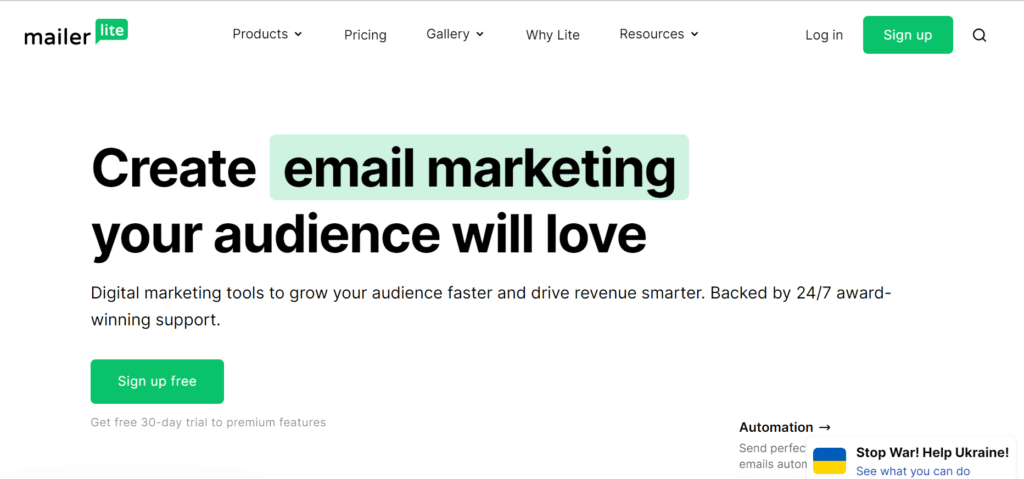 While going along with email campaigns, selling digital products and doing a lot more, you can even track the results of all your activities with MailerLite.
Hence, we can say this company has given a lot to the market. It's now the time for the rest of us to look for an email marketing agency to provide MailerLite with a try, as we did after knowing some better factors. They are mentioned ahead for you all as well.
Grab a 30-day Free Trial from MailerLite.
Before taking up their services permanently, we decided to take up the free 30-day trial to test and try MailerLite and then move ahead with trust and reliability.
How did we get through the whole getting the 30-day free trial process? We've written the whole process step-wise for a better understanding: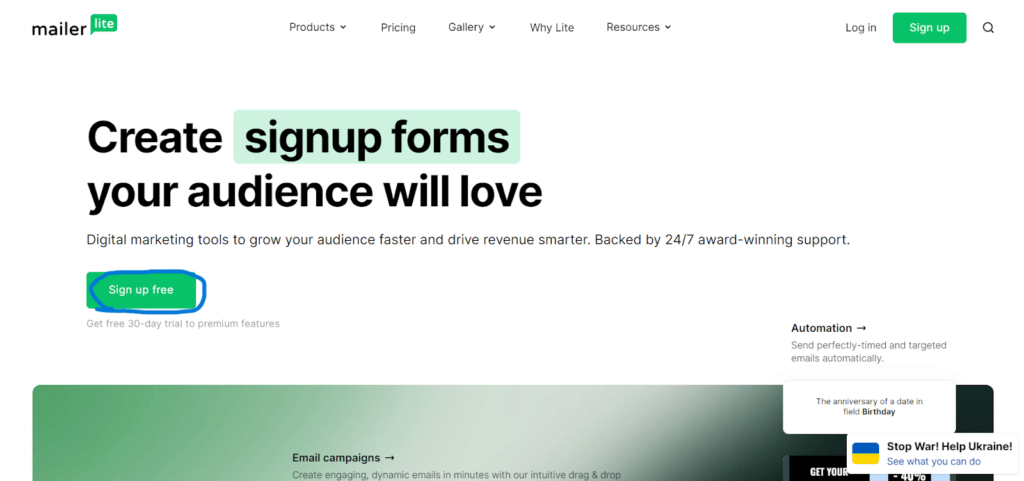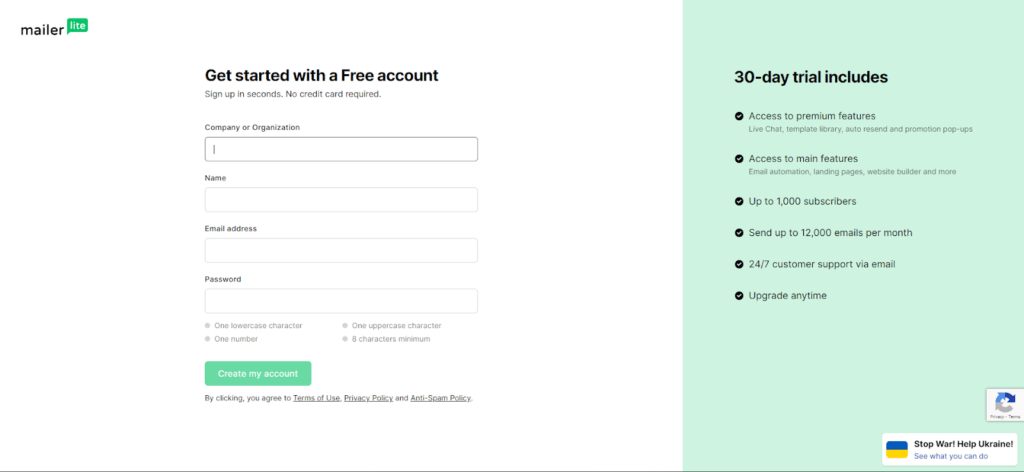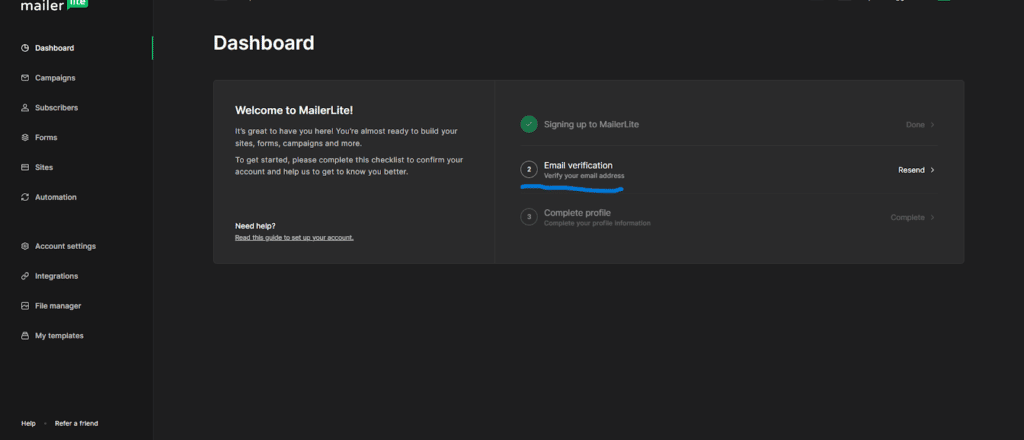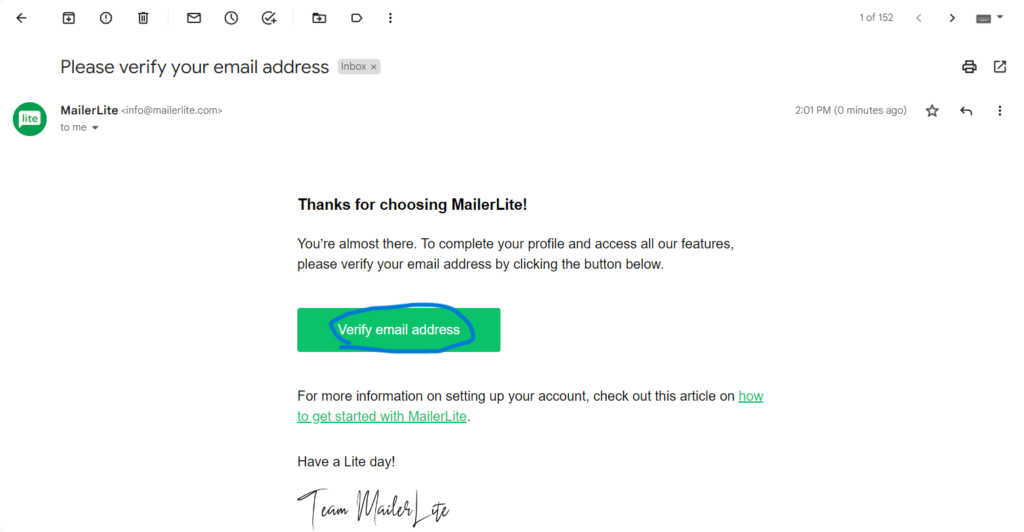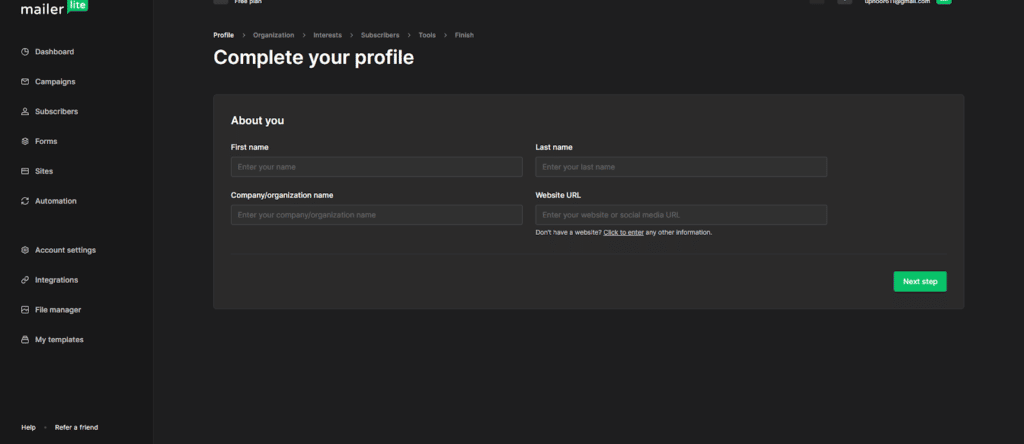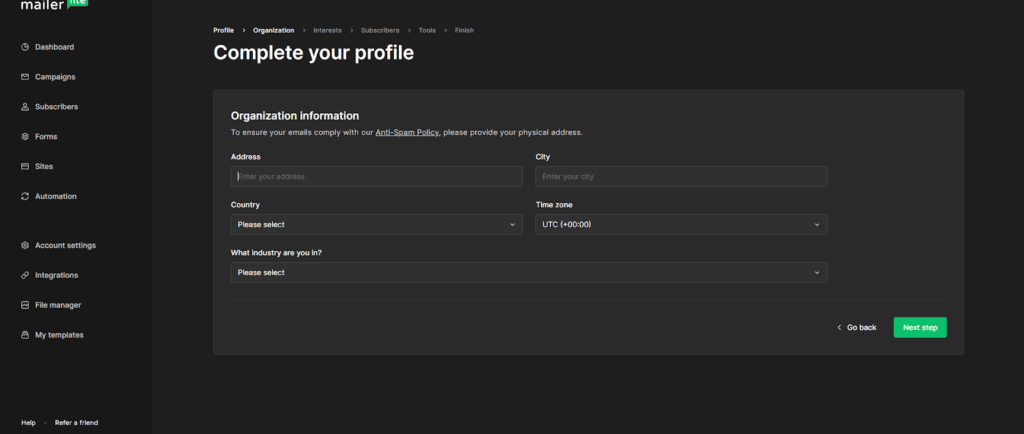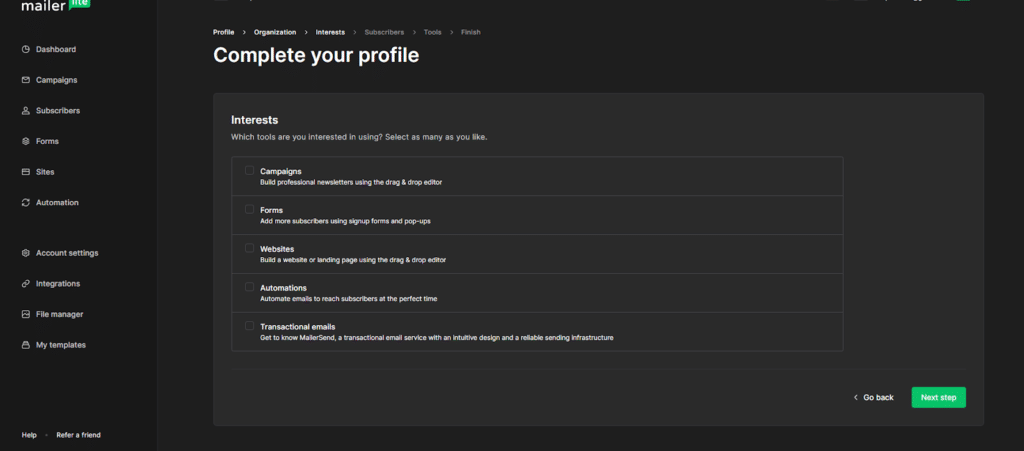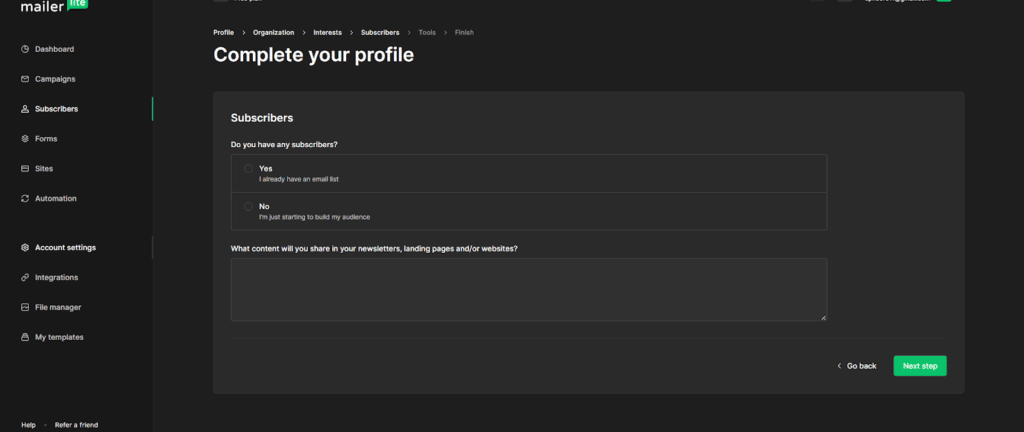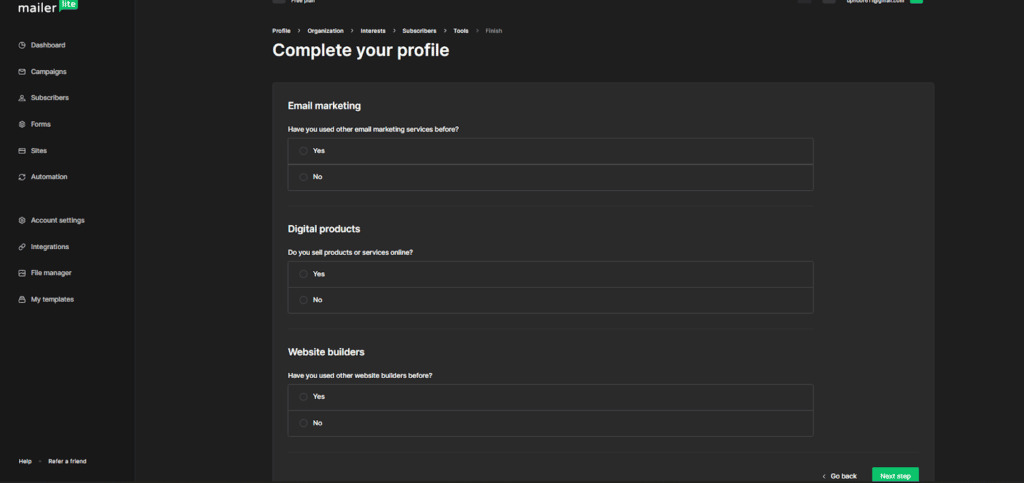 MailerLite's Anti-Spam Policy, you need to agree on this after reading their terms to continue.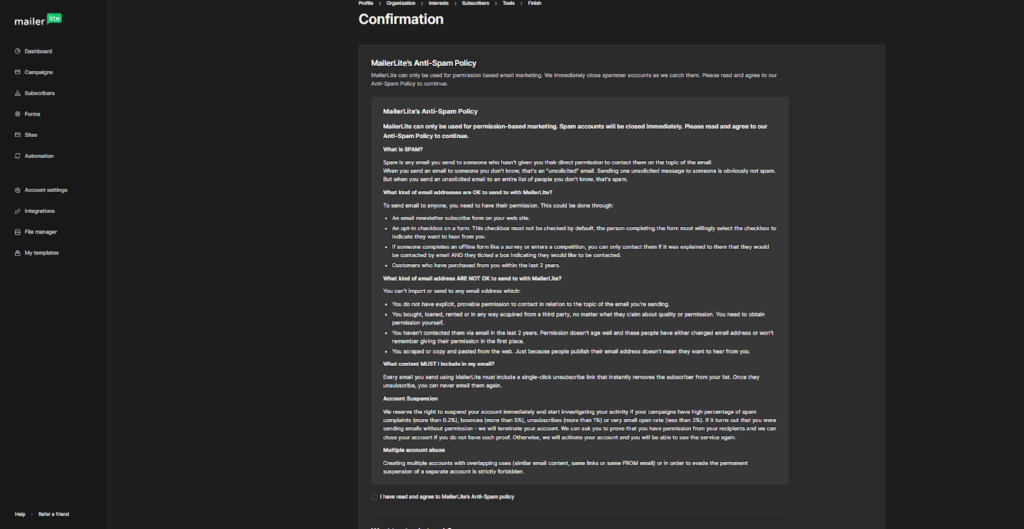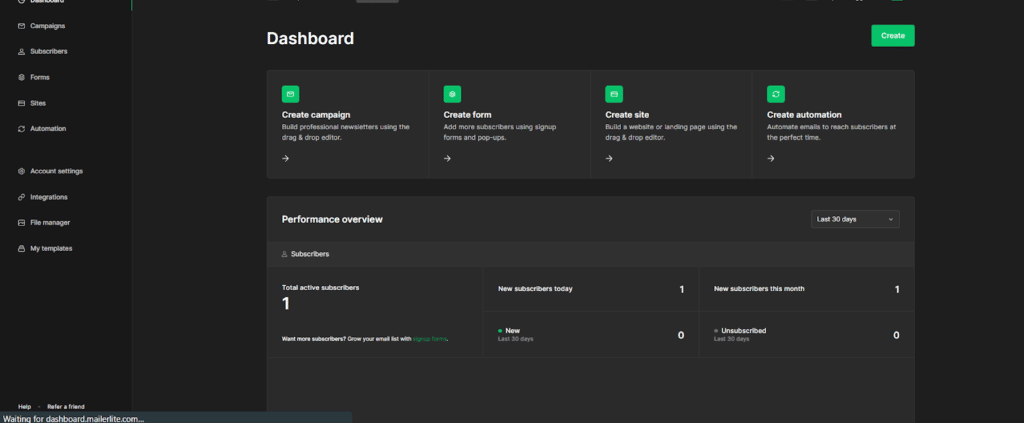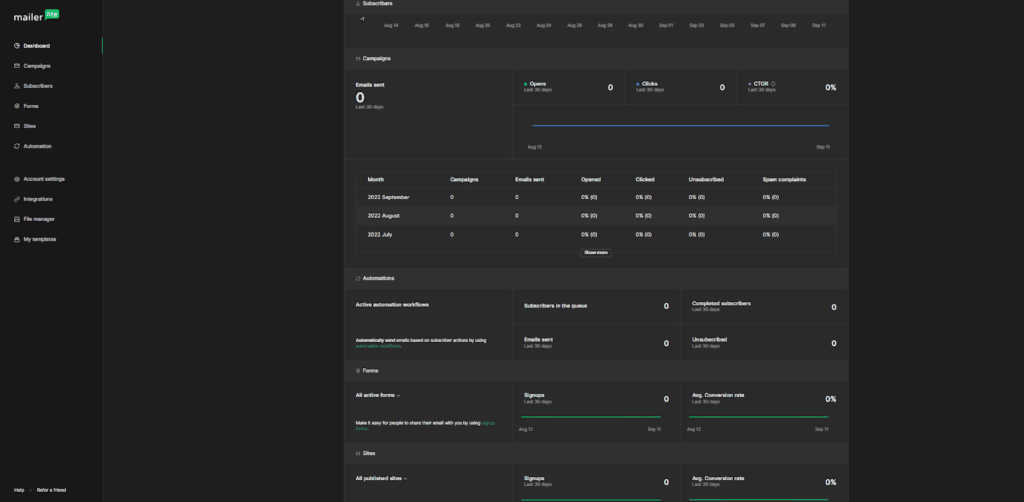 And Tada! You will successfully grab the 30-day free trial of MailerLite's email marketing services for the next 30 days, and that too for FREE!
MailerLite Pricing and Plans
MailerLite allow you to customize your plan according to the number of subscribers with the subscriber scale they have provided.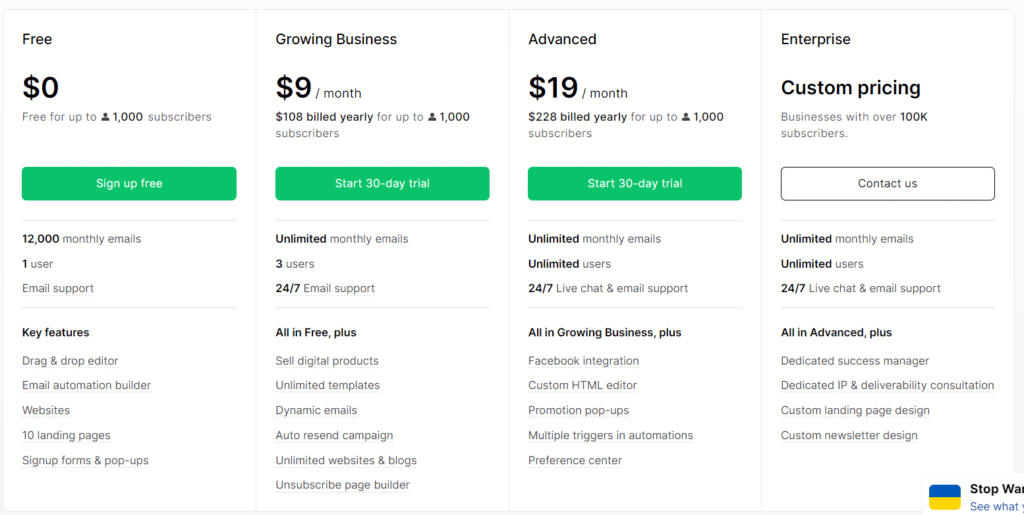 Let's look into the plans and prices for subscribers up to 1,000:
Free: If your subscribers are 1,000 or under them, MailerLite gives out its services for free!
12,000 monthly emails
1 user
Email support
Drag & drop editor
Email automation builder
Websites
10 landing pages
Signup forms & pop-ups
Growing Business: $9/month
All the features of FREE, plus:
Unlimited monthly emails
3 users
24/7 Email support
Sell digital products
Unlimited templates
Dynamic emails
Auto resend campaign
Unlimited websites & blogs
Unsubscribe page builder
Advanced: $19/month
All the features of Growing Business, plus
Unlimited monthly emails
Unlimited users
24/7 Live chat & email support
Facebook integration
Custom HTML editor
Promotion pop-ups
Multiple triggers in automation
Preference center
Enterprise: Custom Pricing for more than 100K subscribers
All the features in Advanced, plus
Unlimited monthly emails
Unlimited users
24/7 Live chat & email support
Dedicated success manager
Dedicated IP & deliverability consultation
Custom landing page design
Custom newsletter design
Easy To Use Interface
MailerLite is a beginner-friendly as well as a service for advanced users. It has a clean design and user-friendly features.
It's easy to set up while you just enter and go on with self-explanatory steps and basic information. Apart from that, it has a drag-and-drop interface while you determine the growth of the subscribers.
All in all, they have an easy-to-use interface and can be operated by anyone who is interested in their services easily.
Performance and Security
Talking about MailerLite's performance, they give a well-laid-out service with proper customer support, ensuring continuous service without interruptions.
They make sure that the user has a smooth working with them. And when it comes to security, they talk in detail about the security measures they offer.
MailerLite ensures compliance with international law requirements. The data center has an information storage security certificate (ISO 27001), which makes sure that your data is safe and secure.
Apart from this, it also has encrypted SSL, encrypts data and is under GDPR compliance as well. Hence, MailerLite's security is quite tight and trustworthy!
MailerLite Landing Page Builder
MailLite's Landing Page Builder provides a custom landing pages option with a free drag-and-drop builder. When you get a custom domain, it will do nothing but gain more trustability.
With these services, you can build, promote and optimize landing pages that generate sales for your business. It has easy-to-use optimization and analysis along with tools like google analytics, Strip analytics, SEO, A/B testing, Facebook pixels and more!
Apart from all this, they offer templates for every purpose and niche, so you won't ever go out of options with MailerLite.
MailerLite Templates
With the help of these well-created templates, you can begin creating your own websites, landing pages, and newsletters.
Simply select your preferred template and edit it to reflect your brand. You'll be prepared to offer your company a polished and personable appearance in a matter of minutes.
They offer 40+ templates that you can customise as well and make the best one according to your brand and niche.
MailerLite Automations
MailerLite provides email automation that is multi-triggered. It improves customer retention and in building automated email workflows. The triggered email can be sent on any occasion or when something new is introduced.
The user can track and improve the results of the email marketing performance with MailerLite's automation features, and it's easy for the developers to integrate various tools and apps with email marketing.
MailerLite Support
MailerLite's support comes at an average stage. They have an extensive knowledge base through which you can find the answers to your queries.
And if you can't find them there, the next step you can take is to mail them. It may take time for them to reply to your mail, but once they do, you will surely get a solution.
MailerLite Features
After looking at almost every aspect of MailerLite, we jump onto the main thing- features. They define how a service is and why you should be choosing that company.
To meet the customers' needs, they develop solutions with cutting-edge capability, but MailerLite also goes above and beyond to make sure their tools are simple for you to use.
Choose one of three editors to produce persuasive campaigns.
E-commerce platforms like Shopify, WooCommerce, or Stripe should be integrated to gain profits, and you can do that easily with MailerLite.
Create complex marketing workflows with ease using the user-friendly automation builder.
Sending tailored material to every subscriber is the secret to successful marketing. Also, keep an eye on campaign results to determine what's important for your brand.
Choose one of three editors to produce persuasive campaigns. Create custom campaigns with the HTML editor, add extra personality with a rich-text email, or use their drag-and-drop editor with interactive content blocks.
MailerLite Pros and Cons
Everything has two sides, one bad and one good. Even humans have so. So, don't you think products and services must have the same thing as well? Yes, right?
Hence, we again analysed, and after testing them when we were using their services, we came across some spectacular things, but there were some places where we thought that things could be improved.
Here's an honest opinion :
Pros
30-day free trial
Various unique templates (custom)
Mobile optimization 
SSL encryption 
GDPR Compliance 
Cons
No live chat option until you log in for a free trial or their services 
Lacks advanced automation 
FAQs – MailerLite Review
Is MailerLite Good? 
Yes, we can say that MailerLite is quite efficient in making users utilize their services. Giving a 30-day free trial with confidence, they know customers would love their services and stay back. Overall, their features and the way they passed our tests make them good to go!
How to cancel the MailerLite account?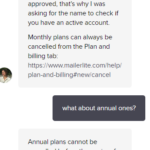 How many emails can you send with MailerLite?
The email you can send per month can be up to 12,000 within the subscribers you have, that is, 1000 with the free plan. But you can send an unlimited number of emails with any of its premium plans, the restriction is on the number of subscribers you choose. Otherwise, you can send an unlimited email within your subscribers.
How many subscribers can you have on MailerLite?
You can start from 1,000 subscribers and go up to 500K subscribers. It all depends on your needs as per the subscribers your brand has.
How do I sign up for MailerLite?
It's easy to sign up with MailerLite. You will have to put in your email and set a password, and that's how you'll get onto a dashboard, successfully logged in.
The further process will be according to what you want to do, but they are again very easy and self-explanatory steps.
Does MailerLite have a live chat?
Yes, MailerLite has a live chat option. After you log in and get on the dashboard, only you can access it their live chat option. But, all-in-all, it's quite responsive.
Final Words – MailerLite Review
Finally, we would like to sum up this MailerLite Review with some positivity. Hence, MailerLite is worth a try, and after a 30-day trial, if you still like their services, then you must get on board with them without giving it a second thought.
But make sure all your needs are getting fulfilled. Because compromising on anything should not be a thing, as we still have many great email marketing providers in the market and those that we have discussed in our other reviews.
Lastly, make an informed decision. MailerLite can be one as well!