Doing something yourself is what will make you proud of your capabilities and talent. But when it comes to building a creative and innovative website for yourself, you must think that it's difficult and needs a technical mind, but what if we tell you that's not the case?
Yes! You need not need technical expertise or be a technician to build a website by yourself before getting it hosted by a hosting provider because that is where you'll need help, not before that while you create your website layouts and the way it'll be portrayed in front of the visitors.
Hence, here we introduce you to some DIY Website Builder providers that may help you create a website as you must have imagined!
7 Best DIY Website Builder Provider in 2022
We found the best from the lot and listed it here to understand this software better. Also, we did not want our readers to wander about but directly land on some of the Best DIY website Builder providers. Hence, here we are with a list of DIY website Builders to choose the one which perfectly suits your needs:
1. WordPress – Best Free Website Builder
WordPress has everything that one may need to get started with a website. It is the world's best and most popular website builder, with almost 409M unique visitors every month.
They are here to build E-Commerce websites to ensure that their clients grow in business and succeed. With the infinite features, combinations, and possibilities, you can simply go online with WordPress' support and power.
Also, you can easily access WordPress from any place at any time. They are also available through a WordPress application available for iOS and Android.
Ease of Use and Interface
The WordPress dashboard is logical and simple, even for newbies. The terms on the side panel are self-explanatory, as are the functions they perform. WordPress tells you when your plugins need to be updated and makes it simple to update them all at once.
Hence, it is really easy to use and self-explanatory. Hence, it's simple to understand the interface.
Features
Here are some features that built WordPress to be the most famous website builder worldwide:

🔶 Create a robust website: Build a site as per your choice, whether a blog, portfolio, business, or any type you want!

🔶 Plans for all budgets: Starting from free! WordPress has some premium plans to work at an upgraded level with advanced SEO tools, security, and various customizations.

🔶 Custom Domains: Manage your custom domain to ensure your space on the internet from WordPress.com

🔶 Built-in social media sharing: You can automatically send new or latest posts to Facebook, Instagram, Twitter, and other social media apps to help readers share your work.

🔶 Search Engine Optimized: WordPress provides built-in sitemaps and all other SEO tools, which will help more and more people visit your website and increase traffic.
Price And Plans
WordPress.com gives all it can, and that too for free! Users can start as a novice with free access to WordPress and gain knowledge about it until they are ready to upgrade their website with advanced features once they get famous.
Here are the WordPress Premium plans that you can opt for offered by WordPress.com: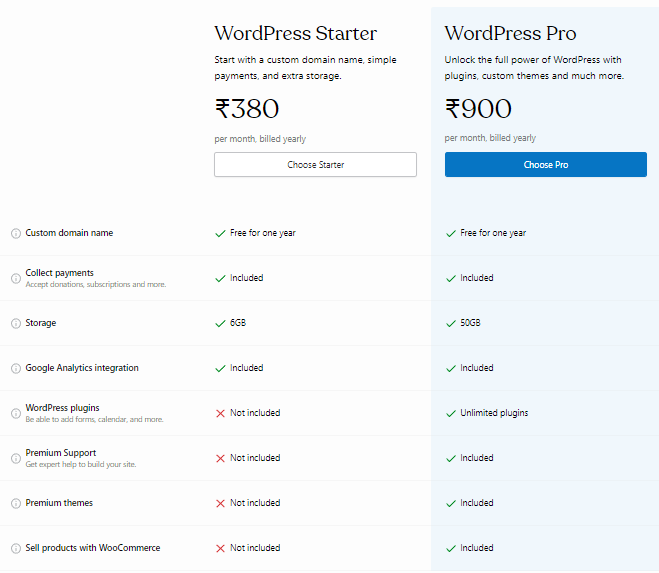 Important Note: Website Builder prices are updated frequently. So, I request you to verify the pricing by visiting the respective websites.
*Prices mentioned in Indian Rupees. It can be converted to any currency.
---
2. Wix- Best Free DIY Website Builder
With Wix, you have the freedom to design, manage, and create the development of your website all in the way you want it to be. You can optimize your search engine, edit mobile view, customize your website and add advanced features with the premium plans of Wix.
With over 500 customizable website templates and other features, Wix has successfully created free websites for over 180 million clients. The most admirable thing that Wix offers is a 14-day free trial without a credit card required so that people can test and try before moving on with Wix permanently.
Ease of Use and Interface
Wix is one of the greatest builds your own website programs because it allows even a novice website builder to create a website that a professional website designer appears to have developed. It has an easy-to-use interface with various steps which lead you to understand anything you want.
Features
Wix offers some great features in it free as well as premium plans.

🔶 Let's look into them:Wix Editor: The 500+ customizations with the world's most innovative drag and drop website builder, the user can design any type of website with Wix.

🔶 Unique Templates: There are over 500 templates to customize your website with.

🔶 Mobile Optimization: The website you create on Wix will look great on any kind of device.

🔶 Unlimited Fonts: There's never a scarcity of anything with Wix. You can express your content with over 100 fonts or even upload one of your own.

🔶 Designing Freedom: The innovative drag and drop option gives users the freedom to create their own website.

🔶 Advanced SEO tools: Availability of built-in SEO tools to drive organic traffic are available with Wix plans.
Price And Plans
Wix starts with a free plan too! It also allows users to avail themselves of a 14-day free trial offer and decide what they want.
For upgrades, and when the time comes, the user can always switch to the premium plans offered by Wix. Here's a look at those plans:
Important Note:  Website Builder prices are updated frequently. So, I request you to verify the pricing by visiting the respective websites.
---
3. Weebly – Easy-To-Use Site Builder
Weebly was established in 2007 and was taken over by Square later in 2018. Weebly is one of the most famous website builders, which in competition with others, is pretty easy and efficient to use.
It offers website and e-commerce services powering 50+ million sites globally. It's a process of idea-launch-growth because Weebly can be used at any time and anywhere with multiple administrators to carry on the process.
Ease of Use and Interface
Weebly site builders can customize their sites with a variety of designs. It is easier to use than many of its competitors.
It's an excellent framework for sites with several administrators. The online store format, which is extremely simple to set up, will appeal to product sellers.
Features
Features that make Weebly a choice of 50 million people and so on.

🔶 Drag and Drop Editor: Simplifies the process of building a website that doesn't need any technical expertise. With this feature, the user can himself create an innovative website.

🔶 Search Engine Optimized Platform: The user's website is designed with search engine optimization with Weebly. Weebly sites feature an SEO-friendly HTML format, sitemap, meta descriptions, and many more things.
They also have features of advanced-level SEO. Also, to dismiss all of the user's confusion, they have an easy-to-follow guide to refer to and clear their doubts.

🔶 Free Domain and subdomain: Weebly offers a free domain with its services. It's an easy process, with no requirement of extra set-up. The user's website will go live and be visible as soon as it gets published, with the same domain name as they choose.

🔶 Powered by great design tools: Make sure that each user's website stands out without any design experience or expertise. Weebly lets its users create whatever they want with some professional and responsive website themes at their doorstep.
Price And Plans
Weebly starts by offering its package at $0, that is, for free! For further upgrades and adding more features to your plan, you can opt for one of the premium plans offered by Weebly. Let's look into them:


Important Note:  Website Builder prices are updated frequently. So, I request you to verify the pricing by visiting the respective websites.
---
4. Shopify- Best eCommerce Website Builder
It's not that easy to start a business. Also, there is uncertainty about whether you'll succeed in it or not. But here's a solution: start with Shopify and build an online presence by starting, running, and growing your business to another level.
You can sell anywhere and manage everything on your e-commerce websites like shipping of orders, payments, tracking, and all other things that an owner should look after to ensure the proper delivery of their authentic products.
Shopify also works towards the environment, pertaining to Sustainability Fund and Social Impact Initiatives to help users grow their business and help grow the environment for the better too!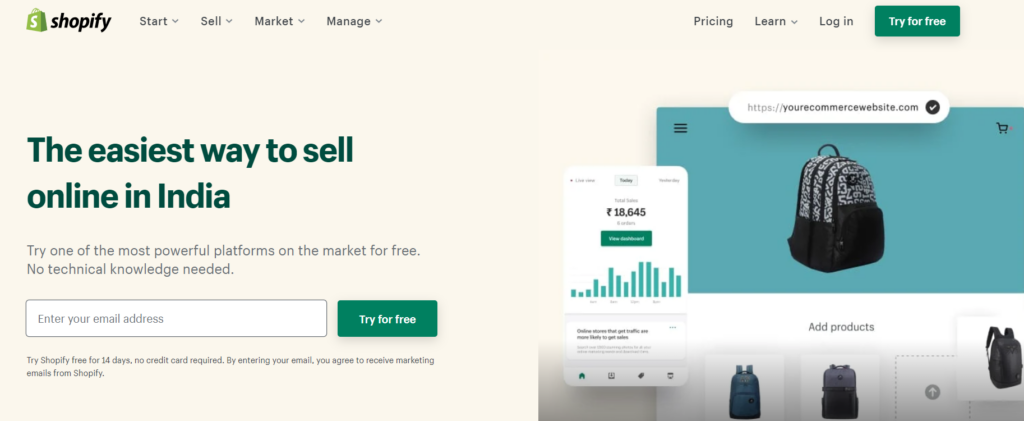 A hassle-free startup of a business, whilst knowing Shopify, has already offered millions of businesses in 175 countries worldwide.
Those businesses have made over $200 billion USD in sales using Shopify. Users can hire a Shopify expert and leave all the high ranking and growth of the business tensions to them. Isn't that amazing?
Ease of Use and Interface
Shopify is a good candidate for easy site construction for an online storefront if your site is less about content and more about product selling with an easy interface. Still, you'll need a Shopify expert to get really into it.
Shopify has a solid reputation for ensuring the safety of its customers. Shopify is also geared for speed, which means your clients will have more time to purchase more of your products.
Features
Shopify's features that make them the best online e-commerce website builders:

🔶 Mobile e-commerce ready: The website will be easily accessible through mobile phones, letting buyers purchase the products quickly and wholeheartedly.

🔶 Free SSL Certificate: With a free 256-bit SSL Certificate, Shopify ensures that your website, pages, credit card details of your customers, content, and all transaction information remain protected just like a bank protects your money.

🔶 Search Engine Optimized: SEO's best practices like title, H1, and meta title are used while building sites with Shopify. It aims to get your website ranked higher in all search engines.

🔶 Web-based website builder: Build your online store with a complete-featured content management system. You can easily host your website on Shopify.

🔶 One hundred payment gateways: Any payment source that may be Bitcoin, PayPal, or others, Shopify is compatible with over 100 payment gateways so that no one in this world will have to face any payment-related problem while purchasing from Shopify.
Price And Plans
With a 14-day free trial and a free package, Shopify also has some premium plans with advanced features for its users when they need to upgrade their website as per its run.
Here's a good look at the plans offered by Shopify:

Important Note:  Website Builder prices are updated frequently. So, I request you to verify the pricing by visiting the respective websites.
---
5. Zyro – Best Website Builder in India
Zyro's commercial functions are useful, and its artificial intelligence (AI) characteristics make it easier to use. Zyro plans come with a 30-day money-back guarantee so that you can give them a go without risk.
Every Zyro plan offers a full array of AI technologies, making it stand out. Furthermore, Zyro comes with powerful marketing capabilities, including the ability to communicate with clients via Facebook, WhatsApp, and Google Analytics.
Ease of Use and Interface
The business and Artificial Intelligence features make it easy for the clients to use Zyro and create a website of their own with proper guidelines and assistance, facing no difficulties as such.
Features
Features that make Zyro one of the best website builders with the most beautiful templates to offer:

🔶 24/7 Customer Support: Zyro is up all day and night to solve every query of their existing and potential visitors. Their team of experts is there to resolve any issue without taking much time or causing the user disturbance.

🔶 1 million+ free website images: Free website images are available to be used by Zyro clients. To create an innovative and attractive website, what's better than adding pictures?

🔶 Optimize with AI Tools: With the powerful Artificial Intelligence tools, there's not much a user has to input, even when it comes to applying many brains. These tools help users draw a great website through a hassle-free process.

🔶 Intuitive template design and fast loading sites: Various website design templates are available on Zyro. It is famous for its beautiful templates. Also, Zyro tries to offer great uptimes with no interruptions on websites; instead, it makes sure that they load fast so that its users do not lose potential clients.
Price And Plans
With its 30-day money-back guarantee, you can always try Zyro and decide whether you want to continue with it or not without wasting a single penny.
The price listing of the premium plans offered by Zyro:
Important Note:  Website Builder prices are updated frequently. So, I request you to verify the pricing by visiting the respective websites.
---
6. Squarespace – Best For Smaller Websites
Squarespace's well-known templates live up to their reputation. Almost every Squarespace template includes a visually appealing portfolio or gallery where you may display your work, projects, or items.
Squarespace is great for brands trying to show ultramodern sensibility or inventiveness because its templates are the pinnacle of contemporary design. With being stated, this builder is far more than just templates. For example, all plans have unlimited bandwidth and storage.
Squarespace's e-commerce capabilities include everything you'll need to run an online store, communicate with consumers, and more remarkable features.
Ease of Use and Interface
Squarespace optimizes sites for mobile devices automatically.
Squarespace is relatively simple to use. All you need to do is follow their site-building videos, which may easily help you build a site. The Squarespace platform is adaptable enough to use almost any sector or business.
Features
🔶 Website Builder: Turn your ideas into reality. Build a professional website, portfolio, online store, or blogging site with ease with the help of Squarespace.

🔶 Customizable Templates: Templates are designed by a world-class design team to fit the needs of each and every user. Compatible with every kind of site and other factors, templates are one of Squarespace's most vital points.

🔶 Portfolio Pages: Creation of innovative landing pages that lead link visitors to sub-pages. A great way to showcase galleries, portfolio highlights, projects, and all types of content in a single place.

🔶 Drag-and-Drop Management: You can instantly add and organize images from your desktop or any other place to your browser window; it's as easy as pie.

🔶 E-Commerce in the Squarespace app: The things you can perform under the eCommerce website through the Squarespace app:
-Access orders
-Access customers and inventory
-Add products at any time
-Fulfill order
-Issue returns
-Manage stock levels
-Contact customers and solve their problems

🔶Free Domain: All Squarespace accounts, when availed for an annual package, has a free custom domain name for the first year of purchase. There are some terms and conditions involved, which you should look for on their website for more details.
Price And Plans
Squarespace gives you a chance to switch through plans at any time. Here are the extended and various plans offered by Squarespace:
Important Note:  Website Builder prices are updated frequently. So, I request you to verify the pricing by visiting the respective websites.
---
7. Jimdo- Best DIY Website Builder
Jimdo is a simple website builder that works well for simple websites rather than complex or flashy ones. Jimdo has excellent usability.
Jimdo has all of the essential elements for creating a website. However, if you want the ability to alter, customize, or design anything more complicated, the builder will rapidly become stiff.
Ease of Use and Interface
When using Jimdo, the sellers will be able to set up their store and display their goods in a matter of minutes.
The templates aren't as versatile as some users would like, but that's a minor quibble considering the more significant search engine optimization capability.
Features
Jimdos' features of website building:

🔶 Build trust with professional domain: Create a unique web address and name, withstanding your individuality, so that your clients gain trust in you and your website. Jimdo offers a free domain to its clients on their first contract term.

🔶 More pages, more impact: Customize the design of your website, and it's as simple as just clicking to get your website created and collected.

🔶 Get found on Google step-by-step: Tips to improve ranking on google and other search engines. Jimdo helps guide its clients to get ranked higher so that more and more visitors come to their website.

🔶 Expert support on your schedule: Constant support by real humans with instant solutions. You need not worry if you're stuck somewhere because Jimdo is always there to solve each of your queries.
Price And Plans
Starting from a free plan offered by Jimdo. If you want to upgrade to a professional or premium level because of the increasing traffic or decision of yours, Jimdo has some more options for you:
Important Note:  Website Builder prices are updated frequently. So, I request you to verify the pricing by visiting the respective websites.
What to Look for when choosing the Best DIY Website Builder
There are always some things that make a particular product great to use. So does a website building platform. So check whether your website building provider has all these factors and what you are looking for?
Why We Need DIY Website Builder
DIY website builders allow non-techies to design and build their own websites without knowing how to code. Whether you're an enterprise or a hobbyist, technological know-how is no longer required to get online.
FAQ- Best DIY Website Builder
What is a DIY Website Builder?
DIY- Do It Yourself website builder is a way to get your own hands-on creating a website without worrying about the technical terms or working on codes and all to get your website started.
You must work with a DIY website builder and create a website easily with drag and drop options and many more great features.
Can I build my website for free?
Of course, yes. Opt for a free plan from any of the website building providers and enjoy the services for free while making your website.
Who Really Needs DIY Website Builder?
Anyone with no knowledge of the technicalities or anything related to it will need the DIY website builder the most because it will be easy for them to make a website of their own choice without depending on someone else to make it for them.
Which is the best website builder?
As far as we could analyse and go through the ratings, prices and features of these DIY website builder providers, we can say WordPress and Wix are the best and most renowned website builders of all time, and that is for a reason.
Conclusion
We had so much fun creating this list of best DIY website Builders analysing all those beautiful and innovative providers, and knowing how and what they provide to make the internet filled with the best-looking and working websites.
Make sure you keep your requirements and the key factors a provider should have in mind before choosing a website builder. Though all the recommended website builders from our end either give you free plans, free trials, or money-back guarantees, you may not worry about taking teh right decision in the first go because you will always have time to go back and redo things.
So, what are you waiting for? Choose a website builder for yourself, make your own website and go live in no time!
Looking for Something Other than Best DIY Website Builder…..