Being technology enthusiasts, you must have heard about DigitalOcean at least once in your life, claiming it is one of the best cloud solutions and Webhosting service providers.
It attracted our eyes when we were looking for a better web hosting solution than our previous one. We looked at DigitalOcean but could not understand how it works. So we decided to try its services personally and conclude whether it is good to opt for it or not.
Here's more information in this DigitalOcean review.
About DigitalOcean
DigitalOcean is a very compelling service provider that provides advanced services with best-in-class infrastructure and a commitment to high quality.
It is a cloud-based service provider founded in 2011 to make cloud infrastructure available to all. Whether you are a pro developer or an entrepreneur — with DigitalOcean, you can easily launch your application or website on the internet.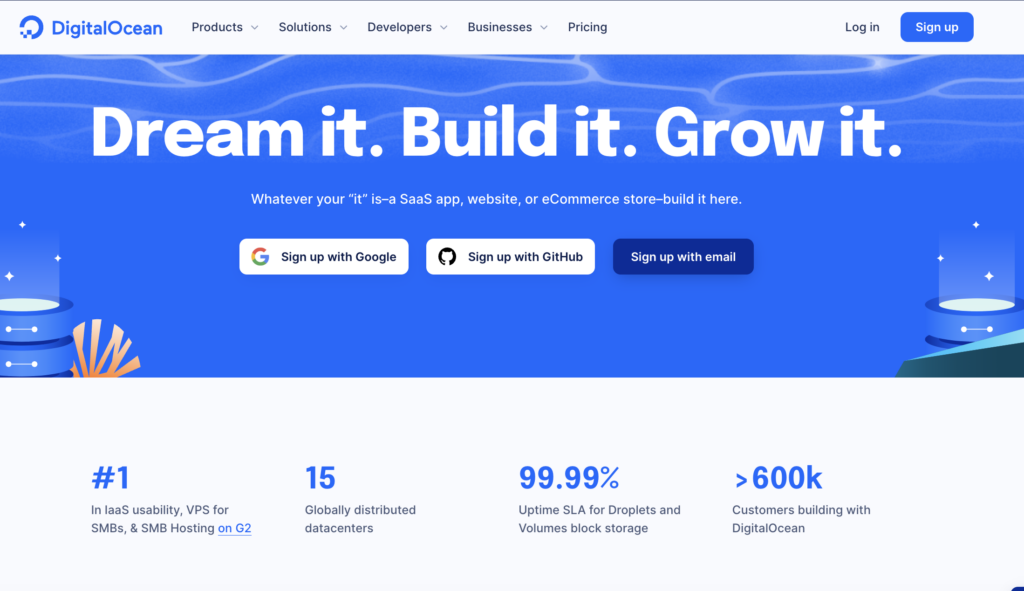 Launching its first servers in 2011, it has expanded to more than 185 countries and has served over 600,000 customers, thanks to its robust and blazing fast infrastructure and data centers — globally distributed at 14 locations.
Its features like 99.95% uptime, lightning-fast loading speed and top-notch security have made DigitalOcean one of the top picks among technology enthusiasts.
Recently DigitalOcean acquired cloudways for $350 million to provide extra options to their customer.
Test and Analysis for DigitalOcean
Here in this section, we have analysed its services on many different scales, from its user interface to its customer support — we have covered everything in detail below.
User Interface
While writing the DigitalOcean review, the first thing which attracted our eye was its elegant user interface — we found everything well-labelled and well organised, making it very easy to understand and user-friendly.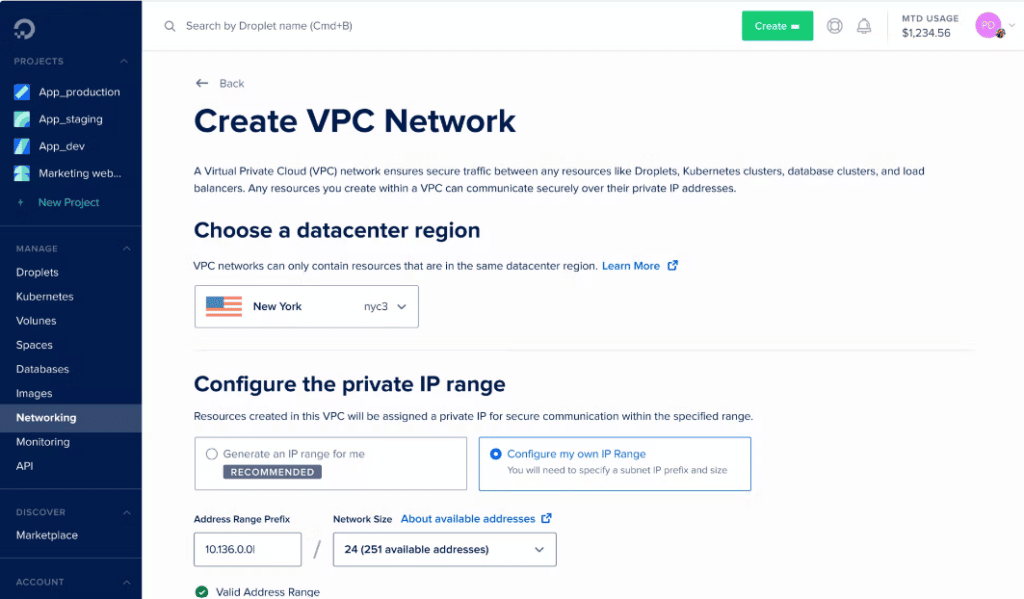 In addition, the console they provide also looks very beautiful and stylish, making it easy to manage everything with a single console — you can see that in the mentioned image.
Security Analysis
But not every beautiful thing can be safe too, so the next we analysed was its security features in order to ensure the services are safe to use — we found the mentioned features backing its services.
These features are unique in the market, making the security of particular infrastructure as strong as possible. So just sit and relax! Your application will be safe in their hands.
Customer Support
To help you in every situation, DigitalOcean provides a team of best-in-class technical experts dedicated to providing you with 24*7 support via ticket and mail.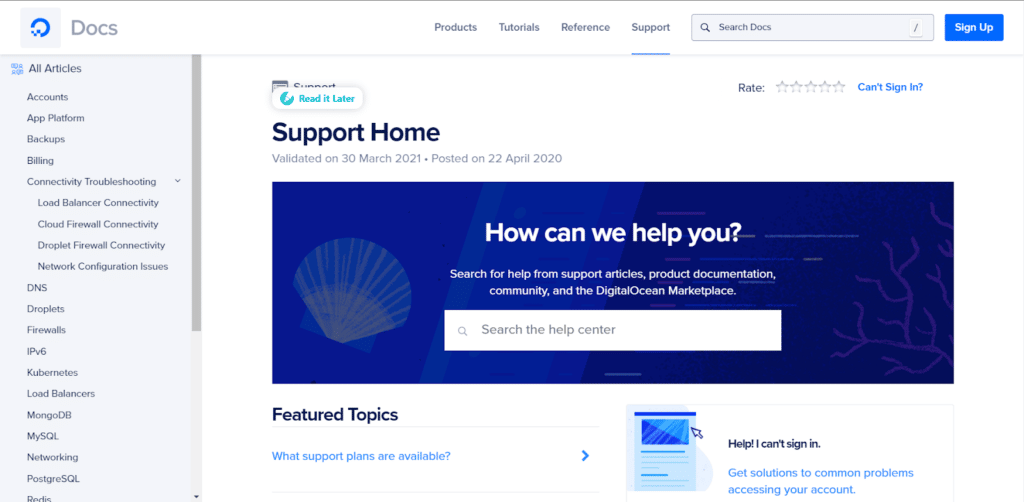 In addition, it has created a separate knowledge base loaded with all the information or material which will help you get out of your problem related to their services.
DigitalOcean Data Centers Location
Data centers play a vital role when performance is concerned — to provide fast loading speed, better storage and ultra-secure services, companies choose the best data center locations possible.
DigitalOcean has chosen a total of 13 data center locations all across the globe, which we have mentioned below.
These locations mentioned above have the best-in-class infrastructure to use.
Key Features of DigitalOcean Hosting
If we dig out the reason for the ultra-fast performance, it will result in the features that back their services.
Here in this section, we have mentioned some of the best features which are included in their services.
DigitalOcean Refund Policy
After analysing their service and solution, we found that no money-back guarantee or refund policy exists in their services.
But you can contact to their customer to get a better solution of your problem — if the fault is from services or infrastructure.
DigitalOcean Pros & Cons
Till here we have found their services undoubtedly great, isn't it? But to get a better picture, let's analyse their pros and cons, which are as follows.
Pros
Completely works on cloud engine
Instant deployment
Reliable services
Top-notch security 
Automatic backup system
Excellent documentation and database. 
Cons
Not beginner friendly 
No live chat or call support. 
Lacks some basic web hosting features like free domain, free migration etc. 
Should you choose DigitalOcean for Your Website?
Yes……
If you are fond of web technologies, cloud solutions and entrepreneurship, then Digital Ocean is the best option for you. It provides amazing customisable solutions that can be optimised and boost your resources to create innovative, cutting-edge technological products.
But if you are a beginner looking to make your web presence for just blogging or small businesses, then we will recommend you may look for some better options than Digital Ocean.
FAQs : DigitalOcean Review
Is DigitalOcean safe and legit?
Yes, DigitalOcean provides a genuine solution to the market with powerful security features, making it a trustable and reliable service provider.
How Much Does DigitalOceanCost?
When it comes to web hosting services, it provides customisable plans that is decided based on the resources you choose.
Does DigitalOcean offers Free trial?
Yes, DigitalOcean does provide a free trial for 60-days.
What DigitalOcean hosting plan is best for a beginner?
We will not suggest beginners use their services because many customisation settings, Kubernetes and many more solutions can get confusing for beginners.
Does DigitalOcean Hosting Offer Extra Services?
Yes, DigitalOcean provides many amazing solutions other than web hosting services such as Cloud solutions, database solution and much more.
Does DigitalOcean offer free website migrations?
No, DigitalOcean does not provide any free website migration but it definitely provides intuitive platform to launch your website with robust performance.
Conclusion : DigitalOcean Review
In addition to cutting-edge solutions, DigitalOcean provides amazing developer-friendly customisation options that help to boost the website's performance as per the needs — making it one of the most popular service providers in the market.
But here, with a note, we will suggest you look at easier options if you are a beginner and searching for easy web hosting solutions — since DigitalOcean provides ultra-advance configuration options that may not be easy to understand for beginners.
We tried to put almost every piece of information in this DigitalOcean review to help better understand its services.