In search of a bare metal server? Or a server that has instant deployment and good security features? Today might be your lucky day.
BudgetVM is a hosting service provider that offers various hosting services at competitive prices.
Their instant deployment helps you deploy servers in minutes. Is it true, or is something going on under the hoods?
Let's start our BudgetVM review and find out about various aspects of this Hosting Service.
About BudgetVM
BudgetVM has been in service for 15 years. They have clients in more than 130 countries.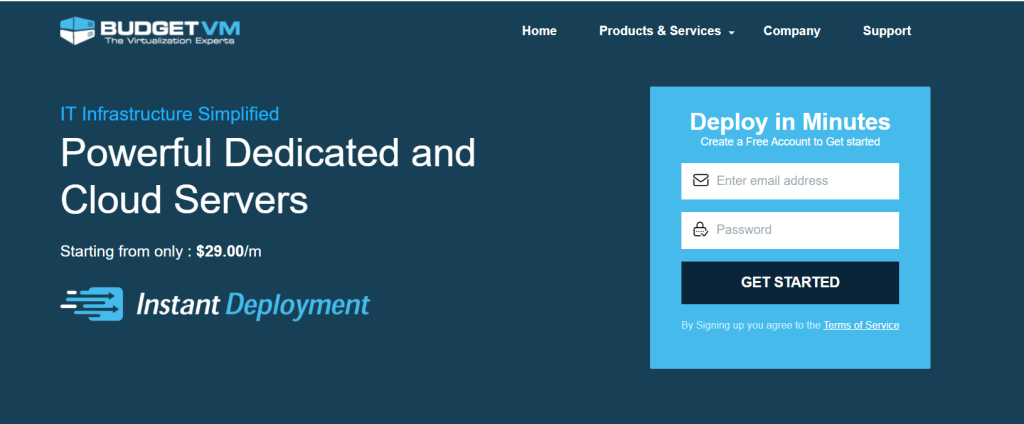 BudgetVM's core values are "Trust & Respect", "Innovation", and"Transparency". This hosting service provider claims to abide by those values and provide its users with the best service they can.
Moreover, they currently have 5 data centers that provide exceptional speed and brilliant customer support to all its users.
Test and Analysis
User Interface & Ease of Use
The user interface will decide how quickly you can do a specific task. With a good UI, you would be able to understand it quickly, and you would be able to get started with your work.
BudgetVM uses its APEX portal as a centralized control panel to control various aspects of your service. They have 64 and even 32bit versions of Operating Systems. Furthermore, you will find relatively modern versions of Windows and Linux.
BudgetVM Customer Support
Besides User Interface, you also might want good customer support to pair with the service. This is very important when something has gone wrong, and you can't seem to fix it.
BudgetVM offers its users 24/7 support. Their Website has a Live chat that makes sure that all your queries are answered as quickly as possible.
They also have a mobile number listed on their website. Furthermore, this hosting service provider also promises a 15-minute ticket response time.
Security Analysis
Security is a big deal both for privacy-focused people and businesses. A secure service not only protects your data but also ensures uptime.
For their DDoS Protection, they state-
"Your SSD VPS Cloud Server will be protected against DDOS attacks by our 1,800 Gbps Denial of Service Mitigation system." SLA also binds them to provide 100% network uptime.
BudgetVM has quite modern versions of Operating Systems, which support various OS. So, you can choose for yourself what you prefer.
Core Features of BudgetVM
BudgetVM Hosting Pros & Cons
Pros
Fast Activation of service.
DDoS Protection
Multiple payment options are available
Cons
The server is only situated in two countries. 
Frequently Asked Questions – BudgetVM Review
What payment options are supported?
These are the payment methods accepted by BudgetVM-
Paypal
Alipay
BTC
Credit Card
VISA
Master Card
Matero
American Express
What control panel options are available?
BudgetVM Review: BudgetVM uses its own APEX portal to control various things of its service.
Why should I use a dedicated server instead of a cloud server?
Cloud hosting gets you a virtualized server, and resources are shared among many users.
But if you use a dedicated server, you get access to a dedicated piece of server solely dedicated to you.
And cloud services can change location depending on availability and your plan, but Dedicated servers are always in the same place.
Is DDoS protection included with the server? What is the limit?
Yes, BudgetVM has DDoS protection included with their service. Their Dedicated servers come with 1800 Gbps Denial of service migration attack.
Conclusion – BudgetVM Review
Do you think BudgetVM is the correct service for you? Did we leave anything out? BudgetVM is a great service with features like DDoS protection, fast deployment, multiple payment methods, and much more. Especially if you live near North America or Japan, this service might be just for you as their servers are currently in these two countries.
They have the best live chat support you will ever come across. With a simple click of the button and you can ask away all your queries. Also, they only have a 7 day refund policy which might not be the best but you can always get your money back if you are not satisfied with their service.