Cloud Computing has been the preferred technology for hosting organizational data and resources for quite a few years.
It's a more accessible, secure, and cost-effective way of data and website management, and people love it for its all-time availability based on demand. So, the surfacing of companies that offer such cloud computing resources and servers was normal.
One such company is Cherry Servers. It is a web hosting company engaged in providing cutting-edge cloud solutions and services.
Let us acquaint you more about this company with this detailed Cherry Servers review that will take you through everything you need to know to analyze whether this is the cloud computing solution you need or not.
About Cherry Servers
Cloud technology is the future. However, many vendors lock in the customers without offering them any control over the servers.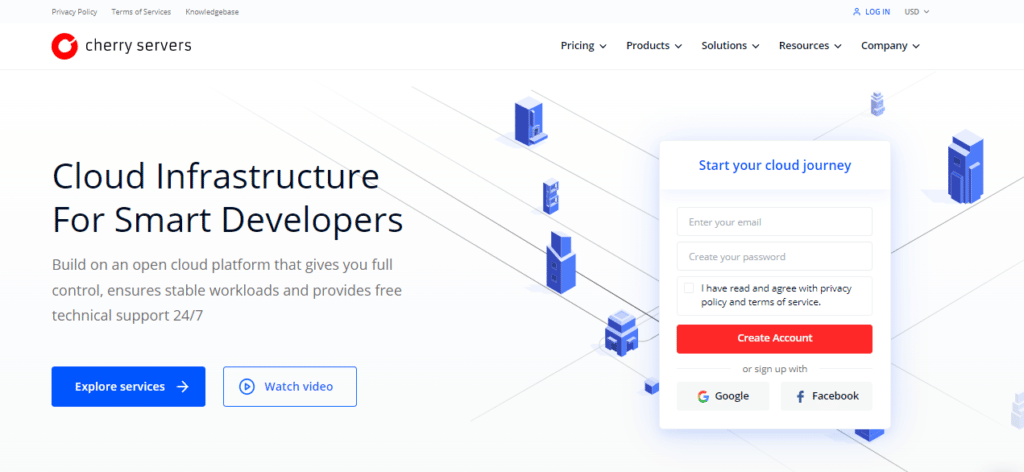 Cherry Servers is different. They are a Lithuania-based web hosting company engaged in delivering open source cloud solutions, thereby putting control of the servers in the hands of the developers.
They have been in business for over two decades and provision 15 thousand or more servers yearly. With those numbers, Cherry Servers aims to be the top cloud hosting platform provider with open source networks that keep the control in the hands of the customers.
Test & Analysis
We have tested and analyzed Cherry Servers on multiple parameters and herein below are the results of our test and analysis on all the different parameters.
User Interface & Ease of Use
Cherry Servers come with a simple, user-friendly, and easy-to-use user interface that is also customizable as per your specific needs and specifications for the servers. These servers are pre-built, and you can have them as soon as you subscribe to a plan.
Cherry Servers Customer Support
Cherry Servers offer both technical and sales support 24/7, and you can reach them via email or using the live chat feature on the website.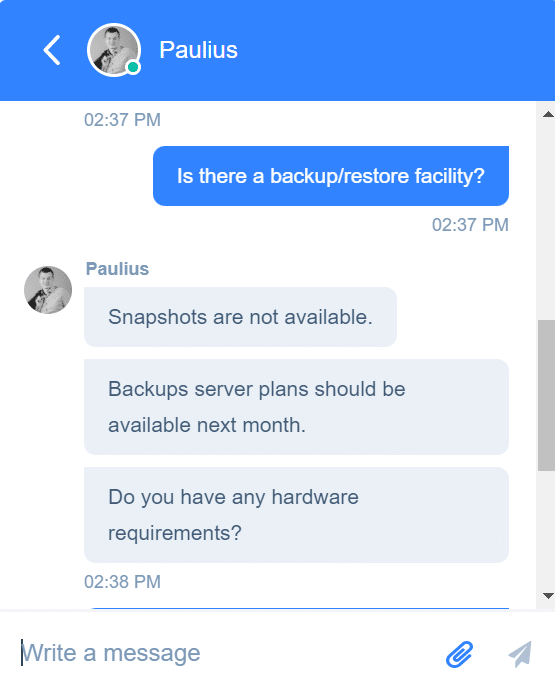 They have real people offering support through even their live chats and they reply within a few minutes.
So, as far as support goes, it's excellent at Cherry Servers.
Security Analysis
Cloud Servers offer free DDoS protection for all of their servers, which filters out the most destructive attacks. In addition to root passwords, you can create your SSH keys and provision them to any of the servers.
Cherry Servers also use two-factor authentication to ensure that the services are accessed only by you. They also have IP access restrictions, user roles, and SSH keys.
All of their services are audited, and they are GPDR compliant to protect data and personal information.
So, as far as security goes, you will always remain safe using Cherry Servers.
Key Features of Cherry Servers
Here are the main features offered by Cherry Servers:
Types of Web Hosting Cherry Servers Offer
Cherry Servers offer various types of web hosting services like:
Cherry Servers Pros & Cons
While testing the services provided by Cherry Services, here are the pros and cons we found:
Pros
Personal account manager
Customizable server options
Unlimited traffic plans
SSD and NVMe storage
Cons
Technical knowledge is required to set up some of the cheaper plans
Costly dedicated server plans
No free trials 
FAQ– Cherry Servers Review
Are Cherry Servers easy to use?
The user interface is quite simple and easy to understand. However, you may need some technical knowledge for the initial setup and configuration.
So, we can say that the servers are easy to use once you are all set with them.
Is there a backup/restore facility?
No, Cherry Server does not include backup services with its hosting. They are expecting to provide backup server facilities soon.
Can you cancel Cherry Servers and get a refund?
Yes, Cherry Servers offer a 15-day money-back guarantee. So, you can cancel the services within 15 days and ask for a refund.
Do backups cost extra with Cherry Servers?
Yes, backups cost extra with Cherry Servers.
How many data center location does Cherry Servers provide?
Cherry Servers has data centers located in Lithuania. They also have a secondary location for their data centers in the Netherlands.
Conclusion- Cherry Servers Review
So, this was a detailed Cherry Servers Review. The platform is great for anyone looking for a cloud hosting solution. Although it takes some effort and technical knowledge to begin with.
Cherry Servers is definitely worth a shot if you are looking for cloud services. Once you are done with the set-up, it's a good platform to work on with ease and understanding. The features are also great, and many benefits make it an attractive platform.