A hosting service provider that is hell-bent on offering you the best service possible and has been working on it for years will help you get through your hosting goals. But how easy is it to find such a hosting platform? But we are here with a suggestion.
Hostyd is a hosting service provider with a good amount of hosting experience that works on the needs of its customers as its priority. The hosting platform offers a small range of services, but those could not be underestimated.
Let us get down to business and get into this Hostyd review.
About Hostyd
Founded in 2012 as a small company that sold reseller hosting plans, Hostyd has now grown to offer its services to the world with the best speed, connectivity, and security possible.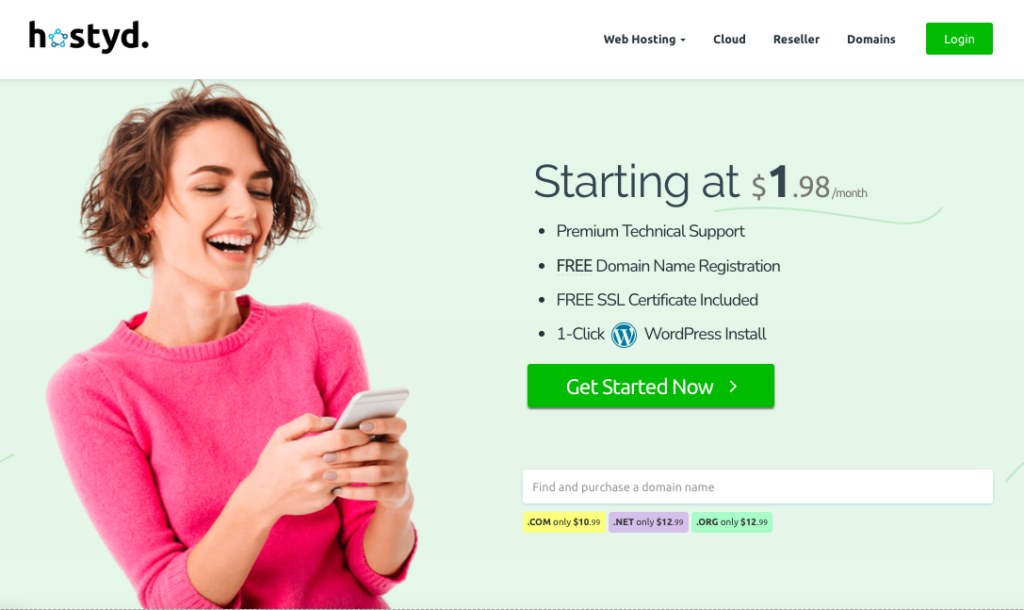 This hosting platform offers a small range of hosting plans that are tiny but reliable. The hosting plan includes web hosting, VPS hosting, and dedicated hosting. Also, you get to use the easy control panel it offers. 
Test and Analysis
It is now time to test out the services of this platform in this Hostyd Review.
User Interface & Ease of Use
The user interface, we must say, is kept very simple with Hostyd. This hosting platform does not include many things that might help you get out of frustration. Also, the availability of cPanel makes the process even easier.
Hostyd Customer Support
Customer support is one of the services that help you through your hosting journey by easing out your queries. With Hostyd, you get customer support through live chat, tickets, etc. However, the services are pretty slow and not always accessible. 
Security Analysis 
To secure your data is to ensure your online business. With Hostyd, you get access to security features such as SSL certificates and instant and monthly backups, which will save you from losing any of your data.
Hostyd Data Centre
The data centers of Hostyd are located in:
Key Features Of Hostyd Hosting
We may now list the key features of this platform in this Hostyd review.
SSL Certificates
To ensure that your website makes secure and encrypted connections on the internet with other websites and there is no breach of information, you must take the help of tools such as SSL certificates. With Hostyd, you get SSL certificates free of cost.
Instant & Monthly Backups
Securing your data is not always preventive; you must also look into what would happen if you lose your data and how you will recover it. To help you out here, Hostyd offers instant and monthly backups with some of its plans.
Free Applications
To shorten the time and energy, you spend on your hosting tasks. You could install numerous applications on your hosting. With Hostyd, you get to do so as here you get to install hundreds of applications with the ease of a click.
Hostyd Refund Policy
With most of the services and hosting plans Hostyd offers, you get the safety of a refund policy. With this, you can avail a 30-day money-back guarantee only for a new web hosting account registrations. This means you will not be given any refund for renewed services.
If you cancel the subscription to the service within 1-30 days, you will get a full refund.
However, if you have received a free domain, the amount for that domain will be deducted from the refund. This policy is only applicable to hosting services.
You cannot avail of any refund for domain-related and VPS hosting services. Similarly, no refund will be given if you have paid through cryptocurrency.
Hostyd Domains
We must now look into the domain-related services offered by Hostyd.
Domain Registration
You can get your domain name registered with Hostyd as this platform is certified to do so. Also, here you get to buy domain names at pretty economical prices, with numerous security features.
Domain Transfer
Transferring your domain name to Hostyd is as easy as registering one, as the customer support team will help you through the process. Also, you get numerous security features.
Hostyd Pros & Cons
Let us list out the pros and cons of buying a Hostyd plan.
Pros
Easy application installation
Instant and monthly backups
Multiple server locations
FAQs- Hostyd Review
Is Hostyd hosting good for beginners?
Yes, Hostyd is pretty good for beginners. As a beginner, you could choose the shared hosting plan. The availability of cPanel makes the hosting process even more accessible.
What types of web hosting are offered by Hostyd?
With Hostyd, you get a small yet reliable set of hosting plans, including web hosting, VPS hosting, and dedicated hosting.
Does Hostyd offer Website Migration? 
Yes, with the plans offered by Hostyd, you get the benefit of getting your website migrated to Hostyd for free and hassle-free.
Which Payment method does Hostyd use?
Hostyd accepts various payment options such as MasterCard, Visa, PayPal, Bitcoin, American Express, etc.
Conclusion – Hostyd Review
We have now reached the end of this Hostyd review, which obligates us to take note of the features of this hosting platform that would bother you. This hosting platform does not mention its data centers and server locations.
Also, the customer support offered by the hosting platform is not always reliable as it might reply sometimes, and sometimes you may not hear an answer from them. However, this hosting platform offers plans that are well-equipped to provide you with the speed and security for your websites.