ViceTemple Review: Websites are common parlance in today's era. Some of the highly used and visited websites are adult sites and X-rated sites. However, while it's easy for us to find and visit such websites, starting them is pretty challenging.
As you know, for running any website with the best speed, performance, and uptime, you need to have the perfect hosting solution. Unfortunately, the problem with starting adult websites is that most hosting solutions prohibit and restrict X-rated and pornographic content. So, you need to go out of your way to find the right hosting solution.
Well, while it's challenging, there are certain options, one of the best being ViceTemple. It's a brilliant hosting solution for hosting adult websites and blogs. Moreover, it's full of guides to go about starting your digital journey within the adult industry.
In this article, we have put together a detailed ViceTemple Review by analyzing and testing the platform on multiple parameters such as its speed, uptime, load handling capacity, features, functionalities, pricing, etc.
So, let's dive into this review and see if it can be the perfect solution for you to host your adult website.
ViceTemple Overview
| | |
| --- | --- |
| 🚀 Speed | From New York Server 4.9 to 8.0 sec |
| ⏰ Uptime | 99.8% uptime in the past 365 days, which is excellent |
| 👩🏻‍💻 Support | Via Email, Instant Live Chat, 24/7/365 Ticket Support, |
| 💳 Payment | Credit and debit cards Bank transfer Bitcoin Altcoins |
| ♻️ Refund Policy | 30-Days |
| 💰Pricing | Starting from $5/m |
| 🌎 Server Location | Amsterdam |
ViceTemple is a platform dedicated to helping people build their online adult businesses. It was launched in 2016 with the aim to provide efficient, scalable, and secure hosting solutions for adult websites by lifting the barriers to the posting of any kind of adult content.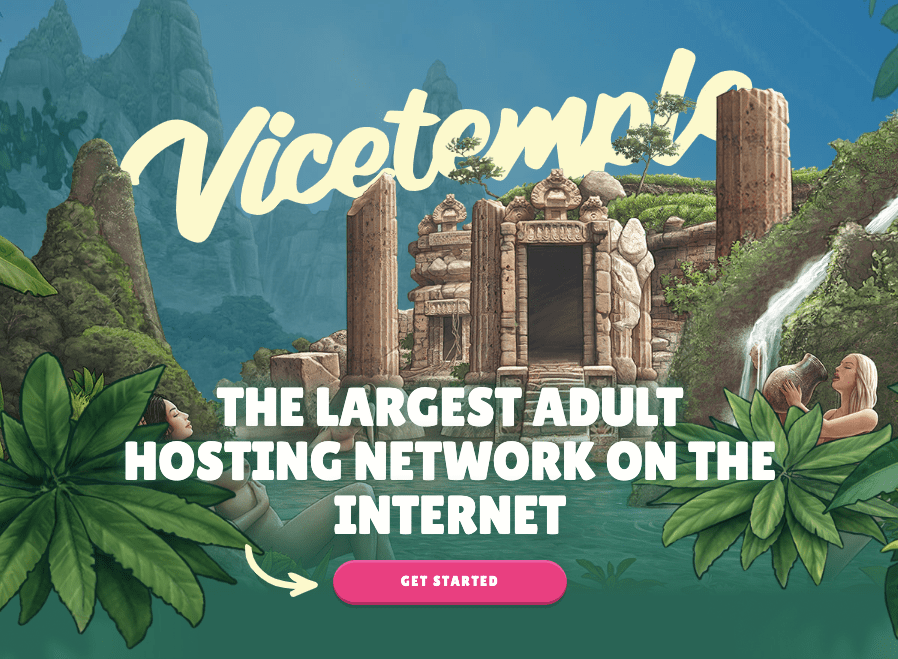 As such, you can create any kind of adult website, whether a blog, an e-commerce shop for sex toys, a pornographic content website, or anything else using ViceTemple.
It's basically a one-stop solution to all the requirements for starting and building an adult site business. From hosting solutions to website designing, development, and even SEO, you can get it all on ViceTemple.
Speed Test and Analysis for ViceTemple
The speed of your website is very essential for determining its performance. It becomes much more crucial on an adult website given that people are somehow emotionally attached to the content on adult websites and their hormones remain at their peak. So, no one appreciates any kind of interruption when using an adult website.
With ViceTemple, you can get brilliant speed and performance for your website. The fact is evident with the speed test and analysis on multiple parameters.
Here in below is a detailed overview of the results of all the speed tests and analyses for ViceTemple.
ViceTemple Server Response Time
How quickly the servers respond to your requests plays a crucial role in determining the performance and speed of a website. With your website hosted on ViceTemple, you can expect a very fast server response time.
It has a dedicated server that helps manage all the data and content, and the cutting-edge processors supporting the servers ensure that the websites and web pages respond without any latency.
ViceTemple Speed Test
With its fast and high-performing servers and a dedicated data center to support and handle server requests from all locations, ViceTemple performs great at its speed test.
The website pages and content load quickly with minimal page load timing, offering excellent speed and performance. With the superfast speed offered by ViceTemple hosting, you can expect to provide phenomenal user experiences while ensuring that the visitors engage and remain hooked to your website and its content.
ViceTemple Uptime Test
Any downtime on a website, especially an adult website, can cost you a lot. ViceTemple understands this and ensures that the websites it hosts don't suffer any downtime at all. It guarantees to offer 99,99% uptime for the website it hosts, and the uptime tests we performed over the course of several months hold up this claim.
We were amused to see that the website hardly ever went downtime. Given that uptime score, you can expect your website to perform well with round-the-clock availability and accessibility for the audience.
ViceTemple Load Handling
Adult websites experience extremely high traffic, especially during a specific period of time during the entire day. So, the web hosting solutions need to have a phenomenal load handling capacity to put up with the high traffic conditions.
ViceTemple has a brilliant infrastructure designed with load-balancing features and capabilities. As such, it can handle extra traffic loads and upsurges very efficiently, and the website on ViceTemple will not go down even when there are sudden spikes in the website traffic.
This was evident looking at how brilliantly the websites responded during the load handling tests even when there was a constant increase in the number of visitors on the website.
Security Analysis
Security is the biggest concern on any website. Moreover, when it comes to adult websites, users become far more concerned about the security, safety, and privacy of the sites they're using and engage only with the sites that look promising.
As such, any adult website hosting solution must come with advanced security features and functionalities that protect the interests and privacy of its users. You can expect this from the websites hosted on ViceTemple.
ViceTemple is equipped with security features. It provides free SSL certificates with all types of hosting plans it offers. These SSL certificates not only keep the website safe and secure and provide end-to-end privacy and protection for the website data, files, and information but also build trust and confidence among the users.
With SSL certificates on the website, you are able to assure your visitors that they are entering a secure site. So, the visitors access your website with more confidence and comfortably engage with the content too. Moreover, the servers have DDoS protection that adds an extra layer of security.
In addition to the SSL certificate and DDoS protection features, ViceTemple guarantees absolute data privacy and protection. The servers are highly secure, and no one but you can access the private and confidential data on your website. So, you can remain assured about the privacy, protection, and security of your data.
With all the data privacy and protection features, ViceTemple also ensures anonymity, thereby keeping you protected from other online threats and saving the website from any risks posed by attackers and hackers who always keep a hawk's eye on well-performing websites.
Customer Support
The support from the hosting solution is extremely important for the users to ensure that they don't hang around with their queries and questions and get instantaneous assistance for any problem they face with the web hosting and other services.
ViceTemple is excellent with its customer support features and functionalities. Its team is available for the guidance, support, and assistance of its customers 24/7. Moreover, the ViceTemple team always keeps monitoring the servers and websites and manages them with automatic backups and upgrades, thereby enhancing the quality of services and support offered.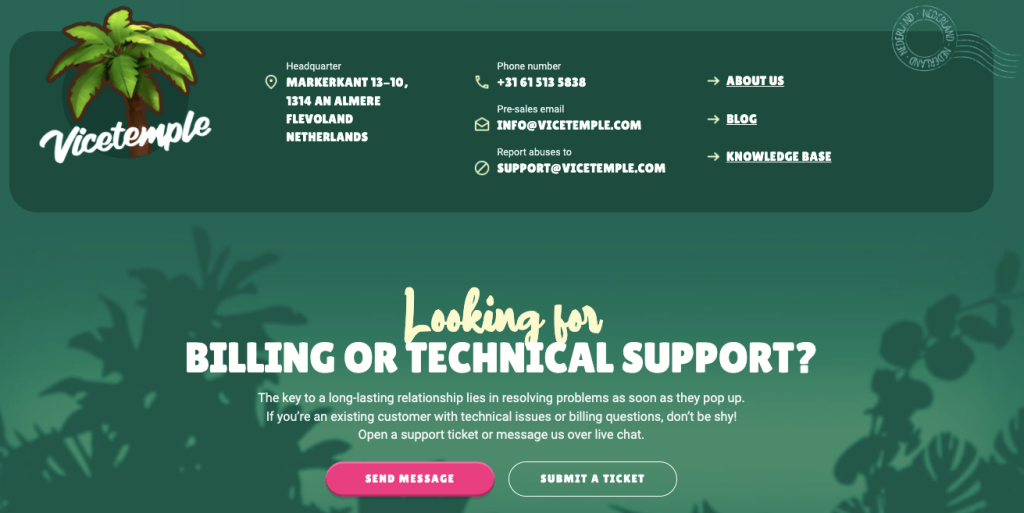 With all that, you never have to worry about getting stuck with any problem with your website, and you can get instant solutions and answers via live chats, phone calls, and emails whenever you're in need of them.
ViceTemple Data Centers Location
Unlike other hosting solutions that have multiple data centers, ViceTemple doesn't operate in multiple locations and data centers. Instead, it has a single data center in an offshore location, in the very open-minded and frank city of Amsterdam. The hosting solution provides its services through online servers based in Amsterdam.
However, even with a single data center location, the server response time, speed, load handling, and performance of the websites hosted on ViceTemple are pretty fantastic.
That makes ViceTemple a promising solution that works to the best of its capabilities by remaining dedicated to its aims and objectives from a single point of presence and place of operation.
Price and Plans of ViceTemple Hosting
ViceTemple Hosting offers different options for hosting your adult and X-rated websites. Here below is an overview of all the different prices and plans of ViceTemple Hosting.
Adult Web Hosting
ViceTemple offers four different adult web hosting plans. All these plans come with one-click CMS installations, dedicated IP, free SSL certificates, cPanel, and support unlimited traffic. But there are differences in the number of domains, SQL databases, and SSD storage amounts.
Here in below is a review of all the different adult web hosting plans on ViceTemple-
| Package | Price/mo | Traffic | SSL Certificates | Dedicated IP | SSD | Subdomains | Addon Domains | MySQL Databases | cPanel | One-click CMS Installation | Get Now |
| --- | --- | --- | --- | --- | --- | --- | --- | --- | --- | --- | --- |
| PLAYBOY | $5 | Unlimited | Free | Yes | 15 GB | 10 | 10 | 20 | Included | Yes | Get Now |
| STALLION | $10 | Unlimited | Free | Yes | 35 GB | 25 | 25 | 50 | Included | Yes | Get Now |
| MATTRESS ACTRESS | $20 | Unlimited | Free | Yes | 80 GB | 60 | 60 | 120 | Included | Yes | Get Now |
Playboy
This plan costs $5 per month when you take up a monthly subscription. However, the cost goes down to $3.5 per month if you opt for yearly billing. At this price, you get access to 15 GB SSD storage and 20 MySQL databases. Additionally, you can get up to 10 sub-domains and 10 add-on domains in this plan.
Stallion
The next plan that costs $10/month and only $7 a month when billed annually is the Stallion plan which provides access to 35GB of SSD storage and 50 MySQL databases. Additionally, you can take up to 25 sub-domains and add-on domains with this plan.
Mattress Actress
The next plan in the category is the Mattress Actress plan which costs $20 on monthly billing and $14 when subscribed on a yearly basis. The plan provides access to 80GB of SSD storage and up to 120 MySQL databases. Additionally, you can get up to 60 sub-domains and add-on domains.
Kinky Goddess
The last and the highest-priced plan for adult web hosting on ViceTemple is the Kinky Goddess plan which provides access to unlimited MySQL databases, sub-domains, and add-on domains. Additionally, you get up to 180GB SSD storage in this plan. And you get all of this merely at the price of $40/month, and this goes down to just $28/month if you opt for a yearly billing plan.
Adult VPS
If you're not interested in shared hosting for your adult website and need a private hosting environment, then the Adult VPS web hosting plans of ViceTemple will be a perfect choice. You can choose from multiple options, all of which come with the same features like unlimited support for traffic, one dedicated IP, a free SSL certificate, and full root access.
The difference in the plans and their prices comes from the difference in the availability of storage, CPU cores, and RAM. Hereinbelow is a quick overview of all the adult VPS plans on ViceTemple.
| Package | Price/mo | RAM | Processor | Traffic | SSL Certificates | SSD (RAID 10)* | Dedicated IP | Root Access | Get Now |
| --- | --- | --- | --- | --- | --- | --- | --- | --- | --- |
| BLESSED DWARF | $15 | 1 GB | Xeon E5-2650 v2 (1 Core) | Unlimited | Free | 10 GB | 1 | Full | Get Now |
| PRINCESS OF SIN | $25 | 2 GB | Xeon E5-2650 v2 (2 Cores) | Unlimited | Free | 20 GB | 1 | Full | Get Now |
| THREE-BREASTED ELF | $45 | 4 GB | Xeon E5-2650 v2 (2 Cores) | Unlimited | Free | 40 GB | 1 | Full | Get Now |
You can even replace up to 10GB of SSD VPS storage for a specific amount of equivalent SAS to increase your storage space for all these plans.
However, the one issue that we could see with these adult VPS hosting plans is that while you have so many options, all of them are billed monthly, and the subscription prices seem pretty expensive, especially for the bigger plans.
Adult Servers
If a hosting solution doesn't seem to fulfil your requirements for building a huge online adult business and website, and you require more bandwidth and storage space, then you can move on to getting a plan for adult servers. However, with more features, you'll have to bear added costs. So, your budgets need to be pretty high as well.
ViceTemple has multiple plans for adult servers, all of which offer the same common features that include free SSL certificates, dedicated IP, full root access, and IPMI.
The traffic that these servers can support is different based on the plans that you choose. If you choose unmetered plans, then the traffic is unmetered and unlimited. However, if you choose a metered plan with a 1000GB bandwidth, the traffic will be limited to 50TB, which is more than enough for your needs and requirements.
Furthermore, the RAM limits are pretty sorted for these plans. You get 16GB RAM with the lowest plan in each category, 32GB for the middle two plans, and 64GB for the highest-priced plan, in case of 250GB bandwidth and 1000GB bandwidth with metered traffic. If you choose the highest plan within the 1000GB bandwidth and unmetered traffic category, then you'll have to satisfy yourself with 32GB RAM only.
Besides these things, there are a few differences between the plans as regards the CPU cores and SSD storage. Also, all the plans that you'll see in this category are upgradeable.
Here in below is the overview of the pricing of the different adult server plans in the different categories.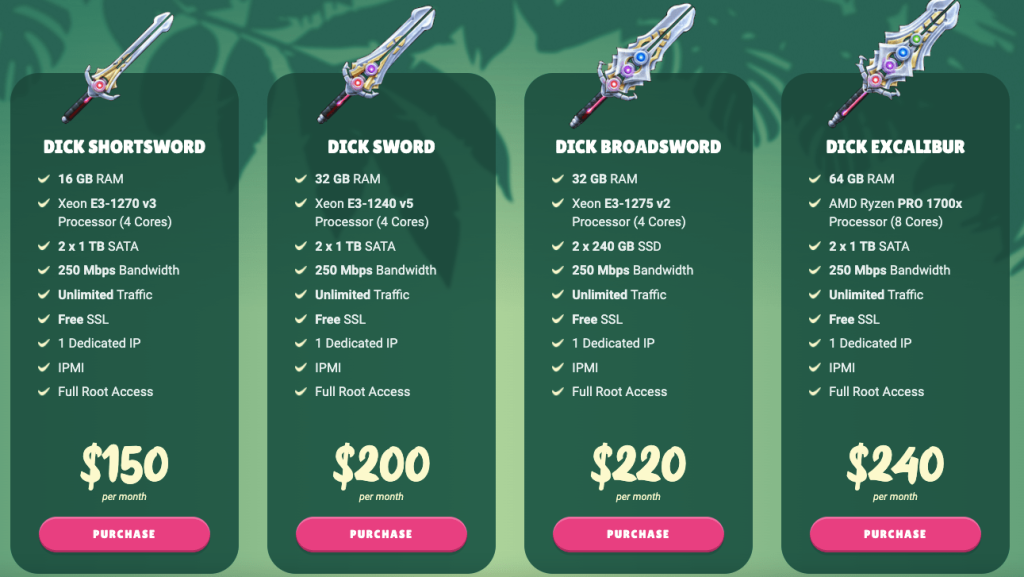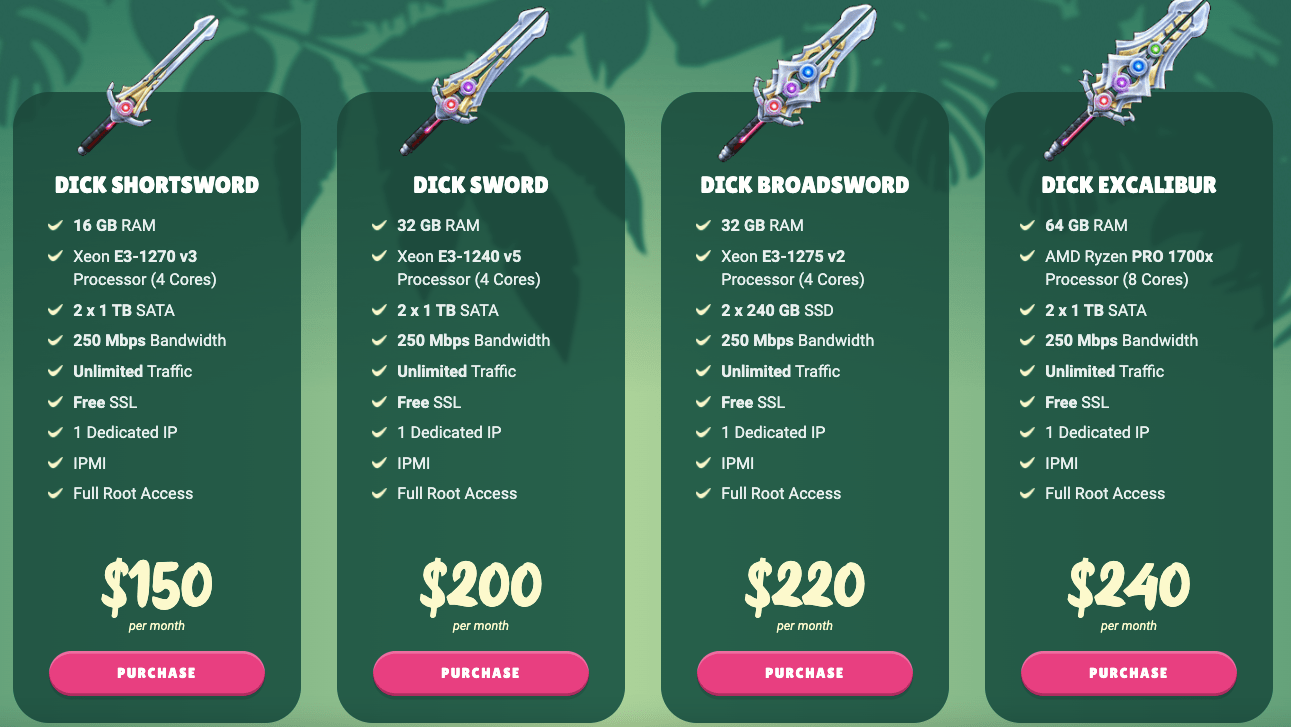 250Mbps Bandwidth
1000Mbps Bandwidth with Metered Traffic
1000Mbps Bandwidth with Unmetered Traffic
So, these are all the plans available for adult servers on ViceTemple. However, all these plans are again for a monthly cost. There is no option for yearly billing, nor any discount, whatsoever. So, the plans are pretty costly in this area too.
📒Note: Web Hosting prices are updated frequently. So, I request you to verify the pricing by visiting the respective websites.
Key Features and Services of ViceTemple
With so many different plan options and services, ViceTemple is a robust platform. It is great with its speed and performance too. However, that's not all about it. There are some more services and features that ViceTemple packs within its hosting solution. Here in below is a brief overview of all the key features and services of ViceTemple.
Unrestricted Content Access
One of the major reasons to look for a different hosting solution for an adult website is the limitations and restrictions as regards the content that one can upload on the website. ViceTemple eliminates this challenge seamlessly by providing unrestricted access and authority for uploading and consuming content.
The platform supports all types of content, including pornographic texts, videos, audio, products, services, etc. So, you have full control over how you want to run your website, and that's an important aspect to have for scaling and boosting your business.
No Copyright Strikes
Copyright strikes and claims are a huge problem for adult websites, given that piracy and copying of content are common in this area. ViceTemple helps eliminate the problems with copyright claims and strikes with its fantastic features that even allow copyrighted content on the websites and disregard any copyright issues and claims altogether.
FTP and Full Root Access Features
Every plan on ViceTemple provides the users with a dedicated IP. this also provides seamless FTP access. So, you can manage and edit your content as you please without any interruption, interference, or disturbance from the hosting solution.
Additionally, the hosting solution provides full root access to the servers and hosting accounts, irrespective of the plan you have taken. With that, you get complete domination and control over your websites and servers. So, you can manage them as per your specific needs and requirements.
This is particularly useful as any interference in managing your website can come as a limitation, restriction, or roadblock that hinders the growth and scalability of your website.
Softaculous Auto Installer
You always want to have more features and functionalities on your website. ViceTemple comes with a quick and easy Softaculous Auto Installer feature that allows you to install and integrate more than 450 different applications on your ViceTemple website in as simple as a single click.
With all these installations, you can seamlessly enhance and increase the functionalities of your website and scale it to the next level.
Adult Website Themes
Not only does ViceTemple offers you a hosting solution for your adult website, but it also helps with the development and designing of the website. The hosting solution comes with completely customizable WordPress themes that you can use to design your adult website.
In addition to the themes, the platform also provides multiple plugins and add-ons that will help add to the functionalities of the website. Additionally, you can optimize the websites for SEO, and there is a lot more such as advanced search, video player, and responsive features.
Given these amazing functionalities with the adult themes services and features, you can have your adult website up and running in no time at all. All you need to do is purchase lifetime access to any adult website theme you like. You can even view the demos of the themes before purchasing them. The best part is they are very affordable.
Adult SEO Services
In addition to hosting and building your website on ViceTemple, you can ensure that the website ranks at the top of the search engine results pages by utilizing the phenomenal SEO services offered by ViceTemple. These services include keyword research, website optimization, link building, the creation of the SEO strategy, and content marketing.
All you need to do is get a quote for the services and then get started as per the plan created based on your specific business needs and requirements.
This makes the hosting solution one step ahead of the other because while it's easy to design, develop, and host a website, getting it to rank higher and create the much-needed visibility is a much bigger challenge. The ViceTemple Adult SEO Services eliminates this challenge very efficiently.
Domain Services
When you're trying to build and scale an adult website, getting the right domain name is also a challenge. ViceTemple eliminates the same with its domain services.
Whether you want to register a new domain, transfer an existing domain, or have other services like domain parking, DNS management, domain forwarding, or subdomain management, you can get it all on ViceTemple.
The good part is that you can get regular domain extensions as well as adult domain extensions when you register your domain name on ViceTemple. Also, the prices are pretty affordable in this area which makes it an even better option to get the perfect domain for your adult website.
ViceTemple Refund Policy
ViceTemple has a 30-day no-questions-asked refund policy. So, if you're not satisfied with the hosting solutions and services of ViceTemple, you can fill in a refund request. The hosting solution will process the request and credit the refund amount to your account without asking any questions at all.
ViceTemple Pros and Cons
Like every hosting solution and service, ViceTemple too has its pros and cons that require an evaluation and analysis to see if it's a good platform to meet your business needs. So, here below we have listed all the pros and cons of this hosting company.
Pros
Cons
Top 5 Reasons to Choose ViceTemple
It's challenging enough to find the perfect hosting solution for your website, and if it's an adult website, the trouble is real. You can hardly find a hosting solution that will allow you to post your content without any restrictions. Moreover, even if you are able to find a hosting, most of the time, your website ends up getting blocked or banned due to some issues or others.
With ViceTemple, you can significantly eliminate the challenges that you encounter when looking for the perfect hosting solution for your adult website.
Here are the top five reasons to choose ViceTemple as your web hosting services provider–
Given all these benefits of the ViceTemple web hosting solution, it's the perfect platform for your adult website, and choosing it will help you scale and boost your business to greater heights.
Why Choose ViceTemple for Adult Web Hosting?
The previous section has already given you enough reasons to choose ViceTemple as your adult website hosting solution. In addition to those reasons, the adult web hosting plans on ViceTemple, in particular, are extremely affordable. Moreover, the plans come with a money-back guarantee.
So, you get an excellent hosting solution with phenomenal speed, performance, and lots of additional services for a reasonable and affordable price, and that too is refundable within 30 days. So, you have got everything to gain and nothing to lose when you choose ViceTemple for Adult Web Hosting.
We suppose that's reason enough to make your choice.
How to Order Hosting from ViceTemple?
There are a few simple steps that you need to follow for ordering hosting from ViceTemple.
Go to the ViceTemple official website and scroll down to the part that contains the plans. Alternatively, you can directly go to the Adult Web Hosting Page from the menu.
On this page, select the plan that you want to order and click on the "Purchase" button.
You'll be redirected to a domain registration page. Register your new domain if you don't have one. Alternatively, you can transfer an existing domain to ViceTemple. Make your choice and move on to the next page.
On the next page, you'll see your order summary. Review the same and click on continue.
You'll be asked to review your domain registration again on the next page along with the options to choose DNS management and email forwarding, which are free services for 1 year upon domain registration. Select these services and click on the "Continue" button.
You'll be redirected to the final checkout page. Review your entire order and when you're satisfied, click on the "Checkout" button.
After that, select your payment option, complete the process, and you're done.
Your account will be activated, and you can start building and hosting your adult website on ViceTemple.
Do we recommend ViceTemple for Your Adult Website?
Short Answer: Yes! We absolutely recommend ViceTemple for your adult website. It's one of the best hosting solutions for adult websites. Additionally, it's better and class apart from all the other solutions with its additional features, functionalities, and services.
You have full control and accessibility for your website and its content, and the solution provides absolute privacy and security for all the data. Additionally, you get an SSL certificate and DDoS protection. Moreover, the speed, performance, and uptime are great.
Given all these features, there's no reason for you not to choose ViceTemple for your adult website.
FAQs- ViceTemple Review
What is ViceTemple?
ViceTemple is a hosting company dedicated to offering hosting solutions, domain services, and other web design and SEO services for adult websites.
Who Should Choose ViceTemple?
ViceTemple is a dedicated platform for adult and X-rated websites. It allows unlimited and unrestricted access to post any type of adult content, including texts, videos, audio, and adult products. So, anyone who is planning to build and scale an online adult business through an adult website, blog, or e-commerce store can choose ViceTemple.
What type of Adult Hosting does ViceTemple offer?
ViceTemple has multiple options for its adult hosting solutions. You can choose shared hosting or private hosting. Besides that, you can even have an entire server dedicated to your website.
What is the refund policy for ViceTemple?
ViceTemple has a 30-day no-questions-asked refund policy. So, if you're not satisfied with the hosting after using it for 30 days, you can request and refund and have all the money credited back to your account.
How Much Does ViceTemple Cost?
ViceTemple has many different pricing and plans. You can check them out in the section above. Its plans start at as less as $5.
Is ViceTemple offer any Free Domain with Hosting?
No, ViceTemple doesn't offer any free domain with hosting. You can either transfer an existing domain or purchase a new domain from ViceTemple at an affordable price.
How to host my website with ViceTemple?
You can simply order the hosting services from ViceTemple, and once your account is activated, everything is pretty self-understandable. All you need to do is start working on your website.
Is there any Coupon for ViceTemple?
Yes, you can find many coupons for ViceTemple by searching on the internet and using them to get discounts on the purchase of ViceTemple hosting services.
Does ViceTemple offer any Free Theme for my website?
No, ViceTemple doesn't offer any free theme for the websites. You can get a demo. However, you will have to buy the themes before you can finally use them. Nonetheless, the themes are pretty affordable. So, it must not come as an issue.
Conclusion – ViceTemple Review
It's very challenging to find the right platform for hosting, building, and scaling adult websites. There are too many taboos and restrictions around it, and more often than not, adult sites end up getting banned due to the selection of an inefficient hosting solution.
You can save yourself the trouble by choosing ViceTemple as a hosting solution for your website. It's the best hosting that you can find for adult websites. Speed, performance, security, scalability, affordability, etc.- you get everything with ViceTemple Hosting!
With all of that, there's nothing better to support you in achieving success and scalability in your online adult business.