If you are looking for a hosting service provider that offers you all the hosting features of dedicated hosting but not the entire server, there are web hosting providers which offer semi-dedicated hosting at cheaper rates.
In this article, we are reviewing a web hosting provider which offers several types of plans pertaining to different types of consumers.
Papaki is a hosting service provider that offers many services, including semi-dedicated hosting. This hosting platform provides a simple yet efficient set of hosting plans suitable for users at all levels.
Let's explore more of it in this Papaki review.
About Papaki
Papaki is one of the leading hosting service providers in Greece, and this hosting platform claims that every one in two users uses domain names registered at Papaki. This hosting platform is based in Europe, removing our worry about legalities being followed. 

With Papaki, you can get your hands on many services, such as hosting plans, SSL certificates, domain names, website builders, and lots more. Hosting plans offered here include web hosting, semi-dedicated hosting, etc.
Test and Analysis
Let us move further in this Papaki review by testing their services. 
User Interface & Ease of Use
To utilize the full potential of your hosting plan from Papaki, you will not be required to be a hosting expert. This hosting platform offers a pretty simple user interface. Also, the availability of the Plesk control panel makes it even better. 
Papaki Customer Support
Papaki offers one of the best in class customer support and has also been known for this capability of theirs.
This hosting platform provides customer support through live chat, fax, support tickets, and call-back requests, which are available 24/7. However, there could be a language barrier at times.
Security Analysis
Security is the top priority of Papaki, or at least it looks like that due to the effort they have put into securing your data.
This hosting platform offers Let's Encrypt SSL certificates, regular malware scans, and three daily backups on some of its plans so that your data's security is never compromised. 
Key Features of Papaki
Now it's time to take a look at the key features of this platform in this Papaki review.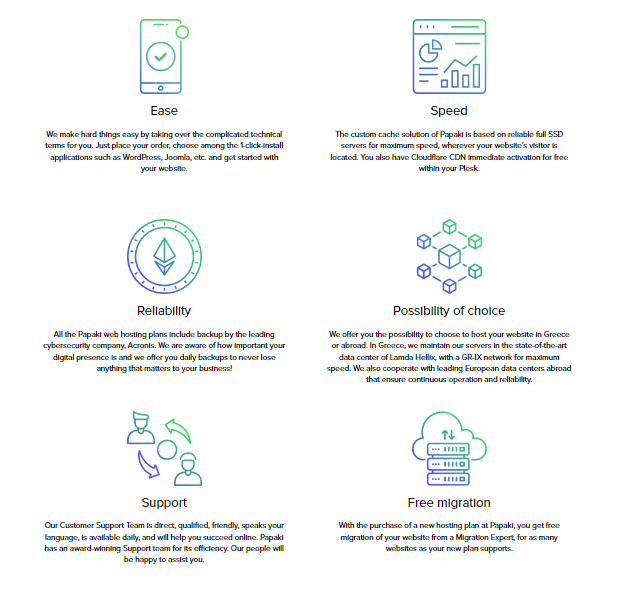 Website Builder
If you also want a web platform that will help you create your website without the help of a professional and an enormous budget, Papaki could help you here. This hosting platform also offers a website builder as a service. 
Website Analytics
To know whether your website is running well and your strategies are working well, you will have to look at your website's performance. To help you do that, Papaki offers you Plesk website analytics with its plans.
1-Click Install Applications
Installing applications such as WordPress, Joomla, Drupal, etc., could make your hosting experience a lot easier. However, installing these could be a tough job. But Papaki is again here for your rescue with the facility to install various applications with just a click. 
Types of Web Hosting Papaki offers
Some of the hosting plans that Papaki offers include:
Papaki Domain
Papaki's one of services also constitutes registering and transferring your domain names.

This hosting platform offers to register and transfer your existing domain name at affordable prices. Also, this platform is ICANN accredited, so you can trust it. 
Papaki Hosting Pros & Cons
We may now list the pros and cons of this platform in this Papaki review.
Pros
90-day refund policy
Free Migration
Multiple tool kits
FAQs – Papaki Review
Do we recommend Papki Hosting Plans?
We recommend Papaki for your website, as this hosting platform offers numerous hosting plans and features. Many of these features are built to ease your work.
There are other web hosting providers which offer similar if not better services than Papaki like YouStable, Interserver, a2, or Hostinger. 
What is the refund policy of Papaki?
You would be happy to know that Papaki offers a 90-day refund policy, which means that you have about three months to test its services.
Conclusion – Papaki Review
It's time that we recognize this platform's good and bad as we proceed toward the end of this Papaki review. We could not find many faults in it, but we could discuss a few points, such as a language barrier you might encounter with customer support.
This hosting platform offers a variety of hosting plans. The hosting plans contain many easy-to-use and well-utilizable features that help you through the hosting journey. Also, the availability of semi-dedicated hosting is a plus point.