SEMrush was established in 2008, and over the span of 14 years, they have grown from two tools to fifty to date. SEMrush is a one-stop tool for all SEO needs.
They enable marketing professionals to build, manage and measure campaigns through all channels to increase their website or blog's online visibility. They take care of the data and ensure that it imparts the best SEO tools and enhances your online venture.
But everything comes at a cost, doesn't it? But what if we say you can get a trial where you can operate SEMrush and enjoy it for free?
Yes, SEMrush has come up with free trials for some of its plans, and the user can totally go with it before taking any decision. It's totally free and risk-free as well! You will not even need a credit card to get started with your free trial.
Is SEMrush Free?
SEMrush offers free trials for 7 or 30 days, but you will have to purchase its services to continue with them.
Hence, we can say that SEMrush doesn't come for free. You can enjoy its free services until a point in time. Then, you will have to switch to paying for those services.

How to get SEMrush for free?
There's an option of "Free Trial" when you enter the landing page of Semrush for the first time, from where you will have to log in and get started with the free trial but with limited features. This is without the credit card method of getting a free trial.
Also comes another method for a free trial of premium plans. After filling in your credit card details, you can go to the plans and prices and select "Start for Free" to begin with the free trial of premium plans (7 days).
These are the two ways to start a free trial with SEMrush.
Get SEMrush Free Trial Without Credit Card
You won't like to fill in any details regarding your payment method, but start a free trial instead? SEMrush has started giving this feature.
Follow these steps to get on board with the free trial without a credit card: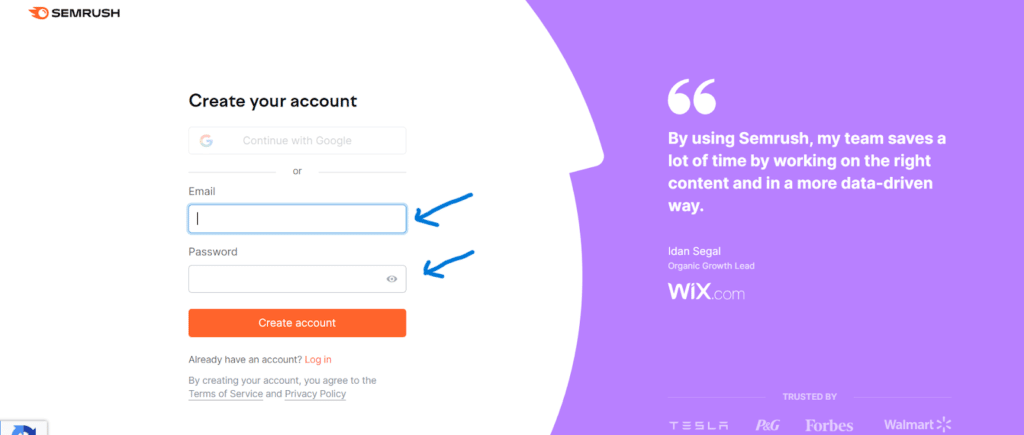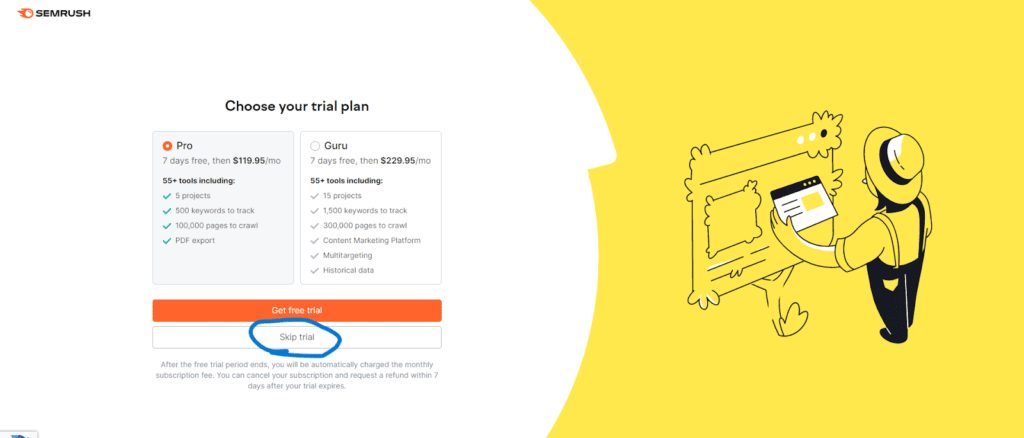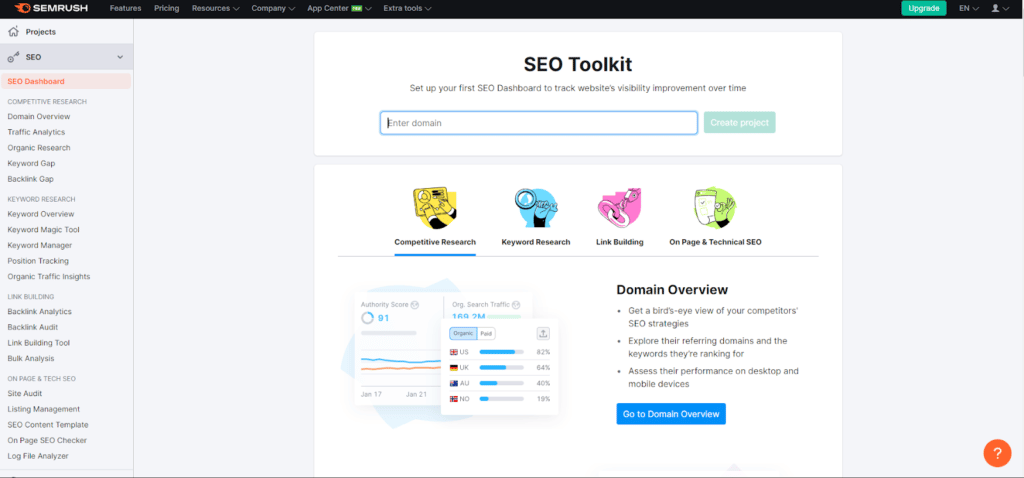 NOTE: If you do not skip the trial and go on to fill in the credit card details, you will be able to access and download all the files and information that SEMrush provides. Because if you don't do so, you can only see the limited results and work with them. 
So, it's totally your choice. You can also cancel the services before 7 days so that there's no money debited or your services get renewed.
SEMrush Free Trial Features/Tools in 2023
SEMrush offers feature that best suit an SEO executive or someone looking to get a better ranking by improving their website's or blog's SEO with the help of a tool.
Also, you can try almost all of these features for free! Now, let's see how helpful it can be:
SEMrush Keyword Magic Tool
SEMrush's keyword magic tool helps in finding the right keyword for your business/work from the database of 22 billion keywords.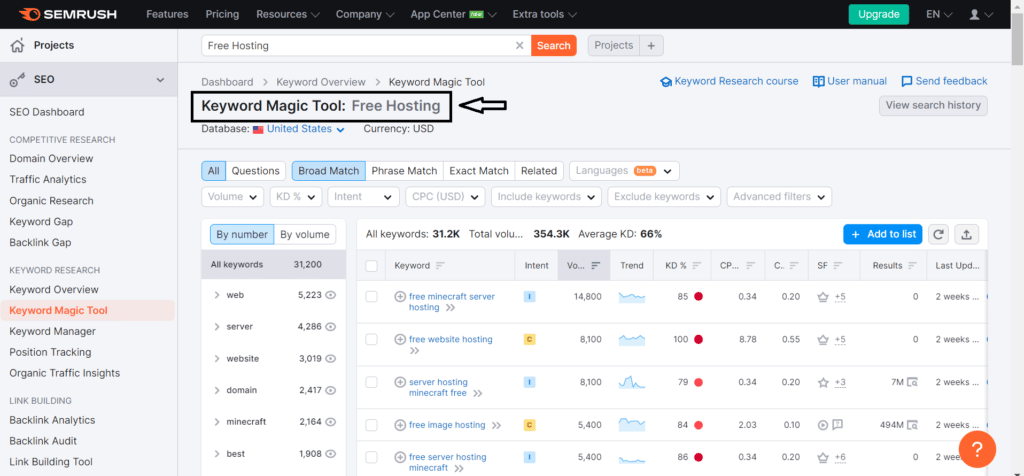 You can get the metrics of the keyword and update it on demand. Apart from that, there's an option of a cluster tool where you can cluster (bring together) all the keywords, which also helps generate new content ideas.
Also, serve, manage and export your master list with this feature. Ensure business profit with SEMrush and its remarkable features.
SEMrush Backlink Checker
SEMrush has the largest, fastest and freshest backlink management tool. The user can streamline the entire backlink analysis flow and check the backlink types.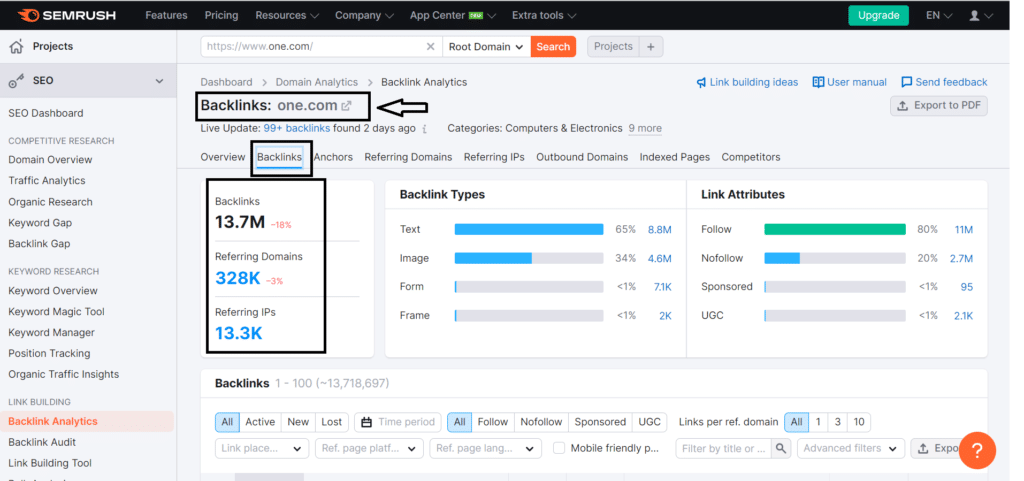 Uncover your competitors and see the location of the distribution. There are some backlink audit and gap tools as well that you'll find worth using for the best SEO practices with SEMrush.
Perform Keyword Research
Perform keyword research with SEMrush. Go with the organic keyword tool, which will make you follow some steps that make your website outrank others on the SERPs.
Focus on the keywords that are worth it, expand the list of competitors, research deeper into Google's top 100 searches and search results, analyse SERP performance and use the keyword ranking history with the new and advanced features introduced by SEMrush.
Learn about teh top organic keywords and ensure top ranking on the search engines!
Perform a Competitor Analysis
Analysing your competitors means identifying their strengths and weaknesses, mainly. Also, analyse promotion channels, marketing, pricing, market share and other things about each competitor's marketing strategies.
How should you perform a Competitor Analysis?
Track Keyword Rankings
You can discover potential opportunities under SERP features. Measure your SEO or PPC efforts to track keyword positions and overall visibility.
It helps you discover the keywords on which your competitors are ranking and get alerts on changes that you may work on when needed (on an immediate basis) so that your ranking doesn't go down.
Lastly, you can create detailed and beautiful reports using the built-in PDF editor and other tools in the Google Data Studio dashboard.
Run a Technical Site Audit
While auditing, you will get a list of issues and recommendations that need to be fixed or done on your website. You may fix the crucial issues that are listed with an immediate effect.

Moving ahead, share the list of issues and set up tasks while delegating them to your team. Prepare your own white-labelled PDFs and set up regular reporting so that sharing of audits gets easy.
Overall, schedule SEO analysis with comfort because you should sign up for a daily or weekly email update to be updated and prevent your online positioning from suffering.
Track each mistake's pattern, notice, warn, and record your development to run proper audits.
Audit Your Local Listings
Listings, data and reviews- all in one platform. Stay on the top of the business listings in the top directories. Coming to automatic NAP management, it updates all the information across all the listings.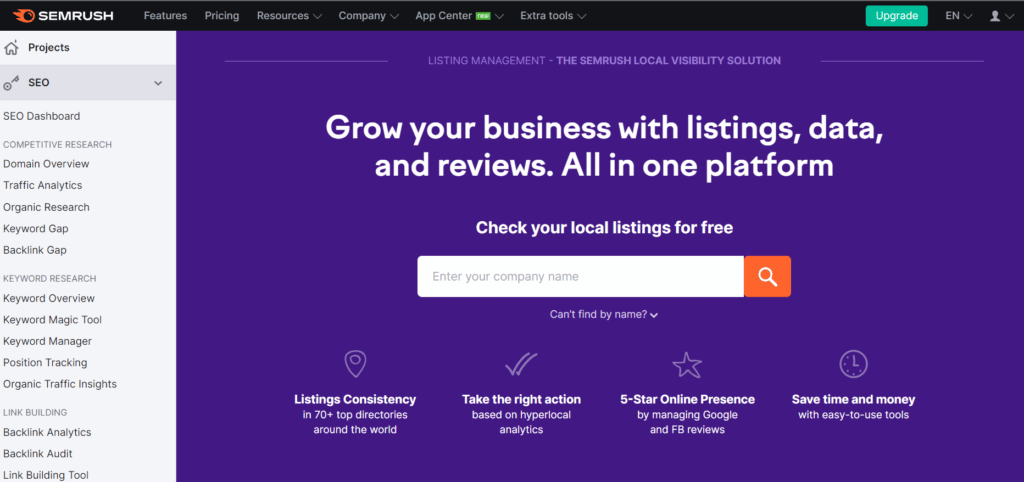 One thing that you need to make sure about is that you should be found in the 70+ top directories in the US and 40+ worldwide.
Make sure your online presence overpowers the competition. A 5-star online presence is one of teh most important things. It happens when you analyse your feedback and reputation and building good relationships.
Manage Your Social Accounts
"Free Social Media Marketing platform worth an entire department"
Discover winning tactics competitors use and choose the most effective social media platform to connect with your target market, find out how rivals increase interest and recognize the content types that work best in your niche.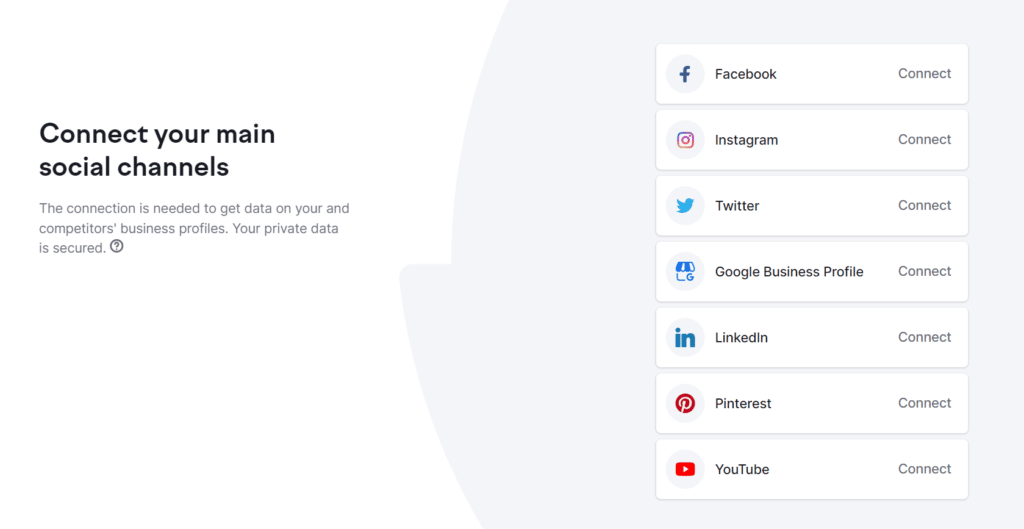 You can also follow the process of producing and sharing content that engages audiences while obtaining customised content creation suggestions, be determined when to post and about the hashtags that do the best. By scheduling postings in advance, you can speed up the process of distributing material.
Lastly, modify your approach for improved outcomes, and get comprehensive outcomes analysis and data-driven improvement suggestions. You can also compare your performance to those of rivals and create an automatic email reporting system.
How to cancel a SEMrush trial?
Free subscriptions are not basically meant to be cancelled. They end after your time period is over. Hence, to confirm the cancellation, you need to contact SEMrush's support as we did:
You'll receive an email within minutes from SEMrush's team notifying you: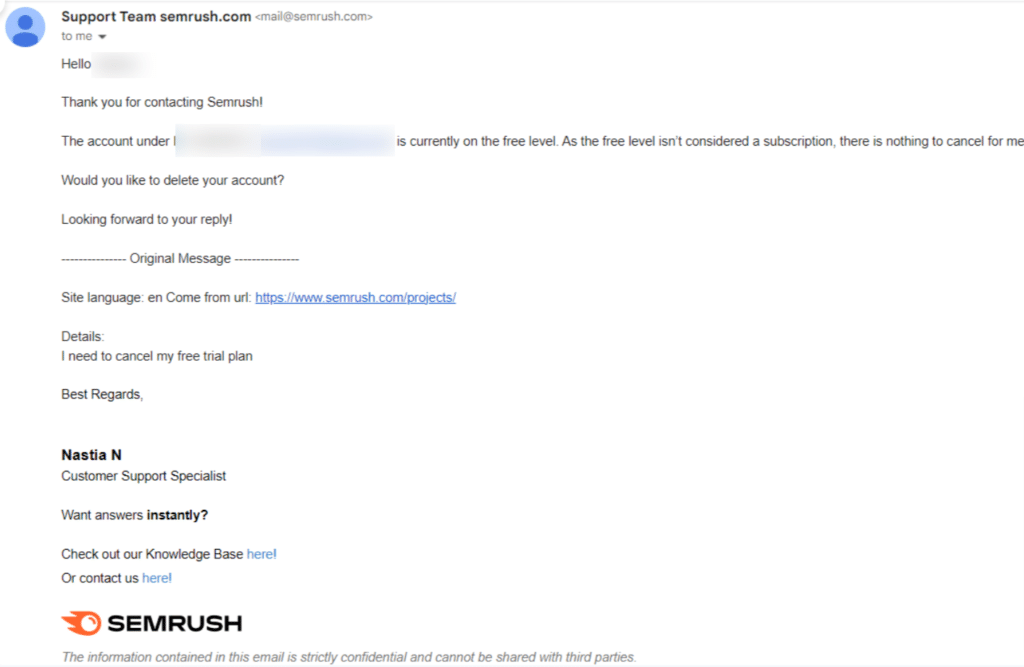 How much does SEMrush cost after a Free Trial?
After the free trial without a credit card, you can subscribe to any of these plans that SEMrush offers to get started with them :
Does the SEMrush Free Trial Automatically Renew Into a Paid Subscription?
Not really; when you subscribe for Free Trial without Credit Card, then no, your services do not renew into paid until you enter your payment details and subscribe at your will.
But if you are trying the PRO plan or GURU plan trials, which require credit card information before trying out. Then yes, your subscription will be renewed to paid plans after the trial period is over.
You can cancel your subscription before the end of the trial period or within 7 days after it if you are not willing to continue with its services.
SEMrush Overview with Features
SEMrush is an overall great SEO tool that determines all teh aspects of a website and how to get it ranked on the web.
Here are the key features/services that SEMrush offers:
SEMrush Alternatives
If you still think that SEMrush is not the one that you can opt for or don't want to for any reason. We still got some options for you to go through.
We have given a crisp detail about them. If you like them by these descriptions themselves, you'll definitely want them when you know them by visiting their website.
So, now let's discuss the same:
1. UberSuggest
Ubersuggest gives a lifetime deal of just $120 that the user has to pay monthly. There is no sort of rise in prices while you use ubersuggest (for months or even years).
It provides top SEO pages of any website or domain alongside reverse engineering your competitors. It improves SEO strategies with an easy interface so that each customer interprets and continues with their services without a doubt.
2. Ahrefs
When comes to Ahrefs has a pleasant user interface. It is the SEO tool with the largest backlink database with a variety of cutting-edge metrics features.
It keeps giving recurrent features and update releases with excellent customer service.
3. KWFinder
It also provides ease of use with more accurate keyword difficulty metrics as compared to SEMrush.
It comes at a cheaper cost and provides services that almost match with SEMrush.
4. Moz
Moz Pro is easier to use and set up or get started with. Its support quality is way better than many SEO tool providers in the market. With Moz, you won't have to worry about interruptions because maybe on-site, off-site or with the tool, you won't face any!
5. Google Keyword Planner
The search data feature of Google Keyword Planner tops the feature list. Being a Google product, it understands the importance of ranking on search engines.
Hence, they know what they are doing, and we know that they're giving the best features.
Conclusion- SEMrush Free Trial Without Credit Card in 2023
SEMrush has been one of the most renowned, well-used and trusted SEO tools provider when it comes to ranking your website on the top of the SERPs.
And when you can enjoy free trials on top, what's there to say no for? Keep one thing in mind, these trials are limited to a 7 Day Period. After that, you will have to subscribe by paying for its services. But it's only when you have tried them become sure and then go on to buy their services.
We have also mentioned some top-tier SEO tool providers that complement SEMrush and can be chosen as they are their best alternatives. So, are you ready to rank your website on the top and make the best out of your businesses?