How To Get SEMrush Free Trial Without Credit Card In 2022: In the digital era, when everything runs online, it's hard to keep an eye on your competitors' performance manually.
What is SEMrush used for?
SEMrush gives the wings you need to analyse your online competitors as well as your overall performance in the SEO world. Having even the titbit details about other players in the same business line is one of the main keys to success. If you don't apply these digital marketing tactics, then the chances of your success are slim.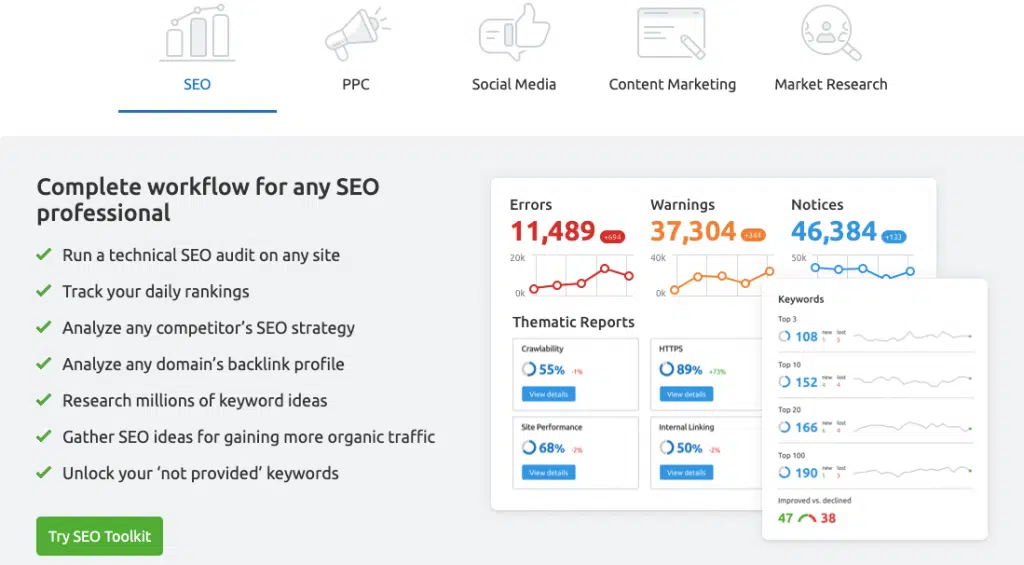 You also have to make your brand name stronger. Various marketing tools and techniques are being used on the web, and SEMrush is a powerful and widely used tool to take care of your website's SEO.
SEMrush is used for:
What are the features offered by SEMrush?
There are multiple features that SEMrush has to offer. Below are a few of the perks of SEMrush:
📈 Get accurate Analysis Report:
SEMrush gives you an objective analysis report of your competitors' organic strategies for content. You can find out new organic competitors based on keywords and organic traffic.
It also shows reports with in-depth research and gives you the most relevant keyword used by your competitor for display marketing, organic, or paid search. The reports are easy to understand, and you can share the reports through mail or the direct link.
🚀 Improved Content Marketing:
SEMrush improves your content marketing strategy by giving you information about the keywords you own. It tracks the social performance of your content. SEMrush tracks user behaviour and the impact of your content on social media by monitoring Likes and Shares.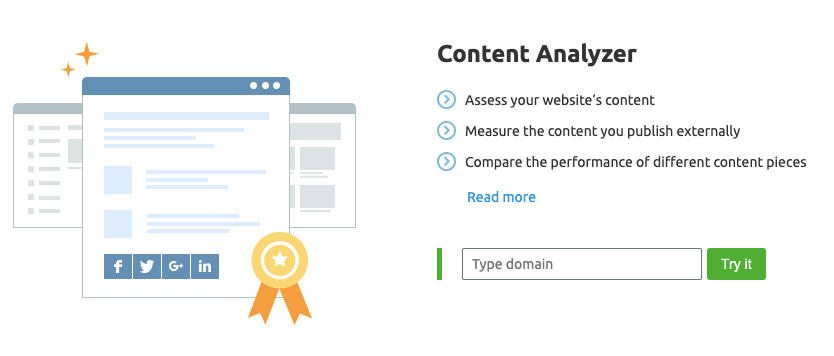 🔥 Manages online visibility:
In both organic and paid search, you can monitor your online visibility and get an idea about how well known your content and brand name are across the web. SEMrush gives you detailed information about the keywords you compete with across channels.
🎁 Integrates Social media Marketing with SEO:
SEMrush not only helps in optimising your search result but also helps you monitor your social media performance. It helps you to monitor your brand reputation and interaction. You can also post on social media handles via the SEMrush interface.

💯 PPC campaign management made easy:
If you are new to PPC, SEMrush is a fantastic tool to prepare and execute PPC campaigns. It collects keywords and cross-checks negative keywords if any.
How to Get SEMrush for Free?
Nothing is free in this world, especially the things which are worth some bucks. But It is not enough to go for a paid version of any tool before utilizing its features practically.
That's why SEMrush gives you a 7-day free trial before you buy it. When most of the tools are available for a free trial by providing credit card details, SEMrush free trial can be availed without credit card using special promo code.
Are you looking for SEMrush Free trial without a credit card?
You are at the right place. Read till the end of of the article. Also, if you are looking for SEMrush Student Discount, wait till Black Friday and Cyber Monday for exciting offers and discounts.
Steps to Get SEMrush Free Trial
Step1: Go to www.semrush.com. Click on Get a Free 7-day trial.
Step 2: Create your account providing Valid mail id and password. (Save the Login credential for future use)
Step 3: On the next page, Promoto code for a free trial will be added automatically.
Step 4: Here, it will ask you to provide your details (Email and password, billing details)
Step 5: Click on Place the order button and your SEMrush account is ready to use for next 7 days without any charges.
Please Note: You can cancel your account in between this 7 days by sending mail to [email protected]
SEMrush Free Trial Alternative
So far we have told you about SEMrush Free Trial, but there is one another absolutely free method that allows you to use SEMrush- that is SEMrush premium account cookies.
On the internet, you will find that multiple users or hackers share their SEMrush premium account cookies that allow you to enjoy all the services that come with the SEMrush premium account.
Having said that, the other thing you will find on the internet is something that goes by 'SEMRush Pro cracked download- no account needed'. We would like to alert our users that there is nothing like a cracked version of SEMrush Pro. These websites, generally provide you wrong download links and aren't effective. It is best that you stick either with SEMrush Free trial or SEMrush Premium account cookies.
Other SEMrush free alternatives
There is no doubt SEMrush is the best SEO tool one can try. But there are some Cheap alternatives to the SEMrush tool available in the market.
HubSpot marketing hub
This tool provides everything marketing strategies need. From growing traffic, generating leads, and tracking the sales funnel being taken care of by this tool.
WordStream
Wordstream is an online software used for every type of business to get quality leads, customers with organic and paid search advertisements. It also works as a free keyword search tool.
SpyFu
SpyFu is an SEO and PPC tool used by professionals that track your keyword ranking, increase your website traffic and help to make better connections.
Google Analytics
Google Analytics is one of the popular tools Google used for monitoring websites' overall performance. It collects data automatically and creates a customized report and easily integrates with other tools. The best part of Google Analytics is free forever.
FAQ's
How to cancel SEMrush free trial?
You can cancel your account in between these 7 days by sending mail to [email protected] (Write the mail from your registered mail id.)
How much does SEMrush cost?
SEMrush offers three different SEMrush premium accounts for monthly subscriptions as follows.
Pro – $99.95
Guru – $199.95
Business – $399.95
There is another plan named Enterprise Solution. If you want to avail this one then you have to contact: [email protected] for details
Where to find website health in SEMrush?
You can check your website health with the SEMrush Site Audit Tool.
For example :

Errors like duplicate content and internal or external broken links Warnings Like headings and missing meta descriptions and Notifications (long URL, external or internal links using rel="nofollow" Test your website health using SEMrush Site Audit Tool, and speed up your website's optimization process.
Please Note: This tool is in beta and SEMrush is working to improve it. Still, you can check this feature to check how healthy your website is.
Wrap Up
SEMrush is one of the best tools for all your digital marketing needs. Don't forget to give it a try and we are sure you will love the features. If it is the one in all tools you need for your website then don't forget to Buy a SEMrush account.
As a digital marketer, you may need a tool that can take care of SEO, Social media marketing requirements and SEMrush is a perfect fit.
Please feel free to ask any of your doubts in the comment section. You can also contact us for further queries.