Rocket.net Review: In this digital age where every business is operating through a website, you need to do things uniquely to make your website stand out from the competition. Your business website is your best chance at creating a web presence for a wider audience globally. However, it will work only when your website is performing well with high speed and low page loading time.
The audience will not wait around for your website and its content to load. Moreover, search engines give preference to faster websites and rank them higher. So, you need to have the perfect hosting solution that can meet these requirements.
This becomes even more essential when you have a WordPress website, given that most websites on the internet are powered by WordPress, and finding the right hosting solution that would deliver the expected performance for your WordPress website is pretty challenging.
Fortunately enough, the challenge subsided a bit with the launch of Rocket.net in 2020. Rocket.net claims to be one of the fastest-managed WordPress Hosting solutions for WordPress websites. Moreover, it has a collaboration with Cloudflare CDN that ensures almost 100% uptime for the websites hosted on Rocket.net.
Now, if you're wondering about getting Rocket.net hosting for your platform, you must be looking out for more information. Well, you're in the perfect place!
Coming forth is a detailed Rocket.net Review to help you understand this Managed WordPress Hosting Solution in detail and make your decision about the perfect hosting solution for your WordPress website.
About Rocket.net
Rocket.net is a managed hosting solution for WordPress websites. It was founded recently, in the year 2020, by Ben Gabler, who is an industry expert and has worked with some other big companies and organizations engaged in providing hosting solutions before finally launching his own hosting company.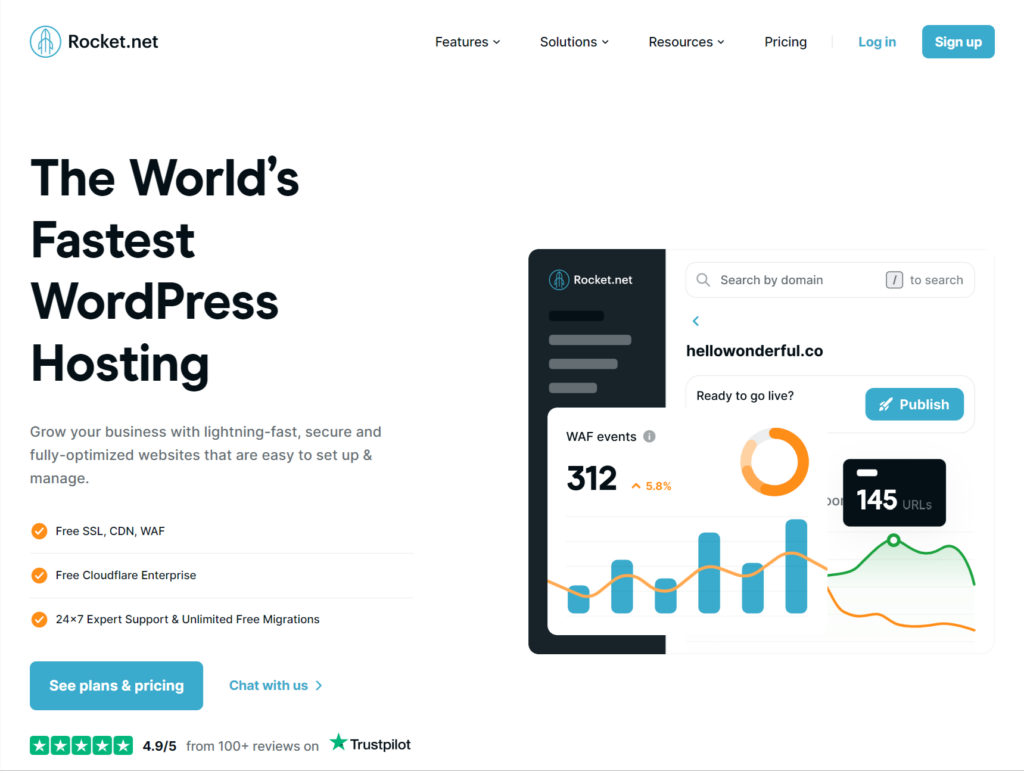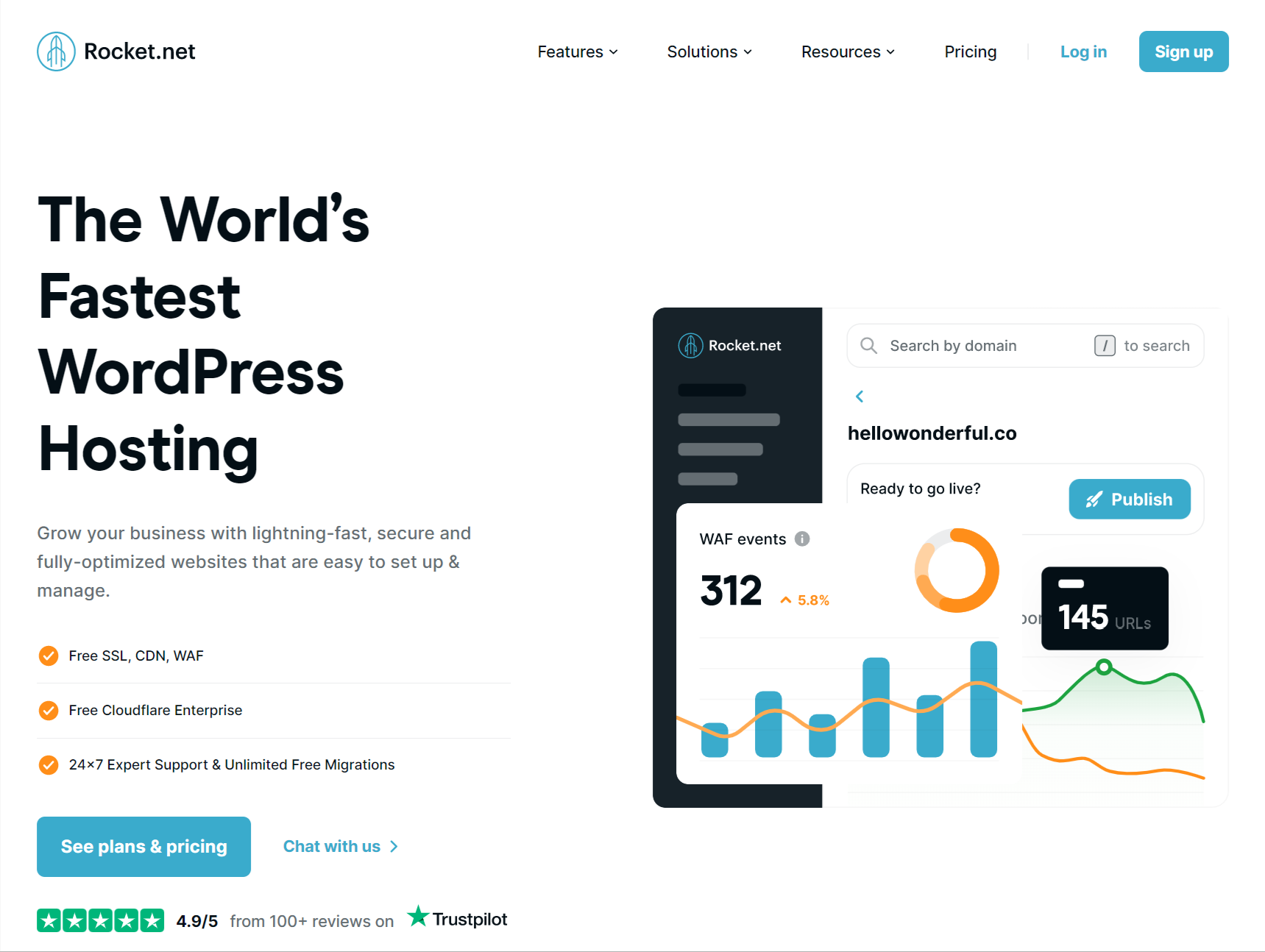 As you can see from the year of its launch, Rocket.net is a relatively new hosting solution in the industry. However, even within this short span of time, the company has created a phenomenal base for itself with its excellent support and high-speed hosting solutions.
The best part is that the entire hosting is managed by the platform itself. So, you need not look into the hosting and can better focus on your strategic and important tasks.
The platform claims to be the fastest, easiest, and simplest managed WordPress hosting solution ever. However, does it really live up to this claim? Well, that can be understood only with a detailed Rocket.net review.
Given that, we have put up a review after thorough testing and examination of the platform on multiple parameters like speed, performance, features, functionalities, and more.
So, let's dive into the review and see how well it lives up to the claims it makes.
Speed Test and Analysis for Rocket.net
The speed of your website matters a lot when it comes to performance and search engine rankings. So, it's necessary to test and analyze any hosting solution for its speed. While working on this review, we performed a speed test and analysis for Rocket.net on multiple parameters.
Rocket.net Server Response Time
The server response time for any cloud hosting solution must be superfast to ensure that the visitors and users don't have to wait around for accessing a website.
Here are some important things to know regarding server response time as explained by the Google Core Web Fundamentals-
The server response time check and analysis gave brilliant results. We were amused to see that Rocket.net servers responded in less than 10 milliseconds. That's parred excellence and truly shows that Rocket.net stands up to its claims of fast speed and performance.
Rocket.net Speed Test
The commitment to fast speed and the lowest page loading time is one of the biggest differentiators of Rocket.net from all other hosting solutions. On performing the speed tests, the results showed that Rocket.net stands by its commitment.


Even without any speed optimization on the website, the speed was phenomenal and the entire website and web pages loaded in minimal time. So, we were very impressed by the speed and can mention that Rocket.net truly stands by its claims of being the fastest managed WordPress hosting solution.
Rocket.net Uptime Test
Rocket.net claims to provide almost perfect uptime for websites with its managed hosting solution, and it stands by this claim as well.
We have monitored the uptime of our website for over six months and were amused to see 100% uptime results at all times.
This kind of uptime guarantee is one of the best things that you can get in a hosting solution, as even the tiniest downtime can cost you a lot. So, with almost 99.99% to 100% uptime on Rocket.net, you can really trust this hosting solution to keep your website performing well at all times.
CDN
The content delivery network has a lot to do with the website's speed, uptime, security, and performance. So far, we have seen that Rocket.net is great with all these things, and it can be accredited to its use of a strong and powerful content delivery network.
Rocket.net has a powerful enterprise CDN system powered by Cloudflare, one of the best content delivery network solutions. With Cloudflare handling the content delivery for the websites hosted on Rocket.net, you can expect phenomenal speed, performance, and security.
The best part is that Rocket.net has the enterprise CDN powering its systems, and it's fully configured with the hosting solution. So, you get all the Cloudflare enterprise CDN features free when you use Rocket.net. Moreover, you need not fall into the hassles of configuring the CDN with your hosting.
So, everything is sleek, simple, easy, and fast.
CDN Features
Instant Speed Optimization
Just like Rocket.net is the fastest hosting solution for WordPress, Cloudflare has the fastest content delivery network with multiple speed optimization features such as file compression, image optimization, caching, etc.
So, the Cloudflare CDN instantly boosts performance by working on the optimization of server speed.
Excellent Security
With the Cloudflare CDN integrated into Rocket.net, you need not worry about security even the least bit. Cloudflare has multiple security features and functionalities such as malware protection, firewall protection, etc., that ensure an efficient content delivery network that is never at risk of online threats and attacks.
Moreover, with all these features in-built into the CDN system of Rocket.net, you are saved from the hassles of using too many plugins on the website.
Excellent Caching System
With a powerful caching system, you can easily boost the site's speed and performance. Cloudflare CDN has amazing caching features that make sure that the pages load faster. Additionally, this eliminates the need for making a lot of cache settings or even using any caching plugin on the website.
With all these CDN features, we can only say that Cloudflare empowers Rocket.net for better performance, and collaboration is a huge strength for both platforms.
Rocket.net Load Handling
The speed tests in normal circumstances give fast results. However, how a website holds up in exceptional and high-traffic conditions is the true test of its speed and performance. We tested the load handling capacity of Rocket.net by sending virtual servers, and even with high traffic, it held up to its exceptional speed, performance, and high server response time.
So, you can be assured that the website will perform equally well even during sudden traffic spikes, and you will not lose any business and customers in such situations.
Rocket.net Cache
The caching performance of the website ensures that the content loads faster. Rocket.net has a global CDN caching network that caches the content from 250 different server locations.
Rocket.net is equipped with features like full-page caching, per-device caching, and cookie bypass caching. All these caching features ensure faster and boosted performance of the content networks and website, and you can expect the website to load faster.
Security Analysis
The security of your website is of utmost importance to you. You have all your content, database, and other confidential business information on the website, and you cannot risk losing the same. Additionally, you need to prevent the website from any online attacks or other instances of data theft, loss, infringement, etc.
Rocket.net has given utmost importance to this aspect and is one of the most secure hosting solutions that you can find for your WordPress website. This is evident from the fact that it uses the Cloudflare Enterprise CDN.
In addition to that, we have analyzed the security offered by the platform on multiple parameters and are satisfied with all the security patches, features, and functionalities available on Rocket.net.
Hereinbelow is an overview of the complete security analysis of Rocket.net.
Cloudflare Enterprise CDN Firewall Protection
The first instance of security on Rocket.net is from its content delivery network. Cloudflare equips the website with firewall protection, thereby keeping all the malicious bots, hackers, and attackers away from your website.
Built-in WAF
In addition to the Cloudflare Enterprise CDN WAF, Rocket.net is equipped with a built-in Immunify360 WAF that further scans and analyses all the requests coming to the website and ensures that there are no security breaches and threats whatsoever.
Malware Protection
The platform is equipped with strong malware protection software that scans the website for malware and other virus attacks and removes any malicious code or activity found on a real-time basis, thereby keeping the website secure at all times.
Free SSL Certificates
SSL certificates not only keep your website safe but also give visitors the confidence that they are using a secure network. Given that fact, Rocket.net provides unlimited free SSL certificates to keep your websites secure at all times.
So, Rocket.net has brilliant security features and functionalities, and the entire analysis shows that your website will be safe when hosted on Rocket.net.
However, one issue with the security features is that they're all in-built and automatic. So, you will not have any control over their settings. This can act as a restriction at times.
Nonetheless, everyone wants the security on their website to be top-notch, and Rocket.net ensures the same even with its automated security features and functionalities. You will hardly ever feel the need to make any manual changes to the settings anyway.
Rocket.net Data Centers Location
One of the biggest reasons for the excellent speed, performance, and security of Rocket.net is its strategic placement of the data center locations.
Rocket.net has more than 15 edge hosting locations spread across cities and states in North America, Europe, Australia, and Asia. Additionally, it has 250 plus points of presence for its CDN network.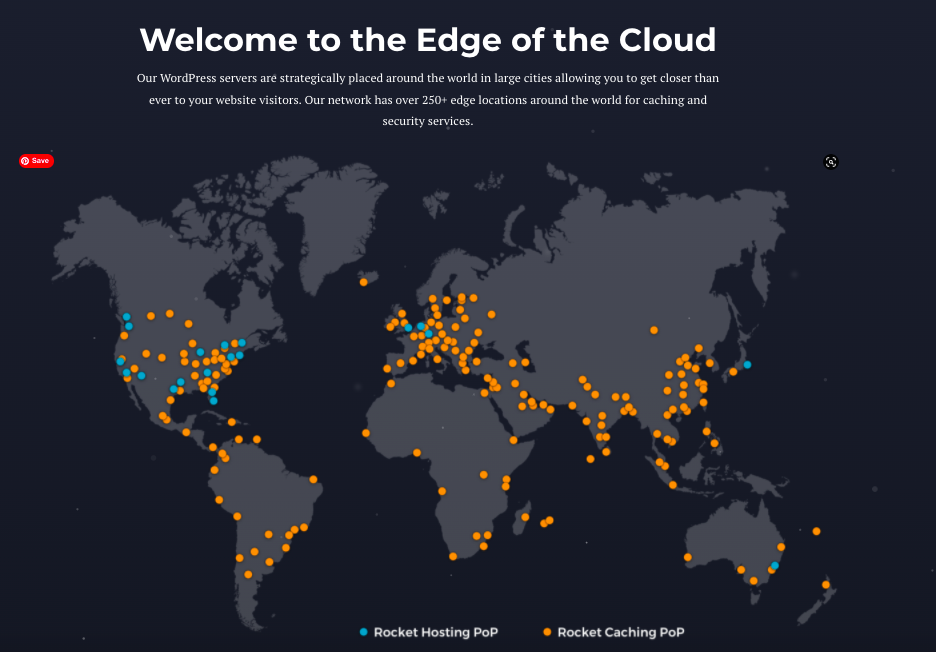 With that kind of presence in four different continents across the world, Rocket.net ensures that its servers are nearest to its users irrespective of the location that they are operating or functioning from.
Rocket.net Support
The support you get from your hosting solution is a very important consideration. You cannot be an expert and often need help with certain technicalities, and you don't want to keep hanging around for the assistance and support that you need from your hosting solutions provider.
We can see that Rocket.net has paid attention to this need and requirement and offers phenomenal support to its users.
Rocket.net has its support team ready and available for assistance 24/7 all over the year, and you can reach them out through SMS, Calls, Emails, or Live Chats.
However, while the support is phenomenal, we can see that there is no phone support for the starter hosting plans. So, if you have opted for a lower plan, the support gets limited to emails and live chats. While that's enough to meet your needs and requirements, sometimes, not being able to receive phone support feels like a restriction.
Besides all these support solutions, the platform also has a decent knowledge base with multiple resources and articles to help you out with your questions and queries.
So, we can say that while there are some restrictions in lower plans, the support from the hosting solution is still fantastic, and you shall not be left with any queries or questions whatsoever.
Plans and Pricing – Rocket.net Review
Rocket.net has a fantastic plan and pricing structure. The Best thing about the plan and pricing structure of Rocket.net is that the features are the same as all the plans. The only difference that comes is in the limits available for the number of websites, monthly visits, storage, and bandwidth. Rocket.net plans are quite expensive so if you are looking for the cheap and best managed hosting plans, then check out Bluehost, Liquidweb, YouStable, Hostinger and HostArmada.
Hereinbelow is an overview of all the plans and pricing of Rocket.net Hosting.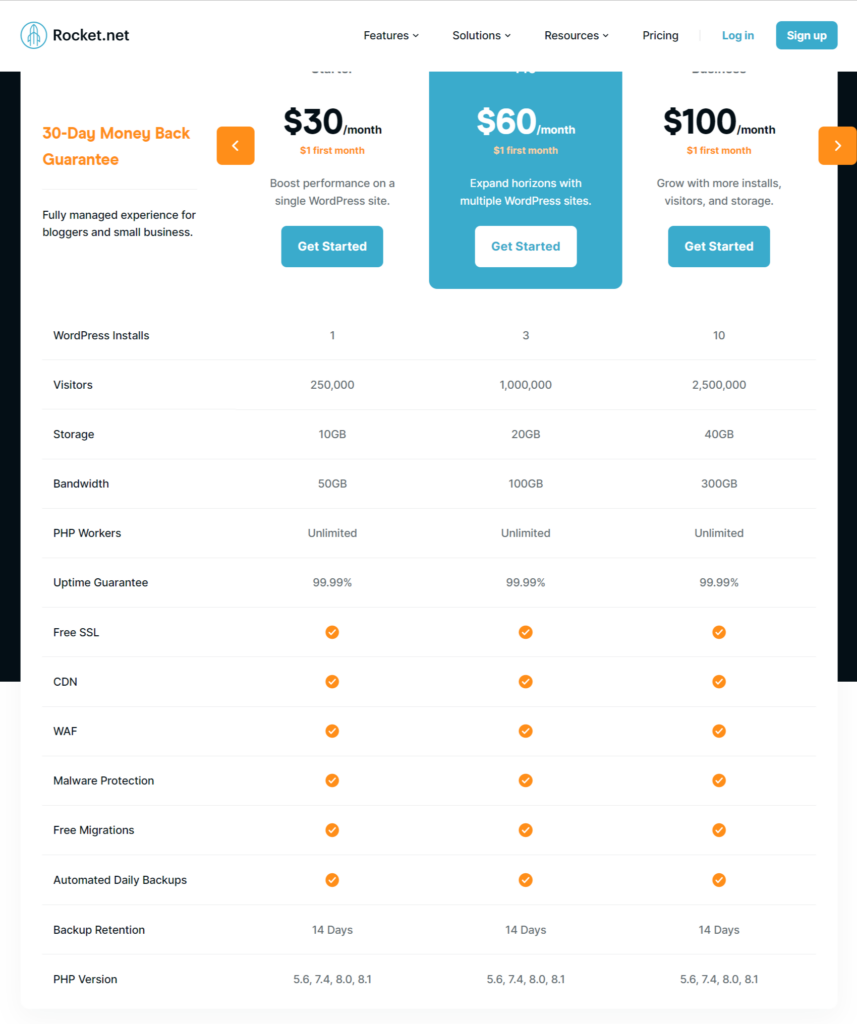 Important Note: Web Hosting prices are updated frequently. So, I request you to verify the pricing by visiting the respective websites.
Starter Plan
The starter plan costs $30 a month. However, if you opt for yearly billing, the cost goes down to $25 per month.
At this cost, you can host one website using Rocket.net. The plan supports 250000 monthly visits and provides a disk space of 10GB. Moreover, you get 50GB of bandwidth.
However, this plan lacks phone support. So, if you have any queries or questions, you can reach out to the support team only through emails and live chats.
Pro Plan
The pro plan is the most popular plan on Rocket.net, and it costs $60 when billed monthly. However, the cost stoops down to $50 per month if you opt for a yearly subscription.
The plan provides you access to hosting up to 3 websites, each supporting up to ten lakh monthly visitors. The disk space and bandwidth are 20GB and 100GB, respectively, in this plan.
However, even with this plan, the support is limited to emails and live chats.
Business Plan
The business plan costs $100 for the monthly subscription. However, when you take a yearly subscription, it costs only $83 per month.
With the business plan, you can host up to five websites, and the monthly visitor limit is extended to 25 lakh visits. The disk space and bandwidth with this plan are 40GB and 300GB, respectively.
Moreover, with this plan, you have 24/7 support, even through phone calls. So, at this stage, you basically unlock every single feature that Rocket.net has to offer.
Enterprise Plan
The last and highest plan on Rocket.net, that is, the Enterprise Plan, costs $200 monthly. However, with a yearly billing for the subscription, you can bring down the cost to $166 per month.
You can host up to 25 websites with this plan and have a monthly visitor limit of up to 50lakh visits. The storage and bandwidth are 50GB and 500GB, respectively.
So, these are all the different plans available on Rocket.net. But that's not it about the Plans and Pricing of Rocket.net.
In addition to all these plans, Rocket.net provides you with a special custom pricing option. So, if the already available plans on the Rocket.net website don't seem helpful enough to meet your specific business needs and requirements, and you want a plan that can host more than 25 websites or provide more storage and bandwidth, or there are some other concerns as regards the features, you can avail of the custom plans.
You can get in touch with the Rocket.net team to discuss your requirements with them, and they will customize a plan with different pricing within your budget to meet your unique needs and requirements.
This customization ability available on Rocket.net sets it apart from other hosting solutions available for WordPress.
Key Features of Rocket.net Hosting
In addition to excellent speed, performance, uptime, and security, there are some more features that you can leverage on Rocket.net Hosting. Here is a brief overview of all the other key features of Rocket.net Hosting.
Simple and Easy-to-Use Control Panel
You do not want to deal with complicated control panels and dashboards in your hosting solution. Rocket.net truly understands this and comes with an extremely easy-to-use and simple control panel that is suitable even for novice and non-technical persons.
We loved the control panel on this platform. The easily accessible dashboard makes it possible to set up and deploy your WordPress website and move to the WordPress Admin Panel within minutes.
Additionally, the control panel is equipped with two-factor authentication support to ensure that only authorized users and admins access the control panel.
Moreover, we could easily set up a WordPress staging environment, and making changes and experiments on the website without affecting the live website is extremely easy.
Overall, the control panel is extremely user-friendly, and you can leverage it for multiple purposes even with zero technical knowledge.
Website Migration
Rocket.net makes it extremely simple and quick for users and website owners to migrate their websites. So, if you already have a website hosted on another platform and want to move it to Rocket.net, it's easy. The best part is that you need not worry about the cost either.
With any Rocket.net plan you take, you get support for unlimited free website migrations. All you need to do is create your account on the platform, submit your migration request, and wait for the process to finish.
Another part about website migration on Rocket.net that we loved is that the website remains online even during the migration process, and once the migration is completed, the website instantly starts delivering enhanced speed and performance.
So, you need not bear any downtime or performance latency, and all of this for no cost at all.
Automatic Updates
It can be tiring and cumbersome to update the website for its themes, templates, plugins, security, and other features and functionalities. Well, with Rocket.net, you can say goodbye to all those hassles.
Rocket.net is equipped with seamless automation features that put all the updates on autopilot mode. So, Rocket.net will update your WordPress Core, themes, plugins, and all other things by itself, and you can better focus on the tasks and jobs that really need your attention.
Automatic Backups
The backups of your website are important to keep the data safe and protected. With the backups, you can be assured that you will be able to find your way back to important data, files, and information even if it's lost due to some reason.
Rocket.net provides automatic backups for all your databases, files, and other information on a daily basis for all its plans. Moreover, it retains all the backups for 30 days so that restoring them is easier.
Besides automatic backups, you can also get on-demand backups of your website. So, if you want to create a backup of your website before putting it under maintenance, you can simply start a manual backup to ensure that you'll be able to restore the website and its data to its original state after the completion of website maintenance.
Analytics and Reporting
Rocket.net has excellent analytics and reporting features with support from the Cloudflare CDN. As such, you can easily see the number of visitors coming to your website and get insight into other visitor analytics.
With this feature, it's easier for you to track the website traffic and plan future actions and campaigns to enhance the same.
Rocket.net Refund Policy
Rocket.net has a 30-day no-questions-asked refund policy. As such, if you are not satisfied with its hosting or any of its features and feel like it's not the solution that can help with your needs and requirements, you can request a refund, and the same shall be processed and credited to your account without any questions.
Besides that, the platform also allows you to cancel your plan at any time with no additional or extra costs.
Rocket.net Coupons
You can easily get discounts on the Rocket.net subscription plans if you use a coupon code or promo code. These coupon codes and promo codes are easily available on the internet, given that Rocket.net runs an affiliate program, and there are many affiliates who refer it to those looking for the best and fastest WordPress hosting solution.
Furthermore, Rocket.net has discounts besides these coupons. If you opt for yearly billing for your subscription, you get the plan at a discounted price.
Moreover, with the yearly subscription, you get free hosting for two months. So, there are multiple opportunities for discounts on Rocket.net.
Pros and Cons – Rocket.net Review
Every platform has its good and bad in it. It's essential to weigh the pros and cons of a platform to see if it's really worthwhile or not. Here is an overview of all the pros and cons of Rocket.net.
Pros
Cons
Who is Rocket.net for?
Rocket.net is specific to WordPress. So, the platform is undoubtedly for anyone who has a business website built using WordPress CMS and is looking for a robust, fast, and simply managed Hosting solution.
It works best for small businesses, agencies, freelancers, e-commerce business owners, and other entrepreneurs who have a WordPress website and are looking forward to scaling it further with lightning speed and performance on their websites and e-commerce stores.
Since Rocket.net provides managed Hosting solutions, the users can leave the entire website management task as regards performance and speed optimization to Rocket.net and focus on the other tasks that matter more to them.
Moreover, the platform comes with agency and best reseller hosting plans that can help agencies achieve their goals and objectives of providing efficient and scalable managed hosting services.
Given all these things, Rocket.net has a huge scope and can be suitable for anyone who is passionate about growing through a WordPress website.
Why Should You Choose Rocket.net for Your Website?
Rocket.net was launched only in 2020, and even in the short span of 2 years, it has made an established name for itself. It is the fastest, easiest, and most secure managed Hosting solution for WordPress.
It's powered by Cloudflare CDN, which enhances its performance and security to the next level. Moreover, all the tests and analyses point to the excellence and supremacy of Rocket.net over all other WordPress Managed Hosting Solutions.
With Rocket.net, you get higher speed and performance with fast server response time due to more than 250 PoPs and 15 plus edge Data Center locations.
Additionally, your websites remain secure with high and advanced security features such as firewall protection, malware protection, SSL certificate, and two-factor authentication.
Moreover, your website data remains free from the risk of loss, and you can easily restore it, given that the platform takes automatic backups and retains them for a month. Also, the website stays up to date with automatic updates performed by the hosting solution.
Of course, there are some limitations, but Rocket.net suggests good ways to overcome those limitations and even supports the plugins you wish to install on your website to meet your additional needs and requirements as regards some specific features and functionalities.
Moreover, even though the plans are costly, you have the option to customize the plans based on your specific business requirements.
Given all these aspects, there seems to be no reason not to choose Rocket.net for your website in 2022. It's undoubtedly the Best managed hosting that you can find for your WordPress website.
How do we check the speed of Rocket Web Hosting?
The Biggest claim of Rocket.net is its speed. So, it was natural to check the speed and see if the claim holds up. Well, the claim did hold up in our speed tests that we performed using the top best speed test tools for websites, that is-
Do we recommend Rocket.net Web Hosting?
Well, we have been full of praise in our entire review, and the platform really deserves these words of appreciation. Given that, we absolutely recommend Rocket.net Web Hosting. It will boost and scale the performance of your website like never before.
FAQs: Rocket.net Review
What does Rocket net do?
Rocket.net is a managed hosting solution for WordPress websites. It provides a high-speed web hosting solution to boost and scale the performance of your websites.
Is Rocket.net only for WordPress?
Yes. Rocket.net is limited to providing hosting for WordPress websites.
Do we Still need WP Rocket for our website?
No, not at all! WP Rocket is a plugin that you can use to boost the speed and performance of your website, and it's entirely optional. However, since Rocket.net provides excellent speed and performance being powered by the Cloudflare CDN, we see no reasons for you to still use WP Rocket for your website.
Who owns Rocket.net?
Rocket.net is owned by Ben Gabler, who has years of industry experience and has worked with some known names like GoDaddy, etc., before launching Rocket.net.
Is there a discount if I buy an annual subscription?
Yes! If you buy an annual subscription to Rocket.net, you get 2months free on the plans. Additionally, the plans cost lower if you get your subscription billed annually.
Does Rocket.net have a money-back policy?
Yes. Rocket.net has a 30-day money-back guarantee within which your refund request will be processed without any questions asked.
What is the Uptime Rate of Rocket.net?
Rocket.net offers an uptime rate of 99.99%.
Does Rocket.net offer free WordPress migrations?
Does Rocket.net offer phone support?
Yes. Rocket.net offers phone support, and you can reach out to them via calls. However, phone support is available only on business and enterprise plans. The starter and pro plans are limited to email and live chat support.
Is Rocket.net best for your website?
This is a relative concept and highly depends on your needs and requirements. As far as we are concerned, we have loved using the hosting solution and strongly recommend the same to any agency, entrepreneur, and e-commerce business owner having a WordPress website.
However, the platform is not for beginners, and there are certainly some limitations. If you can get past those limitations, then it is indeed the best for your website, especially when speed and security are your priority.
Is Rocket.Net better than WPX?
If you get into a detailed comparison of Rocket.net and WPX, then you'll find Rocket.net to have many more features in comparison with WPX. Rocket.net is the fastest and most secure managed WordPress hosting solution available at your disposal.
Given these facts, we can say that Rocket.net is better than WPX Hosting.
How do we check the speed of Rocket Web Hosting?
There are many tools available to check the speed of a hosting solution. We used the GTMetrics tool to perform our Rocket.net speed tests and analysis. You can use the same tool. Checking the speed would mean analyzing your website for the page load time, server response time, and uptime.
So, make sure that you run all these checks to get an accurate score for the speed of Rocket Web Hosting.
Conclusion: Rocket.Net Review
Rocket.net is indeed a great hosting solution. It's fast, secure, and can significantly boost the performance of your websites. Of course, it has certain downsides to it, given the non-availability of email services and domain registration services. However, these downsides don't stop you from getting the best performance from the website.
You can always have plugins for the features that are lacking. However, for a fact, Rocket.net eliminates the need for many plugins. Moreover, the network being powered by Cloudflare Enterprise CDN makes it much better.
At a beginner level, it does seem expensive. But if you wish to boost and scale the performance of your WordPress website, it's the best solution in your hands.
On that note, we highly Recommend Rocket.net for your WordPress website and can say that you will not regret choosing it!😍