Direct Admin Control Panel Setup Guide 2021: Direct Admin, shortly called DA is one of the leading control panels that are used in the Web Hosting industry.
Direct Admin runs on Linux-based Web Servers.
This control panel provides a GUI interface so that the Administrator can manage Websites, Emails, Resellers etc with mouse clicks.
Direct Admin Control Panel Setup | Quick Installation
Before starting using Direct Admin Control Panel Setup, the server owner has to purchase a License.
DirectAdmin also provides free 60 Days trial license, where the server owner can start initially and later obtain the paid license for the IP Address of the server.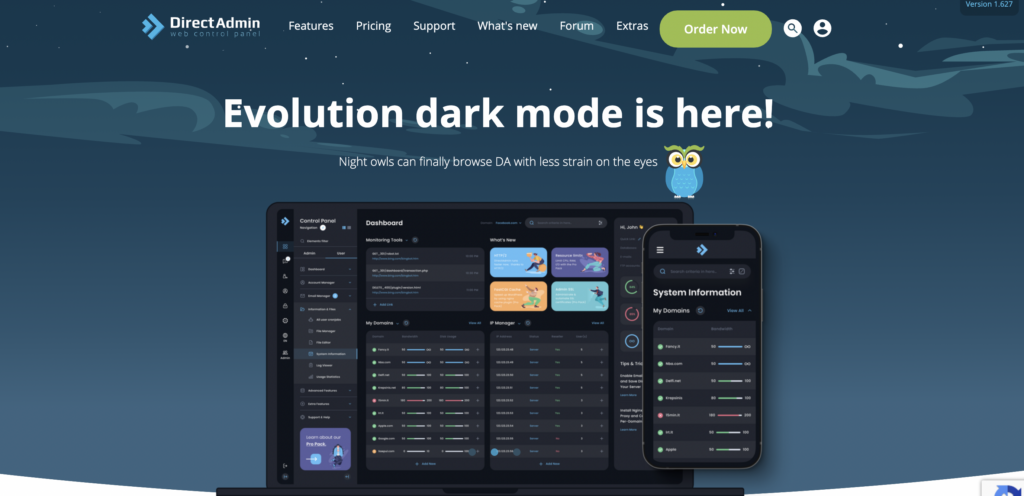 Also, cross-check system requirements mentioned by Direct Admin Technical notes before proceeding with the installation.
Complete installation steps can be found at https://www.directadmin.com/installguide.php
At the end of the Direct Admin Control Panel Setup, the admin password is created automatically and displayed. Carefully note down the credentials and store them safely.
Login to Direct Admin Control Panel
The complete URL of DA is displayed at the end of the DA installation. The DA control panel runs in port 2222.
Always remember to allow port 2222 in the firewall.
Open the web browser and type the URL displayed after installation. The URL is generally http://:2222.
Initially, the DA is logged in with HTTP. If you have an SSL certificate or self-signed SSL certificates, you can install the certificate over the server's fully qualified domain name and access the server with HTTPS.
To enable HTTPS for DA control panel, modify the setting SSL=1 in /usr/local/DirectAdmin/conf/DirectAdmin.conf
After login, the dashboard of DirectAdmin shows basic information on Disk Usage, Services, Domains, Users, Resellers and other Server Statistics.
Basic DirectAdmin Setup
#1 Setup Domain in DirectAdmin
By default, DirectAdmin has not domains associated with it. Hence it is mandatory to create a domain.
To create a domain, switch to User Panel. To switch the user panel, click on Access Level at Top Right and click on "User" from the drop-down menu.
Once the user panel is switched, click the "Add New" button
Enter a valid domain name.
Configured Bandwidth, Disk Usage, enable/disable SSL, CGI Access and PHP and click "Create" Button.
#2 DNS Management in Direct Admin
A server owner can use Name servers from the domain name registrar or the server owner can register custom name servers that can be later used by Resellers.
To create a custom name server at least one additional IP is required.
Login to DA as admin, select IP Management from Server Manager Menu and add the new IP address, and assign the new IP to Admin User.
Now switch to Reseller Panel and click the Name Servers icon. Place checkmarks next to any two
IP addresses and then click the "Create Nameservers for" button, select the domain you want the nameservers for.
Generally, name servers are created as ns1.domainname.com for the first IP and ns2.domainname.com for the second IP.
Again switch back to Admin Panel, and click Admin Settings. Make sure the NS1/NS2 fields are accurate, and then click "Save."
#3 Security
Secure PHP
It is mandatory to secure the PHP scripts with the functions. Unwanted functions can be disabled in the php.ini file.
Edit the file /usr/local/lib/php.ini and enter the PHP functions that are disabled, separated by a comma as below
disable_functions = exec,system,passthru,shell_exec,proc_close,proc_open,dl,popen,show_source,posix_kill,posix_mkfifo,posix_getpwuid,posix_setpgid,posix_setsid,posix_setuid,posix_setgid,posix_seteuid,posix_setegid,posix_uname
Save and exit the file. Restart Apache to take effect
Further PHP can be secured by executing the below script
# cd /usr/local/directadmin/custombuild
# ./build secure_php
A message "PHP has been secured" will be displayed.
B) Firewall
By default, DA has an inbuilt firewall installed, named ConfigServer Security & Firewall (CSF)
To access CSF, login to DA as Admin, Click Extra Features and ConfigServer Security & Firewall
Follow all suggestions marked in Red and try to increase the Server Score which is displayed at the bottom of the page. Max Server Score is 76.
Once all suggestions are completed, click on "Run Again and Display All Checks" to view the increase in Server Score.
#4 Optimization for Better Performance
A) Direct Admin Control Panel Setup: Apache optimization
General Settings Open the file /etc/httpd/conf/extra/ httpd-default.conf and configure with below settings
Timeout 300
KeepAlive On
MaxKeepAliveRequests 200
KeepAliveTimeout 500
MPM Settings
Open the file /etc/httpd/conf/extra/httpd-mpm.conf
Worker MPM
StartServers 6
MinSpareThreads 50
MaxSpareThreads 150
ThreadsPerChild 50
MaxRequestWorkers 300
MaxConnectionsPerChild 10000
/IfModule>
Event MPM

StartServers 6
MinSpareThreads 32
MaxSpareThreads 128
ThreadsPerChild 64
ServerLimit 32
MaxRequestWorkers 2048
MaxConnectionsPerChild 10000

All MPM settings vary based on CPU core of the server.
B) PHP optimization
Open the file /usr/local/lib/php.ini and configure below settings
max_input_time = 300
memory_limit = 256M
post_max_size = 64M
file_uploads = On
upload_max_filesize = 100M
max_file_uploads = 20
Once both Apache and PHP optimizations are done, start Apache service to take effect with below command
# systemctl restart httpd.service
#5 Creating Resellers and Packages
A Reseller package has been created before creating Reseller Accounts in the server
To create a Reseller package, log in to DirectAdmin as admin, Navigate to Account Manager > Manage Reseller Packages
By default, no packages will be available. Click the "Create" button to create a new package.
Configure the package with allowed Bandwidth, Disk space, Domains & Sub-domains,
Email Accounts, MySQL Databases, Accounts, GCI & PHP Access, SSH Access, Manage DNS, Use custom Name Servers and finally type a Name for the package and click the "Create" Button
Now Navigate to Account Manager > Create Reseller, to create a new Reseller in the server
Type a Username, Email, Password, or a valid Domain Name, Select a Reseller package, assign IP and click the "Create" Button.
#6 Customize Reseller Skin
Login to DA as Reseller, Navigate to Reseller Tools, Customize Evolution Skin
Click on the Skin marked as "Current". Click the pencil icon to edit the skin
Navigate to Misc. Options
Under the logo section, delete the existing logo, browse and upload your custom logo
I hope you'll understand this easy Direct Admin Control Panel Setup guide, still, if you any queries then please ask in the comment section 👇🏻 👇🏻 our hosting expert will revert you back as soon as possible.