If you are someone in search of a hosting service, you wouldn't want to miss this. How many service providers have you come across that speak highly of their customer support and actually deliver it?
Well, we did test out multiple services and came across one such service called LiquidWeb, which provides excellent features.
They use intuitive and modern User Interfaces. The customer service is undoubtedly unbeatable as they promise a 59-second initial response time.
Furthermore, the Security can be said to be best in class as they provide HIPAA Compliant Hosting Service.
Let us learn more about this hosting service through this review.
About Liquid Web
Liquid Web is a company with a lot of services under its sleeves. They provide solutions to all sorts of problems and needs you might have with a server. From managing health data to Hosting your dedicated server, you can get it all.
Moreover, with this hosting service, you can vouch for good customer support, have multiple data centers across the globe, and can even transfer your whole existing infrastructure into the new one.
Furthermore, this hosting service provider has more than 45,000 customers across the globe using their solutions.
Test and Analysis 
User Interface & Ease of Use
Whether you are an IT professional or a hobbyist, we should agree on one thing: a good User Interface not only saves us time but also from unnecessary strain. A good user Interface is always appreciated.
LiquidWeb lets you manage your Dedicated servers with cPanel. This makes the process simple and intuitive. Moreover, this hosting service also features Interworx and Plesk as well.
For CMS and eCommerce, you can use Magento Cloud, Managed WooCommerce, UnManaged WooCommerce, and other options.
LiquidWeb Customer Support
You can't afford downtime when you are in a business space or time-intensive application. To prevent downtime or minimize it when it happens, you need good customer support and tutorials and guides.

LiquidSpace does not seem to compromise in this regard. The quick response time within 59 seconds does seem to work as claimed by this service provider.
They also have a knowledge base area in their resources section along with a fast response time. You can check out that section to get detailed answers to your queries.
Security Analysis  
Along with good customer support, security is a big part of the sector where you must deal with consumer data.
Liquid Web has various plans with various security measures. They have Secured Server Cabinets, including Data Encryption At-Rest, Business Associate Agreements, and Hardware Firewall for their HIPAA Compliant Hosting Service.
ServerSecure Advanced Security, DDos Attack Protection, Root Access, 100% Network, and Power Uptime SLAs are available with their Cloud Dedicated Hosting. 
This can be confidently said that Liquid Web is not taking your Security lightly. Their various plans offer various security features for that specific plan.
Key Features of Liquid Web
Types of Web Hosting LiquidWeb offers 
Liquid Web offers various kinds of Hosting Services. These are –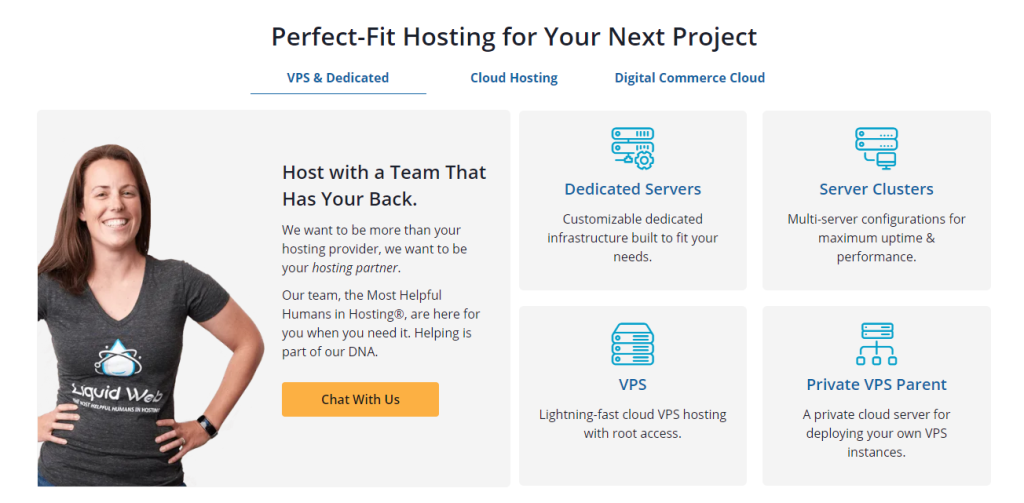 Liquid Web Hosting Pros & Cons
Pros
Reliable and privacy-focused.
Excellent Customer support
Great security measures to keep your data safe and secure
Cons
Only limited data centers
Does not offer domain services
Frequently Asked Questions – Liquid Web Review
Does Liquid Web offer Windows VPS hosting?
If you choose their Private VPS Parent plan, you can opt for Windows Hosting.
Is managed VPS hosting better than unmanaged VPS hosting?
It depends on what you want. Unmanaged VPS gives you more control over the Servers, whereas Managed VPS is more configured and ready to go without having to get into technicalities. 
Can I create a custom Cloud Dedicated server?
No, they do not mention any custom plans for their dedicated servers. But you can always reach out to their team to see if they can do it for you.
What is the cost of hosting a website on Liquidweb?
Liquid Web is not an average web host. It is mainly for business and enterprise applications.
Their price varies on your use case and plan. You can find the pricing and the plan details on the Liquid Web Website.
Can I install my operating system on a Cloud Dedicated server?
No, there isn't any plan or option to install your operating system. They allow you to choose from their Windows or Linux options.
How many websites can I host on a dedicated server?
It would depend on your configuration and your Website needs. So, choose your plans according to your needs.
Does LiquidWeb offer Domain services ?
It does not offer Domain related services.
Conclusion – Liquid Web Review
Would you consider Liquid Web as your Hosting Service? As you saw, almost everything is up to the mark with Liquid Web. If you want reliability, support, and an exemplary user interface, you can choose Liquid Web.
But this has a downside as the servers are only in the USA and Central Europe. If you are from that part of the world, you can always try Liquid Web and see if it is up to your needs and expectations.