The web hosting industry has become highly popular today, with most businesses seeking online and digital presence to scale their services and operations. In that scenario, finding the perfect web hosting company for your business needs is quite challenging.
There are always multiple options before you, and it's difficult to analyse one option that will suit all your needs. Well, we are here for you to help you make a choice easier by giving you detailed reviews of different web hosting companies.
Having said that, for today's article, we have a detailed IntroNexus review for you to read and see if this is the company that suits your web hosting needs or not. Let's get on with the IntroNexus review without any further ado.
About IntroNexus
IntroNexus is a Gujarat-based web hosting company established with the aim to deliver the best performing hosting services with high speed, reliability, performance, and affordability. Their services are designed for ease and simplicity so that non-technical users can get along with the hosting technologies and services without difficulties.
They seek to provide the best level of services as they would expect. With that aim, they have set up a customer-focused team that supports and assists the customers with all their hosting needs and delivers 100% uptime and performance for the services.
Speed Test and Analysis for IntroNexus
The speed and reliability of your website are very important. This not only helps you rank higher in Search Engine Optimization(SEO) but also delivers a consistent experience to your customers.
Given that importance, we have tested Intronexus on multiple parameters and herein below are the results of our tests and analysis.
IntroNexus User Interface
The user interface of IntroNexus is pretty sleek and easy to understand. It has a cPanel control panel which is suited even to non-technical users. The entire control panel is cleverly laid out and thus makes it easier for all kinds of users to work with the user interface with ease and flexibility.
You can have a look at the user interface below, which clearly shows the quick and easy navigation and ease of use of the various fields and sections in the user interface.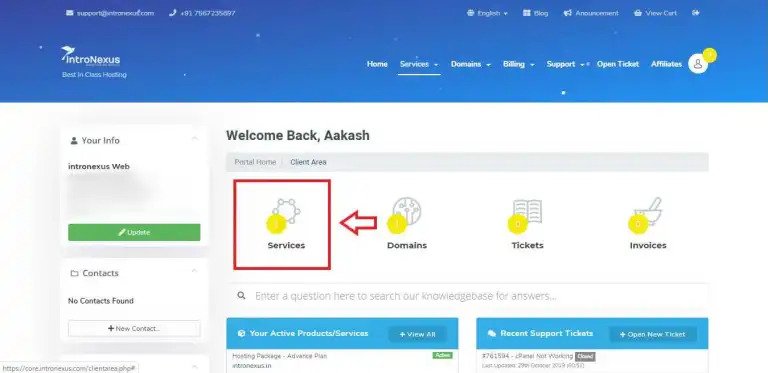 The website is very well built and presents all the necessary details about your hosting. As you can see, the information is laid out in a sensible manner. The options are mentioned on the left side, while the middle portion includes all the options and data in the menu.
Security Analysis
IntroNexus claims their servers run CageFS Hacker Protection. They also claim to have Symlink Protection built into their servers. The servers also include multiple 24/7 AV Scanners.
They also provide Distributed Denial of Service Attack (DDoS) Protection and ModSecurity WAF, which is a Firewall. Along with these, they also offer free SSL Protection and Two Factor Authentication Support with their service.
DDoS Attack Protection saves you from hackers trying to take down your services, SSL gives your website HTTPS functionality, and Two Factor Authentication protects you even if your passwords get compromised.
Given all these security features, we can conclude that security is pretty tight on IntroNexus, and you can trust it for your website and data.
IntroNexus Customer Support
Good customer support is always important; when mishaps happen, you can count on the service provider to save you.
IntroNexus has 4 methods of Customer Support: Whatsapp, Phone, Message, and Live Chat.
You can message them directly on Whatsapp or message them via email directly from their website. You can also request a callback with them by using the Phone feature. Although the live chat functionality is not working, it prompts you to send messages instead.
IntroNexus Data Centers
IntroNexus has its servers situated in Germany as of June 2022, but they say they are planning to host more Data Centers in various countries like-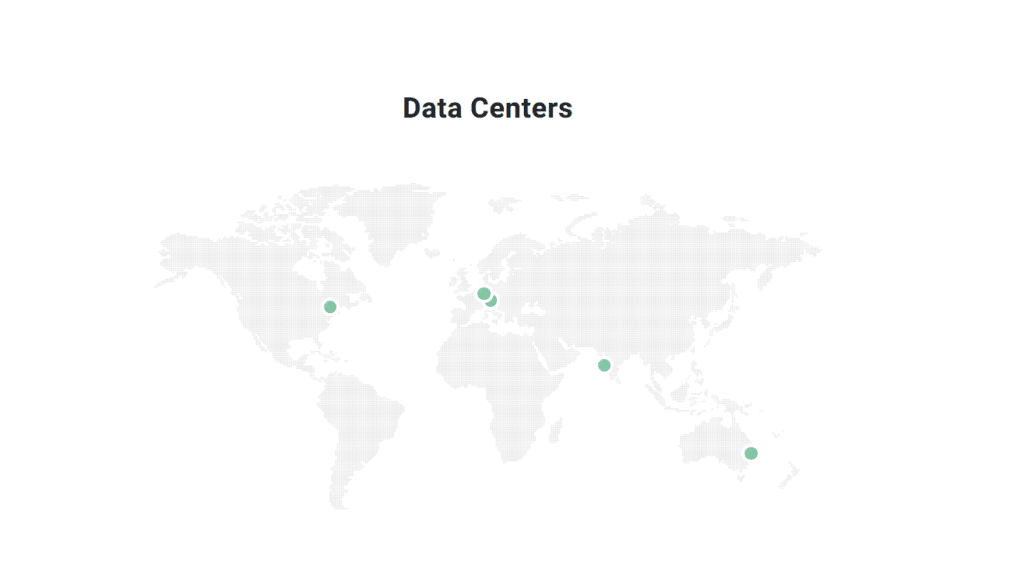 Key Features Of IntroNexus Hosting
The features of a hosting solution show its efficacy and efficiency. You need to see if the features are favourable to your needs for hosting or not. On that note, here are a few key features that you'll get with IntroNexus hosting.
The hosting is set up with LiteSpeed web servers which are twice as fast as any other servers used for hosting. So, you can expect high speed and performance with the web hosting plans.
The hosting comes with an easy-to-understand, easy-to-understand cPanel control panel, thus making the solutions accessible and usable by even non-technical users.
Your data always remains safe and secure with IntroNexus hosting, as it offers daily backups for all the data, media, and resources hosted on its servers.
If your websites are hosted on other platforms, you need not worry about that, as IntroNexus offers free migrations for up to 15 websites and 30 email addresses.
IntroNexus Refund Policy
IntroNexus has a refund policy for all its services. Herein below are the details of how the refunds are processed-
For Hostings (except for VPS)
You will get refunded the full amount if you cancel the plan within 7 days of the transaction. The refund will take place on your original payment method.
For VPS Hosting
You will get 50% of the refund value if you initiate a refund, but you have to initiate it within 7 days of the transaction.
Exceptions
Certain services, such as domain name renewals, new domains, ID protection, redemption fees, etc., are not eligible for refunds. Moreover, refunds cannot be processed for certain banks. In such cases, the refund is made to your wallet balance or your Paypal balance.
IntroNexus Pros & Cons
When you review a service or platform, you come across some pros and cons. Here are the benefits and disadvantages of IntroNexus.
Pros
Good refund Policy
A lot of options and flexibility
Good Security Measures
You get a free Daily Backup
Cons
Not many Server Locations as of now
FAQs – IntroNexus Review
What types of web hosting are offered by IntroNexus?
How much does IntroNexus Cost for Hosting?
IntroNexus Pricing varies on your specific needs. The Basic Plan is $1.59/Month.
How easy is it to transfer a website to another host? 
It is fairly easy to transfer your Website to another host. You just need to transfer the nameservers to your new Host.
Conclusion – IntroNexus Review
So, here we are at the conclusion of the IntroNexus review, and after going through all aspects of the platform, we can conclude that it's fairly good, and you can definitely try it.
In summarising things, we can say that the security and user interface is amazing, and the support is also quite responsive, as you have many ways to reach out to the team. The pricing and refund policy is also favorable, and you get some amazing features. The data centers are lacking, but they are working on that.
Taking note of all these things, there's nothing that may not meet your requirements for good hosting. So, maybe purchase the hosting, and see how it works for you.