Hosting is a complex process but is more straightforward and user-friendly, thanks to the numerous web hosting providers. WebSpaceKit is a new WordPress Hosting provider that has created its position as a trusted and reliable one, specifically in India.
This review lets the customers know the features and benefits that WebSpcaceKit comes up with and why it might be the best choice for your website with its plans, loading speed, and secure options.
Overview of WebSpaceKit
Crafted explicitly for WordPress hosting, WebSpaceKit is a relatively new hosting provider based in India that keeps the needs and wants of its customers at the utmost priority.
With safe and secure options, allow daily backups and regular updates with free SSL certification and a hacking-free environment. It offers affordable plans with additional benefits for the user's convenience, making hosting a simple process.
WebSpaceKit Data Center Location
WebSpaceKit has servers in two Asian regions that manage and ensure your website's lightning-fast loading and working. It comes with a data centre, making the website work more manageable for users globally to gather a more significant audience base.
Security Analysis
WebSpaceKit keeps its customer's safety at the utmost priority, and its security differentiates it from the alternatives present in the market. It takes pleasure in providing a safe and secure environment and comes up with a free SSL certificate with every hosting plan it offers.
It protects your website from all dangers providing you with the best and most efficient security options with advanced and state-of-the-art CageFS technology protecting it from hackers and the risk of information theft. This feature keeps your website files enclosed and concealed from other users preventing all hacking attacks on your website.
Keeping your website secure also includes timely backups and updates and regular updates with core functions, themes, and plugins made easier thanks to WebSpaceakit's automatic software updates. It also provides a daily backup facility using JetBackup that creates backups with backup points to restore and protect your website data.
Customer Support Analysis
Like security, customer support is another building block of a genuine and more significant customer base. Web hosting is not as difficult as it was traditionally, and thus platforms like WebSpaceKit make that more accessible by providing you with plenty of support and assistance.
WebsSpaceKit lets you connect with their technical team via phone calls, emails, and live chat options.
Their knowledgeable and highly skilled technical base answers your queries in no time with its live chat feature solves all your doubts and provides precise and correct answers. You can also drop your questions in the FAQ box. It also uses a ticket-based support system that allows you to open your support ticket directly from your dashboard, making your process more manageable.
WebSpaceKit Key Features
Here are the key features of WebSpaceKit Hosting are:
Beginner-friendly and easy to setup
If you are a beginner, WebSpaceKit is one of the most accessible platforms, making it quite simple for its customers. Unlike other prominent hosting providers, WebSpaceKit provides a straightforward dashboard, making it beginner-friendly to easily manage your plans, domain name, and additional features.
It offers an easy choice between the plans and comes with a one-click WordPress installation with the domain name on your website.
It comes with added features.
The plans that WebSpcaeKit offers come with numerous added features for your convenience. These include automatic updates related to the core and software with daily backups to protect and restore your website data.
It provides you with a free SSL certificate and a hacking-free environment for security purposes. Its plans include SEO advantage, scalability, domain manager, and more.
Instant migration and fast loading time
WebSpaceKit allows you to migrate your websites and domain names from one platform to WebSpaceKit free of cost. They do not charge for website migration, which is a part of all the plans it offers.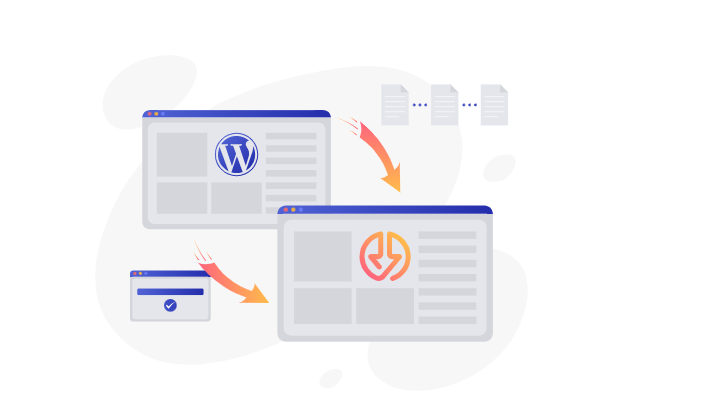 Website loading time is the most critical and crucial point that can make or break your business. WebSpaceKit is one of the fastest hosting providers in the market, with a loading time of under two seconds, giving it a lightning-fast speed.
Types of Hosting Plans WebSpaceKit Offers
Choosing the right hosting plan according to your needs is essential to kickstart your online journey. WebSpaceKit offers you three different plans as follows, providing free migration, free domain name, and free SSL certification:
WebSpaceKit Pros & Cons
Pros
It comes with massive security to protect you and your website. 
The website loading time is less than two seconds making it one of the fastest-loading platforms. 
It is easy to set up and use, making it user-friendly and with a beginner-friendly dashboard. 
It provides regular updates and daily backups to restore and protect your website data. 
Cons
It lacks the unlimited disk space feature and an unlimited number of websites. 
Do we recommend WebSpaceKit for Business?
The crucial part of a business website is its loading time since that can make or break your website and significantly impact the client base, and it allows loading in under two seconds. WebSpaceKit is one of the best website hosting platforms for businesses, thanks to its lightning-fast speed and loading time.
Security is another point in choosing the right plans for your website. WebSpaceKit provides top-class security with free SSL certification and cutting-edge state-of-the-art CageFS technology, ensuring no threat against hacking, making WebSpaceKit one of the most reliable and trustworthy platforms for creating a business website.
FAQs – WebSpaceKit Review
Is WebSpaceKit Reliable?
Yes, WebSpaceKit is reliable and one of the most trusted platforms, as it provides you with best-in-class functions and features to boost your online presence and performance. For security purposes, it furnishes you with a free SSL certificate with all its plans and CageFS technology that minimises all hacking risks.
What kind of Plans does WebSpaceKit offer?
WebSpaceKit comes up with the best plans for its customers at affordable prices, and each program includes free migration, a free domain name, a free SSL certificate, and much more. Its starter plan costs $2.6 and offers 5 GB of disk space with one WordPress account.
The pro plan costs $7 and offers 15 GB of disk space with three WordPress accounts. The Business plan costs $12, showing 30 GB of disk space and 15 WordPress installations, and the Geek Plan offers 60 GB of disk space with 10 WordPress installations at $21.9.
Does WebSpaceKit Offer Affiliate Program?
WebSpaceKit offers an Affiliate Program with easy setup and payment methods to enhance online performance. You need to signup for free and get your affiliate link. You will be paid for every purchase and track your earnings and affiliate performance. The last part is to withdraw your profits when it amounts to $100.
Conclusion: WebSpaceKit Review
WebSpaceKit is a pretty new entry in the web hosting industry. With its super-fast loading speed, the websites load in under 2 seconds and offer affordable hosting plans for your convenience. This might make users skeptical about choosing this platform, but it has proven to be one of the market's best and most trusted hosting platforms.
We have everything you need to know WebSpaceKit in our review, covering all the details and basic ideas of hosting that the company provides, making the complex web hosting process simple.