Cloud Hosting is a necessary part of website building, and you should be very careful when choosing your hosting partner.
Hello, guys. Welcome to GoogieHost, Today we will tell you about the Best Cloud Hosting in Indonesia for your website, there are some parameters, which every web hosting should meet. These are server uptime, performance, price, and features.
At a time when there are numerous cloud web hosts available, Indonesian web hosting companies are known for providing the most economical web hosting plans to their users.
Today, I will let you know about one more Indonesian cloud web hosting company that holds an interesting story behind its foundation.
Started as a small business, Qwords now ranks among the most reliable cloud hosting services in Indonesia.
So, stay tuned until the end of this Qwords Review article before you choose any Indonesian cloud web host as your hosting partner.
About Qwords
Even being a small hosting service provider, Qwords is a leading web hosting company in Indonesia.
Can you believe that one of the students of the Bandung Institute of Technology founded Qwords?
Unbelievable, RIGHT?
Well, all the credit for founding Qwords goes to Rendy Maulana.
In 2005, the Indonesian internet was entering an era of development, and a large population were entering the world of internet and social media.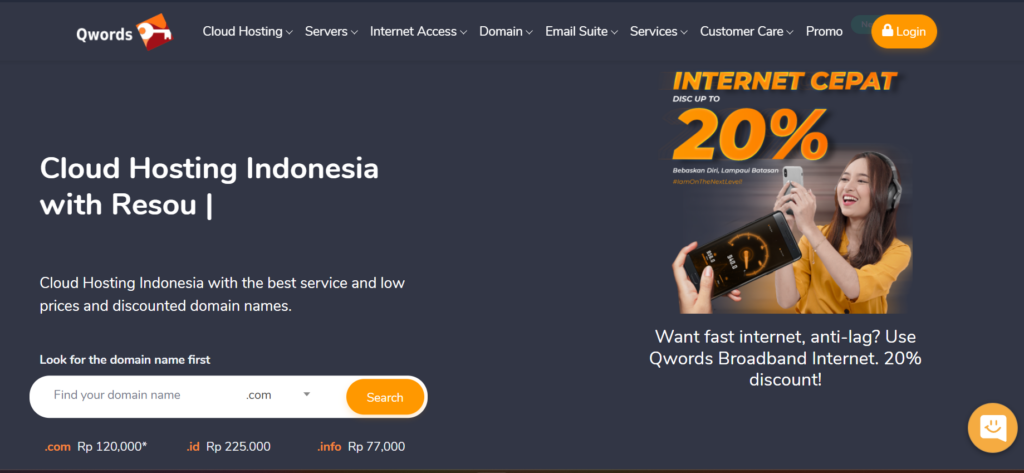 The company name is Qwords which means Keywords. The founder of the company chose this name as Keywords are an essential part of the information gateway.
A customer can find you and your business via the right keyword.
As a part of the web hosting industry, Qwords offers several web hostings to its clients. They also space rental services to put your website data and email access on the internet.
While researching for Qwords review, I found that the company offers domains, SSL and other website-related services apart from its hosting plans.
An interesting part of the foundation of Qwords is the founder Rendy Maulana only wanted to have a company to support his college friends.
And, now Qwords has the sixth-largest number of customers in the country.
Qwords Data Center
Qwords Hosting has its data centre located in Jakarta, Indonesia. So, the local consumers and near ones to locations can take full advantage of their services.
But for those living afar, this hosting has only one data centre, which would not work for them.
Feature of Qwords Hosting
Features are an essential part of Qwords review. As a web hosting company, Qwords has everything a web hosting service should offer including web hosting, domain registration, SSL certificate, email hosting, backups and hosting insurance.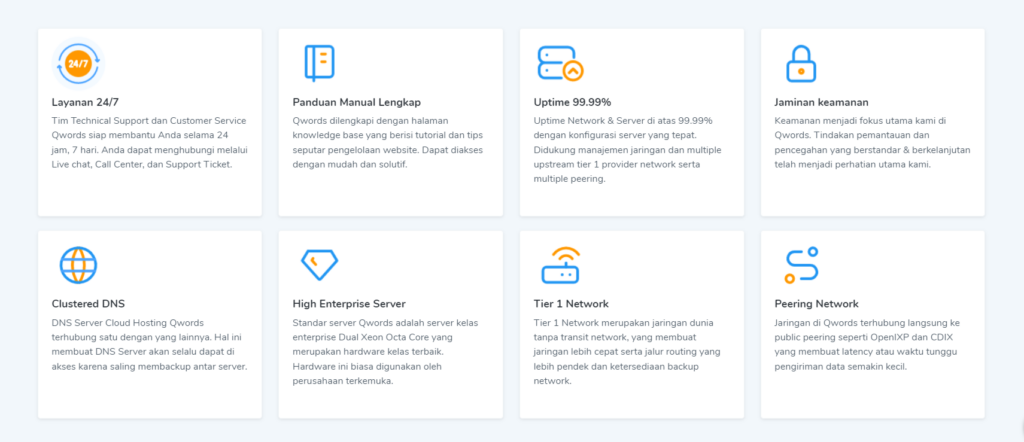 Free hosting migration
If you switch to Qwords from your current hosting provider then you won't be charged anything for hosting migration. Just like other web hosting providers it offers migration of hosts without charging a single penny.
The process takes 24 hours. But the condition is both the hosts should have cPanel or sPanel in common to process the migration.
Complete manual guide
Qword has a large knowledge base for its new users which contains tips and tutorials about how to create and manage websites. You can easily access the manual guide to learn more about websites, hosting and domain.
99.99% uptime guarantee
Uptime is one of the few important factors a website needs. If the website faces downtime then users won't like to get back to the website. With right server configuration, Qwords guarantees network and server uptime above 99.99%.
During research about the actual uptime condition, we found that the average uptime is very stable but the minimum standard of uptime is 99.90%. Qwords has an impressive average uptime most of the time.
Tier 1 network
Tier 1 networks are world networks without a transit network that makes the network faster. Qwords has tier 1 networks that are not only faster but also have shorter routing paths and are available to take network backups.
Trusted by 45000+ active customers
Qwords has been a member of various leading organisations and collaborated with several applications like Microsoft, Softaculous, cPanel, and Google.
With its best in industry services, Qwords has been a trusted option for more than 45000+ active customers. It is one of the famous web hosts in Indonesia.
High-grade enterprise hardware
The server used by the company is the enterprise-class Dual Xeon OctaCore server. It is the best in class hardware which is used by major leading companies.
Fast support service
The support team responds in less time compared to other Indonesian web hosting companies. There are various ways to reach the tech-support team.
You can not only raise a live chat session but also can schedule a meet-up with the support person if you live in Bandung. The other ways to reach them is by phone call, customer care and email.
Clustered DNS
Qwords cloud hosting DNS are connected to each other. This way the DNS is always accessible because of backing up between servers.
Qwords offers what Types Of Web Hosting?
Qwords hosting focuses on providing private cloud-based web hosting and VPS hosting.
As per the customer requirement, the company has a variety of web hostings in its plans and prices.
You can also choose between Singaporean, Indonesian or US facilities.
Qwords has segregated its packages into public cloud hosting plans and public cloud virtual server plans.
Qwords offers the following hostings: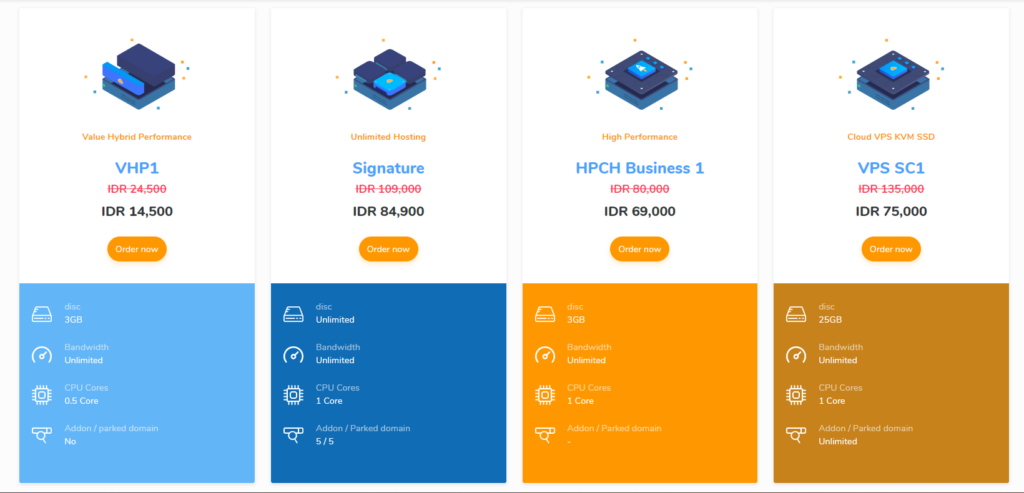 QWords Domain
Domain names impart individuality to your website. Hence, it is one of the most crucial parts when you are creating a website. An identity through which people will start knowing.
QWords help you to gain that image with great domain name options.
Let us know more about the process of transferring and registering a domain, though they are equally the same: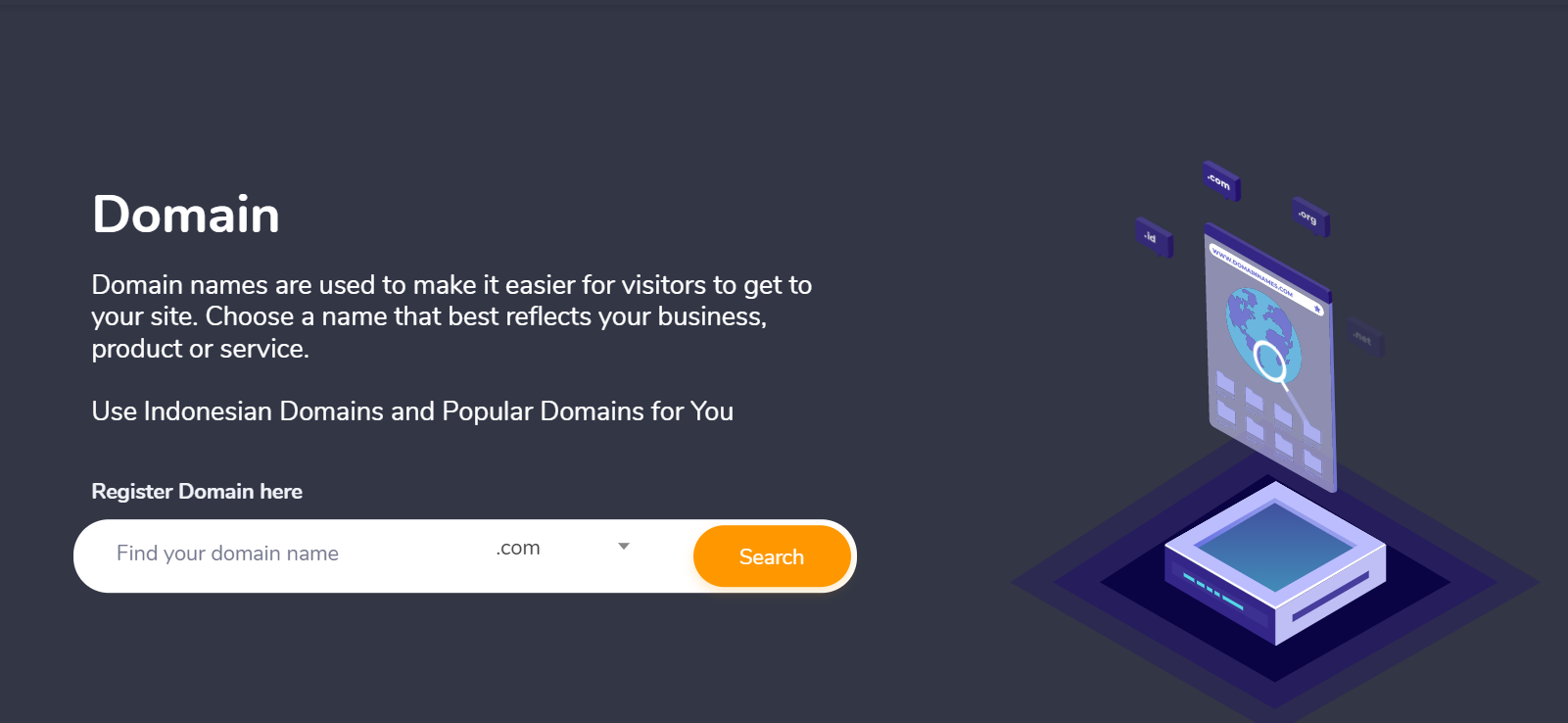 Transfer Domain
You can get your domain name transferred from a domain name provider to QWords. At the point of renewal, QWords will cost you the same as on their price list according to your domain name.
You can quickly transfer it to QWords, abiding by their few conditions.
Register Domain
Registering a domain name is again an easy process. QWords offer over 500 domain extensions to choose from! All you need to do is find a unique name for your website, choose a top-level domain, and you'll get your domain registered to pay the amount that was listed for that particular TLD.
Qwords Support
Qwords has 24/7 technical support assistance for its customers. You can create a support ticket to reach for any technical support.
For sales and administrative inquiries, the company can be reached through live chat.

For colocation products, dedicated server, reseller, custom large size requests you can write a mail to the team on [email protected]
The other ways to reach the team is via phone – 021-39708800
To ask your queries on WhatsApp ping the support team on +62817437111
Qwords has also a call center to provide support to the customer queries. Below are the customer care number: 080-1-808-888 and 021-39708800
If you live in Bandung then you can also meet the team by arranging a meeting at their Bandung office. Simply fill up the contact form by providing name, email, purpose, and message.
Qwords Pros and Cons
Let us list out the pros and cons of this hosting platform in this Qwords Review.
Pros
Global data center locations
Affordable packages
Fast and good support service
Complete documentation guide available for users
Backup features
Fast access from anywhere in the world
Easy to use the dashboard to create a website
Cons
Late fees applicable if late pays of hosting bills
The uptime guarantee is still in doubt
Choose Qwords Vs NiagaHoster?
Niagahoster is a hosting service provider which was founded in 2013 and it has more than 29 million customers throughout the world.
The company offers the cheapest hosting plans under shared hosting, cloud hosting, and WordPress hosting. User-friendly dashboard, guaranteed uptime, free domain, 24/7 customer support and 30 days money-back guarantee are some of the best features by Niagahoster.
But the company has limited backup features which is one of the drawbacks. When we build a website having backups is a crucial part. You need to safeguard your data with backups features in which Niagahoster lacks.
Apart from this another drawback of the company is you can't choose server location as it will be automatically chosen from the company side which is limited to Jakarta.
To read Niagahoster review in depth click here.
On the other hand, Qwords has a lot more things to offer at an affordable price. You will get free domain, free SSL, unlimited bandwidth, disk space, website builder and unlimited FTP/email accounts with almost every plan.
The company has global data centers and it offers free migration from other hosting services. Qwords has a lot more features than Niagahoster and also it offers huge discounts on its plans.
So, it is recommended to go for Qwords over Niagahoster.
Qwords Alternative
If you think that Qwords is not a perfect fit for your website building, there here are the best alternatives of Qwords.
IDWebHost
Founded in 2004, IDWebHost offers the cheapest plans under shared hosting, unlimited hosting, WordPress hosting, dedicated server and VPS. Just like Qwords, IDWebHost provides free SSL, and domain along with its hosting plans.
Unlimited bandwidth and a free website builder is the other free giveaways from IDWebHost.
When you build your website with IDWebHost, you will get advanced hosting technology, 90+ one-click software installers and free 300 premium website templates.
There is a large selection of data centre locations with IDWebHost which ensures hassle-free website speed. With unlimited emails and database, 99.9% uptime, 24-hour support, and 30 days money-back guarantee IDWebHost is the cheapest hosting plan provider in the town.
To read the IDWebHost review in detail click here.
Rumahweb
Rumahweb was founded in 2002 in Yogyakarta and now it is one of the biggest hosting companies in Indonesia.
The company offers shared hosting, VPS, WordPress hosting, unlimited hosting, cloud hosting and Alibaba cloud VPS. With a variety of hosting plans, Rumahweb supports various programming languages.
You can get monthly hosting plans if you choose Rumahweb as your host partner. There are no hidden fees and you will get a free domain and website builder along with your hosting purchase.
Read Rumahweb review
FAQ- QWords Review
Does WordPress Hosting from Qwords include SSL and free Domain?
Can I transfer Hosting to Qwords Cloud Hosting Indonesia?
Yes, you can transfer your hosting to QWords through their free migration facility. You will just have to ensure that your hosting and domain name meets the terms and conditions the company applies on free migration to their website.
Why Choose Qword Hosting Plans?
Let's list some reasons why one should choose QWord's hosting plans. After reading them, we guess you will also get convinced:
Tier 1 network
24/7 customer support and service
Complete manual guide
99.99% uptime guarantee
Guaranteed Security and a lot more of them.
What is Boost Power on Unlimited Hosting plans?
Boost Power is an extra feature that allows increasing hosting resources when needed temporarily. It can be used for Flash Sales, importing and exporting large amounts of data from websites, and testing themes and plugins.
Conclusion – Qwords Review
This is all about the Indonesian web hosting company Qwords review. The company is pretty experienced in providing quality services to its customers.
If you are looking for a hosting partner under your budget and want some free giveaways, then Qwords will be the perfect fit for your needs.
Qwords has server options in Jakarta, USA, Singapore and Surabaya. So, you will get a stable website server uptime no matter where you stay.
Do you have experience using Qwords hosting? Want to share your thoughts and experience with the Qwords review? Please feel free to add your comments in the comment section.
NB: If you are looking for other Indonesian web hosting providers then visit our blog.