IDWebHost Review: As a hosting review expert, the most common queries I have faced till date is the pricing of hosting service.
Many people hardly bother about the actual benefits they get from a host.
Instead, they focus on how cheap the hosting plans are. At a time when money is the primary concern, people from various places look for cheap or almost free hosting service to host their website.
But where to look for a web hosting service that can provide the combo of these two?
From this perspective and speaking honestly, Indonesian web hosting companies offer affordable hosting plans. They do understand that it is important to balance amazing features with a budgeted pocket.
So why do most of the people SIGN UP for reputed international brands more often?
The answer is SIMPLE.
The word 'free' attracts people more often. Hence, in search of free hosting service, people often commit the mistake of choosing the worst hosting service for their website.
But, be AWARE!
Building a decent website is just like building your online address. It should be made on a safe platform. This way you won't face any security issue in future.
So, today I am here with one of the cheapest web hosting service provider from Indonesia. They provide remarkable offers on their plans in the budget for Indonesian people.
In this article, I will take you through IDWebHost review – The cheapest hosting plans service provider in the town.
So stay tuned until last of the article.
IDWebHost About
Founded in 2004, IDWebHost offers cheapest web hosting plans in Indonesia. It has bagged several milestones up to this date in providing hosting services.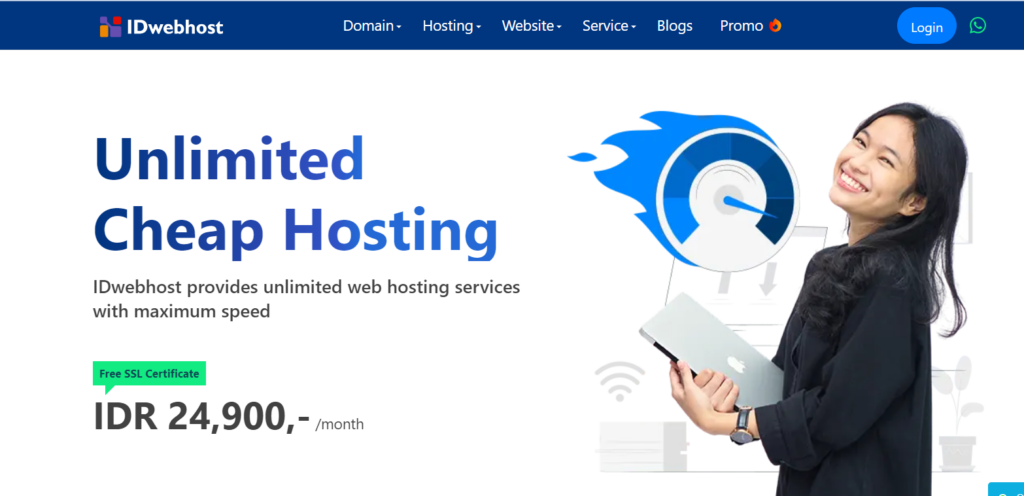 Since 2005 IDWebHost has been the best web hosting service provider in Indonesia, and it has owned the first ICANN accredited in the country in 2009.
With more than 100,000 customers across the globe, IDWebHost is a leading web hosting company in Indonesia that has a super supportive customer service team. 
The company has offices in Jakarta, Yogyakarta, Semarang and has more than 75,000 active subscribers with up to 122,000 active domains. More than 100 shared servers support these domains.
Test and Analysis
The following are the results that IDWebHost came out with;
User Interface & Ease of Use
IDWebHost's architecture consists of several servers housed in data centres all over the world.
For beginners, there are numerous value-added features. IDWebHost offers a free trial for a website builder with over 300 themes and a Softaculous installation that includes over 90 apps.
There is a free WooCommerce plugin for WordPress websites if you have an e-commerce store.
For experts, PHP versions 5 and 7 are supported, as well as CGI, MySQL, and phpMyAdmin. However, SSH access and support for more sophisticated coding languages are unavailable.
IDWebHost Customer Support
IDWebHost has a round o'clock team available to support their customers. You can reach them 24/7 via live chat. You can also reach them on WhatsApp- 081212227730.
I have connected with their live chat team and they are very friendly and resolve all your queries patiently.
Security Analysis
Cloudflare CDN is offered as one of the unique security measures by IDWebHost. It works completely fine, and other security features like Anti-virus, anti-malware, CageFS and more make the security tight and robust.
IDwebhost Data Center Location
IDWebHost has located its servers in its home country but different regions. Hence, the data center locations of IDWebHost in Indonesia are:
Key Features Of IDWebHost
Features are the main attraction of any company and people always wonder for something new and fresh in this section.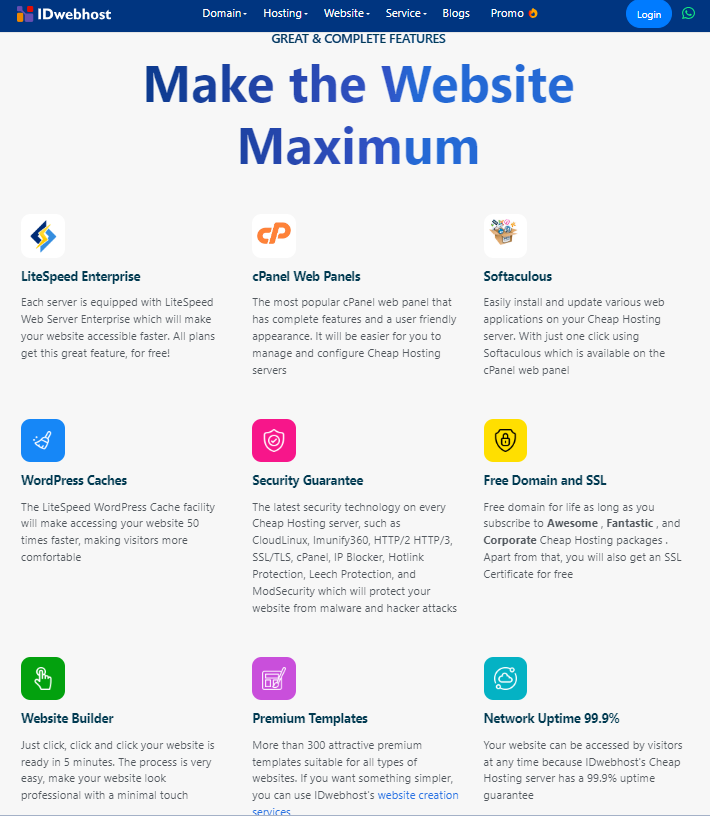 As a leading hosting company in Indonesia, IDWebHost has everything in its buckets and here are the features you can rely on.
Offers free domain and SSL
When you buy a hosting plan from IDWebHost, you will get a free .com domain without any conditions.
If you are taking Awesome of Fantastic plans then the domain will be automatically renewed without any charge for a lifetime.
Not only free domain but also IDWebHost offers a free SSL certificate along with its every plan.
Just contact the customer care and they will install it for your website without charging a single penny.
Free website builder
When you are new to website building, website builder helios you to get your first ever website without much struggle. Just keep on clicking and your website will be ready in minutes.
The company provides a free website builder to its users so that they can build their website without much hassle while giving the site a professional touch.
Advanced hosting technology
IDWebHosting's technology is always ahead and up to date. You will never find anything that is not in trend or expired. cPanel, Softculous, CloudLinux, CGI support, multi PHP version, mail filter are some of the technologies used by the company to provide seamless services to its users.
Unlimited emails and database
Enjoy unlimited emails with IDWebHost and get your desired mail id along with your domain name.
The company also offers the latest email features along with dedicated email filtering facilities like webmail, encryption, spam filter, forwarder, autoresponder, POP3, IMAP and SMTP.
Apart from unlimited emails, IDWebHost offers an unlimited database to its users. Create as many databases as you want without hesitation and enjoy hosting with the company.
Cheapest hosting plans in the town 🇮🇩
Since the company came into existence, they have always offered the cheapest plan available in time.
You can compare the plans prices with other companies and will find that they are actually super affordable.
Unlimited bandwidth
When you host your website with IDWebHost, no need to count bandwidth as the company offers a free unlimited bandwidth with its every package.
Free 300 premium website templates
Now you can choose any template as per your choice from 300 premium website templates offered by IDWebHost.
The templates are segregated by different fields like restaurants, companies, online shops, e-commerce, blogs and many more.
Just choose your required template and here you go!
24 hours fast responsive service
IDWebHost offers 24/7 customer support to its customers. You can ask the team any of your queries and get a solution to any problem facing round o'clock.
Server uptime 99.9%
IDWebHost not only has cheap web hosting but also has an excellent uptime guarantee. When you host your website with the company you will always access your website in a span of seconds throughout the year.
There hardly downtime faced till date on their server.
90+ one-click software install
Install any software in just one click and the software will be ready in no time. Some of the famous softwares are WordPress, Drupal, Joomla!, SMF, Moodle, Dokuwiki, osCommerce, MyBB, Prestashop etc.
Multiple data centers
There is a large selection of data centers locations with IDWebHost. You can choose your desired location from the options that are spread over the world.
Simply choose the closest data center for your website visitors and let them enjoy speed website load experience.
30 days money-back guarantee
In case you didn't find the services offered by the company is suitable for you, there is also a 30 days no questions asked money back guarantee offer.
If you don't feel satisfied with the services then your money will be refunded without any conditions.
What Types Of Web Hosting Are Offered By IDWebHost?
IDWebHost offers cheap hosting for Indonesian web with 40X faster web access. Trusted by more than 100 thousand customers, IDWebHost's hosting packages are reliable and affordable. 
Choose your hosting package at a very affordable price and get free domain and SSL forever with 50% direct discount.  
Below are the web hosting plans offered by IDWebHost:
IDwebhost Domain
Let's discuss the domain system of IDWEbHost. As it offers 2 free domain names with its hostings, what if we buy only a domain or get it transferred to them? It's time to know it all!
Domain Register
You can easily choose your favorite domain, check if it's available and also pick teh domain extension to get your domain registered in no time.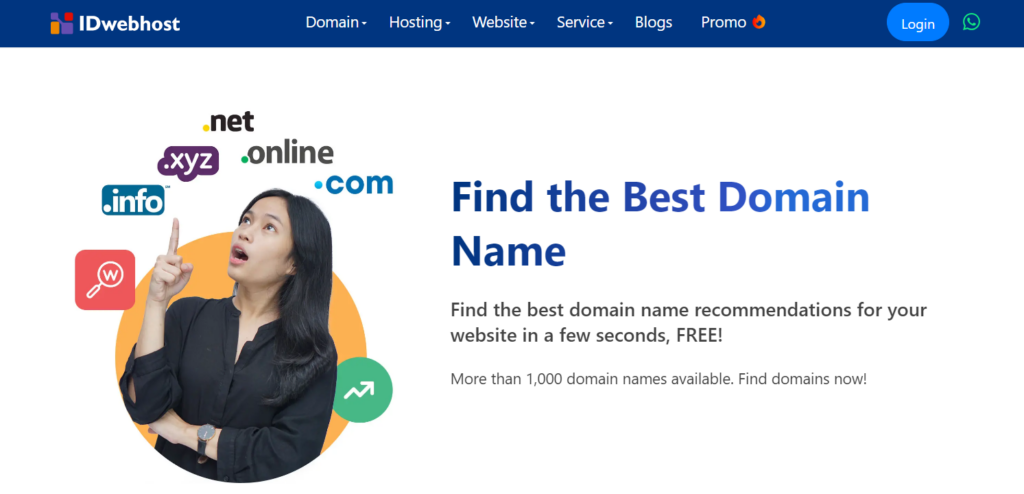 The country extension '.id' costs $14.66 per year, '.co.id' at $18.42 per year, '.com' at $8.86, and so on.
Domain Transfer
IDWebHost offers domain transferring and is ready to help you at each step. Make sure you check the availability of your domain through its domain check form.
Then pick up an extension and leave teh tensions to IDWebHost. They'll bring your domain to IDWebHost.
IDWebHost Pros & Cons
Let us list out the pros and cons of this hosting platform in this IDWebHost review.
Pros
Affordable and value-for-money plans 
Amazing customer support
Free website-building tools are available
Easy to use for beginners
Most of the things you get are free with the hosting
30 days money back guarantee
Cons
No uptime service level agreement
No backup is offered in the Charming plan
The user has to opt for three years plan to get the maximum discount
Why Choose IDWebHost hosting company?
The company provides affordable, simple shared hosting plans with a 99.99% uptime guarantee, automatic weekly backups, free domains with almost every plan, a free SSL certificate, and free migration facility. 
As a leading web hosting company in Indonesia, IDWebHost understands the value of web hosting and offers the eBay in industry that suits your pocket and gives you quality service.
In terms of customer support, the company is 24/7 available to give tech support to its esteemed customers. 
The data centers are located across the globe to provide constant support. Their server runs on the Litespeed Web server, CloudLinux. If you are a beginner then also it is very easy to use and you will not face any issues. 
IDWebHost provides a free website-building tool for six months. The tool has more than 300 templates included and a Softaculous installation with over 90 programs. 
FAQ – IDWebHost Review
How to transfer the website to IDWebHost?
Website Migration helps you transfer your website from one provider to another. This service is mainly given out for free by your new web hosting provider. They ensure all your data and the entire website are secure and transferred with care to their company.
Is unlimited hosting also not limited to addon domains?
No, the addon domains are not particularly unlimited. It depends on the plan you're purchasing and how many domains are offered.
Is it true that the space is unlimited?
IDWebHost does not restrict the amount of disc space available in the shared hosting account you are utilising. The amount of inodes on a shared hosting account is limited by IDWebHost's plan.
Conclusion – IDWebHost Review
As a cheap web hosting in Indonesia, IDWebHost has gained popularity across the globe and offers varieties of affordable service to its clients.
WordPress hosting, unlimited hosting, shared hosting, domain – everything is super pocket friendly and reliable.
Free website builder, free SSL, domain and many more offers are provided by the company. You will also get amazing discounts on almost every plan of the company.
If you are a beginner and looking to get a web hosting then don't forget to give it a try.