Do you value your data and do not want to lose it in any way? Or your client's data, some communications, or maybe transferring of some private information, all of this should be kept safe, right?
If yes, then beware of all cyberattacks and threats; may they be known or unknown. Make sure your communication or data transfer line is secured, and no one can fish around to extract any of that. And to establish that successfully, you'll need a VPN (Virtual Private Network) that secures your data and transfers it through a private tunnel so there is no way you can be attacked.
Hence, comes providers who offer such service to you. And here, we will talk about a renowned provider and the best in providing VPN services: Nord VPN. Let's move further with the article to know about this company and what it offers so that you can decide to opt for it for yourself!
You can click here to check more about the NordVPN Review.
Test and Analysis for NordVPN
We tested and analysed every aspect of what Nord VPN offers. And came out with specific good results. We'll let you know about every test :

Ease of Use and Interface
It's pretty simple and easy to operate and use NordVPN. You can easily browse through the plans, prices and the service of Nord VPN to avail yourself of them without facing any difficulty or going through a complicated process.
A little ease through things is a plus for even the experts. Hence, Nord VPN has ease of use with user-friendly interface. It is compatible with all devices and software like Android, iOS, Mac, Raspberry Pi and others. It works perfectly fine on every device if worked with it in the right way.
Speed Test
Regarding VPN, its speed changes according to the change in place. We tested Nord VPN in various countries like the UK, US and others. And we came out with some great results; the uploading and downloading speed derived from these countries were satisfactory.
So, we can say Nord VPN has a great speed capacity which it offers worldwide.
Server Network (Servers and Locations)
Nord VPN has colocated servers, where the data is only stored in RAM, which means it is wiped clean every time the server is restarted. There is no permanent data preserved if there are no disc drives.
NordVPN isn't the first VPN service to feature colocated servers, but it is by far the most popular. It has over 5000 servers in over 50 countries around the globe. Some of these server locations are: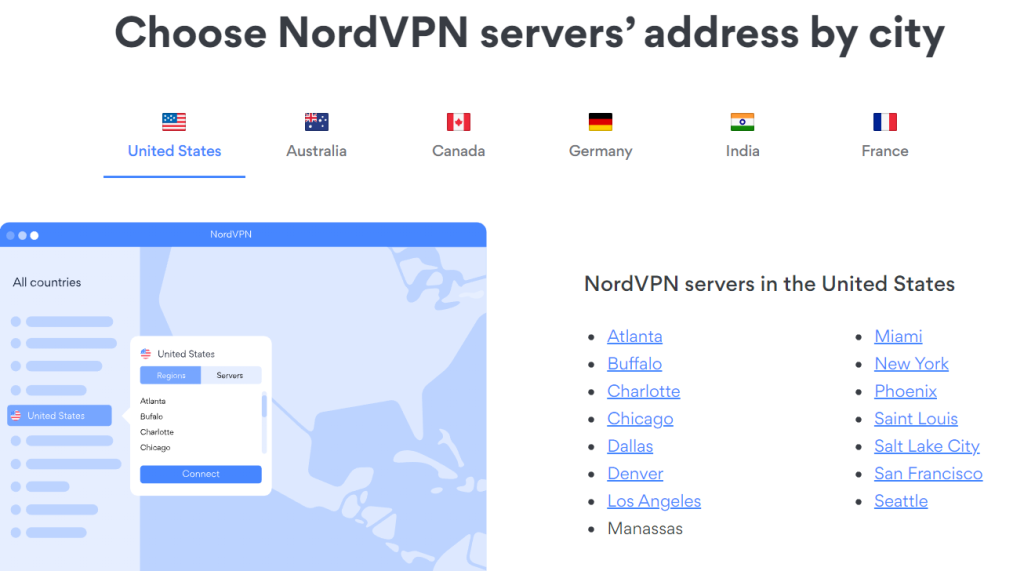 We have attached a screenshot for a brief look at the data centres of Nord VPN:
Security Test
Nord VPN has bulletproof security with state-of-the-art encryption and multi-factor authentication, making it one of the most secured VPN providers. All the claims and the purpose of Nord VPN as a security tool were fulfilled when we tested them by sending attacks and trying to breach information. Still, we'll explain it in more detail.
Do not worry about data leaks when with Nord VPN. It uses 256-bit AES keys and other security tools that save you from breaching data by governments, hackers and internet service providers. It has a kill switch to protect data from leaking and prevent devices from creating unprotected connections.
You can opt for a Double VPN for double security. It provides IP protection, double encryption, and complete privacy when you need a high level of online p[rivacy and security.
It's also one of the best mobile VPNs! All you have to do is download, log in and enjoy!
Customer Support
With options of live chat (bot-human), email, phone call, help centre and ticket submission 24*7 available for its users and visitors, Nord VPN has shown great results.

We tested the customer support by live chat and ticket, and the results were quite great as they replied within minutes, the solutions to our questions were quite appropriate, and the team was customer-friendly. They will answer or solve your query with patience and utmost sincerity.
NordVPN Key Features
Let's look at what completes Nord VPN to make it a healthy and the best VPN service provider. Features are the body of service. Some features out of the 25 great ones mentioned by Nord VPN:
VPN encryption scrambles your internet data so that it cannot be viewed or misused by third parties. To close that window, you'll require an encrypted VPN service.
One NordVPN account may secure up to six devices simultaneously, giving you six times the protection. Whatever operating system you use may be Windows, Android, macOS, iOS, or Linux. NordVPN will mask your IP address and encrypt your traffic.
DNS is also used by virtual private networks like NordVPN to assist your device navigating. Nord VPN's private DNS servers will carefully handle all DNS requests, keeping everyone else out of the loop.
NordVPN will automatically safeguard your ISP. They will only be aware that you've connected to our servers, and they'll take care of the rest. Looking through the threats and other risks, private DNS is vital for your privacy and security.
While travelling, you can access the content. No matter where you are, safely and secretly stream your favourite movies, TV series, and episodes.
Nord VPN gives you a chance to stream without being interrupted. You can get the best VPN experience with a fast connection on all streaming providers with no speed or bandwidth limits. Also, keep yourself safe at all times. While your internet traffic is totally safeguarded by next-generation encryption, you may enjoy the content you want.
Split tunnelling allows you to keep two connections open at once. Your VPN programme separates your internet traffic into two categories: one is encrypted and redirected through safe VPN servers. At the same time, the other is left unencrypted and free to interact with the internet directly.
In the case of Nord VPN, it uses App-based and Inverse split tunnelling.
NordVPN Pricing and Plans
Nord VPN offers some reasonable prices and plans that stay within your budget. It's not only the VPN that they are offering. You can also enjoy the tools that block malware, trackers and ads with free threat protection!
For a detailed view of Nord VPN's plans and prices, we have attached a screenshot from their latest pricing list:

NordVPN Pros and Cons
Pros and cons are the two sides of the same coin. Hence, let's discuss the two sides of Nord VPN because discussing the vulnerabilities is as important as discussing the strengths that may be of a product or the company before moving ahead with them:
Pros
Greater Online Privacy 
Good for businesses to stay protected from any kind of cyber threat 
No log policy 
5000+ data center locations 
High Speed 
Cons
Windows not in proper working in China, at times 
Rather slow application connections 
What VPN Protocol Does NordVPN Offer?
NordVPN currently supports 3 protocols:
The internet protocol TCP or UDP is used by OpenVPN. TCP ensures that your data is transmitted in its entirety and the correct order, whereas UDP prioritises faster speeds. You can select between the two with NordVPN.
IKEv2 lays the groundwork for a safe, fast, and robust VPN connection by establishing an authorised and encrypted connection.
The WireGuard protocol lies at the heart of the NordLynx technology. It doesn't yet have any configuration files.
How Good is NordVPN's Windows App?
With the fastest VPN for PC, you'll have one of the best online experiences possible. Windows 7 Service Pack 1, Windows 8.1, Windows 10 (version 1607 or later), and Windows 11 users can easily set up a VPN.
With such features, Nord VPN is an easy-to-use VPN for Windows PC and laptops with fully customizable adjustments from which you can choose, like threat protection, split tunnelling and the location.
All you need to do is get the app, Install it and Sign up! It's the fastest running VPN with unlimited bandwidth, causing no network interruptions. Here are some features that define how good is NordVPN's Windows App:
How Good is NordVPN's Android App?
With the best VPN for Android, you can enjoy online security and privacy on mobile networks and even Wi-Fi. For Android 6.0 or later, a secure VPN client is available. Split tunnelling allows you to choose the data you want to secure. Also, with the VPN APK version, you can block annoying adverts.
A fast and easy Android VPN by Nord VPN. It provides a safe gaming experience. And when it comes to security, it is protected by a skill switch, malware is protected, and privacy can be increased or decreased on demand.
You can easily download the Android.apk file from Google Play or Nord VPN's official site. It's as simple as it sounds.
How Good is NordVPN's iOS App?
With the best VPN for iOS, you can take control of your online security. iOS 11.0 or later requires a secure VPN. There are dedicated apps designed for all iOS devices.
It connects in seconds with its user-friendly and intuitive VPN. You will not face frequent interruptions with 24/7 customer support and advanced features.
It is built to protect and designed for the comfort of the users. With strong encryption to keep data safe, advanced security protocols, multi-factor authentication, safe from malware, ads and more, ensure that NordVPN's iOS app is super safe and secure.
It's easy to set it up. All you have to do is download the app, Open it, Log in with your credentials and click Quick connect to start your NordVPN iOS app.
Why do you need a Virtual Private Network?
Your traffic is encrypted when you use a VPN, so no one can see what you're doing online. Here are some further reasons why you should use a VPN :
A VPN secures your connection to public Wi-Fi, allowing you to browse in complete anonymity. Hackers use a variety of techniques to steal data from public hotspots, but with a VPN, your online traffic is hidden from them.
Governments, marketers, and internet service providers want to track and gather your browser history, messages, and other personal information for their benefit.
You can conceal it using a VPN to encrypt your data, disguise your IP address, and hide your online footprints. It can be used at any time and any place.
FAQ – NordVPN Review
Is NordVPN trustworthy?
Yes, as far as we learned about Nord VPS, its features and teh security measures it takes, plus its server locations all spread over the world. We can say that Nord VPN is a trustworthy platform to move on with.
Can you get NordVPN for free?
No, Nord VPN has stopped offering its services for free. The reason being, Scammers, took advantage of their free trial, which took a toll on their infrastructure and impacted the service in various ways.
Because the minor benefits provided by the free trial were insufficient to compensate for all of the major disadvantages, they decided to discontinue it. However, the Google Play store still offers a free 7-day trial (via mobile devices), and they have a 30-day money-back guarantee, allowing everyone to test out their service without risk.
Does NordVPN work in China?
Yes, NordVPN works in China. It just faces some problems with Windows in China at times. Otherwise, it works perfectly fine.
Is ExpressVPN or NordVPN better?
Nord VPN offers more servers than Express VPN and also gives you more control over security settings. Because of Nord VPN's excellent unblocking ability and dedicated IP address option, it's also a good choice for streaming.
Though the speed and streaming quality of both the providers are equally the same.
Can I cancel NordVPN anytime?
Yes, you can cancel NordVPN services at any time. Just make sure that if you are cancelling the services within the first 30 days of purchase, you'll get full compensation; otherwise, there will be no money back. You will just be able to cancel the services.
Can you be tracked through NordVPN?
This question has different answers according to the different situations. Otherwise, If the programme is already installed on the device, a VPN will not be able to protect it.
Does NordVPN work with the police?
NordVPN does not maintain any logs of your online activity. They do not store logs of IP addresses or servers used, websites visited, or files downloaded, nor do they track the time or duration of an online session.
None of your private and protected information is ever captured or saved. As a result, even if you (or the police) demanded it, the company are unable to share any information about your online activities.
What methods can you use to pay for NordVPN?
Payment options that are accepted vary by region. On the checkout page of NordVPN, while ordering, you'll see a complete list of approved payment methods in your region. Credit cards, cryptocurrency, AmazonPay, UnionPay, prepaid cards, and a variety of other methods are all accepted.
You can also pay with cash at retail locations or use iTunes or Google Pay to make a payment.
Can ISPs and governments track you while you're using NordVPN?
No, they are unable to do so. They can see that you're using a VPN but can't see what you're doing with it. A virtual private network (VPN) is the most effective approach to hiding your internet activities.
Any third parties are unable to know which websites you visit, what you download, or whether you utilise any services.
Does NordVPN offer a good level of privacy?
NordVPN is considered one of the safest and most premium VPN platforms in the market. Their robust no-log policy and locations worldwide will keep your data safe and protect your privacy with its powerful security tools.
Conclusion – NordVPN Review
We discussed each and every aspect of Nord VPN in detail in this NordVPN Review. And now we hope that you have gained a fair knowledge about the services they offer and the quality of services.
The company focuses on its privacy and clients, so it will not be able to provide you with any private information or even something near it. But, do not worry, we have given you enough to analyse the company through our research.
It can be an ideal choice for a lot of users who like privacy on the web out there!