Do you usually need to visit sites that maybe have blocked your IP or the ones where you cannot reveal your true self, just for some privacy's sake? Then yes, a proxy can help you change your IP address and get it anonymous for anyone to identify!
In this article, we are going to tell you about all the interesting methods and proxy checker tools that will help you maintain authenticity and go through various websites and all around the web without the fear of getting identified or traced!
Without wasting your time, we'll proceed with this amazing article on the Best Proxy Checker Tools to increase your knowledge in this field.
What is a Proxy Checker Tool?
A proxy server is a service that enables you to use it to browse the internet anonymously. The Proxy will fetch the data for you rather than you directly accessing your destination website.
You can browse and access websites in privacy using the Proxy as a gateway. Your Internet Service Provider won't know which websites you visited or what you did there; they will simply notice that you are accessing the Proxy.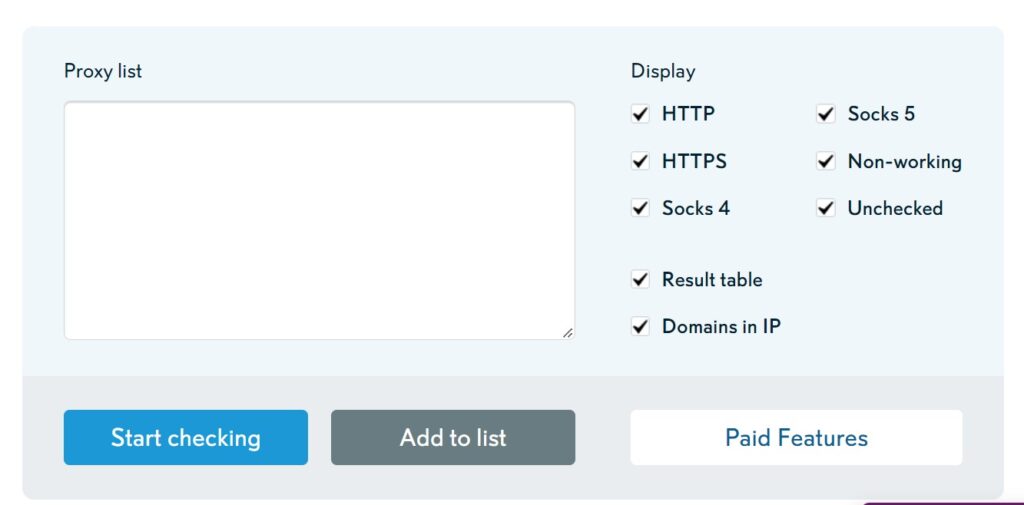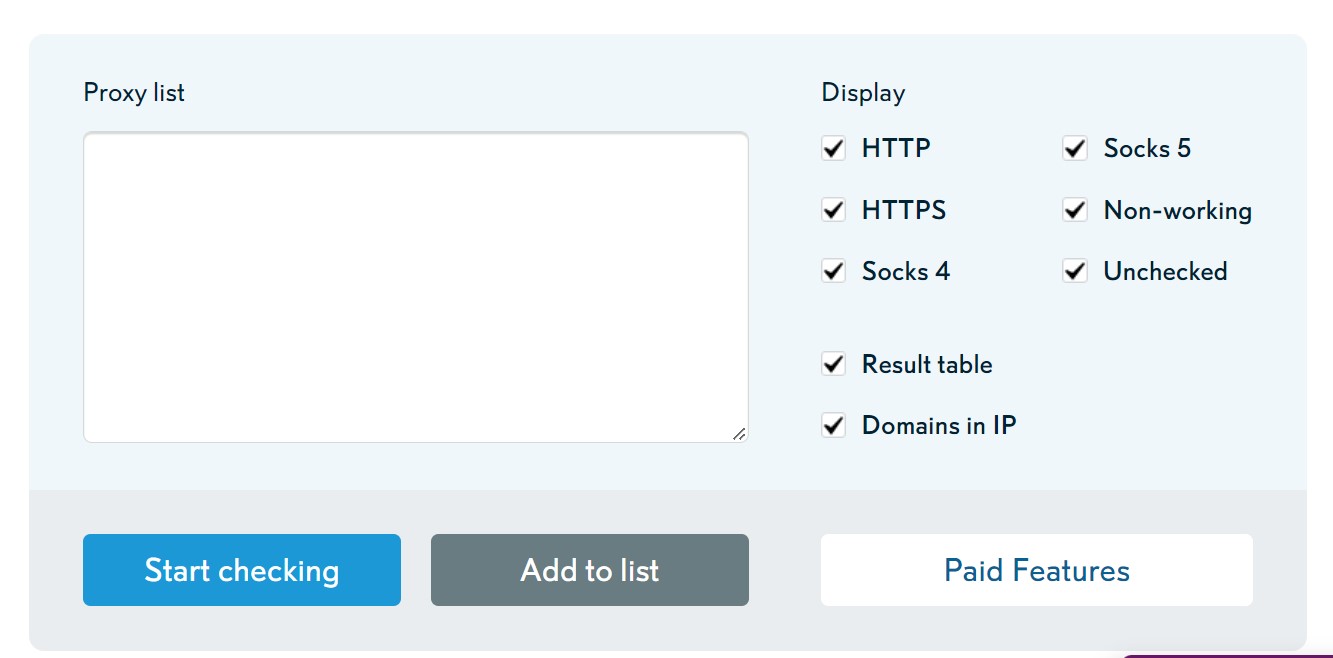 To access these proxies with the idea that you do not get traced anyway, we've got a list of tools to help you accomplish that.
Also Read: Best SOCKS5 Proxy Providers
7 Best Proxy Checker Tools For Free
Here are some Proxy Checker Tools that we found to be best in needs and services:
1. Hidemy.Name
With security and privacy as their top-most priority, Hidemy.Name an establishment of 2006 is operated in Belize and works under English Law.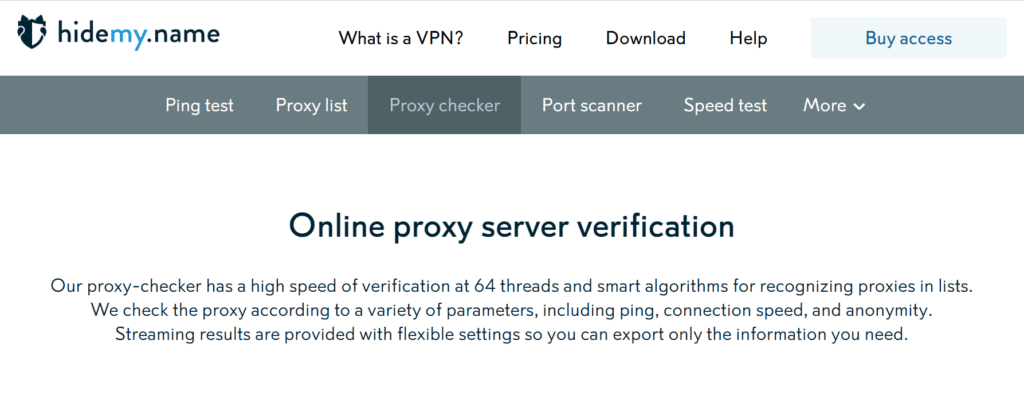 With its outstanding and constant services, they have grabbed thousands of customers since the start and continue to be one of the top-rated proxy checker tools.
Features
Let's get into the features of Hidemy.Name for a better understanding of its services :

🔶 Activate Incoming Ports: Easily launch a web server or game on your computer so that other people can connect.

🔶 Quicker Servers: There are a lot of fast servers spread out all around the world, one of which is used by Hidemy.Name.

🔶 Encoding Individual IP addresses: Absence from all blacklists owing to another person's error.

🔶 Any Apps Using VPN: Internet-based applications like email clients and calling services are also included with its services.

🔶 Five Connections At Once: It enables you to protect all of your devices (max 5) for no additional charge.
Now, the question arises why Hidemy.Name?
Will you be able to say no, knowing that the company provides the facility to connect 5 devices at the same time, allowing you to purchase anonymously?
Not only this, but they also provide a 30-day money-back guarantee, making the process risk-free and open for all to try! So, why not Hidemy.Name?
---
2. TestMyProxies.com
The TestMyProxies.com service is one of the finest proxy checkers for you if the proxies you want to check are private ones. That is the proxies with login and password or others that require authentication.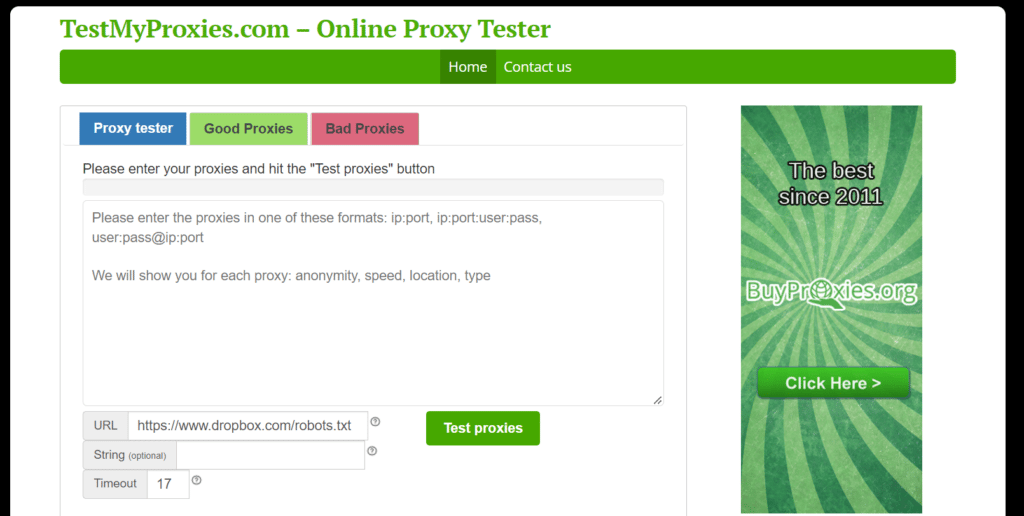 This is so that it can handle adding a username and password together with the proxy port and IP, which is what it was designed for.
You can paste your proxy list into the given text field, which will support verifying several proxies. You will receive information on the type, anonymity, speed, and location of each proxy that is added.
Features
Features of TestMyProxies :

🔶 Work Simultaneously: Add several proxies at the same time.

🔶 Get Fair and Easy Results: TestMyProxies tells the results in the "Good Proxy" or "Bad Proxy" way. Hence, it's easy to understand and interpret the results.

🔶 Free Proxy Checker: The services are for free with Test My Proxies!
Why Choose TestMyProxies.com?
It's easy to check private proxies with TestMyProxies. You will also get each and every piece of information about your proxy, whether it may be location, its status or anything.
So, why won't someone like to choose TestMyProxy as their proxy checker tool, right?
---
3. Geonode Proxy Checker
With a developer-friendly API, Geonode offers hassle-free residential proxies at competitive prices and with real human support to assist its users through tension-free proxy services.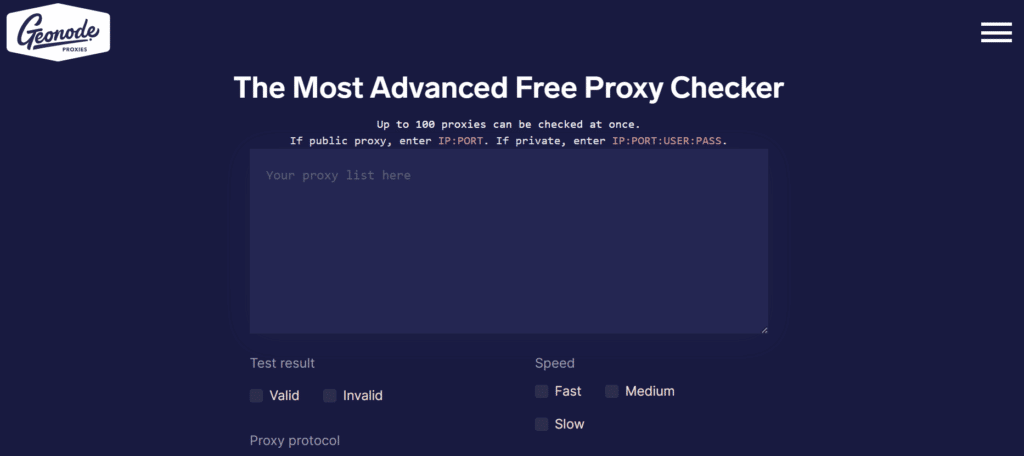 You can apply for free trials and test the services before making your final decision.
Features
The features which make Geonode stand out from the rest :

🔶 Unlimited Data Collection Without Restriction: There are no data limits on numerous memberships, providing you with the necessary resources and freedom.

🔶 Excellent User Experience and Human Assistance: Best-in-class user dashboard, live chat support, and substantial documentation guarantee trouble-free operation.

🔶 Sized To Scale: Geonode proxies can be easily controlled and integrated, adapt to any project demand, and handle numerous protocols.

🔶 Quick Verification: Enjoy rapid API call authentication using user/pass or IP whitelist,

🔶 Supports multiple languages: Many popular languages, including PHP, Python, Java, JavaScript, C/C++, and C# Advanced Proxy Control, work well with the Geonode API.

🔶 You can make necessary adjustments to your proxies: Numerous customization options, including auto-replace, rotating interval, geo-targeting, and ISP-targeting, are available with Genode's Proxy Checker services.
So, why necessarily choose Geonode?
With its free trial facility and superb API Integration, I can say that you can work with them once sure about their undeniably great privacy and feature-filled services.
They quickly verify and provide services without restrictions, which is a plus!
---
4. Proxy-Checker
Originally from DidSoft, Proxy Checker is one of the services it has been providing since 2005.

It's a dedicated brand that provides free proxy checker tools and many other services you can relate to and enjoy using.
Features
The features of Proxy-Checker :

🔶 Multiple Proxy Checks: You can check up to 10 proxies at the same time with Proxy-Checker.

🔶 Check Anonymity Level: You can check the anonymity level with simplified results by the proxy being an elite proxy, anonymous proxy, or even a transparent proxy.

🔶 More Information: You can even find out the location and status of the proxies!
Why should you be choosing Proxy-Checker, then?
If you do not have any problem with the limited number of proxy checks at a time, this is one of the best and most free proxy checker tools because it provides more than what you'll be needing.
With anonymity level checks, you can also get information on the location of the proxies, isn't that amazing?
---
5. PortChecker Proxy Checker
A simple and free online programme called Port Checker can be used to verify the open ports on your computer or other devices. It's frequently helpful when evaluating a router's port forwarding settings.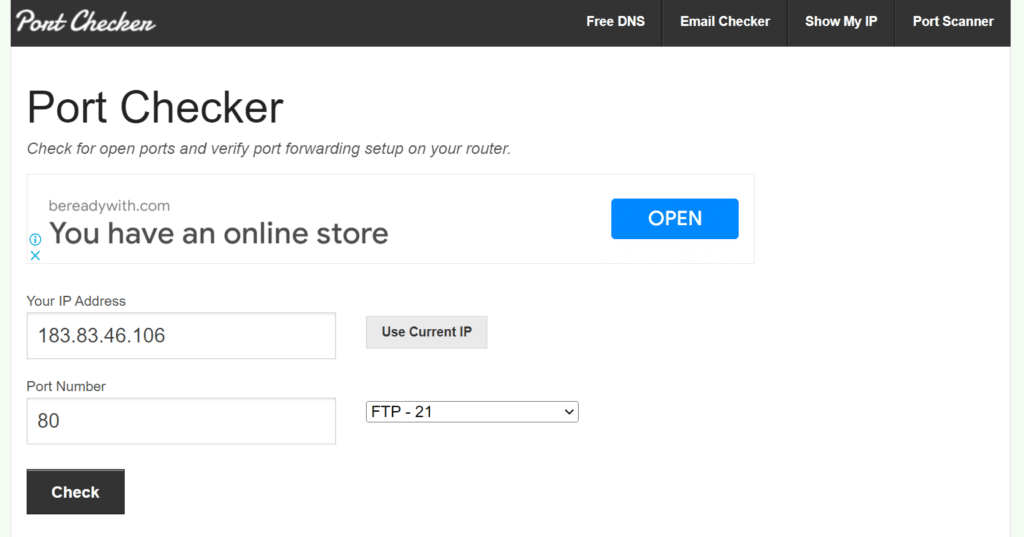 If you host and play games like Minecraft, you can use this tool to verify that the server port is configured properly for port forwarding. Then, only your knowns will be able to approach it. In short, you can ensure privacy with PostChecker Proxy Checker.
Features
The features that define Port Checker appropriately :

🔶 Get Instant Estimation of the anonymity level with Port Checker

🔶 It's simplified with just the one and proper way to check the proxies

🔶 Elite proxies would conceal their use as proxies as well as your IP address.
Why choose Port Checker?
Port Checker checks the proxies with elite, anonymous, and transparent results through various ports. It provides the best security tools accompanied by free services.
One thing that may bother you is that it checks only one proxy at a time, otherwise, it gives you the most accurate results.
---
6. ProxyScrape Proxy Checker
"Scrape Websites Without Limits" is the aim of Proxy Scrape. With over 60,000 data centre proxies and unlimited bandwidth, you can check various proxies together with this proxy checker tool.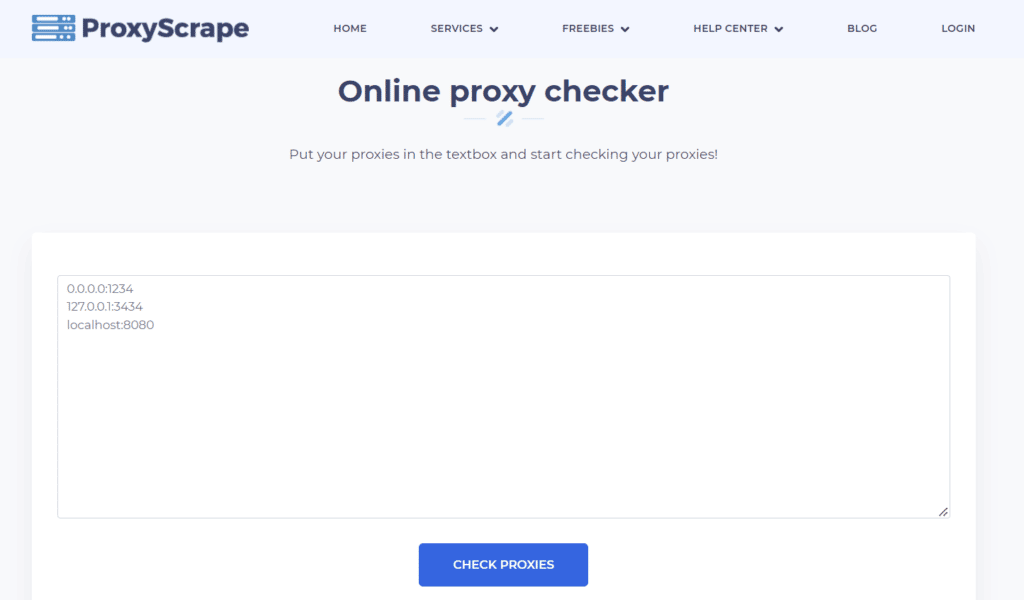 Search for residential, premium, and dedicated proxies with Proxy Scrape and enjoy its freemium services!
Features
The amazing features of Proxy Scrape :

🔶 60k+ Proxies For Data Centres: They guarantee that you receive the best data centre proxies at a reasonable price by grouping their customers together.

🔶Seven Million Domestic Proxies: When your target swiftly bans you or when you require proxies from a certain location, residential proxies are the ideal replacement for other proxy types. Get the finest outcomes with the 7 million residential proxies provided by ProxyScrape.

🔶 Dedicated Proxies: Proxies with a 1 GB/s internet connection and limitless bandwidth that you solely utilise. If you require special proxies that you employ just to guarantee the highest quality, then yes, Proxy Scrape has those dedicated proxies!
Why should you go with ProxyScrape Proxy Checker Tool?
Apart from its truly amazing features, thousands of data centre proxies and unlimited bandwidth that comes with it, they also provide a 99% uptime guarantee for uninterrupted services.
It's a platform that provides all-in-one! What's there to not like about it?
---
7. Proxifier Proxy Checker
Acclaimed as the "Most Advanced Proxy Client", with more than 10 years of experience in this field, they provide seamless integrations, flexibility with the languages and many more features according to the new technologies.
Feature
The Key features of Proxifier:

🔶 Proxy Everything: Redirect connections of any internet app (browser, email, database, game, etc.) through Proxifier's proxy checker.

🔶 Master Your Corporate Network: Control access to resources. Route all your connections through a single entry point and update multiple configurations remotely from a single place.

🔶 Improve Your Connection: Route internet traffic through faster routes.

🔶 Security and Privacy: It's a lightweight and flexible alternative to VPN. Tunnel your connections through encrypted channels.

🔶 Exceed Limitations: Use proxies as a gateway for your internet activities.

🔶 Flexibility: Assign different proxies or chains to different connections using the rule-based system.
Why choose Proxifier?
This proxy checker tool offers a 31-day free trial to all its users! So, once you're confirmed about the tool, you only buy it. That's how confident they are with their services! There's no compulsion from their end.
Also Read – Best Residential Proxies
Benefits of Using Proxy Checker Tools
Here are some listed benefits of using Proxy Checker Tools :
FAQs – Best Proxy Checker Tools
How Do Proxy Checkers Work?
The steps you need to follow to get your proxies tested, and this is how your proxy checker tool will work:
Download or visit the site of the tool.
Add your list of proxies.
Enter an URL to test.
Select "TEST PROXIES".
Get Results
How do I check if a proxy is safe?
Make sure that when you're choosing and purchasing a proxy from a provider, they offer the best security tools to assure you of its security.
How do you check if you are using a proxy?
There are different ways to check if you are using a proxy, and it's different as per the operating system you are using, which can be any of the Windows version or macOS.
You can learn how to check if you are using a proxy per your Operating System from Grammarly Support.
Does a proxy hide your IP?
Most proxies, unlike VPNs, won't encrypt your traffic or conceal your IP address from anyone who can intercept it as it travels from your device to the proxy.
VPNs are generally more dependable than proxy servers, particularly free web-based proxies.
Is a VPN a proxy?
A VPN is similar to a proxy, but instead of only functioning with specific websites or apps, it supports every website or app you use.
When you visit a website after connecting to a VPN, your IP address is concealed and replaced with the IP address of your VPN provider, similar to how a proxy works.
Which proxy site is best?
How do I unblock a website without a proxy or VPN?
Some ways in which you can unblock a website without using a proxy or a VPN are:
Changing HTTPS to HTTP is the simplest and quickest approach to unblocking a website
Use the IP Linked to the Blocked Website
Changes You Can Make To Your DNS Server
Utilizing a smartphone hotspot to connect to WiFi
Final Words – Best Proxy Checker Tools
Talking about the Best Proxy Checker Tools, we understood one thing: how much significance does privacy hold in everyone's life? May that be because you want to hide your identity or use a site where you were blocked for some unnecessary reasons?
Hence, these proxy checker tools will help you in more ways than one to get your work done. Keep in mind that you must use a provider after checking its services and seeing if they have all the features you were looking for.
So, don't wait up and get into working with proxies being anonymous!