Hey! Are you in love with these words Netflix and chill? If Yes, then I am super excited to take you with us on the journey, where you will get to know about a magical tool to access any content on the internet.
Yes, we are talking about a VPN, and in this article, we will cover the review of Ivacy VPN, one of the best and most popular VPNs in the market.
If you are unaware of this information, we would like to clarify it for you before starting our article that many contents may be banned in your country — for example, Unfreedom, Water, Loev etc., are some Netflix content banned in many countries.
But, today's reviewed VPN tool will let you access any internet content without causing arbitrary trouble.
So let's get started.
About Ivacy VPN
The story starts back in 2007 with two friends' vision to make a safe and secure way to access the digital world — with this vision, they began working and created Ivacy VPN, a powerful and innovative tool for the users to access any content over the internet.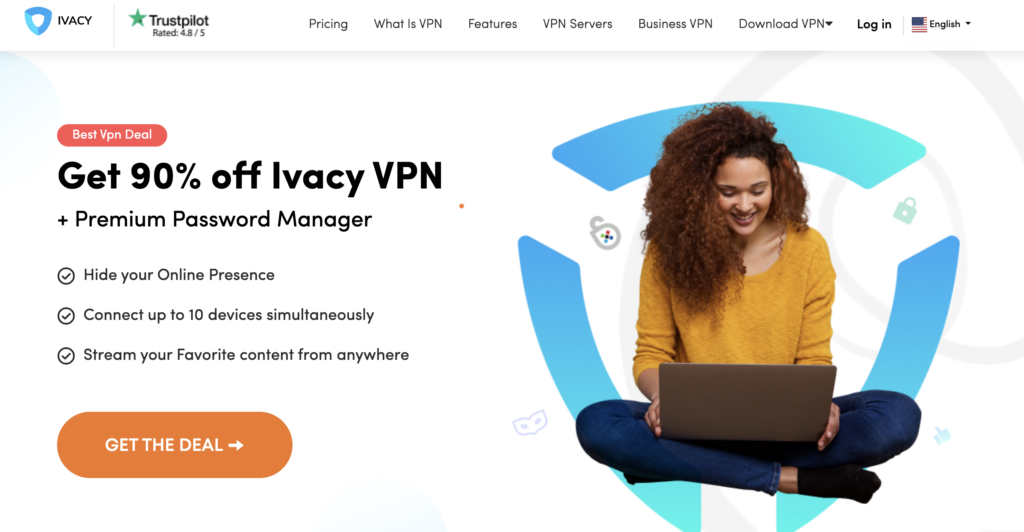 And since the day of its establishment, it has been dedicated to empowering internet users all across the globe by providing multiple features and robust functionalities.
It reached to Million users within just 5 years of its journey, all thanks to its amazing features and reliability, which we will discuss in the next section in detail.
Ivacy VPN Features — Updated in November, 2023
| | |
| --- | --- |
| 💸 Price | $1.19/mo |
| 📆 Money Back Guarantee | 30 Days |
| 📝 Does VPN keep logs? | No |
| 🖥 Number of servers | 5500+ |
| 💻 Number of devices per license | 5 |
| 🛡 Kill switch | Yes |
| 🗺 Based in country | Singapore |
| 🛠 Support | 24/7 Live Chat Support |
| 📥 Supports torrenting | Yes |
Here in this section, we will cover the key features certifying it is worth the money or not, so without further delay, let's get started.
But Ivacy VPN takes care of that situation by providing you with Kill Switch to immediately shut down your device's internet connection.
Ivacy VPN Plans
Here in this section, we have mentioned the screenshot of their plans which you can check out if you are planning to go with their services.
Pros and cons
After discussing all their features and plans, we have reached their pros and cons, which are as follows. 
Pros
Secure and easy to use. 
Fast and smooth while functioning.
Full malware Protection 
Bitcoins are accepted as a payment method. 
Cons
No Kill switch for IoS devices. 
Why do we need VPNs?
VPNs are primarily used to surf the internet without losing your anonymity over the internet by empowering you with untrackable abilities and features. Along with these, it also has many useful features, which are mentioned below.
With VPNs, you can access any content that is even banned in your country through different Network Protocols. In simple words, when you surf the internet with a VPN, it creates a secured tunnel between you and your server to protect you from being tracked.
FAQs – Ivacy VPN Review
Are using VPNs safe and legal?
It all depends upon the country which there are some countries, such as China, North Korea, etc., have banned the use of VPNs, so you can't enjoy VPNs safely there. But many countries allow the usage of VPNs without restriction or arbitrary interruption. 
Which server locations are the most secure and popular?
The most popular server location used for VPNs are mentioned in bullet points below.
Iceland.
Estonia.
Canada.
Germany.
the United Kingdom.
Malaysia.
Switzerland.
USA.
How to buy Ivacy VPN through Bitcoin?
What is the refund policy of Ivacy VPN?
Ivacy VPN provides a money-back guarantee by allowing you to cancel their services anytime within 30 days.
Conclusion – Ivacy VPN Review
While writing the end of this fantastic and informative article, we would like to remind you that VPNs are very compelling tools if used for ethical purposes but using them for some illegal actions or crime-based purposes is strictly not recommended.
Ivacy VPN is one of the market's most popular VPN service providers, all thanks to its features and functionalities, which let you surf the internet safely and anonymously. But it also has flaws like the No Kill switch for IoS, etc., which you should keep in mind before using.
If you are planning to buy a premium VPN, we recommend you go with Ivacy VPN, and its features will not make you regret it later.