Running a business that is doing great and selling phenomenally is fun, but how do you plan to take your website to that level? The world runs these days virtually, and every person looks for things on the internet before heading out to the market.
So why don't you join the current world and run your business online? For this, you need to build a website and take it online through a reliable hosting service provider.
Hosting is crucial since that makes it available to people worldwide on the internet. But finding a hosting that could suit your needs and is understandable is complicated, but still, we did it for you. Continue reading this Gandi.net review to know more about it.
Overview Gandi.net
Got registered as a domain registrar in 1999, and a year later, Gandi was launched as a hosting service provider. It is a France-based company that provides its services to over 190 countries worldwide. It has its main office in Paris, one of the most beautiful places.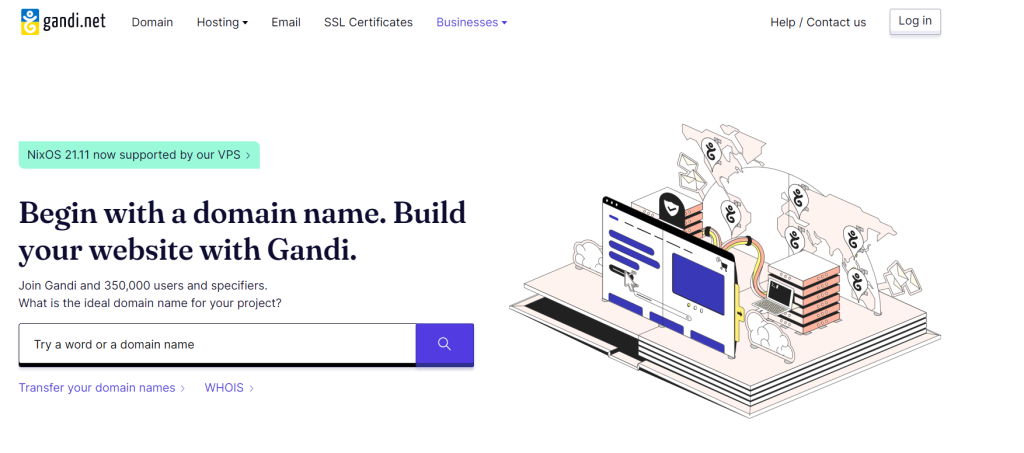 This platform offers customer support in several languages such as Chinese, Japanese, English, etc. With an exceptional rating and feedback from the customers, Gandi runs intends to provide internet facilities to the world at affordable prices.
Their plans are simple, scalable, and secure. So let us keep reading this Gandi.net review to know more.
Speed Test and Analysis for Gandi.net
We gained some basic information about the Gandi hosting company but now let us look at the details of its services. By more information, we mean its quality, how fast, easy, reliable, and supportive it is.
Ease of use
You must agree that ease of use to anything makes you feel better about trying it out and learning about it. The same applies to hosting, and by the ease of use of hosting, we mean its interface. A difficult-to-use and complex interface can make your hosting experience frustrating and, at times, tedious.
With Gandi hosting, you must first set up your account, and then you will get access to your dashboard. The dashboard might look a little complex, but it is pretty easy to understand as you go through it. You also have a browsing option to search for whatever you want.
Gandi.net Speed Test
Speed is a crucial factor in running a 'successful' website. The reason why we exaggerated 'successful' is that speed determines your website's favorability. When your website is fast, the search engine favours your website and ranks it at the top, making it available to your customers.
We tested its speed on occasion to check whether Gandi can provide you with that speed and success. We used GTmetrix for this purpose since it is a reliable tool. The results showed that your website hosted on Gandi would have a pretty fast speed and load in about one second so that your customers will not have to stay waiting.
Gandi.net Uptime Test
You receive more customers through your online business because your shop never closes on the internet, and your website keeps running every hour of the day. This is due to the uptime of your website. The better the uptime, the more available your website is to your customers on the Internet.
Gandi claims to offer a 99.95% uptime per day, which is impressive. But does it stand on its claims? Along with speed, we tested Gandi for its uptime, and we were impressed. On the days that we tried this Hosting's uptime, it was perfect and next to 100%, so our website was available on the Internet 24 hours of a day.
Customer Support
Apart from the technical services, hosting, for instance, any service provider must have a way to stay in contact with their customers. The customers might have issues or queries that they are waiting to resolve.

Gandi understands your needs and offers a customer support system that stays available to you 24 hours a day, 7 days a week, and 365 days a year. You can chat or call them, and they are ready to interact with you in several different languages.
Gandi.net Data Centre
Gandi is a France-based hosting provider and has many offices around the world. It has two data centres located in: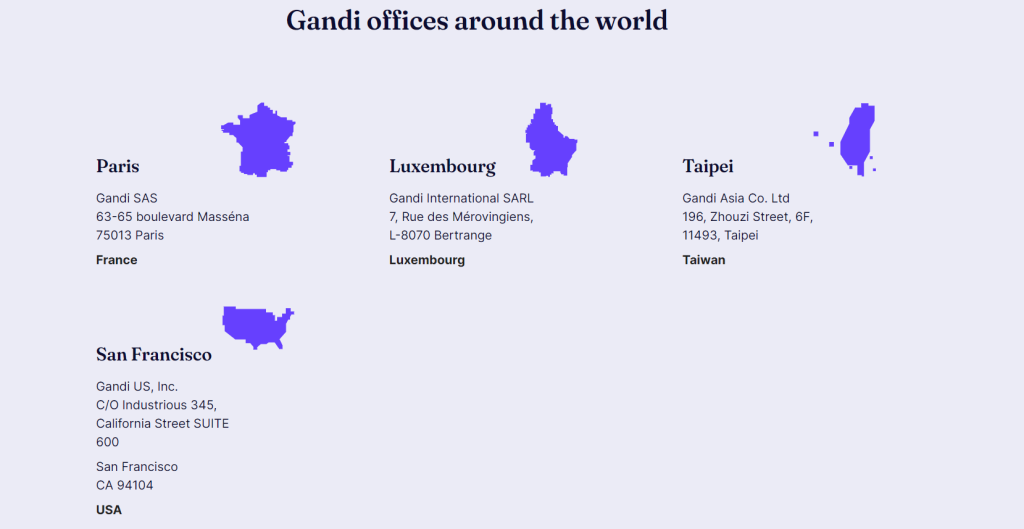 Key Features Of Gandi.net
To know more about Gandi, we must look at its key features.

Flexibility
As we mentioned earlier, Gandi's hostings are scalable and help you understand your website's working and requirements. As your website grows, you might require more space and features.
To help with this situation, Gandi has a flexibility feature to help you switch to some other plan for your website hosting to work with your requirements and traffic handling.
Choice of Language and Databases
As a coder, you might be comfortable using a specific coding language and would not like to be forced to use some other language to code. In such situations, your work might get complicated.
Gandi gives you the freedom to choose the coding language, be it PHP, Node.js, Python, or Ruby. Besides, you also get to create as many databases as you want within the storage limit of your hosting plan.
WordPress Installation
Working with WordPress is one of the easiest ways to work on your website, and that is why a vast number of people start with WordPress while starting with websites.
To help you have a more effortless experience, Gandi enables you to install WordPress on your hosting in just a few clicks or perhaps just one click, and they automatically get it done for you within a minute.
Backups
If you lose your data, you will have to rebuild all of that again. This might also cost you your money and customers, but what if you had a backup and all your data could be recovered within clicks?
Yes, you now have it with Gandi. This platform offers you scheduled backups regularly and helps you recover them quickly. This service is provided to you for free.
Gandi Hosting Refund Policy
Gandi does not openly speak about refund policies, but it does give the benefit of a trial period. Yes, you can use the services of its 'Medium' plan for free for 10 days.
While you are buying a plan and setting your account up, you must choose 'no-strings-attached,' and you will get a free trial period of 10 days.
Types of Web Hosting Gandi Offer
Gandi has a variety of hosting plans to offer you. Some of them are:
Services provided by Gandi Web Hosting
In the services provided by Gandi, we have already looked at hosting plans that include web hosting, WordPress hosting, Nextcloud Hosting, and Presta Hosting.
Besides these, Gandi offers domain-related services such as registration, transfer, and renewal of domain names. Other benefits include SSL/TLS certificates, cloud servers, DNS, etc.
Gandi.net Domains
Your domain name must describe your business, and it must be accessible and small so that people remember it. Gandi helps you register, renew and transfer such domains.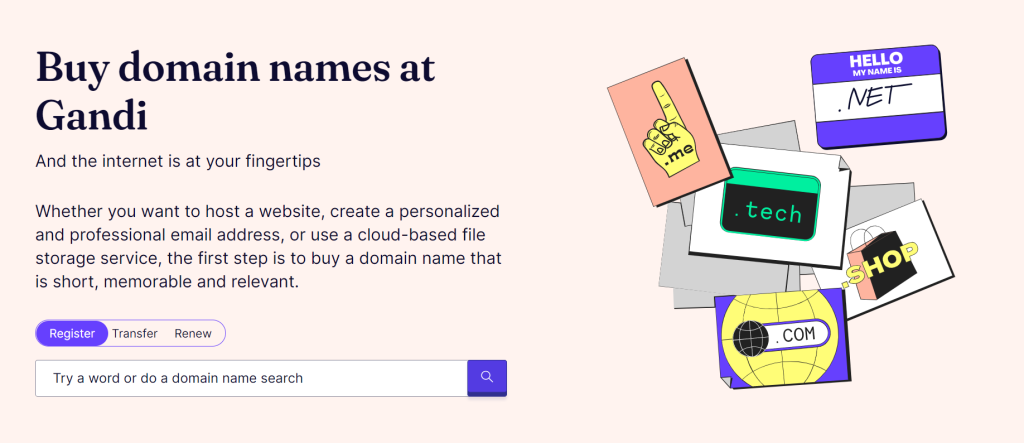 Register Domain
You can shop for domain names on Gandi with a small amount to pay. They help you through the process and offer certain features such as 2 mailboxes with 3GB storage, Unlimited aliases and forwarding, 1 standard SSL certificate, 1 year to activate, and their LiveDNS name server Anycast DNSSEC.
Transfer Domain
Just like buying a domain name, you can also get one transferred. Gandi helps you do this and tells you about the rules and regulations to be followed. It might ask you for some of your details.
Gandi Pros & Cons
Let us now look at this platform's pros and cons in this Gandi.net review.
Pros
Customer support in several languages
10-day trial period
Scalability and flexibility
Free SSL certificates
Cons
No refund policy announced openly
Only two data centres
Why Choose Gandi for Web Hosting?
We could give you plenty of reasons to choose Gandi as your web hosting provider. First of all, it's European, so you get the benefit of complete transparency of its terms and conditions, and nothing is hidden from you.
The plans are flexible and help you switch to any other plan as per your needs.
Do We Recommend Gandi Hosting?
Yes, primarily because of its transparency of terms and its scalability. It helps you run your website, buy plans according to your requirements, and not spend extra money.
Many services are offered for free such as backups and SSL certificates. So why not?
FAQ's – Gandi.net Review
Is Gandi.net trustworthy?
Yes, Gandi.net is trustworthy as it is European and offers you complete transparency of its terms. Many trusted companies work with it, and it works customer-oriented to provide you with the best service and support.
Is Gandi cheaper than other hosting providers?
As per the features that it offers you, the quality is pretty good for its price. So yes, Gandi can be cheaper than many other hostings.
Does Gandi offer free trials?
Yes. For your convenience and security, Gandi offers a 10-day free trial to use it, understand it and know if it is the one for your website.
Does Gandi.net have an uptime guaranteed?
Gandi.net guarantees a 99.95% uptime which is pretty impressive, and upon testing, the uptime was about 100%, so you can rely on its uptime.
How much does Gandi cost per month?
The plans offered by Gandi start at about $3.16 a month and can go up to $16.87 a month, but the features differ with prices.
Conclusion – Gandi.net Review
Overall, we can say that this hosting provider is highly reliable and secure. It is not only affordable for everyone across the world but also keeps you acquainted with its clear terms and conditions.
There are no hidden charges whatsoever when you buy the plan for your business.