Are you planning to grow your business online? Well, that's great! Your business is going to reach its heights on the internet.
But can you always guarantee the success of your business online? So what do you need to know to run an online business?
You might have a well-established business offline, which will help you to some extent to grow your online business since people already know you and will try to search for your website online. But being new in business can be challenging, especially in growing your audience.
To grow your business online, you need to build a well-performing website in terms of speed, features, SEO, etc. This might require you to hire someone to do everything for you. But you do not have the budget to hire someone, to do so?
We shortlisted a few hosting solutions that could help you do all the tasks to run your website successfully by yourself. If you are looking for a hosting solution that makes your website tasks effortless, this FastComet review could help you determine which one to choose.
About FastComet Review
| | |
| --- | --- |
| 🚀 Speed | From India Server 0.8 to 1.8 sec |
| ⏰ Uptime | 99.99% uptime in the past 365 days, which is excellent |
| 👩🏻‍💻 Support | Via Email, Instant Live Chat, Ticket Support, and Phone support |
| 🔰 Security | DNS and DDoS Protection, Cloudflare CDN, Malware scan, Firewall, WAF, and Professional Anti-spam Email Security |
| 💳 Payment Method | Paypal, Visa, Master Card, and American Express |
| ♻️ Refund Policy | 7 days, 15 days, 30 days, or even a 45-day money-back guarantee |
| 💰Pricing | Starting from $2.95/m |
| 🌎 Server Location | Frankfurt, Amsterdam, London, Toronto, Newark, Fremont, Dallas, India, Tokyo, Singapore, and Sydney |
Founded in 2013, FastComet is an independently owned company. It has been the choice of about 750,000 personal blog and small-business website owners. They have over 70 employees and cater to worldwide customers through 11 data centres. Now that is a vast number of data centres.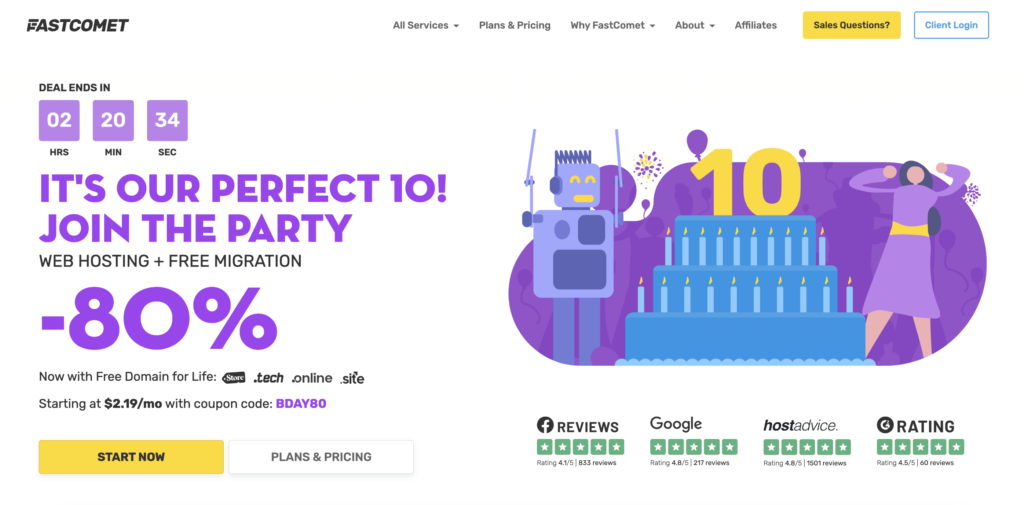 FastComet works to make your experience a child's play even when you have little knowledge about hostings and websites. This platform offers several services that come free of cost and plans that could help you build, manage and grow your online business to reach the most incredible heights.
We will look at all the facilities this hosting provides further in this FastComet review.
Speed Test and Analysis – FastComet Review
When choosing a hosting, you must look at some of its features with close attention. These features must be a user interface to help you work better, speed for your audience, security, etc.
To get the worth of the money you have invested, we had to test FastComet out for such features. So let us look at the results that we collected.
FastComet User Interface
If your requirement is an easy-to-use user interface, FastComet is the best solution. Everything you need to know about this hosting provider, such as features, plans, pricing, etc., is all under a single page. It is easier to navigate and understand before you can choose to pick out the best plan for your website.
We have been working with this platform and found that all you need to know and how to do the settings are presented to you all on one screen. FastComet often provides multiple offers and details that can benefit you if you choose to go further with it.
Once you login into your FastComet account, you will come across the dashboard, and as you scroll down, all your active plans will be displayed. You can access cPanel, site builder, etc. So all of your work is made easier on FastComet's interface.
FastComet Speed Test
As we briefly mentioned earlier, how speed is crucial for your website. This is because if the website speed is slow, your customers will have to wait, and like you and us, they will lose interest in your website.
According to expert suggestions, the time taken by the website to load must not exceed 500ms. The ideal time is 100ms.
We tested the server response time of FastComet in several locations and experienced the fastest speed in Germany with a 1ms server response time.
FastComet Uptime Test
The time zones of different countries worldwide are different, and 2:00 am in your country might be 2:00 pm in some other countries when most people are awake and working.
So people will look for your website even when you are asleep, and you must cater to their needs when they ask. This cannot be done on your map location but on your website.
With FastComet, you can cater to all your customers at any hour or minute of the day, whether awake or asleep, because you have a website with 99.99% uptime.
We have tested our website hosted on FastComet for uptime over extended periods to ensure this. The graff has remained stable, which shows next to perfect uptime.
FastComet Load Handling
As your business grows, you will receive an extensive number of customer requests, and the content on your website will also increase. In such a situation, when there is high traffic and the content on your website is significant, there is a chance that your website might slow down.
FasComet wishes for your growth, and growth will come with massive traffic. So to help your website handle this situation, the company offers SSD storage which, as we know, works as flash storage. So that whenever your client requests something from your website, even though there is a heavy load on your website, FastComet will easily handle it without a time delay.
Security Analysis
Like your offline business, your online business also makes you money and is close to your interests, so it is precious. Anything so valuable must be protected from any danger.
Security of your content is one of the top priorities of FastComet, and it takes efficient steps to maintain it. Some of the steps to ensure your data's safety include WAF, Cloudflare CDN, Malware scan and reports, etc. So, stay relaxed with your data in FastComet's hands.
Customer Support
So when you buy a new product and are working your way through understanding it, a manual is not always enough. You require a person to understand your specific situation and tell you what to do and how they can help you through it.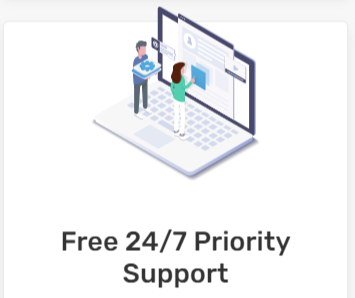 FastComet does that. It has a customer support team working 24 hours a day, 7 days a week, to provide the best technical support.
To resolve your queries, you can live chat with one of the customer support experts or raise a ticket. They also have an email id that you can use to contact FastComet.
Data Centers Locations – FastComet Review
Moving further in this FastComet review, let us look at its 11 data centre locations.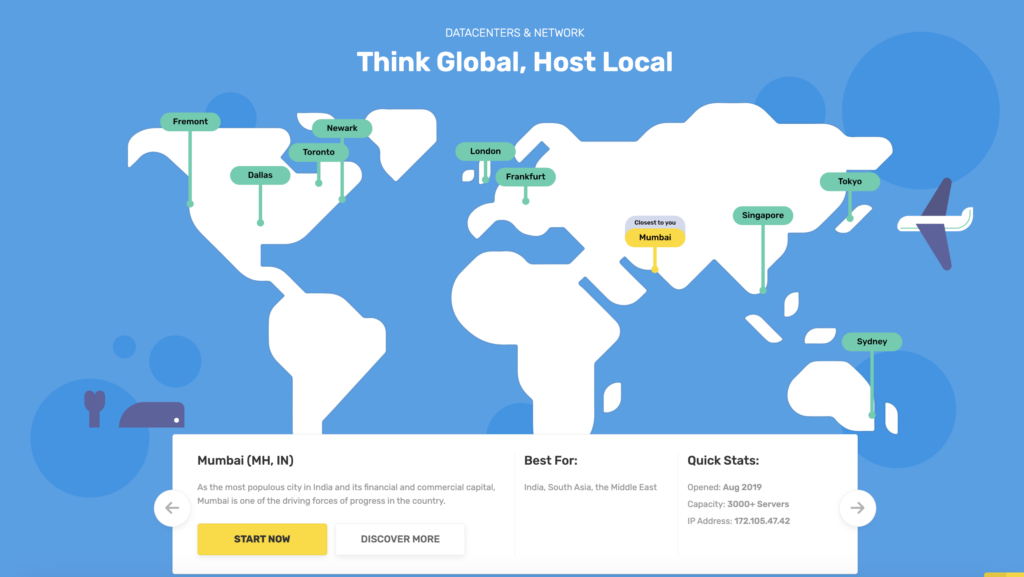 FastComet also suggests the data centre that will suit you best as per your location and will tell you about that location's status.
Type of Web Hosting FastComet offers
FastComet offers several hosting plans for you to choose from. The list goes something like this:
Domains
So when you build your website, you first think of the name by which people will know it, and then you make a domain out of it.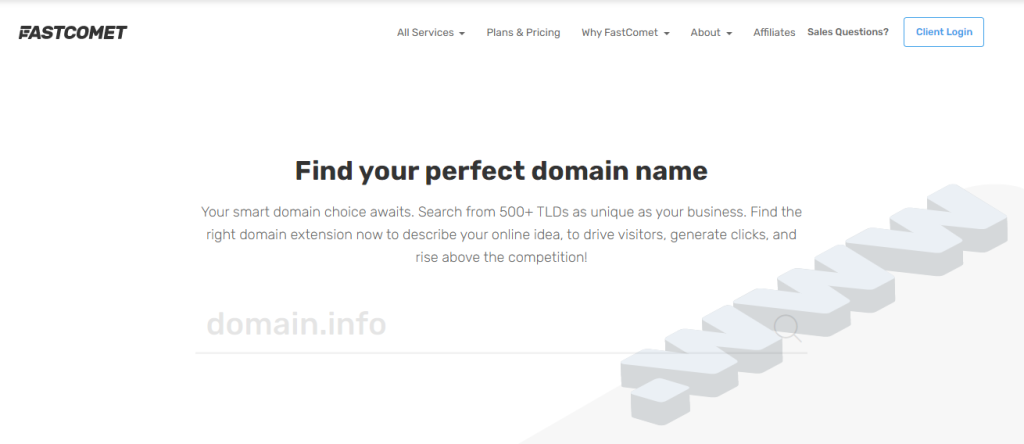 You might have to hire some tools to get this job done. With FastComet, you can register and transfer your domain quickly. So let us see how to do that in this FastComet review.
Register Domain
To register your domain, make your website name official on the internet with a .com, .uk, .in, etc., which will become your URL. On FastComet, you can get this done within a few clicks and at a small price.
To do so, click on the 'All Services' option on the top bar of the FastComet website and select the 'Domain' option. Now on the next page, you will be presented with plenty of options to choose from and their price ranges. So there you go, now you know how to register your domain on FastComet.
Transfer Domain
It is natural for people to change their domain over time according to their audience and country. People skip this idea when they realize that you have to make a payment to get your domain transferred.
FastComet understands your condition and helps you transfer your domain name free of cost. Also, it offers one year of free renewal. So go ahead and change your domain if you want to.
FastComet Website Builder
Making a website you like would be exciting when you know how to build a website, but this is not always the case. Not everyone is a website-building expert, and not everyone has the budget to hire a professional to do it for you.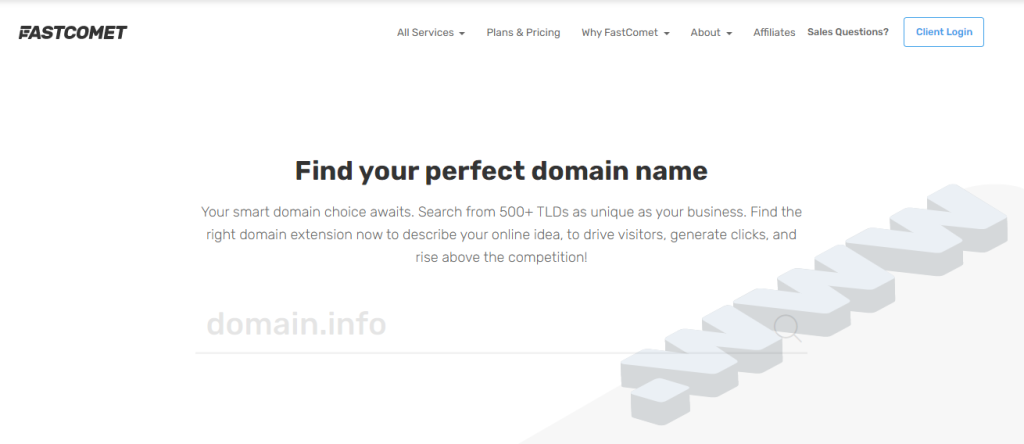 But this does always have to be the case; with FastComet, you can build your website on your own with zero to little knowledge of website building. This platform offers a drag n' drop website building technique, several website templates, designs, and more.
When growing business, you would want your customers to connect with you on social media, for FastComet helps them do so through your website. All of this is provided at a pretty minute price. So snake sure you check them out.
Key Features – FastComet Review
This FastComet review will go through its key features and what makes it so competent.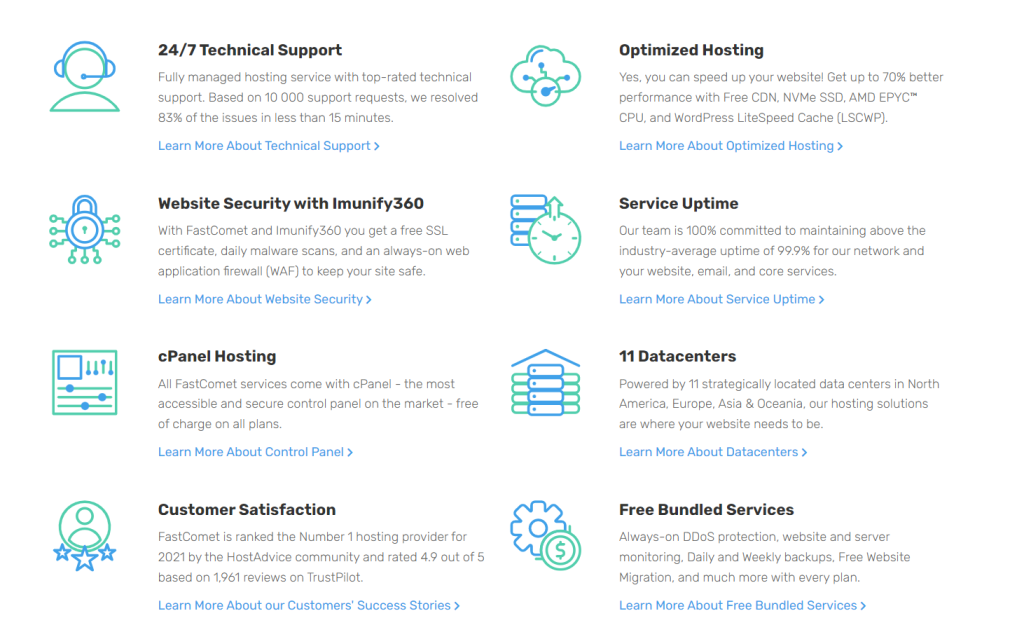 Only SSD Storage
You might have a considerable amount of your data stored on our website, and when a customer asks for a bit of detail, your website will have to go through every file to find it. At the same time, your customer keeps waiting for your page to load.
This must be avoided at all costs, and FastComet does that by providing only SSD storage, which is the best for fast data delivery.
Powered by cPanel
A user-friendly user interface is crucial to you when you are not a developer or hosting expert. The unavailability of this can cause a lot of frustration and can also cost you money.
One of the most known control panels, cPanel powers FastComet, which helps you have an effortless hosting experience as cPanel provides you with an interface that is the easiest to understand.
Free Managed Migrations
If you want to take a new hosting service as your current hosting service does not meet your needs, you might sometimes have to pay to get it done. But not with FastComet.
This platform offers you free managed migrations. You can do it all by yourself if you have the required knowledge or ask FastComet to do it for you, and it will be done within minutes.
Free Daily Backups
You must always have a backup for anything that might go wrong if you lose something. With your content on FastComet, you do not have to worry about losing your data as it performs daily, weekly and monthly backups and keeps your data offsite.
You can easily access your data with a web-based 1-click Restore Manager. And if you need any help, you can always contact the support team.
Free SSL Certificates
You do not have to pay extra money for the security of your data, as FastComet offers free SSL certificates to your websites. Using this ensures that the connections that your websites make are encrypted.
FastComet Refund Policy
It is not an obligation that you like the product ultimately. A product might not always suit the requirements you expected it to fulfil. In such conditions being able to return the product and get your money back feels like a blessing.
You must have heard of 7 days, 15 days, or even 30-day money-back guarantee, but with FastComet, you get a 45-day money-back guarantee on Cloud Shared Hosting and a 7-day money-back guarantee on VPS/DS Servers.
FastComet Pros & Cons
Let us look at the pros and cons of FastComet in this review.
Pros
11 data centres
Website Builder
Free domain transfer
Free managed migrations
45-day refund policy
Cons
Basic plans might not have efficient features.
Why Should You Choose FastComet for Your Website?
FastComet gives you an ocean of reasons to choose it for your website, and so do we.
As we worked with FastComet and tested it on several parameters, a few reasons we found that could be considered while choosing this hosting provider include its affordability, variety of services, excellent support system, extended period or refund, etc.
FAQs: FastComet Review
Is FastComet safe and legit?
Yes, FastComet is entirely safe and legal. Some of the most trusted companies work with it, so you can rely on their legitimate services.
It has received several awards over the years for numerous services and is also recommended by HostAdvice, making it even more reliable.
How many visitors can FastComet handle?
FastComet can easily handle high traffic. So you do not have to worry about delayed loading time and loss of customers. On testing, we found that the speed is effortlessly maintained even though it had thousands of requests, but this also depends on the data centre and servers that you choose for your website.
What is the FastComet hosting plan best for WordPress?
FastComet has a separate hosting for WordPress. It is completely optimized for WordPress, making it easier to handle. It has all the WordPress features and Softaculous, making it easier to install more applications.
What are FastComet VPS hosting plan options?
It has four monthly plans ranging from about $48 to $112. You can choose any of them as per your requirements. But it must be noted that the paper plans have lesser facilities, features, and storage than the costlier plans.
Does FastComet provide CDN with its web hosting?
Yes, it does. This helps it increase the speed of content delivery, making your website more favourable. This can be seen in the speed and load handling results, as the website took less than a second to load, even during high traffic.
Does FastComet Hosting Offer Extra Services?
Yes, it offers several services other than hosting. These include domain-related tasks, backups, migration, etc. Many of these services come free of cost with your plans, so you end up paying no money for some extra services.
What is the uptime guarantee of FastComet?
It offers 99.99% uptime, ensuring your business is always available. This gives the benefit of keeping your business up and running at all times, which can help you gain larger profit than offline businesses.
What features does FastComet provide for its clients?
Does FastComet offer free website migrations?
Yes, it offers free managed migrations. You can do it by yourself, or you can take the support team's help. We recommend getting it done by the support team, as they will do it for you without any delay and confusion and help you through the process.
Conclusion: FastComet Review
Going through this FastComet Review, we learned several things about it. This platform was established in 2013 and provided its service to a vast number of people around the world through its 11 data centres.
Its plans are easy on your pockets and come with several features you might have to pay for with other web hosting but not with FastComet. It has been the first choice for over 750,000 people. Can it be yours too?