While looking for a reliable web hosting provider, you might have come across hundreds of options to choose from.
But not everyone can give you all the services you are looking for. This is where this particular hosting service provider steps in. One that you can look out for is 0frills.
It has been in the industry for nearly two decades now and has seen upgrades in technology from time to time. Let us help you understand this platform with a detailed ​0frills review so that you can check whether this is the web hosting provider you want for your website or not. Let's get started with the review.
About 0frills
0frills hosting is a Pune-based hosting company that seeks to offer reliable and high-performing hosting solutions with significant ease of use and flexibility.
With a team with more than 18 years of web hosting and designing experience, 0frills is unlike other companies with complicated and techie jargon that makes understanding a platform difficult.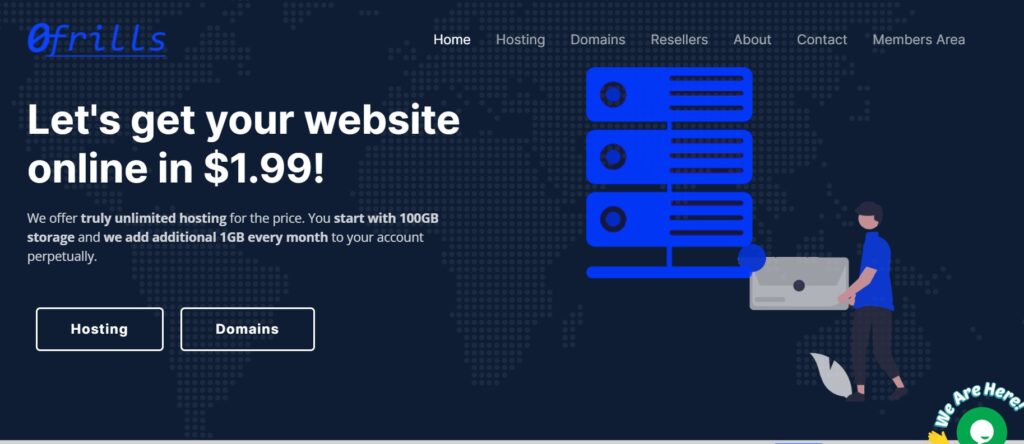 Instead, 0frills is focused on cutting the frills and making hosting an easier and less complicated affair for individuals and business owners so that they can get higher performance for their websites.
Test and Analysis – 0frills Review
We have tested 0frills on multiple parameters to understand its usability, support, and security so that we can know whether it suits various business needs or not. Here are the results of all the tests and analysis we performed for the 0frills Review.
User Interface and Ease of Use
The user interface that a hosting provider provides is essential for its usage and understanding. With 0frills, you get a simple and easy-to-use user interface that is understandable by even the most non-technical person.
It has cPanel support for hosting, a standard control panel that is easy to use and understand and the most amazing control panel any hosting can offer.
0frills Customer Support
0frills is great with its customer support. The support is available 24/7, and you can reach out to the support through their live chat option.
When testing support through live chat, we got instant responses. Support is also available through the ticket system. However, support through tickets is accessible only to paying customers with 0frills.
Security Analysis
The security on 0frills is pretty amazing. Their servers are DDoS protected, with the access available only to authorised L2 and L3 technical sysadmins, along with the servers being hosted in ISO 27001, PCI DSS, SOC 1, HIPAA, and NEN 7510 certified data centers in Netherlands and Germany.
They also take care of offsite backups to different data centers in different geographical locations to have the data secured in cases of natural calamities.
Key Features of 0frills
It's essential to look into the main features of a hosting company to check its efficiency. Hereinbelow are the key features of 0frills.
You will get unlimited storage with hosting plans, making it easier to manage and store your data and resources on high-performing and highly accessible servers.
The hosting will support the users irrespective of the website's traffic. So, you can garner a broad audience for your business and sell your services more efficiently.
There is no limit to the number of websites you can host on 0frills by taking just a single hosting plan at a reasonable cost.
0frills hosting has very powerful servers with amazing connectivity to high-speed networks, giving users excellent experiences viewing your website and its services.
Types of Web Hosting 0frills offers
0frills offers multiple resources and services for your relaxed web hosting experience. It includes-
Pros & Cons – 0frills Review
With immense benefits, 0frills offers some disadvantages too. It has a pure balance of shortcomings as well as qualities in itself. Here are the major pros and cons of 0frills hosting.
Pros
Unlimited websites
Unlimited bandwidth
Unlimited emails
Domain services
Excellent customer support 
FAQs – 0frills Review
Why Choose 0frills Hosting?
0frills is a promising platform with pretty amazing features and unlimited access to them. The support is good, and you will never remain hung up with any query or problem.
The security features are also great, and all your data will remain secure. The best part is that the platform is easily understandable by even non-technical users. Given all these benefits, you can definitely give 0frills a try.
What's 0frills Refund Policy?
Going through the 0frills platform, we couldn't find any specific refund policy of the company, which means that it lacks a refund policy, and there is no money-back guarantee as such.
How many data center locations are provided by this company?
0frills has three data centers located in the US, Netherlands and Germany.
How does the 0frills reseller's package work?
You can simply register for the 0frills reseller package and start reselling their services without any commitment to the company whatsoever. You can create your own packages and choose the reseller plans according to your business requirements. You get unlimited resources and features with all the package plans and how you configure the packages is totally upon you.
Conclusion – 0frills Review
So, this is all about 0frills hosting. Throughout the 0frills review, we have seen that the platform is highly user-centric and offers unlimited features and services.
The platform lacks a refund policy. However, with its efficiency, there would hardly be any need for a refund. The customer support, user interface, and security features are also pretty good.
Overall, we can say it's a good platform, and it's on you to try it out and see how it works.