To grow your online presence is to increase your online business. But working with tools that help you succeed online is difficult. However, it can be made easy by hosting services providers who offer you hostings based on increasing your online presence.
Sered is one such hosting provider whose hostings are based on SEO, and as someone in the online business, you must know how important SEO is. The other services offered by this platform include WordPress hosting, reseller hosting, etc.
So let us know more about the services offered by this platform in detail as we continue this Sered review.
About Sered
First established as Sered.net, Sered was founded in 2011. This hosting platform has server locations across the globe and three data centers that work 24/7 to offer you the best network at all times. This hosting platform is based in Spain.
As we mentioned, this hosting platform offers SEO hosting and works with IPs to provide the best connectivity between websites to help you handle things well. The services provided by Sered include WordPress hosting, reseller hosting, servers, domains, etc.
Test and Analysis
Now comes the time to test the services offered by Sered.
User Interface & Ease of Use
When it comes to the user interface, you must pay close attention as this is where your work is done. With Sered, you get the advantage of SEO hosting, where your website management has been made easier through IPs. Besides that, the dashboard is pretty simple and contains all you require to work with while hosting, so it's pretty efficient. 
Sered Customer Support
Customer support is a factor that not everyone looks for while buying but always finds it helpful later. So better be sure with how good it is with your hosting.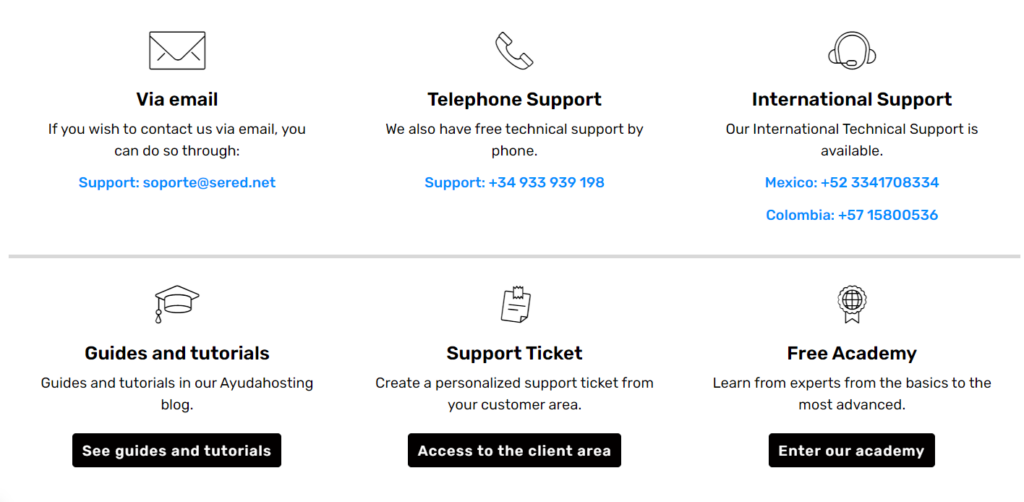 With Sered, you can stay assured with the customer support as the waiting time here is pretty negligible, and the assistance is consistent.
You can call, email, or raise tickets 24/7/365. And for users from out of Spain, you get separate phone numbers.
Security Analysis
Security is something you might want to look into; you might not consider it a feature but trust us, it is one of the most crucial parts of hosting. With Sered, you get the security of your data through SSL certificates, an anti-hack firewall, daily backups, etc. So your data is kept safe on all grounds.
Sered Data Centre Location
The data centers of Sered are located in:
Core Features of Sered
Let us list out the core features of this platform in this Sered review.
Instant Activation
You must not like wasting time as you have worked nights to bring your online business or presence where it is right now. With Sered, your wish of not wasting time comes to life as this platform activates your account as soon as you complete the payment process.
cPanel
You already have an idea of how Sered works to help ease your hosting experience. Here's another thing it does to do the same.
It provides you with cPanel, which is known to be one of the easiest control panels. So you can do all your hosting tasks being a beginner with ease.
Website Builder
Working in an environment that is just like you want is excellent. Therefore with Sered, you get to build your website by yourself. Here you can use templates or individual items to create the website that is just right for your online business.
Types of Web Hosting Sered offers
Sered offers the following hosting plans:

Sered Hosting Pros & Cons
We must now look at the pros and cons of this platform in this Sered review.
Pros
Multiple data centers
Instant activation
Customer support for national and international users
SEO Hosting
Cons
Cheaper options available
Sered Domain
Let us now take a look at the domain-related services offered by Sered.
Register a New Domain
A verified registrar registers your domain name. You get lots of security and cost-effectiveness. With Sered, you get affordable domain names with security features such as WHOIS. Also, you get a free domain name with every annual hosting plan here.
Transfer a Domain
Even if you already have a domain name and want to shift to Sered, it is as easy as registering a new domain name. Here the cost is pretty less, and the more domain names you have, the cheaper it gets. Also, you get complete assistance while moving your domain name to Sered.
FAQs – Sered Review
Which Type Of Hosting Solution Offer By Sered?
Sered offers hosting plans such as SEO hosting, WordPress hosting, reseller hosting, Magento Hosting, Prestashop Hosting, and SSD hosting.
How Many Data Center Locations Offer By Sered?
Sered has three data center locations in Chile, Brazil, and Spain. However, the locations are a little confusing as it mentions a few more locations as its data centers while offering its hosting plans.
Which Type of payment Method Offer By Sered?
Sered accepts various payment options such as Efecty, RapiPago, PSE, Paysafecard, PayPal, credit cards, debit cards, and crypto bitcoin payments.
Does Sered Offer Reseller Web Hosting?
Yes, reseller web hosting is one of the hostings offered by Sered amongst the many hostings that it provides.
Conclusion – Sered Review
Let us now sum up this Sered review as we are at the concluding part of it. This hosting platform has three data centers, but the locations might confuse you a little as it also mentions other locations as data centers on some of its plans.
This hosting platform has a reliable customer support and security system. Also, here you get a free domain name with a year plan which might work in the company's favor, and yours as well because you get a free domain name.