Finding a hosting solution that's cheap and can help all kinds of businesses alike is quite a challenging task. However, there are some solutions that you could give some consideration or it might seem like it.
SempoiHosting is one such solution. Although not a very known name, it's quite a solution to consider when you're looking for cheap web hosting and domain services. We reviewed it from start to finish and it made sense to share it with you.
So, here is our detailed Sempoihosting Review to help you know all about this hosting company.
Overview of SempoiHosting
Established in the year 2005, SempoiHosting is a Malaysia-based company engaged in offering hosting and domain services to customers in and around Malaysia.
With the website available only in the Malay language and all systems working in that language alone, the hosting company has its major operations in Malaysia alone. 
However, it has gone beyond Malaysia as well to provide hosting solutions to other users.
With constant effort and support, the hosting company talks about delivering quality, reliable, secure, and affordable web hosting services along with domain registration and other domain services to clients and customers in and out of Malaysia.
Test and Analysis
When you're looking at a hosting solution, you need to check it on multiple parameters like ease of use, support, security, features, etc. We performed all the required tests for Sempoihosting and therefore are explained the results of all our tests and analysis.
User Interface & Ease of Use
SempoiHosting has quite an easily understandable user interface with quite a new infrastructure that came in 2016.
With unlimited support for disk space, bandwidth, domains, subdomains, and FTP accounts, you've got quite the flexibility and can enjoy significant ease of use on the platform.
M3Server Customer Support
The customer support on SempoiHosting is dicey. You can reach them out only through a support ticket system and while they boast of a quick response on the support tickets, you may have to wait a lot for the answers and it doesn't help when you have an urgent query.
There's also no live chat option or call support. So, if support is a priority, you might want to look somewhere else.
Security Analysis
Security is quite a lost case at SempoiHosting which can take you on a backfoot altogether with this hosting company.
The hosting plans do not come with any security features whatsoever, not even SSL certificates or Sitelock. Nonetheless, you can always rely on third-party sources to get additional security features with your hosting.
SempoiHosting Data Center Location
There's no clear information about the data centre location of SempoiHosting. However, considering that the website is in Malay language only, it can be construed that the data centre is also located in a single place that is Malaysia.
Key Features of SempoiHosting
So far it seems dicey to go for SempoiHosting given the results of test and analysis. However, a look at features can probably change your decision. So, here are some of the key features available on SempoiHosting.
SSD Storage
SempoiHosting offers SSD storage with all its hosting plans along with unlimited disk space and bandwidth thereby contributing to a promising website speed and performance.
Litespeed Servers
The website speed is further enhanced by Litespeed servers which are fast and improve the page loading speed on the website by 40x.
R1Soft Backup Manager
Keeping your data secure and free from the risk of data loss or corruption is easy as the hosting allows you to take regular backups of your data as well as restore any files from the backups as and when needed.
Unlimited Services
One of the most promising features of SempoiHost is the availability of unlimited services for domain, FTP access, emails, etc. So, you never have to worry about any restrictions or constraints while operating your website on SempoiHost.
Types of Hosting Plans That SempoiHosting Offers
SempoiHost only offers shared hosting and there are multiple plans for it, each suitable for a different kind of business.
Here in below is a quick look at all the types of plans offered by SempoiHosting.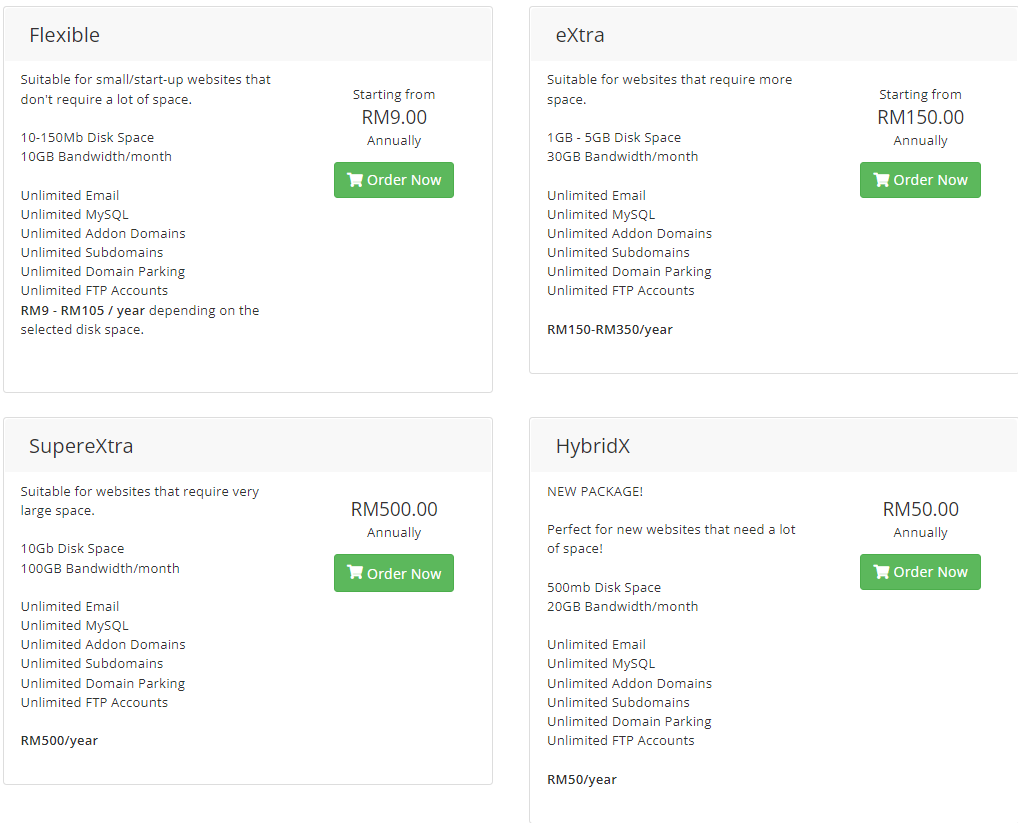 SempoiHosting Domain
In addition to hosting, SempoiHosting also offers domain services. Herein below are the details of the domain services that you can get at SempoiHosting.

Register a New Domain
SempoiHosting makes it extremely easy for you to register a new domain at cheap prices with your desired extensions. You can search for the domain name on the platform and register as many domains as you like in no time at all.
Transfer a Domain
In case you have your domain on another website and want to transfer it to SempoiHosting, you can do it in a jiffy by using the domain transfer services that cost the same as registering your domain in the first place.
SempoiHosting Pros & Cons
With every hosting, it's essential to look at its positives and negatives before moving forward. For SempoiHosting, here's a quick view to refer.
Pros
Unlimited services.
High-speed SSD storage and servers.
Backup and restore option.
Availability of domain services.
Cons
It lacks security features.
The customer support is not reliable.
FAQ's – SempoiHosting Review
How much does SempoiHosting cost?
SempoiHosting is a company with cheap hosting plans that don't cost a lot. You can check out its cost in the section above that details all the types of hosting plans it offers.
What kind of Plans does SempoiHosting offer?
SempoiHosting offers different shared hosting plans that are suitable for all kinds of businesses.
Where is SempoiHosting company located?
SempoiHosting is located in Malaysia.
Which Type Of Control Panel SempoiHosting offers?
Although there's no clear information available, one can assume from the knowledge base that SempoiHosting offers cPanel control panel.
Conclusion – SempoiHosting Review
So, here we are at the end of our SempoiHosting review and we can't say that we're very impressed. There are visible red flags, but there are some good features too.
So, it really puts you in a dicey position as to whether you should try it or not. The best would be to be thorough with your research and to proceed with caution.
We hope this review was helpful and you'll be able to make your view about SempoiHosting.