Is your hosting service provider not reliable? Does it charge you extra for every extra service you get? Or do you need a reliable security system for your website?
If all of this is true, you have reached the right page. Here, we will look at one of the most reliable hosting service providers, ARYHost.
This hosting platform is known to have the best reliability regarding security, speed, and affordability. It often offers huge discounts on its services without the quality being compromised.
We have for you in this article a detailed ARYHost review.
Overview ARYHost
Founded in 2016, ARYHost is still getting its roots deeper into the hosting industry and has been growing more robust due to its quality. It is a USA-based hosting provider which provides its services throughout the world through its data centre in the USA.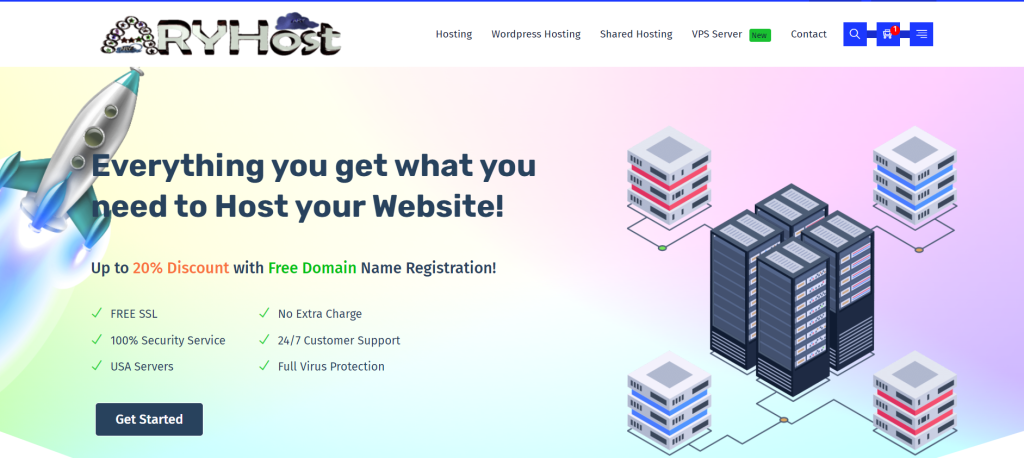 It provides numerous hosting, domain, security, etc., services. Its services are affordable, especially since this platform offers a variety of discounts.
This platform's security system is solid, and there is much more to know about it. So let us move further in this ARYHost review.
ARYHost Data Center Location
Having data centres is crucial as it manages the servers and provides your website with good security and speed. ARYHost has its data centre located in:
ARYHost Core Features
Let us now look at the core features of ARYHost and know more about it.
Free SSL Certificates
You must have heard that websites get damaged due to the connections they made with some of the websites on the internet. It is crucial to avoid this situation because your blog or business depends on it.
Therefore, ARYHost offers you free SSL certificates. This ensures that the connections your websites form on the internet are safe and encrypted and get detected as secure websites to create connections with my browsers.
24/7 Customer Support
Another factor provided by ARYHost that you can entirely rely on is its customer support. It stays online 24/7 to help you through all your big or small queries.
This platform's customer support team is one of the best things offered by ARYHost. It helps you get your processes completed quickly and help you through queries and issues. It does offer live chat, phone calls, or email, but you might experience a little delay in response from their end.
Powerful Control Panel
To use any hosting efficiently, you must understand how it works and how to handle the settings you want for your hosting.
Doing all of these gets more manageable if you have an easy-to-use interface and a powerful control panel since the control panel is what helps you make settings. With ARYHost, you get just that, a powerful control panel, cPanel, so that you handle your website with ease.
100% Security Service
By now, you know that the security of your websites and their data is crucial to consider when it comes to hosting websites. Your hosting service provider must be reliable enough to provide the required security for your websites.
With ARYHost, you get more than just the required amount of security. Here, you are guaranteed 100% security for your website. So your data receives the benefit of privacy protection, SSL certificates, backups, and more free of cost.
Full Virus Protection
We have looked at some of the factors regarding security that ARYHost provides. However, there is more to it because the security of your data is imperative.
Another feature that this hosting platform offers is full virus protection. This helps your website repel any virus that could damage your data and the growth of your website so that it is all kept safe.
No Extra Charge
Hosting service providers often charge extra money for some necessary services, such as backups, app installation, migration, etc. You end up paying a lot more money than you agreed on while buying the hosting plan.
But here with ARYHost, you are free from all those extra charges. This platform does not ask for anything different while providing customer support, SSL certificate, migration, app installation, etc.
Daily Cloud Backups
We already saw the layers of protection that ARYHost provides for your website. This security system is unbreakable, but sometimes, you can still sit back and relax if your data gets attacked. How?
This web hosting platform offers daily cloud backups, which means that anything you do will be backed up offsite, and whenever you want, you can recover it, and you will not even miss one day's work.
Uptime
The best thing about online stores or blogs is that they keep running all day. And therefore, you get as many customers and visitors as possible 24 hours a day.
ARYHost ensures that the same thing happens with your website, and you grab everyone's attention by providing 99.9% uptime which is next to perfect.
Types of Web Hosting ARYHost offers
ARYHost offers numerous hostings that include:
ARYHost Domain
A domain name must be exciting and straightforward, and it must say something about your blog or your business. ARYHost offers three services related to domain names, so let us look at them.
Register Domains
You can get your domain name registered with ARYHost, and it will be yours officially. But first, you will have to check if it is available and what the prices are. You can do all of these with this hosting platform at an economical price.

You also get a free domain name with some of the ARYHost hosting plans.
Transfer Domains
If you are unhappy with the hosting that hosts your domain currently, you can transfer it to some other hosting such as ARYHost. Here, you can get your domain transferred at a small price and renewal price.
Manage Domains
Managing your domain has never been easier with ARYHost by your side. With your domain name, you get certain features to protect your domain. Also, you get to host more than one domain with your ARYHost plans.
ARYHost Pros & Cons
Let us now look at the pros and cons of this hosting provider in this ARYHost Review.
Pros
Affordable prices
Extra discounts
Numerous server locations
FAQs – ARYHost Review
How good is ARYHost?
The services provided by this hosting service provider are pretty appreciable since it has reliable customer support, speed, and security. You are not charged extra for many of the hosting services that ARYHost provides, which makes it quite impressive.
Can I upgrade my hosting plan at any time?
You will have to wait for the plan's duration to end to upgrade your plan. However, you can request the customer support team to help you through the process and give you some resolution to make it work.
Does ARYHost offer free migration?
Yes, ARYHost offers many services free of cost, including free migration. You can get your website migrated free of charge and with the least amount of effort with the help of this hosting platform's customer support team.
Is AryHost trustworthy?
Yes, ARYHost is trustworthy and reliable. It offers its services worldwide and is trusted by many famous companies such as SSL Certificates. It clearly states its terms of service which are customer-friendly and legit.
Conclusion – ARYHost Review
Now that we are concluding this ARYHost Review, let us make a gist. This hosting platform was founded in 2016, which gives a small experience period, but it has grown a lot in this period and is doing pretty well.
The service quality is top-notch. You might get little delays in response from the customer care team that might put you on hold while working on your queries. But eventually, your queries are resolved in the best manner needed for you to get your website back on track. We have no doubts that ARYHost might be an excellent choice for you in the end.